How To
Overview
Auld is a revolutionary Tumblr-like WordPress theme that allows you to very easily publish snippets of content, whether they be images, videos, audio, articles, quotes or links.
After you have installed the theme you will have a custom coded Tumblog publishing form accessible right from your WordPress dashboard, allowing you to publish content much quicker than using the default WordPress post publishing pages.
Your posts will then be arranged and styled according to their type of content.
Important installation note
Please note there is an important first step after installing the Auld theme. You need to navigate to Settings > Permalinks and click on the "Save Changes" button, even if you haven't made any changes. This is to register the custom taxonomies used in the Auld theme.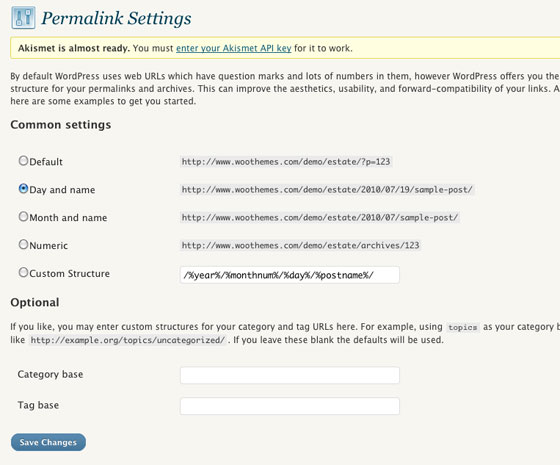 Explaining the "Tumblog" taxonomy
Once you have installed the Auld theme it creates a new option in the WordPress backend under the "Posts" panel. You will now see "Tumblogs". This is new functionality, thanks to WordPress 3.0 that allows you to create a new type of post.
Custom taxonomies are useful when developing/customizing themes as you can create custom templates for specific taxonomies, i.e. we could have a specific template for blog posts, and a specific template for tumblog posts.
As can be seen above the "Tumblogs" taxonomy is different to categories. You can now assign a post to certain taxonomies AND categories, so it can be very specifically filed away in the archives.
Using the Tumblog dashboard facility
Once you have setup your categories, as documented above, you can now start using your Tumblog dashboard publishing facility to publish content.
Publishing content using this is quite self-explanatory. Click on the button of the type of content you are wanting to publish and then fill in the fields with the corresponding content. Once you hit the "Submit" button the post will be published to your website. Easy as that!
When you click this an area will load below the editor which will allow you to set the Post Status, Post Date/Time, assign the post to multiple categories and to multiple tumblog taxonomies (it is by default assigned to the relevant tumblog type). This is great for using the Dashboard Tumblog widget to draft posts and post date them even.
The Tumblog Setup
As mentioned above once the Auld theme has been activated most of the implementation of the custom taxonomy takes place behind the scenes. There is one theme option under the "Tumblog Setup" panel. With Auld you can replace the default WordPress RSS feed it creates for your blog posts with a custom RSS feed that shows all your tumblog posts, and their associated images, audio, video. It's as easy as ticking a checkbox to set it up.
The Express App
The Auld theme is compatible with our popular iPhone app "Express" – built to quickly and effortlessly publish images/links/notes and short posts, on the go, to your WooThemes powered WordPress website from your iPhone. Purchase the Express App from it's offical website – http://express-app.com/
Once you've entered your WordPress site information into the app, following the easy and short documentation, you are good to go and publishing on the fly is now a possibility.
Widgets
Custom Auld widgets
This theme includes 1 widgetized sidebar and 5 custom widgets that you can add to any of them.
Woo – Flickr
Woo – Twitter Stream
Woo – Adspace Widget
Woo – Search
Woo – Blog Author Info
Page Templates