While WooThemes was still a small company, it was easy to share necessary information with new team members (who we call "Ninjas") as needed. However, this onboarding process gradually became more difficult as the team grew.
Several years ago, some of our team members started compiling a Google Doc with some of the most relevant information: our mission and focus, the most important tools we use, administrative details, and so on.
This solved several problems we had with onboarding. Most importantly, we didn't throw people in at the deep end anymore — they now had a resource to review upon joining. It was also easy to edit. If some tools changed or some information needed to be added, anyone in the team could do it. Finally, we were already using Google Drive as a company, so our team members could consult the doc as needed.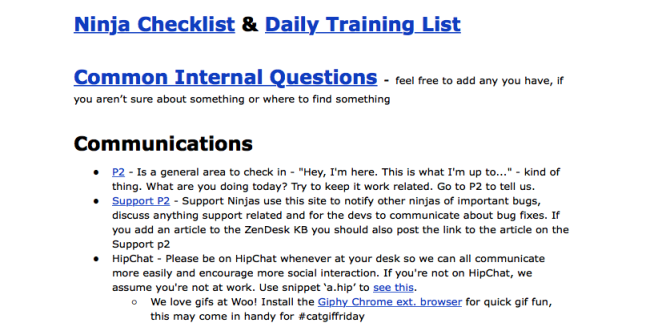 However, there were also a few downsides. The most important one was that it got quite bulky. There were so many links in the document, and following that link often resulted in finding another document with more links. Before the new Ninja knew it, they had opened a dozen new tabs with different information, and that made it difficult to get back to the core.
It was also extremely challenging for supervisors and mentors to keep track of what was happening. Had the new Ninja read through everything or not? Did they need some assistance?
One of my first projects at WooThemes was addressing these challenges while still retaining the advantages of the Google Doc. Together with a small team, I started looking at our options. After a short while, we decided that we should use Sensei.