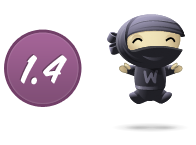 We couldn't wait any longer for our usual Thursday drop, especially seeing we've been quiet on  the WooCommerce front the last few weeks with Mike and Jay coding up an absolute storm in their bunker in the UK! With that said we are HUGELY excited about today's release of WooCommerce 1.4!
Version 1.4 is perhaps not a massively exciting release for the end-user, but for developers it's a biggy. We've re-written large chunks of code, made all round refinements to the plugin for our plans going forward, and optimised performance levels. Of course we've added some more bells and whistles too, but a lot of the changes are under the hood.
Important note:
Version 1.4 of WooCommerce requires
WordPress 3.3+
, as well as updates to various
WooCommerce extensions
, shipping methods, and
themes
(for compatibility reasons). If you see an update available for your product please update accordingly, otherwise small modules of your shop might not work. As always, we also recommend you backup your site.
Continue Reading