If you're trying to get potential customers to pay attention to your store — or repeat customers to come back — your thoughts will naturally gravitate toward a sale.
Simple sales and 10% off coupon codes are great, but it pays to think outside of the box and experiment with creative strategies that work with your audience.
Today we'll look at different types of sales you can try in your online store, plus the WooCommerce extensions that make each one possible.
From product bundles to flash sales to members-only discounts, here are 10 ideas chosen just for you.
Create smarter coupon-powered sales
Coupon codes are a common marketing tactic for stores both new and old. But without proper planning and analysis, they can result in losses, confused customers, and frustration for your team.
Here are a few smarter ways to run sales with coupons.
Create a coupon to save on orders a bit higher than the average
One common mistake that store owners make is creating coupon codes that apply to any and all orders (like "15% off all purchases"). For some stores, this is fine, but for others, this can be a margin-killer.
The smarter approach here is to make a coupon that only works on orders a little higher than your average order value (or AOV). So if most customers order $40 worth of products, the coupon should only take 15% off at the $50 mark. This saves your margins and encourages customers to buy more to get that discounts.
Want to make this happen? This is where WooCommerce's "Swiss Army knife" of coupon extensions, Smart Coupons, comes into play. With Smart Coupons, you can not only set up this coupon, but also make it automatically display for shoppers at checkout when their order total has reached the appropriate threshold.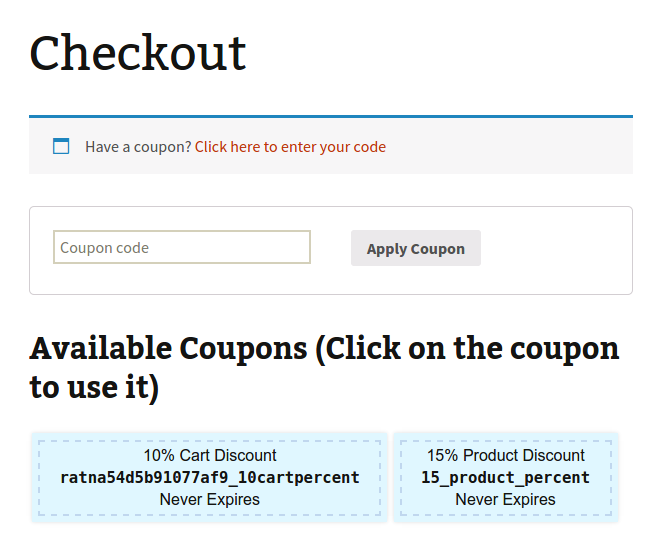 Smart Coupons has tons of features packed into it, with the coupon display and in-cart application being just one. If your goal is to get smarter about creating and offering coupons, this is the very first extension you should try.
Purchase the Smart Coupons Extension
Send a coupon that applies in one click to specific email subscribers
Offering a sale via an on-site coupon is one idea. But maybe you only want that coupon to be offered to specific customers, like those who have spent over a certain amount… or those who haven't spent anything in the last year.
With URL Coupons, you can not only send specific customers a special coupon code via email (or any other delivery method you prefer), but you can also automate the process of getting the discount applied by creating a custom link with the code embedded within.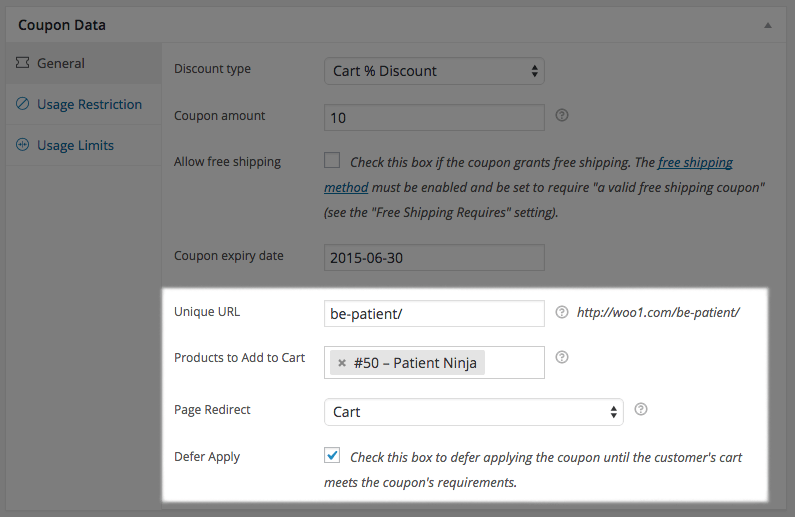 Part of the hassle of getting shoppers to use coupons is getting them to find the code, find the box, and type in the code. This extension eliminates that completely, automatically applying the coupon and even adding specific products to the shopping cart if you choose!
If you wish, you can also use this extension with the coupon box completely hidden, so only those who have a coupon-embedded URL can apply discounts. Boom — coupon magic.
Purchase the URL Coupons Extension
Discounts that apply automatically
Shoppers love discounts, but what they don't love is jumping through hoops to get them. If it's a matter of going through a five minute registration process to save a measly 5%, well… your store's probably going to get abandoned.
Here are some ways you can set up automated sales that offer goodwill at top speed.
Offer a product bundle discount
Bundling is a tried and true discount method; it's been around forever and it's still used today because it works.
Product Bundles makes this possible, giving you an easy (and fast) way to create discounts that apply automatically when specific items are added to the shopping cart at the same time. See the cocktail glass set in the example below: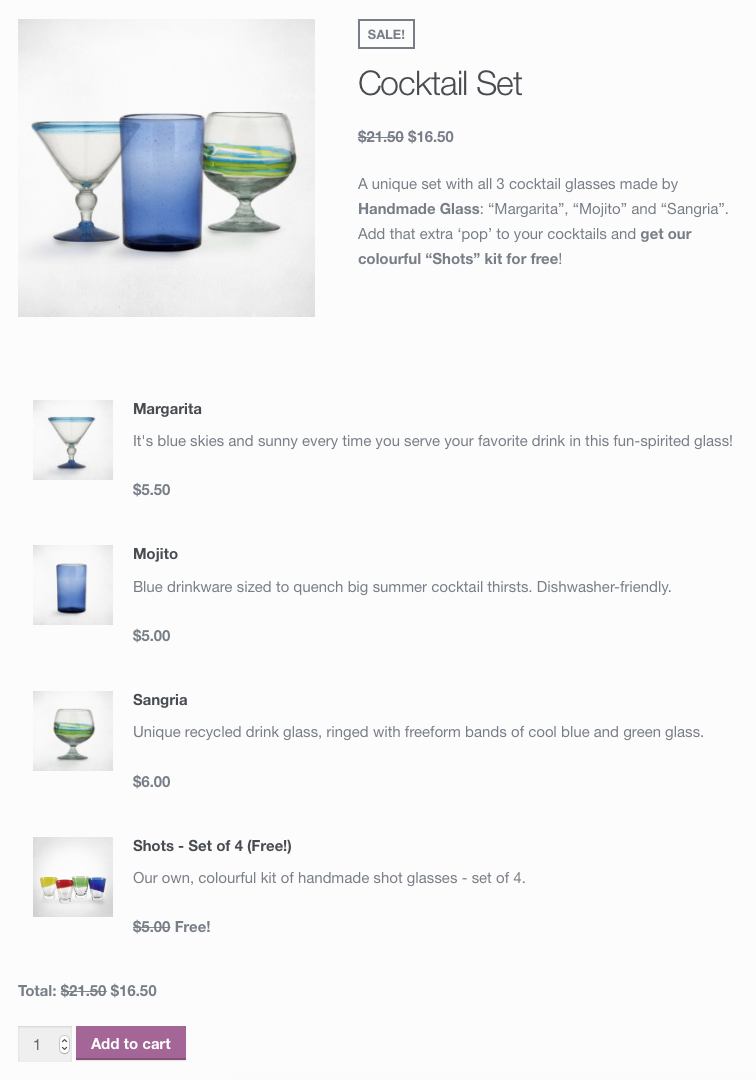 You can even use the extension to offer a free item with your bundles. Customize the discounts any way you wish, then get to marketing that sale.
Purchase the Product Bundles Extension
Try a buy one (or more), get one free sale
Who doesn't love a BOGO? If your margins can bear it, buy one get one free sales are an incredible way to drum up attention and make money. Even "buy three get one free" or "buy two get one for $1" sales are popular, because the perceived savings are very high.
Whether you want shoppers to buy one, buy two, or buy a bunch before they get an item free, you can use the Dynamic Pricing extension to make this happen automatically with WooCommerce. The extension lets you pick the conditions in which an item (or items) will automatically be priced differently:
Then it's up to you to let your shoppers know that you've got a special deal going on. Make a big fuss over it — BOGO sales are usually pretty popular, after all!
Purchase the Dynamic Pricing Extension
Offer free shipping… and promote it appropriately
Free or reduced price shipping is a common offering, and customers love it. Free shipping rules are built right into WooCommerce, so making this happen isn't a challenge. But making your shoppers aware of it can be tricky without some custom coding or designs.
Enter Cart Notices. With this extension, you can instantly trigger in-cart messages telling shoppers that free shipping is just a few more dollars away.

You can use this extension to make shoppers aware of other promotions, too — just go through the extension's settings and apply the notices appropriately. The notices will pop up automatically when shoppers meet the appropriate conditions, and can be customized with call to action buttons and links of your choice.
If you don't have a designer to create homepage banner images and your sitewide messages don't seem to be doing the trick, this is a fantastic way to let shoppers know about your sale — free shipping or otherwise.
Purchase the Cart Notices Extension
Reward customers for purchasing now with a discount they can use next time
When we think of a sale, we usually think of immediate gratification. But not all sales have to end in a discount now — if they offer savings or something special for the next order, they can turn one purchase into two.
Here's how you can set up some sales that reward customers the second time around.
Follow up post-purchase with a coupon for the next order
This first idea is simple enough, and it goes back to our idea of using coupons to entice orders from all or select groups of customers. The difference? Rather than giving a shopper a coupon right away, you only give them a coupon as a reward for making their first purchase.
The sale would probably go something like this: buy from us now, and we'll email you a coupon good for 25% off your next order. So instead of getting just one order from a customer, you're now getting two, and still looking generous.
This might sound like a lot of work, but you don't have to manually create and send emails with coupons — you can automate the process with the Follow Ups extension. Follow Ups allows you to write and easily pre-schedule messages sent to customers based on highly specific criteria, like what was purchased, how much was spent, or when the purchase was made.
Just create a follow-up email with a coupon code (maybe even a URL Coupon?) for customers who purchased between specific dates, schedule it, and you're golden. Now those single-time shoppers will be hooked for a second order.
Purchase the Follow Ups Extension
Offer extra points or rewards now that are good for redemption later
Some larger or more established eCommerce stores use rewards programs to give shoppers incentives to buy from them again and again. Rewards don't have to stand alone, however — they can be tied into a sale, where purchases accrue double points or select products result in instant rewards.
If you're already using WooCommerce Points and Rewards, this will be an easy one for you. Simply temporarily adjust your settings to give shoppers more rewards on qualifying purchases. You can use a sitewide notice (offered in WooCommerce core) to call out the promotion, and the automatic in-cart notice will tell customers what they'll earn toward their next order.
If you're not already using the extension, it's worth a look, especially if your customers are the type to make repeat purchases. It's completely hands-off once set up, and it makes everybody feel great!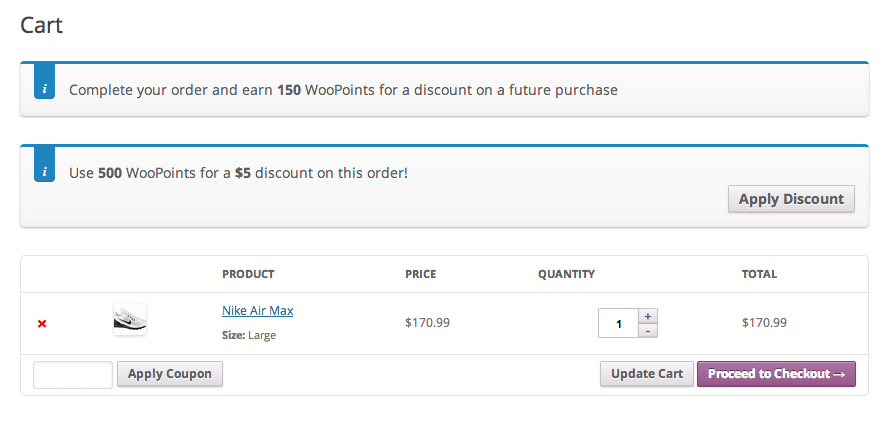 Purchase the Points and Rewards Extension
Special types of sales to try
Let's round out these ideas with some special types of sales you can experiment with. From flash sales to deals just for specific groups of customers, these are deals that aren't for everyone… literally.
Run a flash or one-day-only sale
Flash sales became popular a few years ago during the advent of big sites like Groupon and LivingSocial. Just because you're not a big store doesn't mean you can't tap into the idea of a limited-time deal, whether you want it to last for one day or one hour.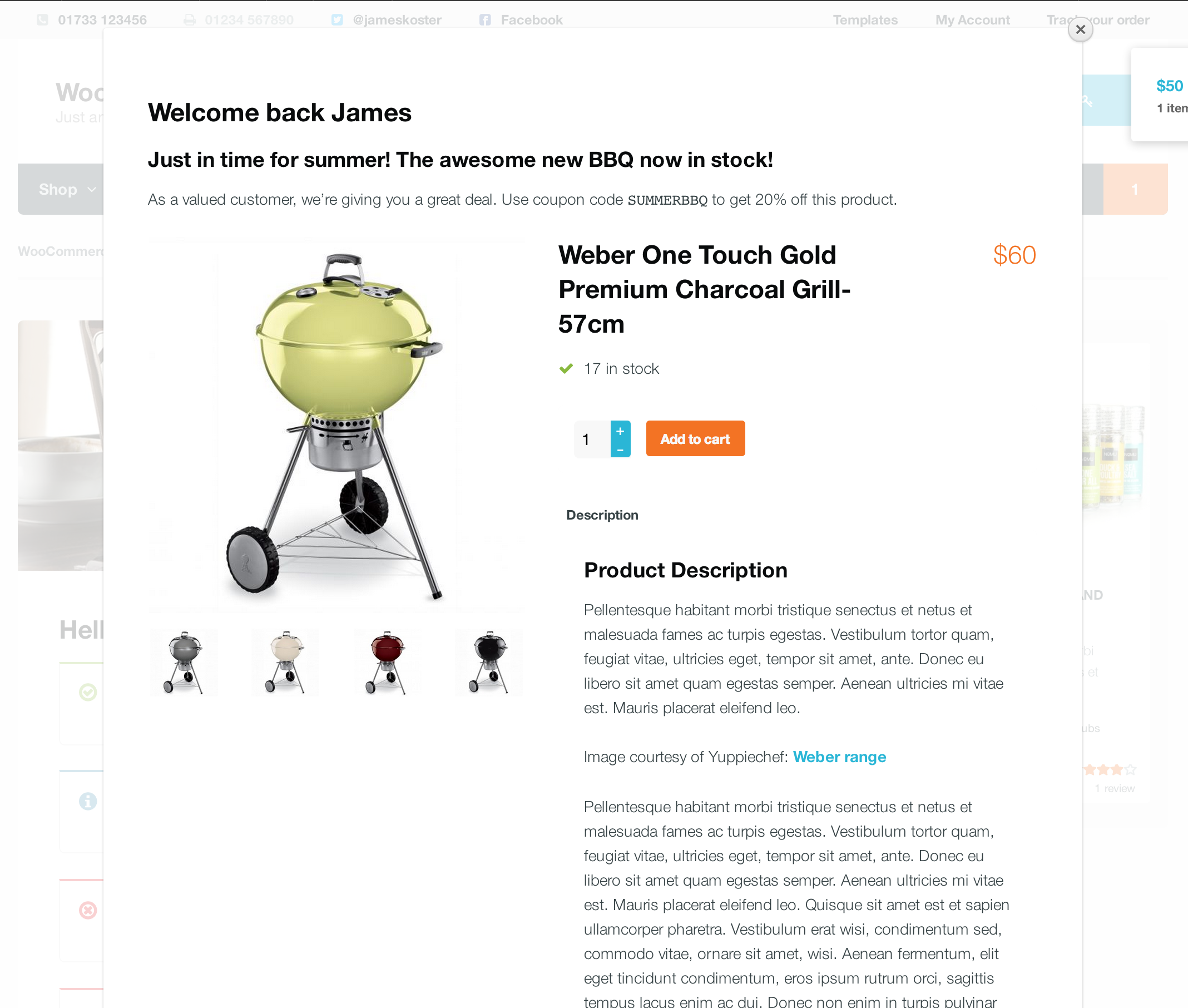 With WooCommerce Splash Popup, you can run your own limited-time sale by creating a popup like the one above. All you need to do is price your products accordingly and make a Page or two.
Since you can schedule sales in advance with WooCommerce, you'll first want to schedule a temporary price drop on the product(s) of your choosing. Then create WordPress Pages that show the product or products included in your flash sale, assign them to display with the extension, and you're all set.
Another perk with this extension: you can show different Pages via the popup to registered and unregistered shoppers. So if you want a flash sale to be restricted to registered customers only, you can easily make that a reality.
Purchase the WooCommerce Splash Popup Extension
Create rotating product of the day sales
This next one is a bit like flash sales. The idea: create a short-lasting sale that applies not to your entire store or even a category, but just to one product. Creating a single "on sale" item per day is no problem with the Products of the Day extension and a little prescheduled magic.
Again, using the same method we described above, preschedule a price drop on the item(s) of your choice. Then add these same products as "products of the day" via the extension, give them somewhere to show up on your store, and you're golden.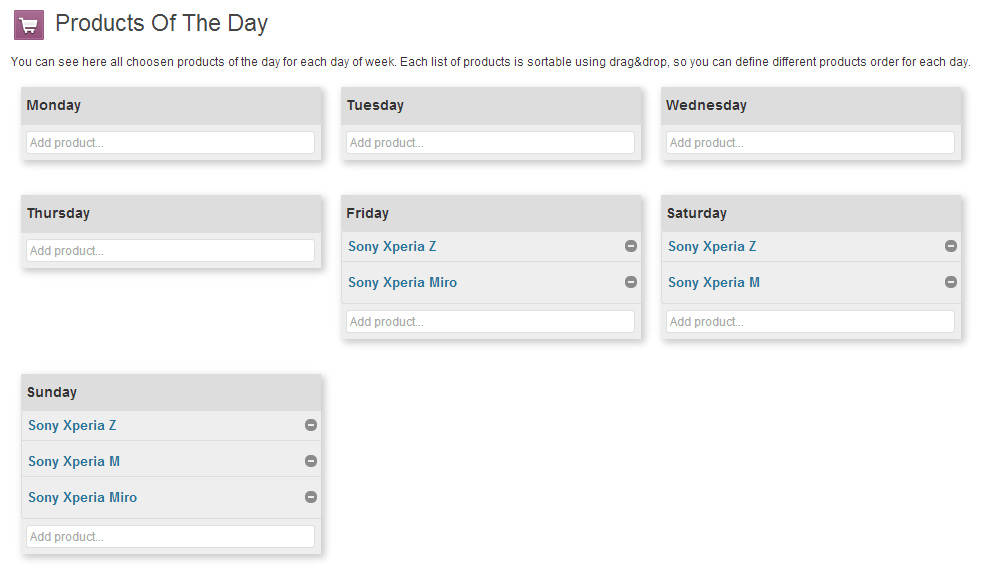 Purchase the Products of the Day Extension
Create members-only sales that require registration
Memberships can make stores look more desirable, giving them the appearance of having exclusive "clubs" (even if those memberships are free or inexpensive). If you already have members — or are considering adding them — why not reward your most loyal customers with a sale just for them?
WooCommerce Memberships gives you the power to restrict your sales (along with products and content) to groups of customers that you define. So you can give your members a special, limited-time-only sale that applies to all products or select ones, all members or select tiers, and so on.

This isn't just a great way to get more members: it's also a fantastic way to make your existing members feel special. Whether the sale lasts a long time or just a little while, and regardless of whether or not you promote it or let it remain a total surprise, it's sure to make your members smile.
Purchase the WooCommerce Memberships Extension
With the right extensions, you can craft creative promotions that your shoppers adore
There you have it — 10 WooCommerce extensions that enable outside-the-box promotions for your online store. Whether you try out a coupon code or experiment with points and rewards, these ideas can give you what you need to attract both new and repeat customers.
For even more ideas you can use to create deals, discounts, and promotions, have a look at our collection of Promotions extensions. Here you'll find options for creating coupons, running sales, designing popups, and more.
Have any questions for us about the sales we've suggested in this post? Or any ideas of your own to share? The comments are open and we'd love to hear from you.