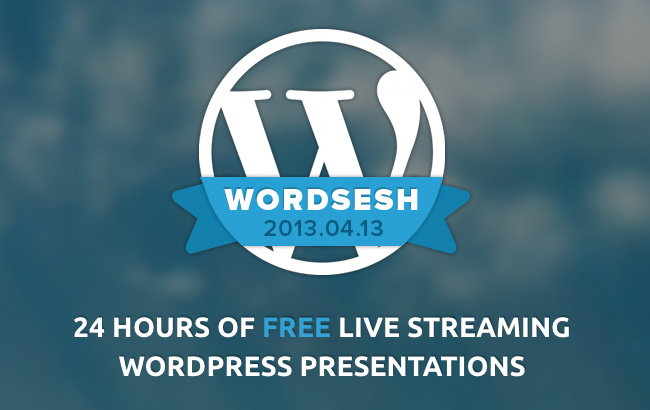 One of our very own talented ninjas here at WooThemes, Scott Basgaard (you may also know him as Scotty B), has been working hard behind the scenes to organize an event for the WordPress community dubbed "WordSesh".
WordSesh will be 1 full day of live* WordPress presentations from all over the world streamed live to you wherever you may be. Oh and… did we tell you it's FREE?!
Scott has been involved with events in the WordPress community for some time now. He's attended loads of WordCamps and WordPress Meetups around the world and started the first WordPress Meetup and WordCamp in Norway.
Here's what Scott said when we asked him how he got the idea for the event:
"… there's usually a lot of costs involved when organizing or attending a WordCamp or Meetup. Not the event itself, but with expenses, traveling, finding a place to stay, and so on.

I wanted to start something that was completely free, no strings attached, everyone could access, and at the same time keep the quality of the presentations the same you would find at attending an event in person.

At local Meetups, even at WordCamps like Norway in 2012 when John James Jacoby did his whole presentation over Skype, we've seen the use of Skype, Google Hangout and Ustream really become a successful tool for events in the community.

Thus, WordSesh is born. I'll still always prefer attending a WordCamp or Meetup in person, who doesn't love a good after-party, but it's not always possible to fit into our busy schedules.

I really can't wait to see how the event unfolds and look forward to seeing many more events like this in the future."
When?
WordSesh will take place on Saturday, April 13, 2013, 00:00 – 24:00 UTC and there will be a total of 24 presentations: 1 every hour, on the hour, for 24 hours.
Remember that the schedule is in UTC to avoid any confusion. If you are not familiar with UTC are some tools to help you:
Current Time – http://www.worldtimeserver.com/current_time_in_UTC.aspx
Convert Time – http://www.worldtimeserver.com/convert_time_in_UTC.aspx
Where?
To participate, all you need to do is head on over to WordSesh.org to view the live stream. It's that easy!

Who is speaking?
If you haven't already noticed, the speakers list for the event is AWESOME!
It's not often you'll see big names in the WordPress community like these all in one place and we are really honored to have all of them involved.
Our very own Coen Jacobs, who has also been a huge helping hand with the organising of WordSesh, will be sharing the online stage with Scott for their WooCommerce 2.0 session at 13:00 UTC.
Is WordSesh for me?
While you may not be interested in every presentation, WordSesh is aimed to cater to every type of WordPress user.
So get ready to have a great time and expect to learn something!
*Don't worry if you're not hardcore enough to stick it out for all 24 hour since all presentations will be recorded and archived  for later viewing over at WordSesh.org.
That theme looks familiar…
The observant might have noticed that Scott used our One Pager theme to house the event website – showcasing it's flexibility and demonstrating why it is proving a hot favourite in our catalog. Scott plans to write a follow up case study on working with The One Pager theme and the modifications he made to it soon.