Coffee is the second most traded commodity in the world. It's also one of the most popular products sold via a subscription model.
If you're considering starting an online coffee store, you're likely wondering what the vital ingredients for a speciality eCommerce website are. Do you need to spend loads to offer monthly subscriptions of your roasts or beans? And which platforms are suitable for selling this specialty product?
In this post, we'll guide you through setting up a coffee subscription business from start to finish, giving you all the tools and insight you need to start off on the right foot. We'll cover why coffee sells particularly well by subscription, some key elements to running a coffee business, and make some suggestions for choosing the right eCommerce platform for your new store.
Ready to give it a go? Read on to learn all you need to know about starting your store.
Why coffee sells well by subscription
Nearly any store can benefit from the subscription model, but not all products thrive on a monthly delivery service. As it happens, coffee is one of those items that store owners find great success selling on automatic replenishment plans, or even building an entire subscription business around.
When it comes to coffee, subscriptions make inordinate sense: customers don't need to race to find you IRL when their bean count drops, and repeat business is automated from the comfort of their home. It's a win-win, securing loyalty and ensuring the cupboard is never bare.
We noted the popularity of coffee subscription stores, and asked Brent Shepherd, lead developer of the WooCommerce Subscriptions extension, why he felt this was the case. Brent said:
1. Coffee is the source of all life.
2. There is huge demand worldwide for coffee, because see point 1.
3. It's a consumable so people always need more, because see point 1.
4. No one ever wants to run out, because see point 1. But more importantly, this means locking into a regular delivery is actually a benefit for coffee (where as for some product categories, customers may be anxious about committing to a subscription).
We loved his tongue in cheek explanation. Because the product is lightweight and easy to ship, there's constant demand for it (as Brent pointed out), and different roasters and flavors can become preferred and loved by consumers, coffee is an ideal item to sell via subscription model — and perfect for you to start your online business with.
The four basic ingredients of a coffee subscriptions store
Selling coffee by eCommerce subscription requires some persuading. People can't sample your coffee through the screen, so why should they trust you?
According to Kandace Brigleb, skillful text, beautiful images and a genuine voice behind a coffee brand go a long way:
Coffee is this incredibly nuanced and complex industry. You have all of these variables that range from quality of beans to roast style to relationship with growers.

How do you move someone from thinking that "coffee is just coffee" — which is more of a commodity mindset where you begin to compete on lowest price — to thinking "this is my favorite roaster"?
Some customers are going to be drawn to a particular roast style, while others are going to care deeply about whether the coffee is organic or fair trade, or whether your bags are biodegradable. Still others might be drawn in by a strong cafe experience and want to bring that home.
Either way, in order for customers to create that bond with a coffee roaster, the roaster needs to let them know who they are and what they stand for.
As Kandace eloquently explains, the success of a coffee website lies in developing a distinct brand and translating this into an engaging website. The key areas to pay attention to in this regard — the four basic ingredients of success — are:
Your store's home or landing page, including the menu or navigation
Your "about us" page, where you get to tell the story of your coffee and its makers
The "news" page or your blog, if you have one, where you can strengthen relationship with your users through value-adding content
The product subscription page(s) itself, with subscription preferences and a payment gateway supporting recurring payments
These four distinct pages help you build your brand. They say "this is who we are, what we stand for, and why we are the business you should order coffee from."
A few examples of coffee sites that are to be admired
We had a peek through our showcase and pulled out a few stores that do all of the above well, and might inspire you as you build your own subscription-based storefront.
First, have a look at Supercrown Coffee, built by Needmore Designs: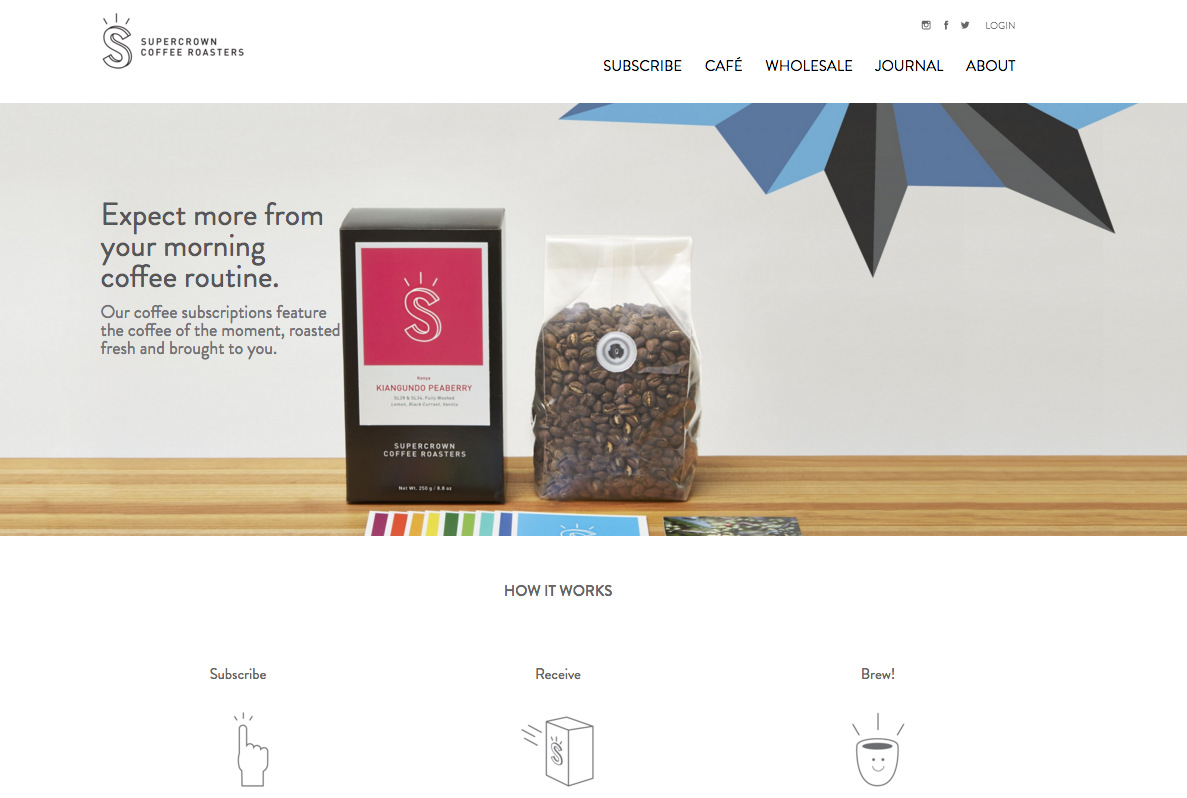 The landing page is clean, uncluttered, and elegantly branded with their quirky logo. The homepage image product-focused, and there is a simple explanation of the offering through the overlaid text. The menu places the focus on the fact that there is a subscription service, and the three-step "how it works" illustration drives this home.
Also easy to find via the menu are the important journal and about sections, where Supercrown tell the story of their coffee beautifully.
Another excellent example of a well structured subscription store is Linea Caffe. Their landing page is clean and product-focused, and clearly communicates their subscription offering.
Linea give users a choice between two types of coffee, and the subscription preferences for duration of subscription and payment type are included on the product page: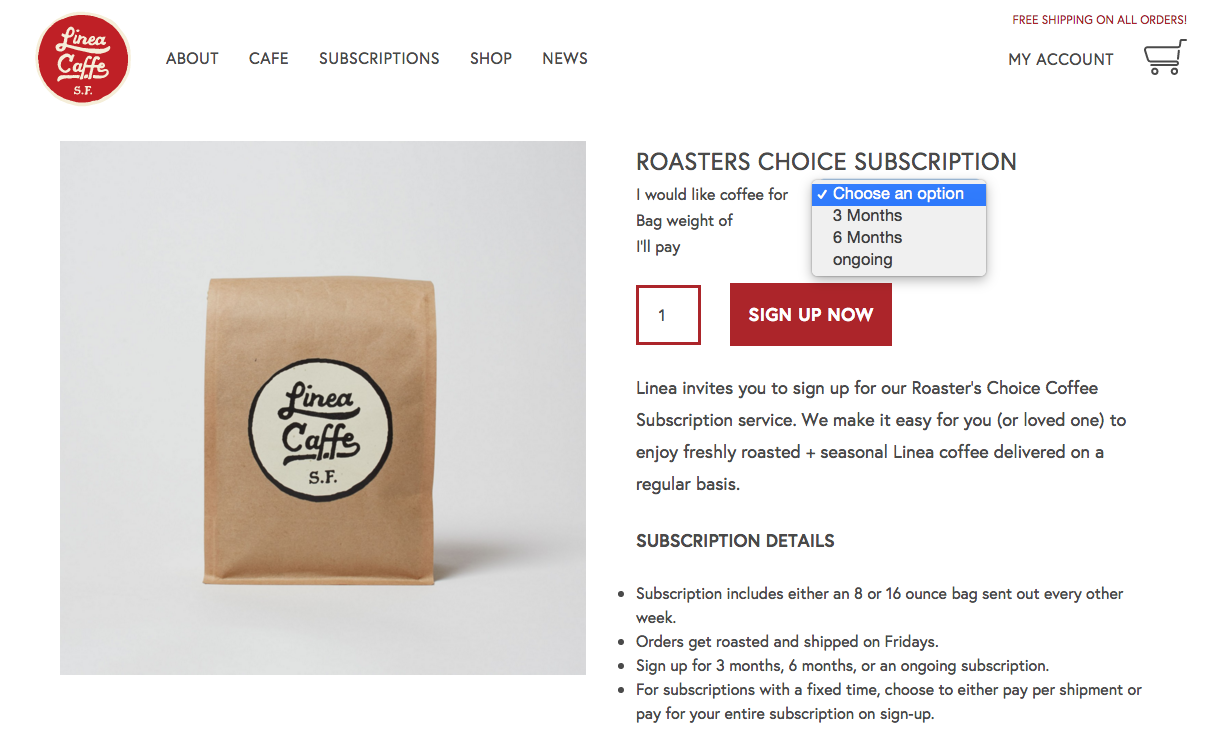 A final example we've chosen exemplifies the power of a brand finding its voice. Four Barrel has a strong tone and distinct voice in all of its copy and content.
From the moment you land on their store, you're swept into their ironic, passionate, and unapologetically honest world of coffee. And it works! There is a clear offering and gauntlet thrown to either buy in and become loyal to them… or move along.
Their about page is refreshingly genuine, black and white just like their look and feel, and one gets a clear sense of the people behind the product:
We try our best not to suck (to not suck?). If we can help a 900-person co-op in Ethiopia build a schoolhouse, of course we'll do it. If one of our coworkers needs some time off to care for a sick parent, of course we'll cover her shifts. If we need to take a red-eye coach flight to Frankfurt to score the perfect 1957 roasting equipment, of course we'll do it.
That they offer subscriptions is a little less prominent than on some of the other sites we've looked at, but this makes sense as they have physical stores and a regular on-demand online offering for their coffee.
They've added a custom built picker to the subscription page, with an intuitive dot-to-dot that guides you through the options, another excellent example of gentle customization that only enhances UX.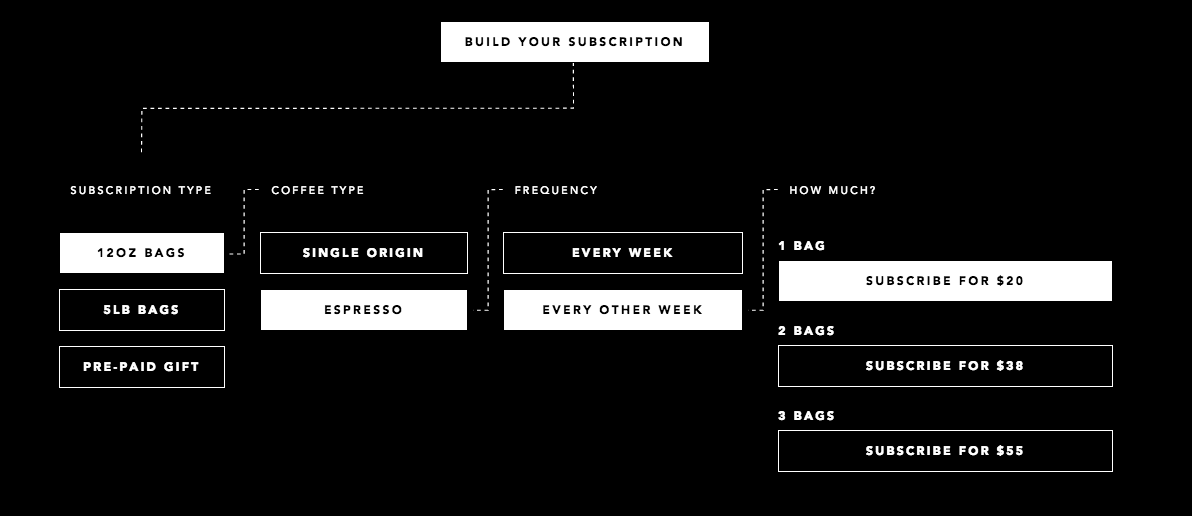 Some tips for you from successful coffee stores
In our quest to explore the world of coffee subscriptions, we reached out to two shop owners running successful subscription offerings to learn about their experiences, and glean some tips that might help you in your journey.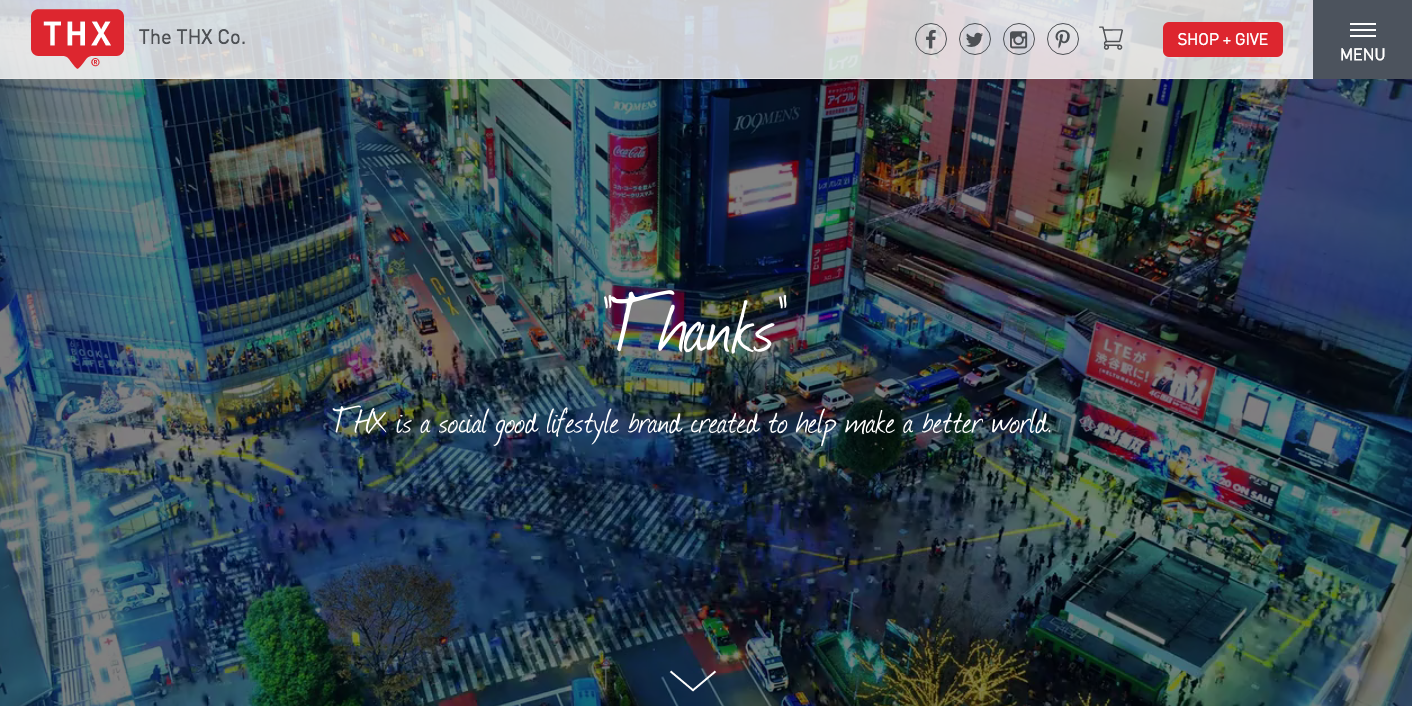 The vision of THX.co is to build a "social good lifestyle brand to help make a better world." Their growing product range is geared towards empowering customers to give back to their community. 100% of net profit goes back to the community, and their products exist as a mechanism to give back.
Why coffee? 87% of the country drink it and it enables a direct trade model through which THX.co can build relationship with the farmers growing their beans and impact their lives. For THX.co, it is baking gratitude and giving into the mix, and making it possible for their customers to do good as they shop. In this unusual example, coffee is secondary to the message.
A few tips from the THX.co team:
You have to have great coffee! A great brand helps but people can't love what they see and not love the taste.
The millennial market cares deeply about the origins of coffee (is it direct trade, shadegrown, organic etc).
Timing is an important thing for coffee (e.g. roasting to grind time, expiry dates).
Purchasing patterns and orders have to be timed to the consumer consumption patterns to avoid waste.
When it came to translating their brand onto a website, THX.co aimed to be genuine and transparent, and to use storytelling to connect visitors to people in need. They have a singular focus, and are mindful of the journey they take people on via interaction with their site.
Their advice for anyone wanting to start a subscription model store:
Sit down with someone who already has one going to to learn all you can. If you're not the manufacturer of what you will be shipping, make sure you set up a very tight supply chain!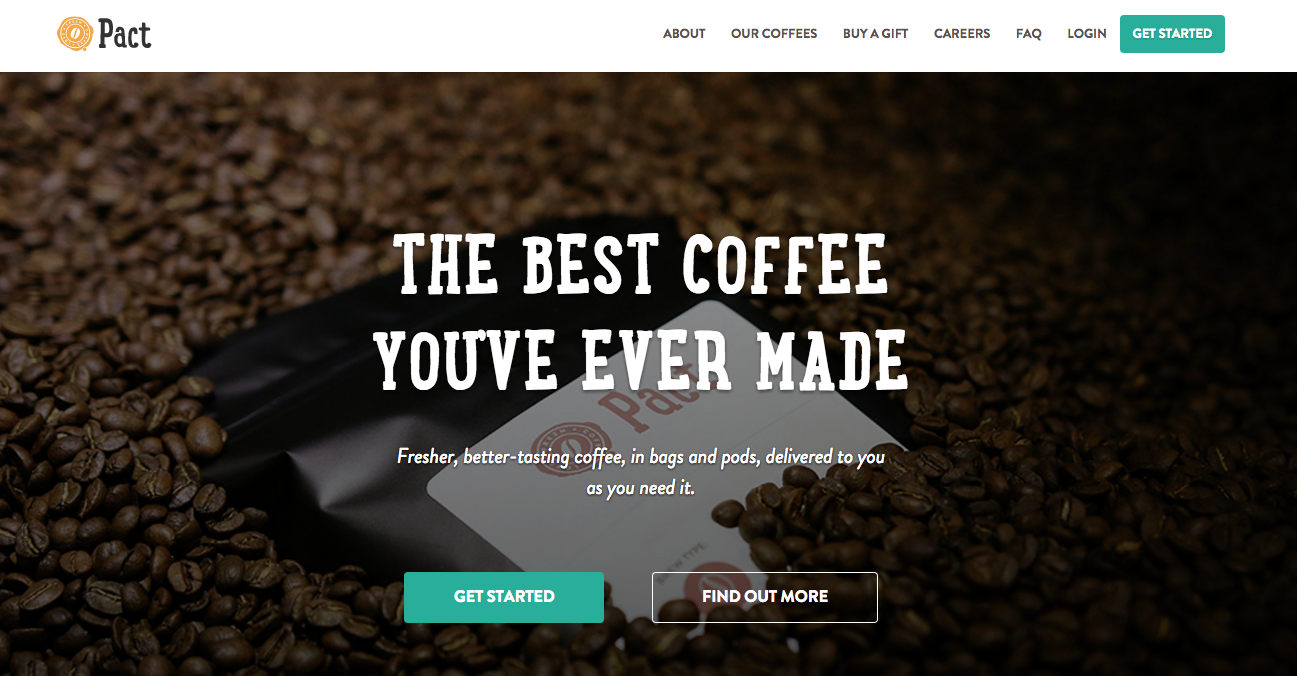 Pact coffee has taken the UK by storm, and currently ships thousands of packs of fresh and pod coffee from their HQ in London daily.
One of the main challenges they've identified is the art of sending customers just the right amount of fresh coffee. Overselling is a threat to business sustainability: too much of a good thing in this instance leads to stale coffee.
Once someone is signed on, Pact offers flexible subscriptions to alleviate this. If customers find they are not getting through their bag before the next one arrives, they can simply adjust their subscription options.
For Pact, flexibility is the key, and their subscribers can:
"Randomize" their coffee selection, which enables the team to send them the best type of coffee for their brew method selected, or stick with one type that they love.
Pause their subscription (if they are tight on cash, or have been given some coffee as a gift).
Change the subscription frequency.
Of course it can become logistically tricky if you offer too much flexibility so it is important to strike the right balance between immediacy and flexibility, and not bite off more than you can chew in what your offer.
Some advice from what Pact for you to learn from:
Establish rapport with customers, for example phone calls to new users or valuable content to support the coffee lifestyle.
Aim to establish the level of connection and loyalty people have with brick and mortar retailers through little touches like keepsakes in boxes, branded bicyclists delivering coffee, quirky stickers in shipments, etc.
For subscription businesses, ongoing relationship management (ongoing value) is as important as acquisition.
How to choose the right eCommerce platform for your coffee store
The platform you choose to sell your coffee from, or build your business on, is an important decision. We wrote a post about the most important features of an eCommerce platform which could be a helpful read if you are in the evaluating stage.
A summary of things to consider when making your choice:
Payment options — Above all else, make sure the platform integrates with your chosen or intended payment gateway, and can support your country's currency (or currencies).
Design options — Review how many free or paid designs are available, as well as the potential cost for having an external designer create one for you.
Security — Is your platform PCI compliant? Does it offer an SSL certificate? What about additional security perks?
Easily created content — If your store doesn't have strong supporting content, it may suffer in Google searches. Look for a platform that allows you to easily create and manage new pages, contact forms, and on-page copywriting.
Online support and documentation — Look for detailed documentation and support options that meet your personal preferences, like tickets, chat, or email support.
Room to grow — Can you upgrade your plan or add new extensions as your needs change? Avoid thinking like a small store — you'll only limit yourself as you grow.
If you're stuck, here's a good starting point: WooCommerce, and for a couple of reasons can be a great choice for a startup coffee subscriptions business. You can be set up and selling in minutes (literally), you're able to customize your website to add your brand's flavor and feel, and it's free, with premium extensions if you need them.
A quick testimonial from Kandace Brigleb about her experience with WooCommerce:
Something that draws me to WooCommerce again and again is the ability to customize the entire transactional experience from the moment a customer visits the site to the cart to the transactional emails that go out. Transactional emails especially are an easy to overlook moment to communicate your brand voice.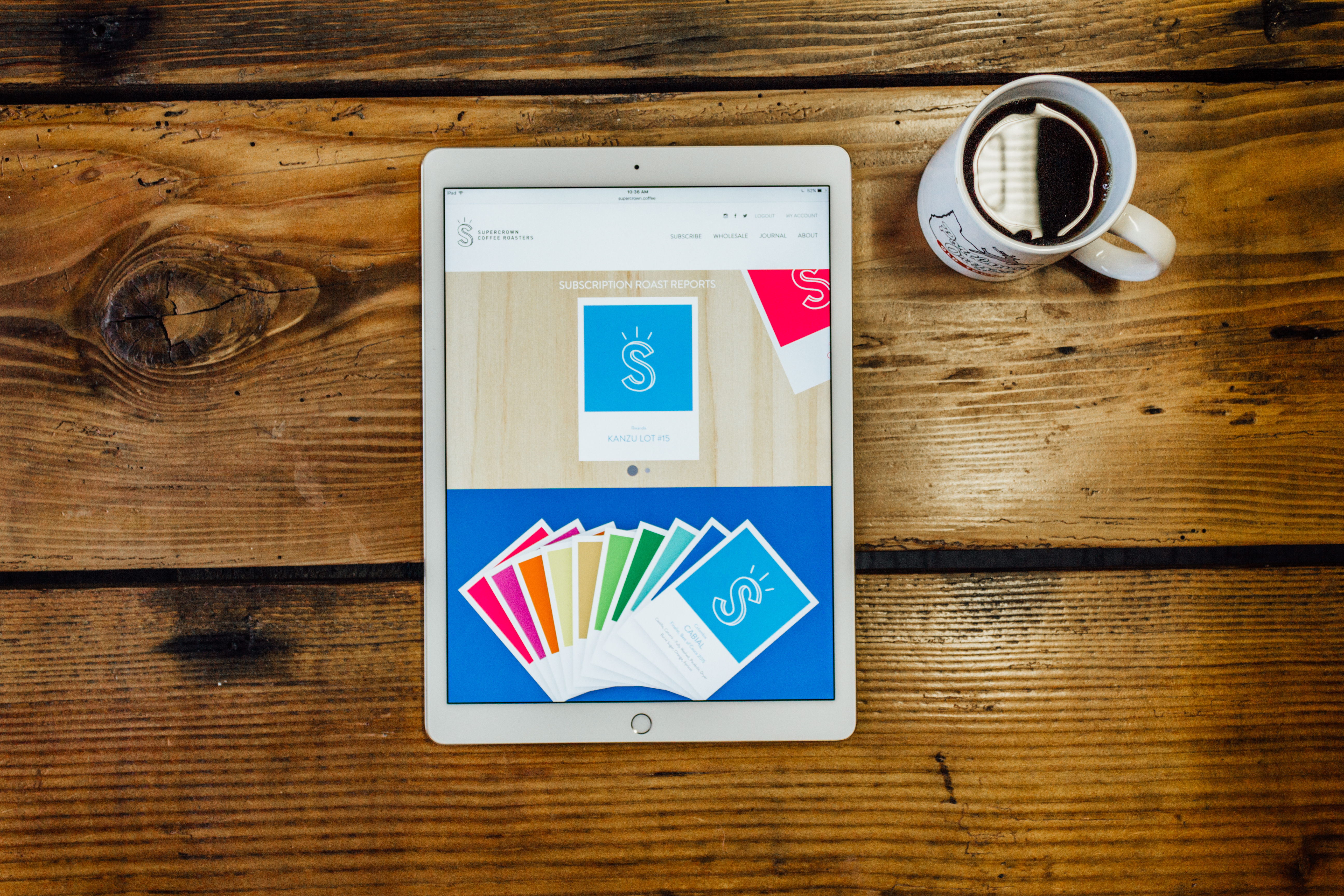 Setting up subscriptions with WooCommerce is a snap, too. With the WooCommerce Subscriptions extension, it takes just four steps to set up your first subscription product:
Purchase, download, and activate WooCommerce Subscriptions.
Create a new product in your store.
Select the terms for the product's subscription, such as price, billing interval, billing period, length, etc.
Publish your subscription!
Keen for more detail? Check out this WooCommerce Coffee Subscription use case to see how easy it is to set up a coffee subscription in a matter of minutes.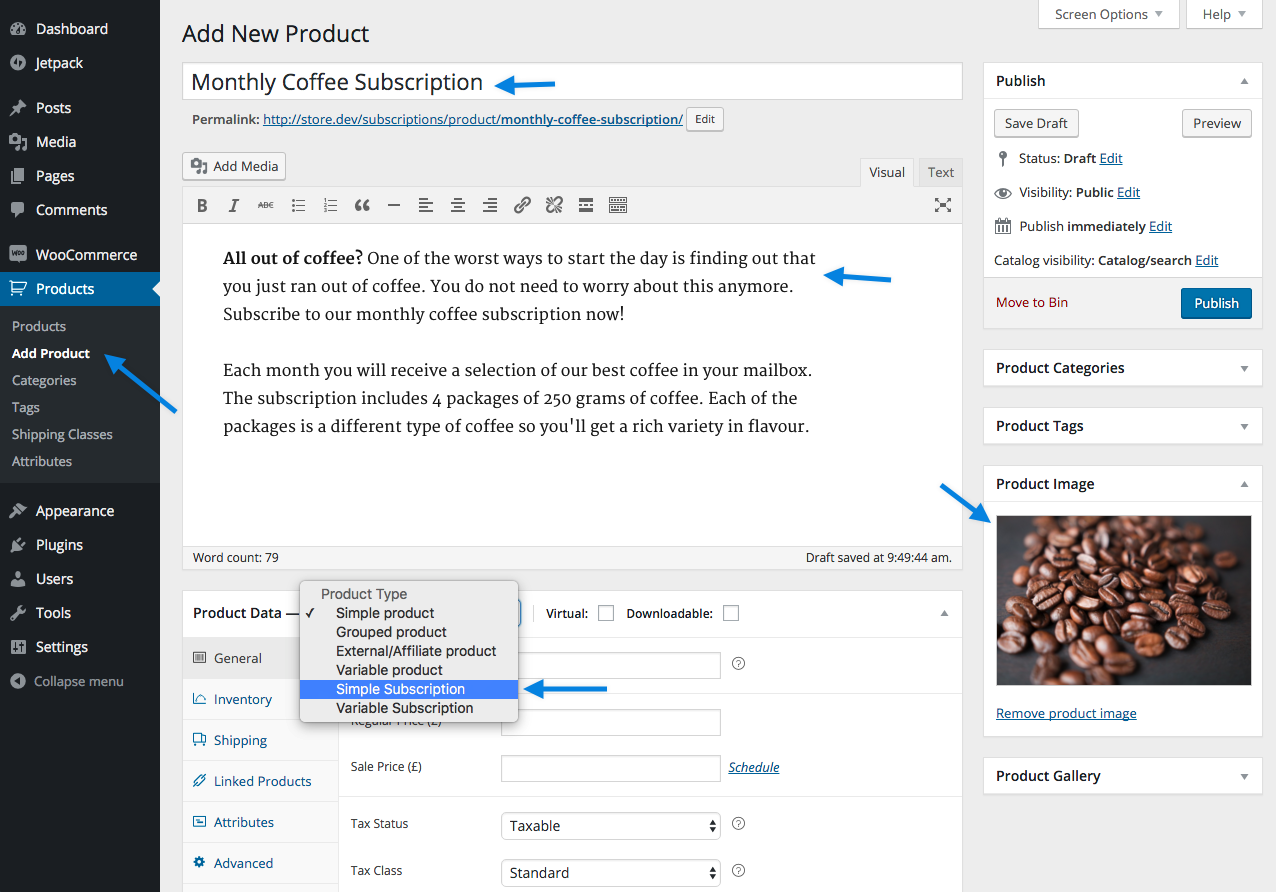 Subscriptions make a good thing even better
Coffee is a wonderful thing. And it's an even more wonderful thing to sell online by subscription. We hope our guide has given you the ideas and inspiration you need to get started with your own store.
Have a question about starting your coffee subscription store? Or any thoughts of your own to add? Leave a comment and we'll be happy to lend you a hand.
A huge thank you to Kandace of Needmore, Pact Coffee, Brent of Prospress, Brett of THX.co, and Sinisa of Matchanna for their contributions to this guide.