Email marketing is a tactic that's recommended for stores of all ages and sizes. The reason for this is clear: it's typically rated by businesses themselves as the strategy with the best ROI, and the cost of creating and sending to a list is relatively low.
The advantages of email are clear: it's inexpensive, it's effective, and it opens a direct line of communication with your customers. However, what's not always clear is how to get started with this tactic so you can reap its many benefits.
Instead of diving in and creating dozens of campaigns right away, your first foray into email marketing should consist of a few select strategies that have proven benefits for your store. This approach will keep you focused, lower your costs, and make things easier overall.
Let's take a look at the first five email strategies you should try for your online store, from basic recurring "what's new" messages to targeted requests sent to specific customers.
A recurring email showing off new products or content
The "monthly newsletter" has long been a staple in email marketing, and with good reason: it's a fantastic way to keep customers in the loop while encouraging repeat purchases.
As email has evolved, of course, the format and frequency of these recurring messages has changed. Some large stores now send bite-sized daily emails advertising new arrivals or weekly sales. Others opt for quarterly digests that take several minutes to read in full.
The right frequency for your updates will be up for you to discern. But the core of this first recommended strategy is keeping in touch with your customers about the products or content that's recently been added to your store.
Each time you add one or more new products, alert the customers who have signed up to receive emails from you. Even if they aren't interested in the specific items you've added, keeping in touch might remind them that they never finished their last purchase, or that they meant to see what else you got in stock lately.
If you don't add products frequently, you can also send emails when you add new content, or have something else going on with your store. Adding blog posts or some great new user-generated content like photos or video? That's worth an email, and again, it'll get subscribers clicking.
A follow-up email to your customers, post-purchase
The email communication you receive from online stores can sometimes feel a little… cold. Outside of the requisite "we've received your order" and "your order has shipped" messages, there's no communication, no life, no… humanity.
Customers don't enjoy feeling like a number or a dollar sign. Lucky for you, there's a way to resolve this (and create an email experience that feels a little more human).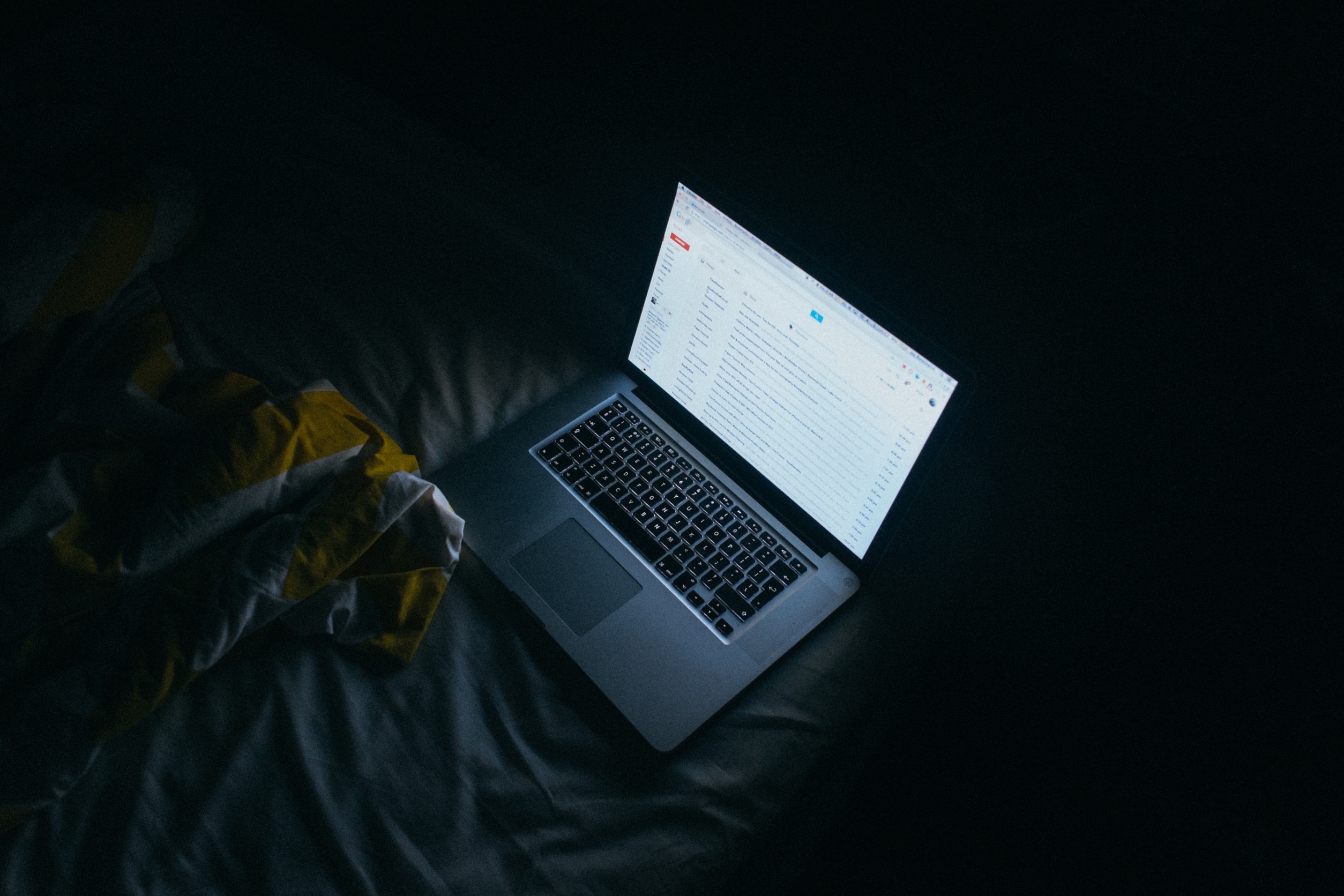 Using automation through WooCommerce, a MailChimp email marketing account, and our MailChimp integration, you can create an email message that sends to customers who have purchased within a recent time period.
With this triggered message, which will only send post-purchase, you can:
Ask customers how their ordering experience went ("did anything give you trouble?")
Ask for specific feedback, ex. if you have just added something new/changed something on your store
Open the door for comments, questions, or an exchanging of ideas ("any suggestions about what we should add to our store next?"
Also, you can set up this message to be written in the first person (and sent from a personal email address), so it looks much more human than an order confirmation or shipping email. This is exactly what Wayfair does when they send follow-up emails to anyone who has ordered flooring samples from them: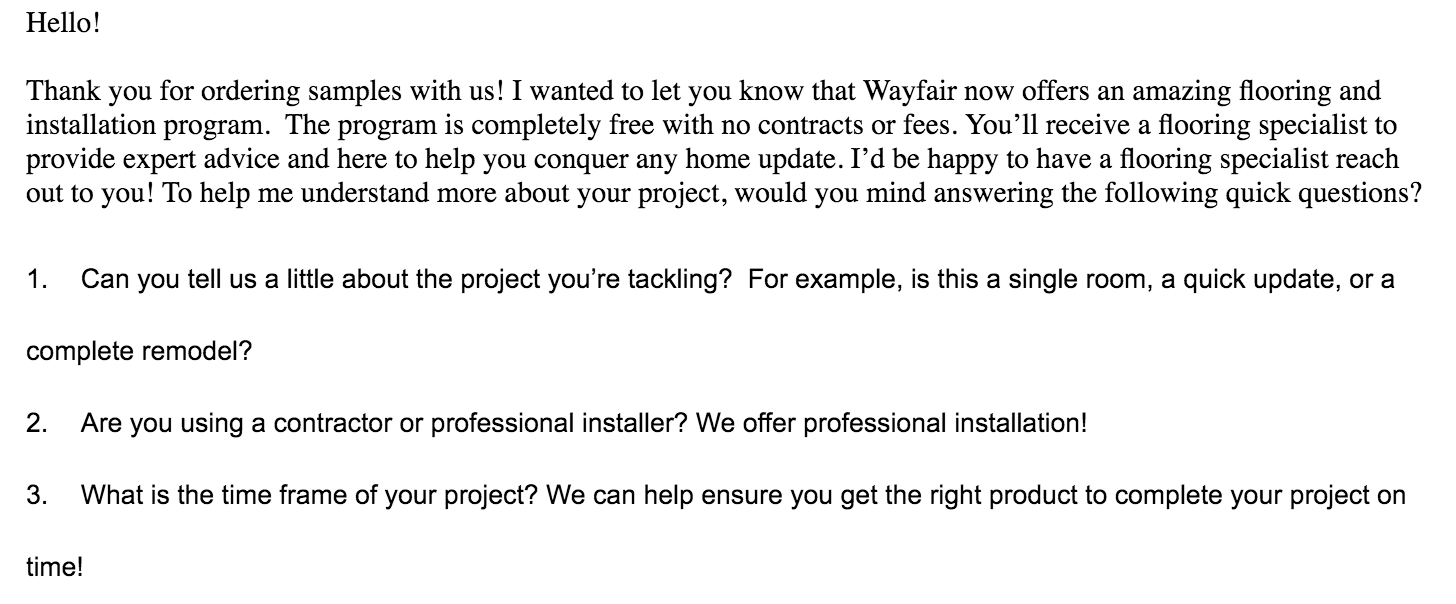 You can learn more about how this works and how to set up the automation from this MailChimp knowledge base article.
A special email with a deal, discount, or coupon code
We've said it before and we'll say it again: shoppers love a great deal. That makes this next strategy almost a no-brainer.
A brilliant strategy to keep customers coming back to your store is to send them an incentive like a special deal, discount, or a limited-time-only coupon code. The appeal of savings is often too good to pass up, which will result in more clicks and more purchases.
One thing to keep in mind, however: it may be wise to use this tactic sparingly when you're just starting out. If you offer coupons or discounts every other week, shoppers might not buy from you unless you're running a sale. "Why pay full price when I can just wait another week and save?" they might think.
Consider saving those specials for occasions like new product releases or holidays — they'll make the discounts seem much sweeter. And on that note…
An email timed around an event, season, or holiday
Holidays, especially the winter ones, are especially busy for online stores. With shoppers clamoring for gifts, seasonal goods, and the occasional discount, this creates a strong need for emails that promote what's going on in your store.
Research or think about which of your products can sensibly be promoted prior to an upcoming event, season, or holiday. If summer is coming up and you sell bathing suits, that's certainly cause for at least one email (if not several). If you ship tasty homemade cookies, be prepared to email for National Cookie Day. The list goes on and on.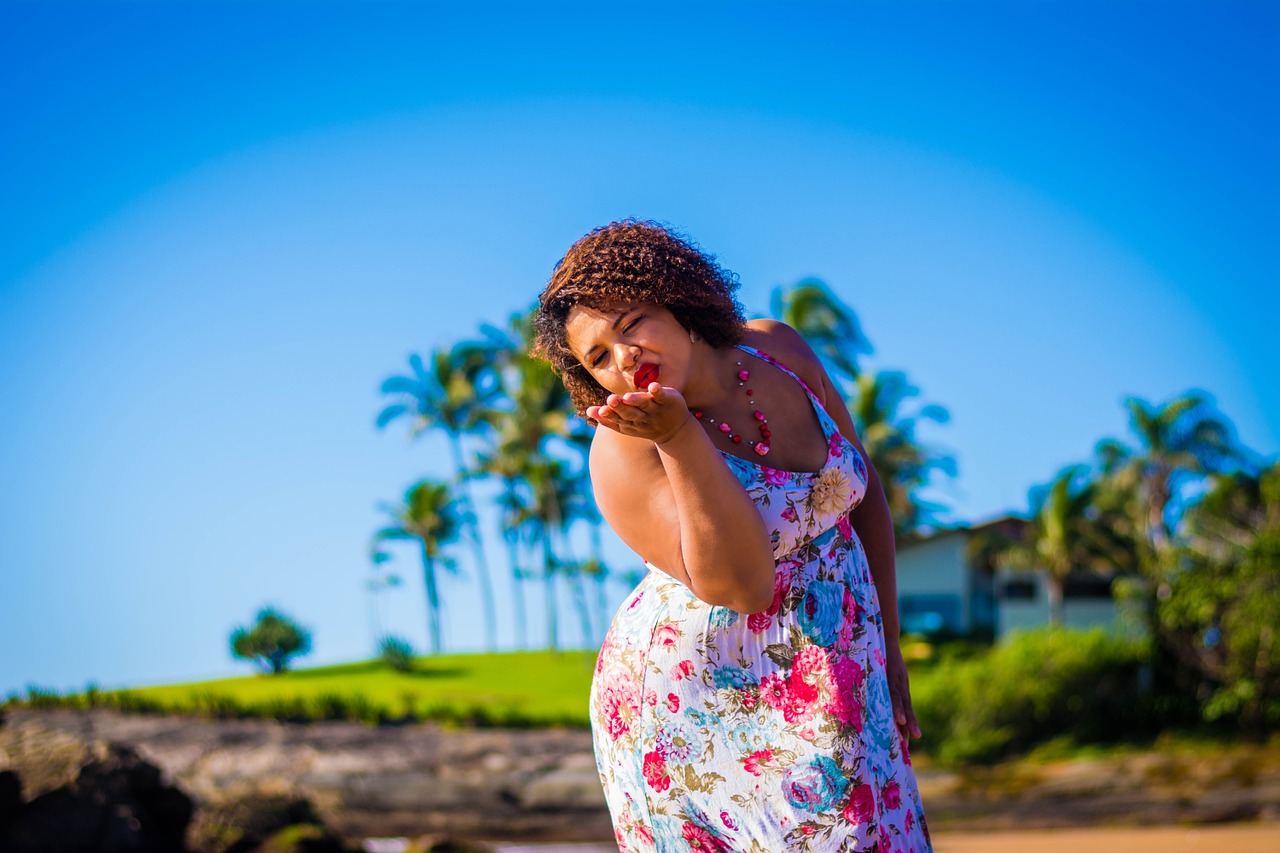 Every store will have different peak times for promoting their products via email, whether it's multiple times per year (ex. clothing, which changes each season) or during one major season (ex. lawn and garden equipment, during early spring).
A helpful way to plan for these emails in advance is by setting up an editorial calendar. Here's how a calendar can help you plot out your emails (and even your other content!) in advance and keep everyone on track.
A re-engagement or "come back" email
The final tactic we're recommending is a little more targeted than some of these other campaigns. In fact, it's something you might set up now, but not send for several months.
Earlier, we recommended sending follow-up emails to customers who had purchased from you to collect feedback or just check in. This idea is similar, but its goal is to re-engage customers who haven't purchased from you in a while.
Getting the second (or third, and so on) sale can be tricky. Staying top of mind is the key to overcoming that. But some shoppers will overlook or tune out typical marketing messages, which is why a highly targeted, personalized "we haven't seen you in a while, give us another try!" email can be that much more effective.
Here's an example:
By dividing up your email list based on which customers have purchased and when, you can send messages to customers who haven't bought from you in, for example, six months. You can offer them a glimpse of new products, or perhaps even a discount off their next purchase.
Another idea is to send a series of emails instead of just one. You can start with a basic "it's been a while" email, follow up with a message introducing new products or features, and then offer a discount or coupon code.
It can be challenging to get repeat purchases, but creating this kind of email strategy — and automating it! — will take you a step in the right direction.
These are just five ways you can get started with email marketing
Email marketing might sound overwhelming and complex at first, but by starting with a few select strategies, you'll be able to manage your efforts and increase your profits one step at a time. Don't dive in headfirst with email — just pick and idea or two, see how things go, and then scale up slowly from there.
For some more tips and help getting started, check out this email guide for eCommerce provided by our friends at MailChimp — it's designed for store owners just like you, and covers everything from building your list to creating your first email.
Have any questions about using email marketing to grow your online store? Or any comments about the five strategies we've suggested here? Give us a shout in the comments, we're always listening.