Are you excited to start selling your brilliant product idea? Looking for a way to make some extra money? Ready to solve a problem for a group of people you love?
It's no surprise that an online store is an excellent way to achieve any of those goals. There's a huge opportunity in eCommerce — global online sales reached $4.28 trillion dollars in 2020 — and it's increasing in popularity year over year. Plus, there's no need for a physical storefront (though you can also have a retail store if you'd like) so it's more affordable and easier to get started.
But there are a lot of things to consider. How do you get started? What foundation do you need to build a store that will last for years or decades to come?
This guide will walk you through how to start an eCommerce business, from creating your products and designing your store to building a thriving company you can rely upon. Let's dive in.
Choosing an idea
Your first step is to choose an idea to build your business around. There are two ways to approach this: start with an audience or a product concept.
Start with a target audience
Your audience is the group of people whose problems you solve. They're the people you sell your products to, write your content for, and build your business around.
Knowing that audience helps you on three levels:
It reduces your competition. Let's say that you sell coffee. If you target an audience who loves to savor a cup of uniquely-sourced, premium, hand-ground coffee each morning, you're not competing with a store that serves busy parents who just want some caffeine on their way out the door. These people are looking for different products and will purchase from a store that meets their specific needs.
It helps you get things right the first time. If you know who you're creating products for, you can better focus on meeting their needs from day one.
It helps you focus on value rather than reacting to the market. When you focus on solving a problem for a specific group of people, you can stand out based on more than price. When price is your only differentiator, it can often be a race to the bottom as you constantly have to lower prices to compete.
And, yes, you can start with an audience before you know exactly what you're going to sell. You might be a teacher who's passionate about elementary education, a veterinarian who loves animals, or a video game lover with an active role in the gaming community. Start there — focus on what you know and love!
Then, figure out what they need, the problem you'll solve for them. Maybe elementary students need a more engaging way to learn math, dogs need healthier treats, and video game players need better ways to interact with other gamers. The sky's the limit when starting an eCommerce business!
Here are a few ways that you can discover problems to solve:
Send surveys or quizzes to people in your audience.
Have conversations with people at trade shows, festivals, and networking events.
Talk to other businesses within your niche and ask what their customers struggle with.
Spend time in forums and social media groups used by your audience.
Read reviews for products and books related to your audience and see what people complain about.
And once you've identified your audience and problem, develop a solution specifically for them.
Start with a product
Or, maybe you already have a great product idea. It's totally fine to start with that, too! But, you still need to think about your audience.
What does your product do? What problem does it solve? How does it help people? Those are all questions that help you identify your target audience.
And again, be as specific as possible. Don't just say you're marketing to women or to business owners. Instead, focus on working moms between the ages of 25 and 30 who have long commutes or small businesses located in the Pacific Northwest that struggle with bookkeeping. Remember: focus is good.
Creating or sourcing your product
Now that you know what you're going to sell and who you're going to sell to, it's time to actually create or source your product. There are a few different methods, so we'll take a look at the pros and cons of each, along with some tips.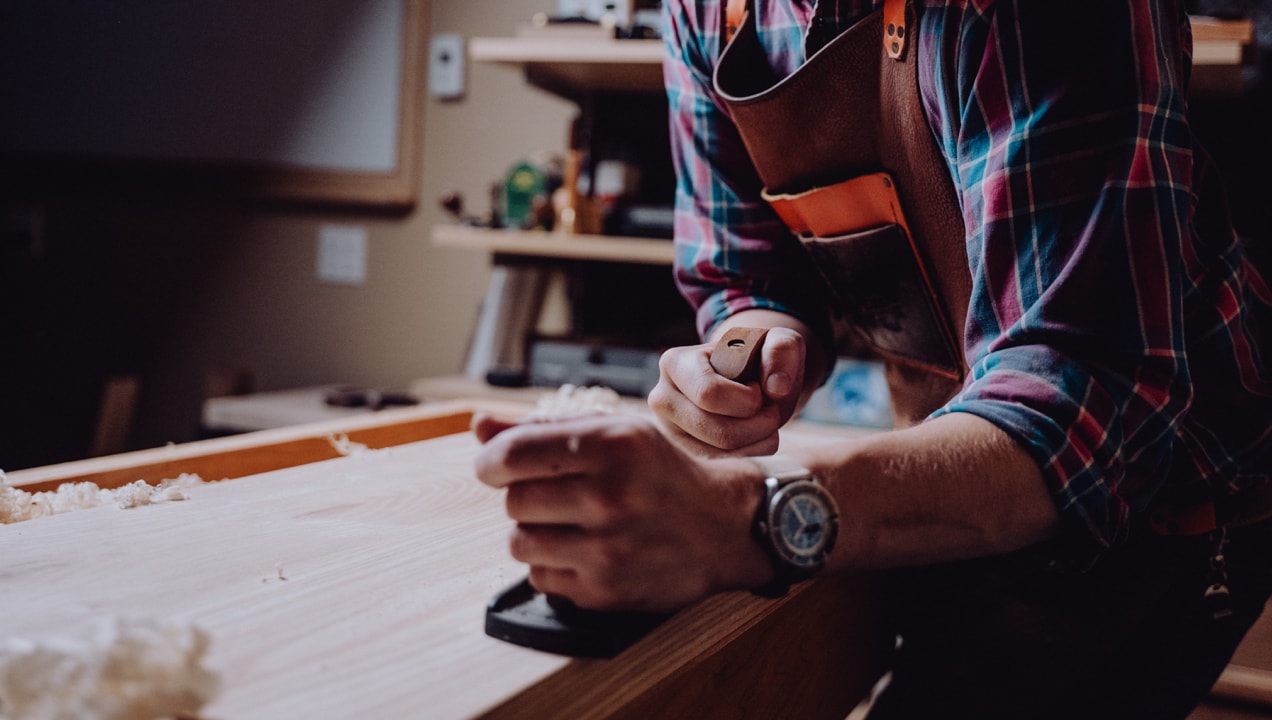 Handcrafting
Are you passionate about woodworking? Sewing? Cooking? Painting? You can use any of these skill sets to create something truly unique by hand.
By doing this, you have full control over every single item that goes in the mail. Plus, since no one can create anything exactly the same way that you can, your store can be one-of-a-kind.
But, it is important to know that scaling a handcrafted business can be tricky. The same uniqueness that makes your products stand out means that it's difficult to find team members who can design them the exact same way. And you only have so much time and so many hands!
That said, handcrafting is a great way to start an eCommerce business on a budget!
Manufacturing
Manufacturing is the process of creating products using machinery and automation on a large scale. You can either outsource this process or purchase equipment to manufacture in-house.
If you choose to outsource, it's important to partner with the right company. Ask questions like:
Are they domestic or overseas?
Do they have minimum order sizes? What are they?
Do they specialize in the type of production you require?
Are their customers happy with them? Are there complaints?
Outsourcing manufacturing is an excellent way to create lots of products at once and, typically, the more you produce, the more efficient it is. It's also valuable if you don't personally have the expertise, space, budget, or desire to build products yourself.
However, it very often requires a decent financial investment upfront since many manufacturing companies require minimum order sizes. You're also giving away some control over product quality.
Dropshipping
When you dropship, you act as a middleman between a manufacturing company and your customers. You find buyers and a supplier both manufacturers and ships the products. Then, you take a cut of the profit.
Of course, there are both pros and cons of dropshipping. There's no need to worry (or pay for!) things like manufacturing, shipping, or inventory. Both the overhead and the hassle are greatly reduced. Plus, it's great for cash flow. You don't have to create a lot of products and hope that people buy them — you'll only pay your supplier after someone actually makes a purchase.
However, since there are multiple businesses dropshipping the exact same products, it can be difficult to stand out and there's a lot of competition. You also give away a lot of control since, in many cases, you don't even see the products that land on a customer's doorstep.
Again, this is why choosing a good supplier is so important. Make sure that the one you work with has an excellent reputation. You may even want to consider a local provider who can work with you on things like packaging and fulfillment.
Print on demand
With print on demand, you put your designs on white-labeled products. You send your artwork digitally to a third-party supplier and they put it on t-shirts, water bottles, stickers, phone cases, and more. Then, they print, package, and ship your items.
Like dropshipping, you can avoid a lot of upfront expenses and hassle with this approach. And it's an excellent solution for creatives. However, you do give up a good amount of control and profit margins.
Digital creation
Of course, not all products have to be physical. You can also sell digital goods, from music downloads to eBooks, memberships, classes, artwork, and more.
This is a great way to make passive income because once you create your digital products, there's very little maintenance to be done on your end.
But, no matter the method you choose, it's important that you take the time to validate your products. Remember the target audience you identified earlier? Reach out to them and ask what they think. Have them try out your product. Ask for feedback. Then, make any needed adjustments.
Setting up your business
Now, it's time to set up your business entity! There are a few steps to get up and running, but it's important to note that this process will vary based on your location.
Choose a name
Choosing a name from scratch can definitely seem overwhelming. You want it to be catchy and memorable, descriptive but unique. The best place to start is with a big name dump. Sit down with your team members, family members, and friends and write down everything you can think of. Then, narrow it down to find the perfect fit.
Here are some considerations:
Does it sound professional? Imagine your business ends up featured in Forbes or the Wall Street Journal. Would the name sound silly?
Is it unique? Make sure that your competitors don't have similar names.
Is it culturally appropriate? Ensure that it can't be construed the wrong way in any markets you might sell to.
Is it descriptive? Can someone tell by your name what you offer?
Is it memorable? If someone hears your business name, will they remember it hours or days later?
Then, run that name by your audience. See what sort of emotional connotations it has and find out if they're drawn to it.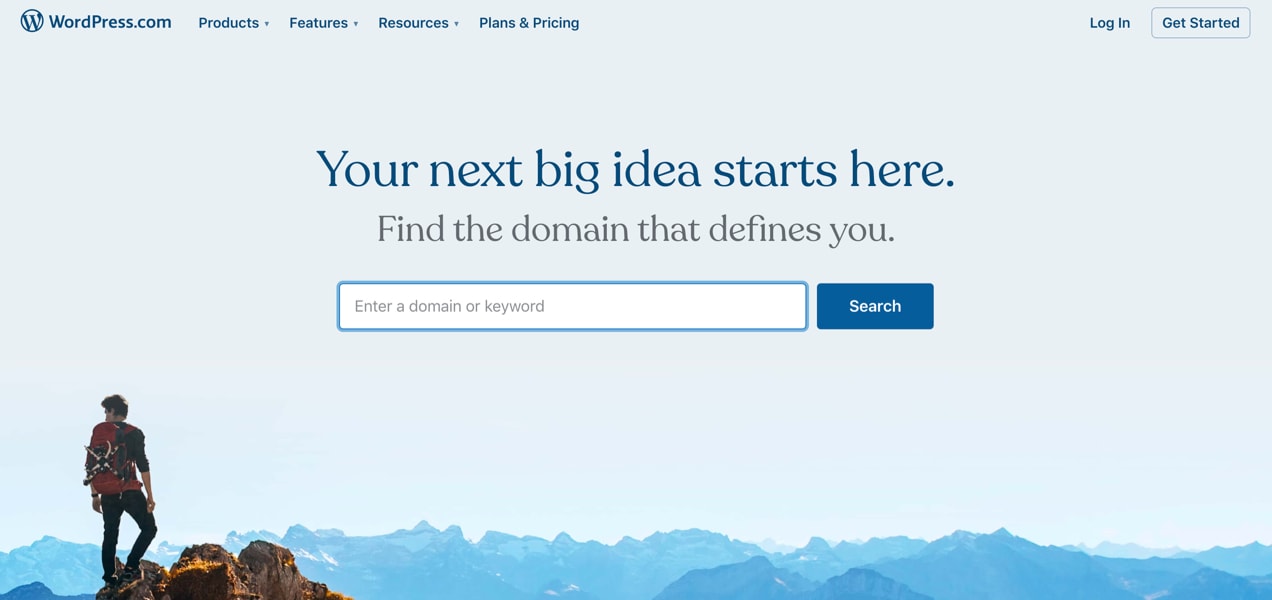 After you choose a name, go ahead and purchase an associated domain name — the URL and address of your future online store. If at all possible, choose a URL that ends in .com, which conveys authority and legitimacy. But there are also lots of great alternatives like .co, .store, and .design. You may even want to buy multiple versions of your domain name to prevent someone else from purchasing them.
Choose a legal structure
The legal structure of your business affects day-to-day operations, taxes, liability, and more. So it's important to choose the right one. Your options will vary based on your location, so familiarize yourself with your country's choices. For the United States, the Small Business Association has a great chart that helps you compare structures.
Fill out any applicable paperwork
Fill out any required legal paperwork to establish your business. Again, this will vary widely depending on the country you operate in. In the United States, that may include filing for an EIN and creating articles of incorporation. The best thing to do is connect with a legal professional to help you through this process.
If you sell certain types of regulated products, like CBD, live plants, food, or alcohol, you may also need to fill out additional paperwork.
Set up a bank account
You'll need the paperwork above to apply for a business bank account. It's important that you have an account that's completely separate from any personal accounts that you have. This is important for accounting and tax purposes.
Create a logo
Now, you can create the visual identity of your brand. A logo is one of the most important parts of starting an online business. There are a lot of things to consider when designing one, like:
Color. Consider cultural implications and the emotions you want to convey. For example, green often communicates trust while red is associated with excitement.
Simplicity. Your logo should be simple enough to look good in even the smallest of applications, like in the corner of a T-shirt. It should also work in full color or in black and white.
Uniqueness. Make sure it's not too similar to another company's logo, from both a legal and brand awareness standpoint.
Style. Do you want something clean and modern? Retro? Bold? What makes the most sense for your business?
Type. Do you want a text-based logo (called a wordmark)? Or would you rather have a symbol, monogram, or abstract design? Some of the best logos are also a combination of these.
Meaning. Think about what you want to convey to potential customers. What does your business do and what do you sell?
While you can design a logo yourself, it's typically best to hire a professional graphic designer who can take all of these considerations into account.
Choosing an eCommerce platform
Now, you're ready to move forward with your online store. But first, you'll need to choose the right eCommerce platform for your needs. You'll want an eCommerce tool that allows you to:
Own all of your content. With some proprietary platforms, you don't really own what you create. They can take down your site without warning, at their discretion. This, of course, can cause you to lose all of your hard work and put your business at risk!
Scale to any level. Some platforms have restrictions on the number of products or SKUs you can have. Others increase their pricing based on the number of visitors or the size of your site. It's important to choose a provider that can help you grow however large you want!
Choose a plan that fits your budget. Think about how much you can afford to spend, especially as you're just getting started. Many providers also charge extra for certain functionality or increase their fees as your store grows.
Extend your store however you'd like. Make sure that your eCommerce platform provides all the functionality you need, whether that's subscriptions and memberships, wholesale tools, or marketing capabilities.
Build and manage your own store. While you can hire a developer to build and manage your site if you'd like, you should also be able to make changes and get started on your own. Choose a platform that fits within your skill level.
Get the support you need when you need it. If you do run into trouble, make sure that you can get high-quality support from your eCommerce platform.
WordPress and WooCommerce meet all of the criteria above. WordPress is the leading website-building platform, used by 42% of the web, and WooCommerce is its online selling add-on. Both are completely free — just pay for any extra extensions you'd like!
You own all of your content and have the flexibility to design anything you can possibly imagine. While many stores won't need additional extensions, there are tons to choose from. Use our extension marketplace to add any tools you'd like, from marketing and product customization to customer service and shipping.
Plus, WooCommerce can scale right alongside you, while making maintenance simple and supporting you along the way.
Want to know how we stack up? Compare WooCommerce to Shopify, Magento, BigCommerce, Patreon, Etsy, eBay, and Amazon.
Building your store
Now that you've decided to move forward with WordPress and WooCommerce, it's time for the super fun part: building your online store!
Looking for a helping hand in creating the WooCommerce store of your dreams? Get in touch with one of our trusted WooExperts! These full-service agencies come with our official seal of approval, so you can rest assured that your project is in safe hands. Find a WooExpert.
Choose a host
Your hosting provider stores your website files and makes them viewable online. They're the foundation of your site, which impacts everything from security to speed. Choose one that:
Has excellent uptime. Uptime is the percent of time your website is up and running. The standard is higher than 99%.
Commits to security. Your hosting plan should include a firewall, regularly scan for malware, update software (like PHP and MYSQL) to the latest versions, and offer regular backups.
Has great reviews. Reviews are the best way to tell if a provider is doing a great job hosting the sites on its servers.
Focuses on speed. Look for key things like in-house caching, SSD servers, and plenty of resources (like RAM and bandwidth).
Has 24/7 support. You don't know when you're going to need help. Make sure your hosting provider is available 24/7 through a variety of methods: phone, live chat, etc.
Offers the right plan for your business. There are a lot of hosting plan options: managed vs. unmanaged, shared vs. VPS vs. dedicated. Take the time to research each one and determine which is right for your site and technical expertise.
Supports WordPress. Some hosts offer plans that are specifically optimized for WordPress. These are excellent options when it comes to speed and support. But if you don't choose a WordPress-specific plan, make sure that, at the very least, the host you choose has WordPress documentation and support articles.
If any of this sounds overwhelming, check out our recommended hosts. They're totally vetted by our team and provide a great building block for your site.
Install WordPress and WooCommerce
The majority of hosts include one-click WordPress installations that are just as simple as they sound. You can get up and running within minutes! See more details about installing WordPress.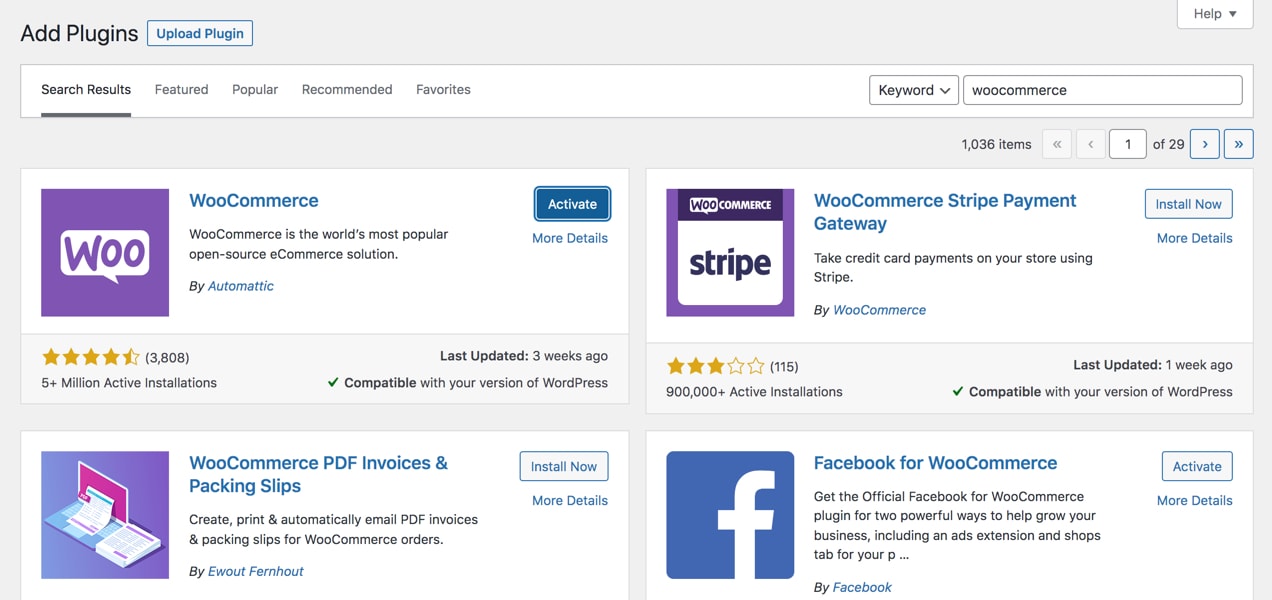 Once you're logged in to your new WordPress site, go to Plugins → Add New and search for WooCommerce. Then, click Install → Activate.
A simple setup wizard will pop up and walk you through a lot of the basics of setting up your store. Or, keep reading for details about individual settings.
Choose a theme
A theme is essentially a design template that you can either use straight out of the box or customize to your heart's content. It affects the layout, design, and sometimes functionality of your site.
There are a ton of excellent free and premium themes available across a variety of platforms, including the WordPress.org repository and the WooCommerce theme library. Some are designed for specific industries and use cases, while others are more generic and can be customized to fit your needs.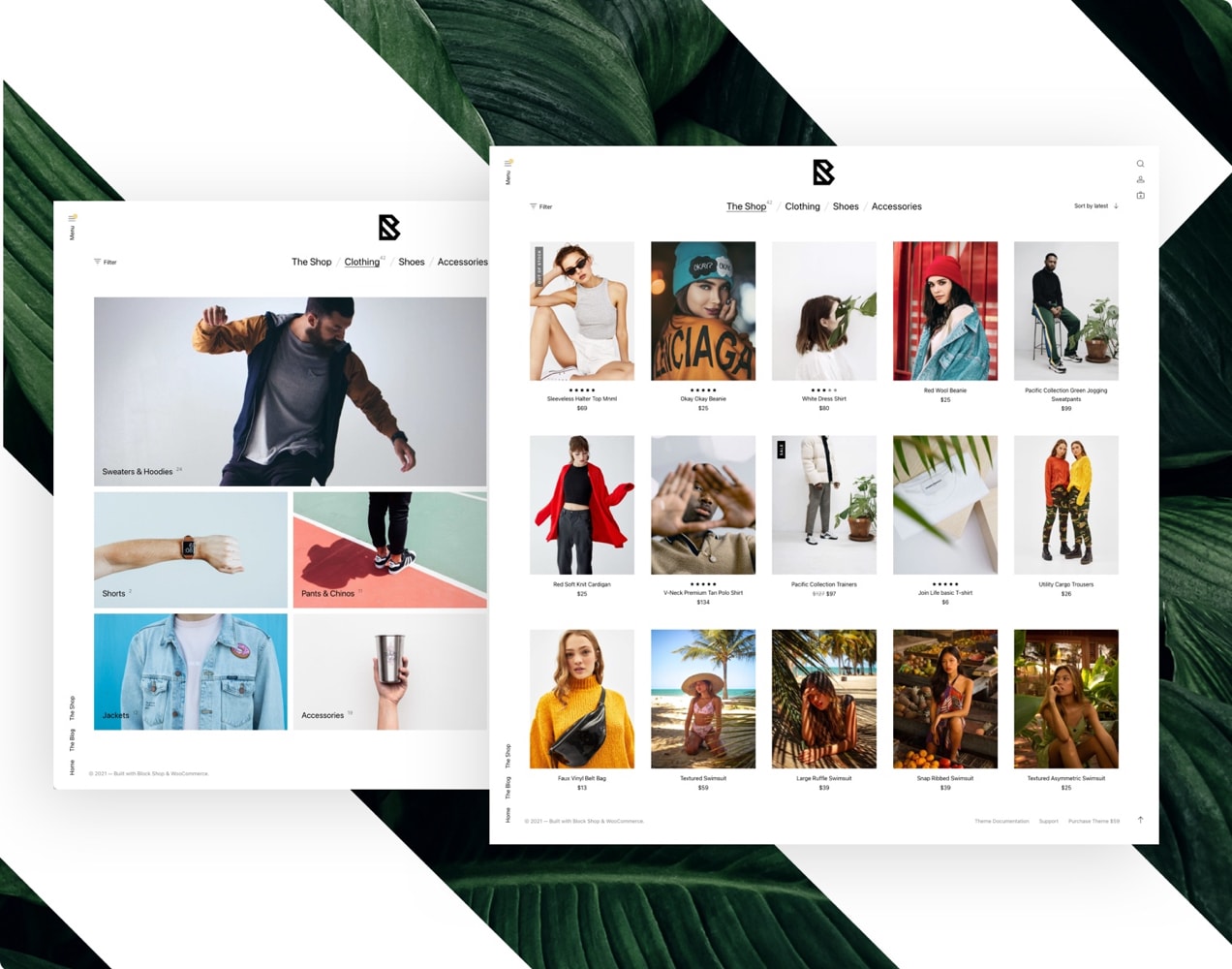 For example, the Block Shop theme is lightweight and efficient, with everything you need and no extra bloat. It features a beautiful, clean shop layout with customizable blocks (more on those later!) so you can create your own design.
But whatever you choose, make sure it's built to work with WooCommerce, has excellent reviews, loads quickly, and comes from a trusted source. For more tips, check out this article on choosing a WordPress theme.
Create your pages
Your next task is to create the pages you'd like on your site. WooCommerce will automatically create pages like Cart, Checkout, and Account, so don't worry about those. Instead, think about what pages will matter the most to potential customers, like:
A homepage
An About page
An FAQ page
A Contact page
The exact pages that you create will depend on your business, products, and audience.
But how do you actually build and design each page? The WordPress editor is a drag-and-drop builder that lets you put elements (called blocks) into place without using code. So, you can drag a contact form, image, paragraph, header, video, or any number of other components into your page. Separate them into columns, customize their colors and settings, and create whatever you'd like.
Add products
There are several types of products you can create, depending on your store, including:
You can click any of the links above for more information about adding each type of product to your store. But, no matter which type you're adding, you'll need to think about things like pricing, SKUs, and inventory.
For each product, make sure to add high-quality images from a variety of angles so that your product is properly represented for shoppers. And write in-depth product descriptions that cover the benefits of your item and anything potential customers might find helpful, like size charts, ingredients, age ranges, etc.
Then, consider any customizations you want to make to your product pages or customer experience. Here are just a few ideas:
The goal here is to make the product purchasing process as straightforward and simple for your customers as possible. Keep your specific target audience in mind with each decision.
Select a payment gateway
A payment gateway allows you to securely accept payments on your website. It accepts money from your customers, validates their information, and transfers the payment to your bank account. As always, there are a few things to consider when choosing a payment gateway:
What are the fees involved? Every payment gateway takes a small portion of each payment in exchange for its services. Some also have additional fees.
Does it keep customers on-site or take them off? Some gateways allow you to accept payments directly on your site while others send customers to their own site to pay. Ideally, you should keep them on your site to make the process as simple as possible.
How quickly does money transfer to your bank account? Some gateways transfer payments after several days while others offer overnight or even instant transfers.
Does it integrate with digital wallets? Digital wallets, like Apple Pay or Google Pay, make the checkout process super fast for many customers. They can pay using existing accounts without having to hunt down a credit card.
How easy is it to manage? Do you have to log in and out of several accounts to manage payments or does everything happen in one place?
For a full list of considerations, check out our guide to payment gateways.
Or, if you're looking for something both simple and powerful, WooCommerce Payments is an excellent option. You can manage everything, from payments to refunds, directly in your WordPress dashboard and offer payment options like Apple Pay in addition to credit cards. Plus, keep customers on your site and take advantage of instant deposits.
Set up shipping
If you sell physical products, you need to figure out the best way to get your items into customers' hands.
Start by choosing a carrier, the provider who actually delivers your packages. Examples include USPS, FedEx, UPS, DHL, and Canada Post. Think about where you want to ship (nationally or internationally?), weight limits, insurance options, and any special product considerations like refrigeration or fragility.
Then, decide on the shipping methods you want to offer customers. These are the rates and services they can choose between when checking out.
There are a lot of different ways you can structure this. You might offer free shipping to encourage more purchases. You might base shipping costs off of location, weight, and speed. Or, you might charge a flat fee, no matter what items are in a customer's cart.
Finally, decide on your fulfillment solutions, the tools and processes you need to actually deliver your items. This might include purchasing and printing shipping labels, providing tracking information to customers, and packaging your items to keep them safe.
Learn more about making the right shipping decisions for your store with our shipping guide.
While WooCommerce offers a variety of shipping extensions to help get everything up and running, WooCommerce Shipping simplifies the entire process. Print labels directly from the WordPress dashboard, ship both nationally and internationally, and get discounts from USPS and DHL.
Set up taxes
Depending on where you're located, you may need to charge sales tax on your products. The amount you charge is also based on where your customers are located, so things can get complicated quickly.
Because of that, we highly recommend connecting with a tax professional and using a tool that automates the process, like WooCommerce Tax.
Make sure your store loads quickly
If your website loads too slowly, customers will get frustrated and shop elsewhere. Plus, slow load time can negatively affect SEO and conversion rates. But how do you get things moving quickly?
Optimize your images. Images are some of the heaviest elements on a website. So, use the smallest size possible that still looks professional and high-quality. And take the time to compress your media files before uploading them.
Use a CDN. A content delivery network (CDN) loads your site files from super-fast servers around the world. This is especially helpful if you have international customers because they'll see your site from the server located closest to them.
Optimize your code. Generate critical CSS and defer non-essential Javascript to see a big speed improvement. Not sure what this means? Let Jetpack Boost take care of it with just one click.
Lazy load images. Only load the images shoppers see at a given time rather than all the pictures on the page. You can also use Jetpack to turn on this feature for free.
Update everything. Keep WordPress, themes, and plugins regularly updated so that they run smoothly and quickly.
Install a caching plugin. Caching enables browsers to store a copy of your site so that, when visitors come back, it will load much more quickly. There are a lot of great, free caching plugins, including WP Super Cache.
For even more tips and instructions, read Ten Ways to Improve the Speed of Your WooCommerce Store.
Secure your store
Of course, you also want your store to be secure, so you don't have to worry about hacks or other issues. WordPress is a very secure platform and, with a quality host, you're already off to a great start. But here are a few other measures you can take:
Scan for malware. If someone installs malware on your site, you need to know right away. We recommend using Jetpack Scan to regularly monitor your site. It even includes one-click fixes for the majority of problems!
Block brute force attacks. Brute force attacks occur when bots try to get into your site by guessing thousands of username/password combinations per second. But you can easily block these with a tool like Jetpack.
Keep an eye on site activity. By monitoring everything that happens on your site, you can identify anything that looks "off." A WordPress activity log like Jetpack shows every action from edited pages to deleted plugins and includes information like date, time, and user.
Use secure passwords. Make your passwords as complicated as possible, with letters, numbers, and symbols.
Update all software. Regularly update WordPress, themes, and plugins so that all of your software has the latest security releases.
Set up automatic backups. In case anything does ever go wrong, backups can be a lifesaver. The best solution is automated, real-time backups that save every single order and action that takes place on your site.
Get rid of comment spam. Instead of manually monitoring spam comments and reviews, set up automatic spam filtering. Tools like Akismet keep your site and your visitors safe.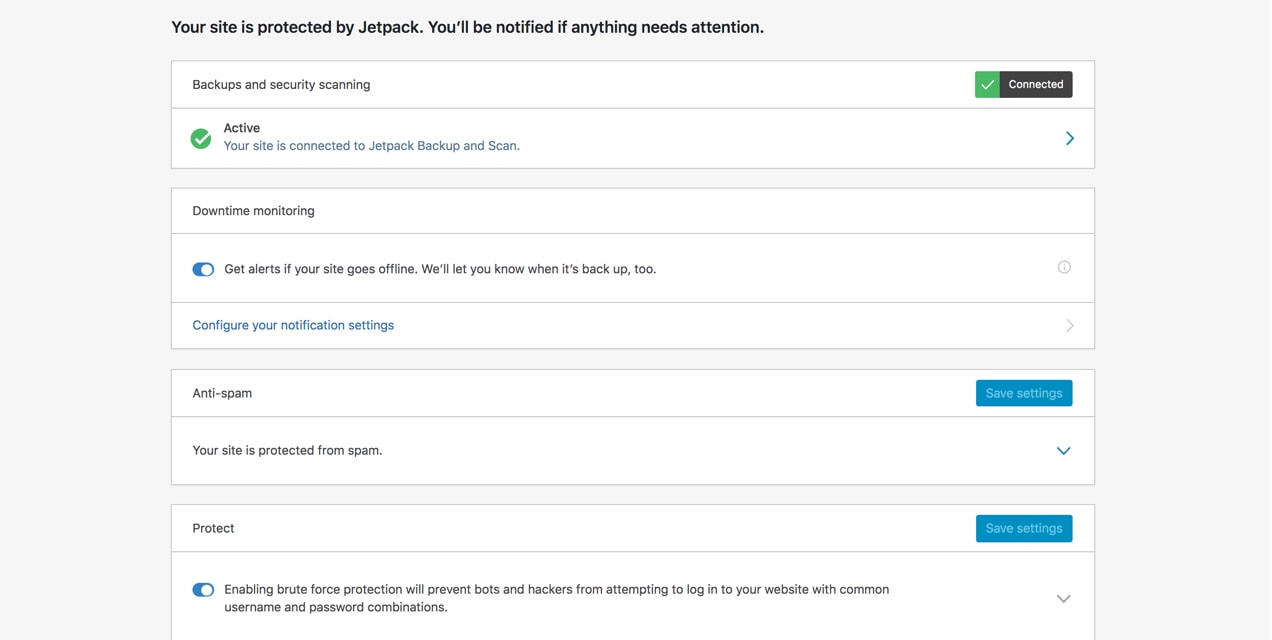 Check out our list of the first steps you should take to secure your store for more tips.
Finding customers
Now that you've learned how to start an eCommerce business, it's time to think about marketing it. There are a lot of different marketing strategies and the right solution goes back to that target audience you identified earlier. Where do they spend their time? What messages resonate with them?
Here are a few common and effective online marketing methods:
Display and search ads. You typically pay per click for these types of ads. Choose your specific audience and get your message in front of them on sites they already visit or in their search results. Make the whole process simpler by managing your ads directly in the WooCommerce dashboard with Google Listings and Ads.
Shopping ads. Google Shopping ads list your products in the Shopping tab of Google search. These are super visual and typically show a picture, price, and additional product-specific information. And the Google Listings and Ads extension will sync everything from your store, so the info is always up to date.
Social media marketing. Publish posts that keep fans and followers interested and engaged or use social media ads to reach an entirely new group of people. The extension marketplace has great options to help sync your site.
Email marketing. Send newsletters and updates on sales and new products to existing and potential customers. Or, harness the power of automation to send abandoned cart emails and recover sales. WooCommerce integrates with a variety of email marketing tools such as AutomateWoo and MailPoet.
Search engine optimization. Reach interested shoppers organically by showing up in their search results for keywords related to your products. Here are some top tips for getting started with SEO.
Content marketing. Publish helpful content like blog posts, guides, and videos that show potential customers you know what you're talking about. Then, you can use this content throughout other marketing efforts like ads, email, and social media.
Influencer marketing. Harness the power of influential people on social media and other platforms. Depending on their popularity, they may share a post or video about your product in exchange for a fee or free product.
You could also try offline marketing methods, including grassroots marketing, radio ads, billboards, print ads, and direct mail.
For in-depth guides, tips, and examples, see our library of marketing blog posts.
Delivering excellent customer service
Customer service is the biggest component of gaining loyal customers who come back time and time again, and even refer you to their friends and family. They will be your biggest advocates.
So do everything you can to keep customers happy:
Be genuine and authentic in your product descriptions and marketing efforts.
Offer refunds and exchanges if something goes wrong — it will from time to time!
Make yourself available to shoppers for questions via live chat, phone, email, and contact forms.
Provide tips, guides, and instructions to help customers best use your products.
Continually improve your products and processes based on feedback.
Be careful when shipping products to ensure they arrive in peak condition.
Design fun packaging that delights customers. You may also want to include a free sample or handwritten note.
Reward customer loyalty with discounts, sales, and even reward points.
The biggest tip? Remember who you're creating your products for and the difference you make for them. If you keep that in mind with each decision you make, you're going to be just fine.
All the essentials for starting a successful online store
Ready to start an eCommerce business? You're now equipped with all the basics you need to launch your store and find success. But we also want to take things one step further.
That's why we have a special offer on our WooCommerce Essentials collection. It includes handpicked tools that help you from day one to day 1,000, from product features to security, marketing, and more. Save 20% when you purchase three extensions, or 25% when you purchase five.
But whether you decide to add on to your store with extensions or start out with the completely free WooCommerce plugin, we're here to help. If you have any questions during your journey, reach out to our support team, check out our documentation, or read our blog posts written just for you.
Ready to launch? Get started with WooCommerce.