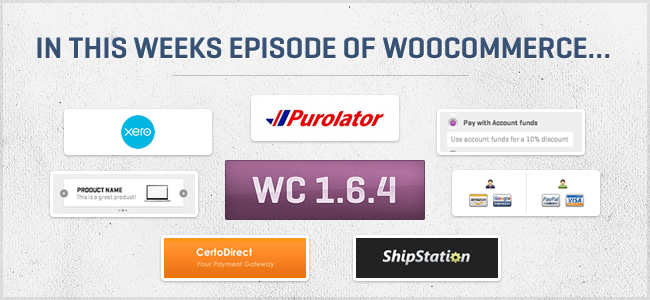 This week we've a colossal drop of WooCommerce goodies including the sought after Xero integration, Account Funds, ShipStation integration, CertoDirect payment gateway, Purolator integration, Role based payment / shipping methods and the first WooSlider extension which allows you to easily create product slideshows.
To top it all off, we've also just released WooCommerce 1.6.4 which features a bunch of tweaks and fixes.
Xero Integration

Xero is beautiful accounting software and is the world's easiest accounting software you'll see. It handles all of your business accounting functions from bank reconciliation and financial reporting to inventory tracking and payroll.
Developed by Daniel Espinoza.
Account Funds
The Account Funds extension helps build customer loyalty and repeat business by ensuring that your customers spend their funds only on your store! Reward them by giving them exclusive discounts and instant order processing if they pay using their Account Funds.
Developed by Vic Santos.
View this Extension
WooSlider – WooCommerce Product Slideshow

The WooSlider WooCommerce Product Slideshow plugin extends our popular WooSlider plugin, hooking in WooCommerce to display your products in a neatly designed, responsive slideshow.
Choose specific product categories and tags, display only featured products or only products that are in stock. These settings can be adjusted per-slideshow, enabling the creation of multiple product slideshows for different contexts.
View this Extension
ShipStation Integration
The plugin helps store owners significantly speed up the shipping process by offering an easy way to seamlessly integrate with a ShipStation 'Custom Store'.
ShipStation is a web-based shipping solution that streamlines the order fulfillment process for online retailers. With real-time integrations into popular marketplaces and shopping cart platforms, ShipStation handles everything from order import and batch label creation to customer communication. Advanced customization features allow ShipStation to fit businesses with any number of users or locations.
Developed by HANDeBand.
View this Extension
CertoDirect Payment Gateway

CertoDirect is a "Failsafe Payments" owned gateway and is PCI DSS Level 1 certified payment gateway providing means for debit/credit card payments plus more than 10 different alternative payment methods. Some of the payment methods include Alipay, Webmoney, Amazon Payment, Google Wallet, uKash and more.
Developed by Ivan Andreev.
View this Extension
Purolator Shipping Method
The Purolator Shipping Method use the advanced Purolator API to calculate automatically the shipping charges of the cart. Base on the weight and dimensions of each products, the cost will be calculated and rates will be shown based in the shipping methods of Purolator selected in the WooCommerce administration.
Developed by Guillaume Prieur.
View this Extension
Role based methods
WooCommerce Payment/Shipping Roles extension allows Administrators to limit Shipping Method and Payment Gateway availability by each user role.
For instance, site admins can now enable one method/gateway for "customers" but disable that same method or gateway for "guests." Adding custom roles for "Distributors" or "Wholesalers." The WooCommerce Payment/Shipping Roles extension makes it easy to handle shipping and payments for customers large and small.
Developed by avEIGHT.
View this Extension
WooCommerce 1.6.4

WooCommerce 1.6.4 contains several fixes and tweaks, for instance:
We've made the proceed to checkout button update cart totals too
Iconised the order action buttons and made other interface tweaks
Moved upsells above related products as they should have higher priority
Made the currency DP rule apply to order totals for currencies which don't have cent values
Rewritten variation add-to-cart javascript to add scope (Please ensure that if you have a custom variable.php add to cart template you update it)
Feature wise we've introduced an input to control the shipping methods name as the user see's it:
You'll also notice we're significantly increased the inline documentation. This has allowed us to launch our API docs: http://wcdocs.woocommerce.com/apidocs/
See here for the full changelog and leave us a rating if you like it 🙂