When you hear the phrase "landing page," you probably think of a dedicated page on a website. Or you might even think of your store's homepage.
Most marketing blogs suggest that you use dedicated landing pages to show new visitors marketing messages, or offer a specific audience a deal or pitch crafted just for them. And sure, for some sites, this is an effective strategy — but it's different in the world of eCommerce.
When you run an online store, landing pages aren't limited to just a few select spots. The reality is that almost every page on your store can be a landing page, under the right circumstances.
With this in mind, your goal shouldn't be to set up special pitches or deals limited to certain visitors. You should optimize all of your pages in the same way so that no matter where a shopper arrives, they'll get the right message.
Let's take a look at what your landing pages actually are, and how you can make them work harder for you.
Landing pages defined, and why you don't need to create them for your store
Wikipedia defines a landing page as a "single page that appears in response to clicking on a search result or online advertisement." Usually, when someone talks about a landing page, they're talking about a dedicated page that moves visitors from search or an ad to the next point in the sales process.
Some store builders create these kinds of pages because they think they'll help them sell more. They want to have a dedicated page with some kind of special sales message or coupon, or tailored to a specific group of customers.
But most eCommerce customers don't respond positively to these landing pages. They come to a store with a specific purpose or product in mind, and to them, a special "look at this first!" page is just getting in the way.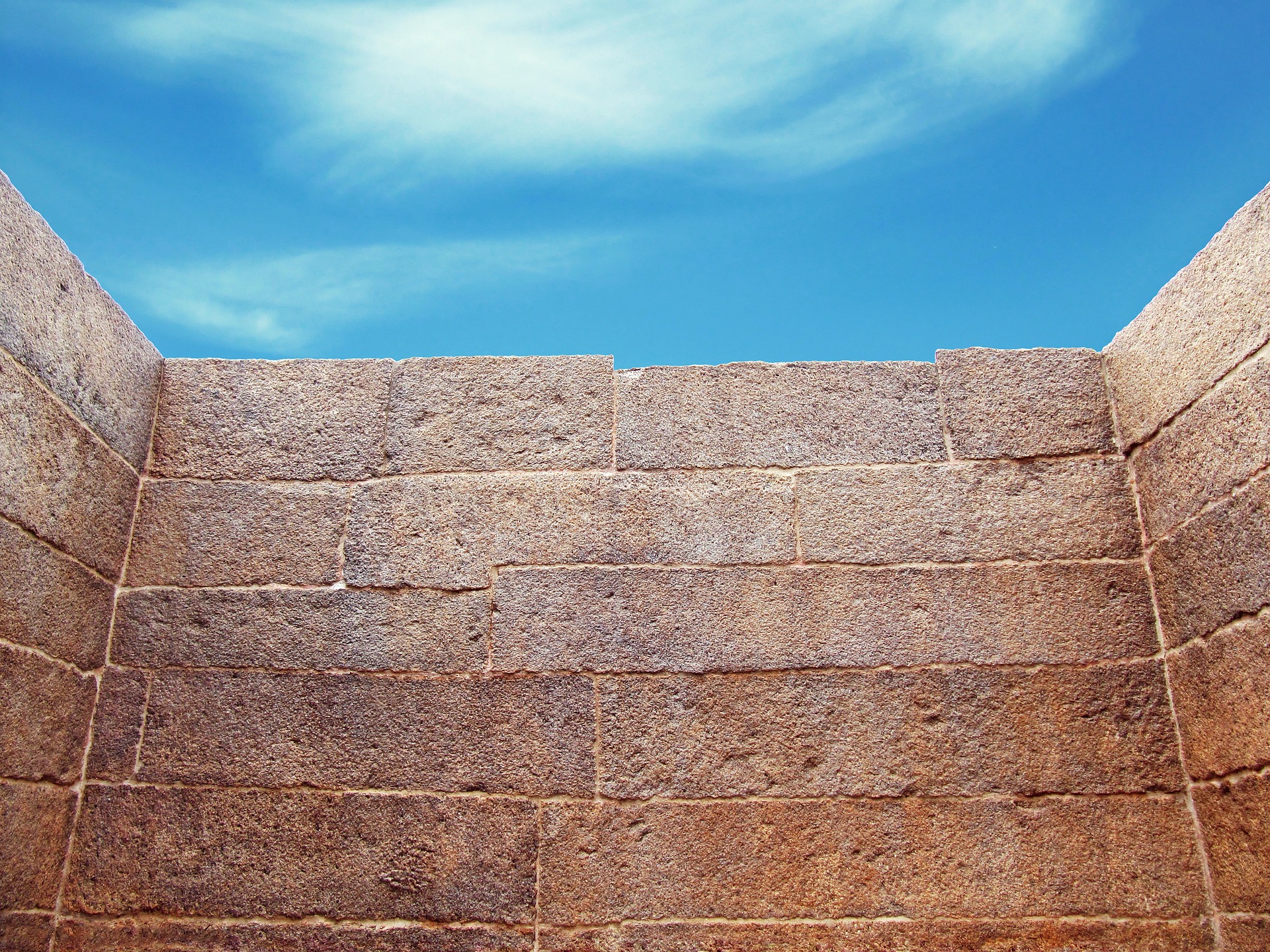 Rather than build up walls between you and your customers, your goal should be to make it easier for them to learn about you, get interested in your store, and (ultimately) buy your products.
You can do this by optimizing the pages that potential customers are already arriving on to better meet their needs. In most cases, this means making improvements to your product pages — the most common "landing" page in eCommerce — and other popular destinations.
But to know what to optimize, you first need to know what's popular. So here's how to find out what your landing pages are.
How to find your store's existing landing pages
If you've spent all your time adding sales messages and "why us" statements only to your homepage, most of your visitors probably aren't seeing them. And that's because, as mentioned, product pages are the most common point of entry to an online store.
But every store is different, so you shouldn't change anything before you know for sure where your visitors are actually starting out. Luckily, if you're using Google Analytics with your WooCommerce store, there's a built-in report you can run to find out what pages visitors are landing on.
In Google Analytics, navigate to Behavior > Site Content > Landing Pages. Click through to this report, adjust the dates as you please, and there you have it — a list of the most-frequented landing pages from the time period you choose.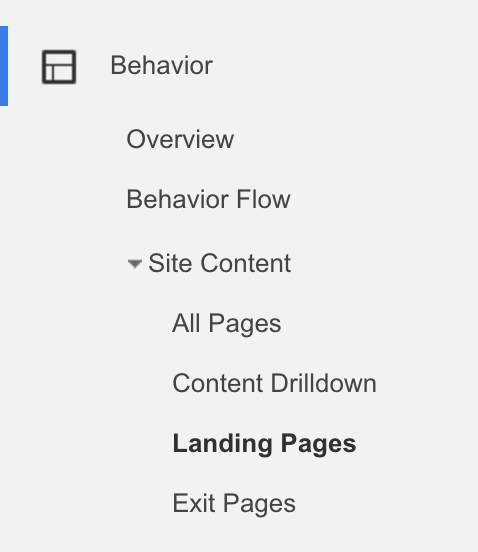 These are the pages your customers are already arriving on from search engines, links from other sites, or marketing. They're the pages that give new visitors and potential customers their very first impression of your store, its products, and everything that goes into your brand.
Look at your list and think about this for a second: are these pages giving visitors the best first experience possible?
Your answer is probably going to be "no," and that's okay. Until you run a store for a while, you don't realize just how much traffic comes into your site from other pages as opposed to your homepage. So while you've probably done a lot of (valuable!) work making your homepage shine, now it's time to start thinking about these other pages.
Let's first take a look at how you can improve your product pages, and transform them into hard-working, great-first-impression-making sales tools.
Why product pages are the most common landing pages — and what you should do to optimize them
When you look at your Landing Pages report in Google Analytics, you'll probably notice a few product pages at the top of your list. For many stores, these pages will be the first encounter a potential customer has with you.
This is because shoppers don't tend to search for the stores they need — they search for the products they need. It makes more sense for a consumer to search for "red lipstick" or "waterproof lipstick in bright red" than it does to search for "makeup store." Why rummage through an entire store if you can go straight to what you want?
This means you'll probably need to shift your approach with product pages. Instead of thinking of them solely as a place to stash individual product information, you'll have to start thinking of them as sales tools. It's their job to make a great first impression and convince a potential buyer to click that "add to cart" button.
Here are the two most important things you can do to make your product pages killer sales tools for your store.
Allow new customers to learn about you quickly — from anywhere
We've talked before about some of the best things to have on high-performing product pages — detailed copywriting, crystal-clear images, and so on. But if you think of product pages as landing pages, you'll quickly realize that they could be a shopper's first introduction to your company, your products, and your brand's entire "story."
With this in mind, you're going to need more than gorgeous photos and a clever blurb, because you're not just selling a product — you're selling your store. So one of the best ways you can optimize these pages with brand new customers in mind is to make it faster and easier to learn about your store.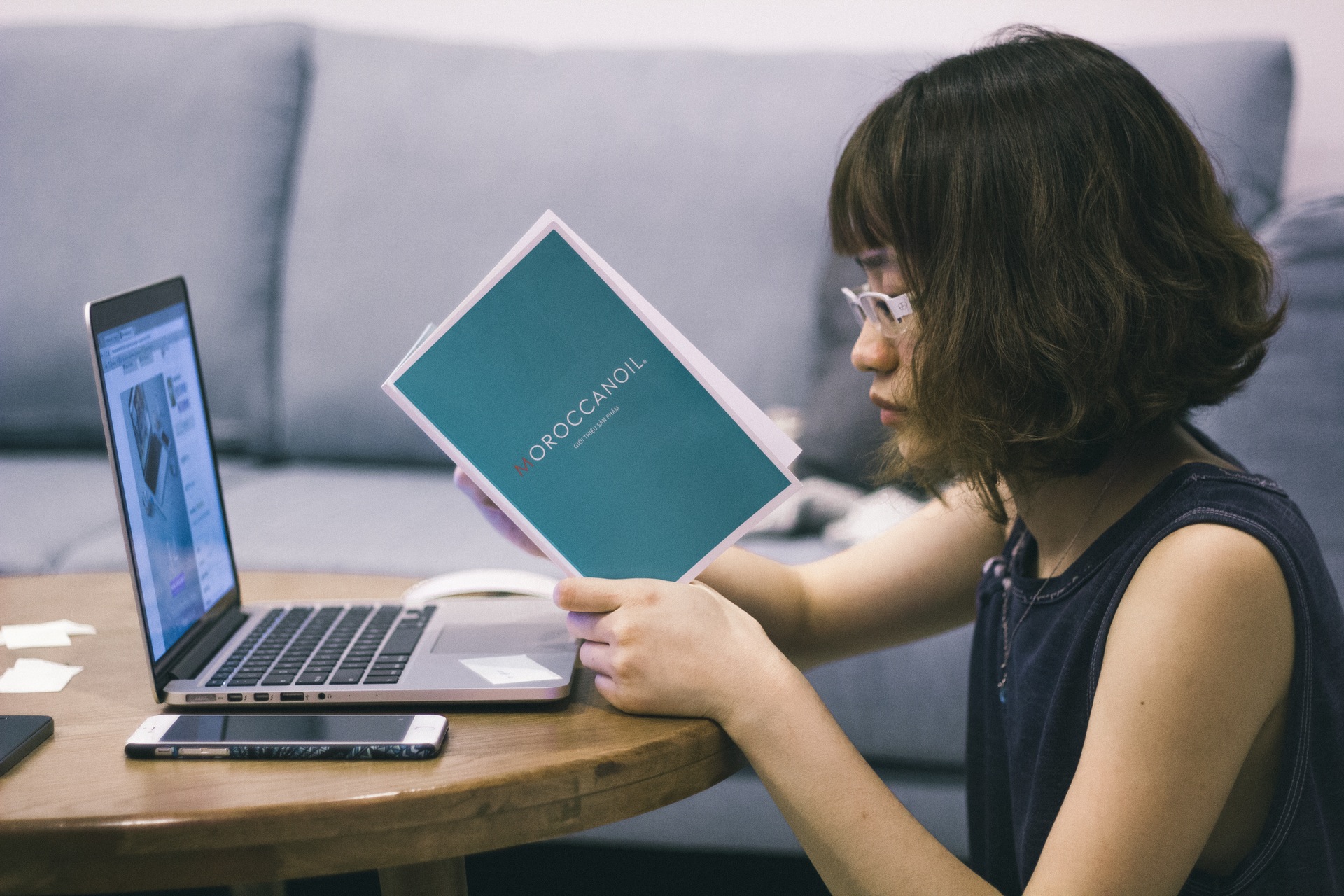 No matter where a shopper first arrives on your store, the messaging you deliver should be the same. They should be able to learn in a matter of seconds who you are, what you're about, and why you're a better option than your competitors.
Have a look at what fine jewelry store (and WooCommerce-powered shop!) Roberto Coin does with their product pages. Each ring's product page has a graphic below the long description that mentions their signature ruby: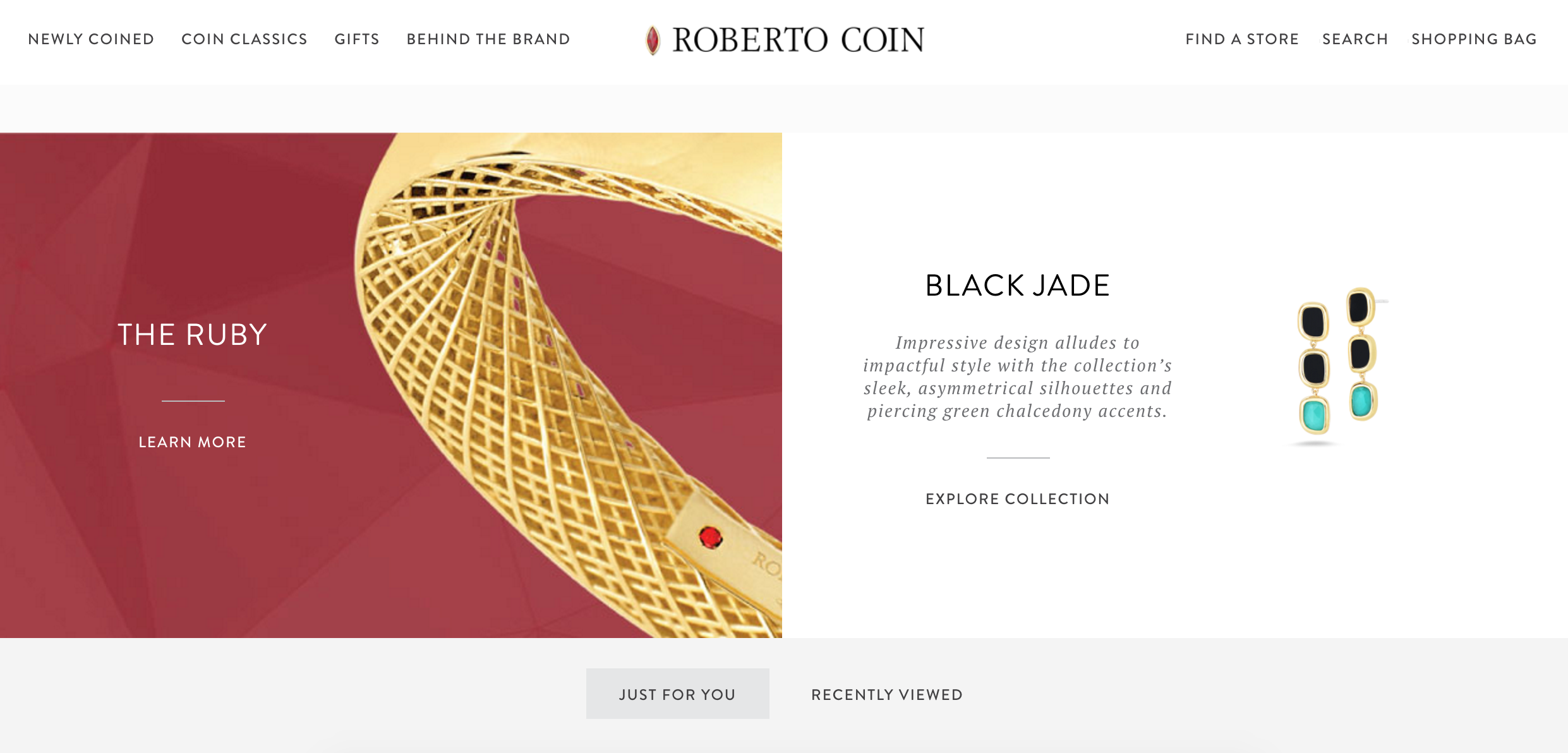 When clicked, a new window pops open to explain what the significance of this little ruby is, where it appears, and why the designer chooses to add it to each piece.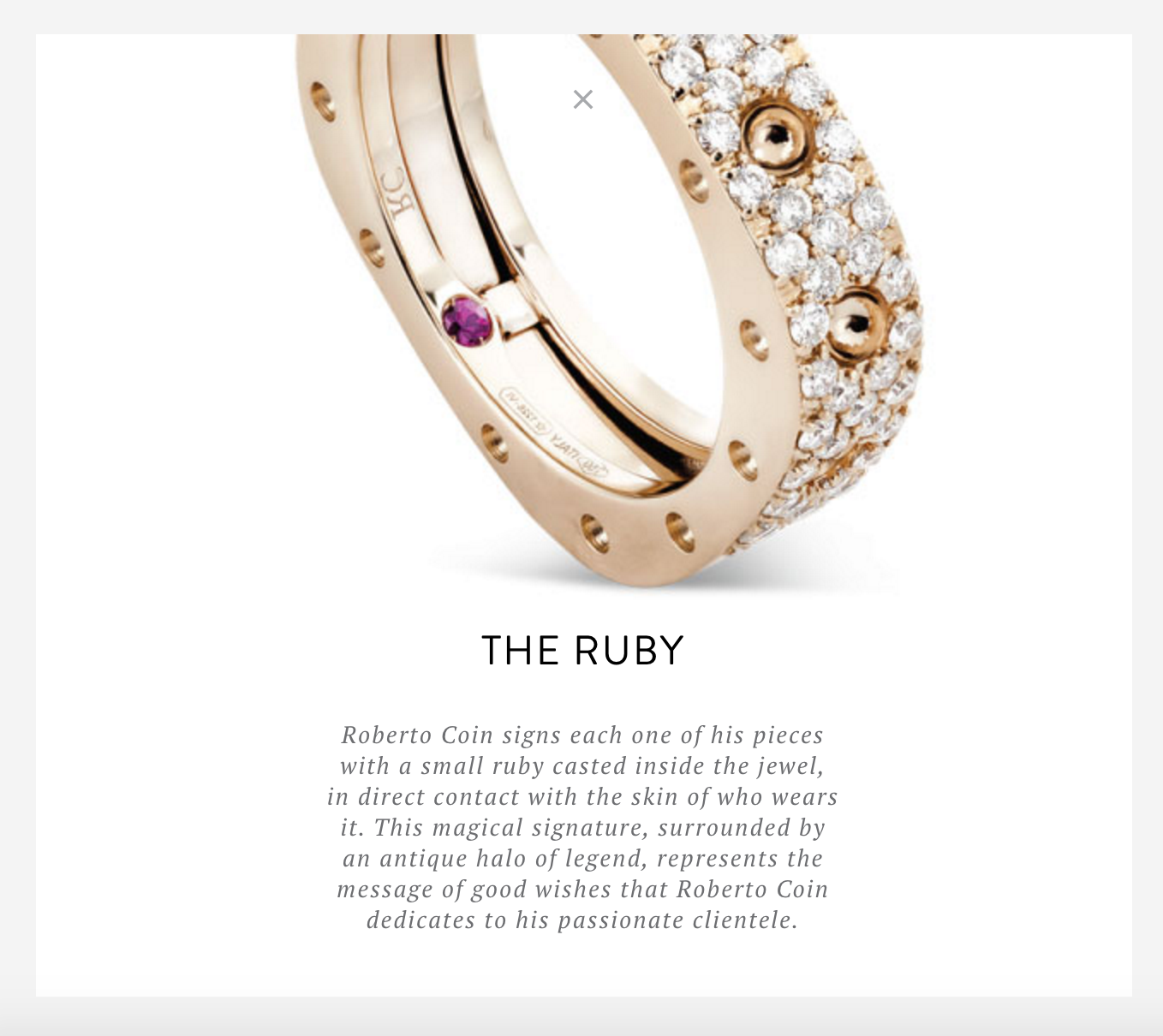 No matter how someone gets to these products or which one they see first, this ensures that the messaging is the same: a new customer can click that graphic and read about the ruby from every page.
Think about how you might do this for your products. This could mean:
Adding your unique design principles to each page, either via text, a graphic, or a link (like Roberto Coin's modal window shown above)
Including the same blurb in all your product copy — for example, every one of your descriptions might end with "100% organic" or "made with natural ingredients"
Adding an extra photo or image that tells your story, shows how the product is used, or provides some history
Never assume that a new customer will click around your store to learn these details on their own. If there's something important about your company or products that they should know up front, put it on all of your product pages so you can be sure they see it — no matter how they get there.
Create a clear path from the product page to the shopping cart
When a potential customer lands on one of your product pages from a search engine, their intent to buy is high. They know what they want and are evaluating your product to determine if it meets their needs.
Your product pages should take advantage of that desire to make a purchase. Aside from the general improvements you can make to your product pages, you should aim to create a completely unobstructed path between the product and the final "buy" button.
By an unobstructed path, we mean:
Ensure the "add to cart" button is visible — not tiny, and certainly not at the bottom of the page
Avoiding adding extra screens or pop-ups after a shopper clicks "add to cart," since they can be annoying or distracting
Make the cart immediately accessible after a product is added, via a link in the navigation, a dedicated shopping bag icon, etc.
Look at what La Marzocco does with their product pages, like this one for the Lux D coffee grinder. The "add to cart" button jumps out at you in a vibrant orange at the top of the page (above the product copy):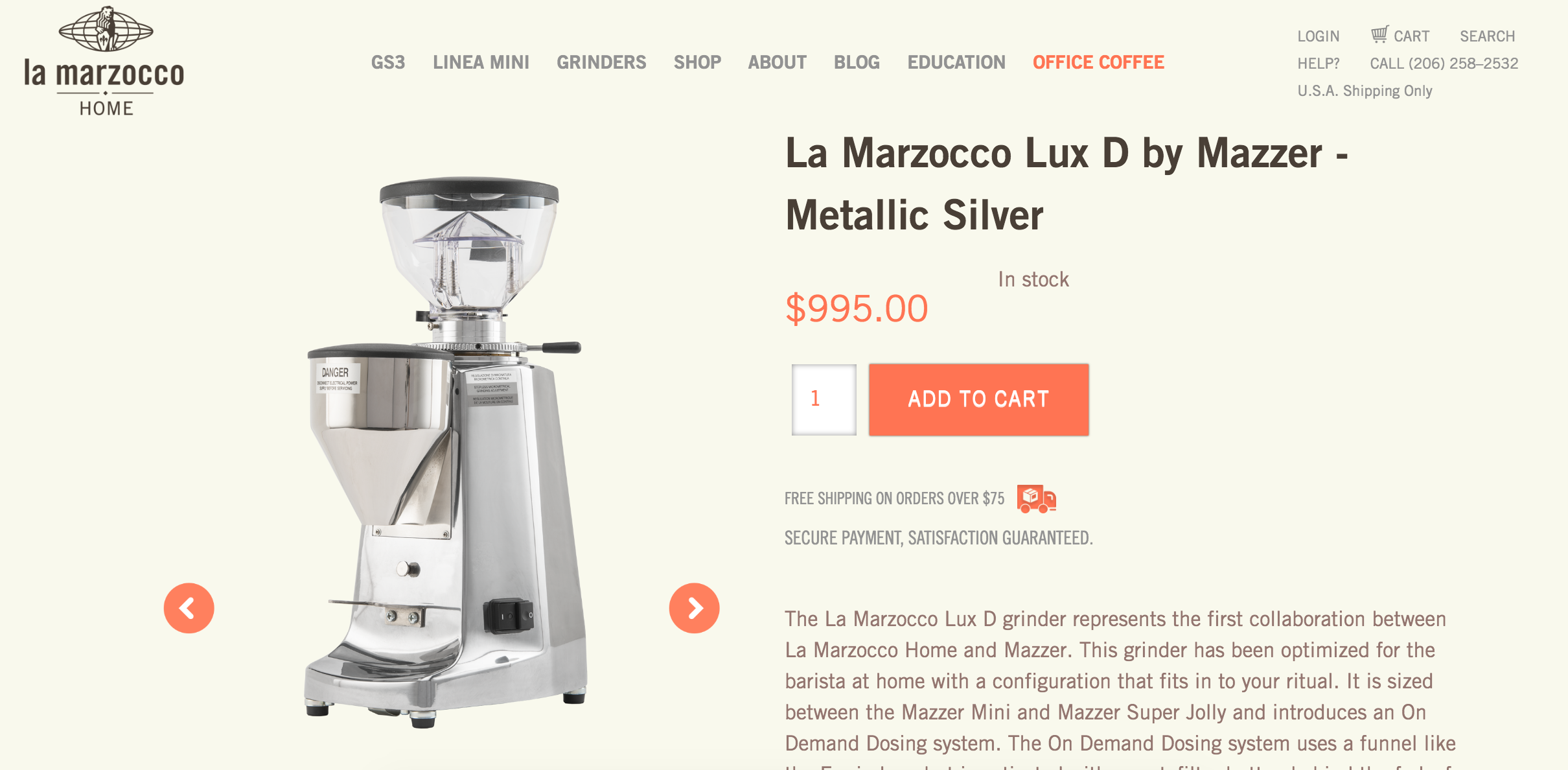 Add it to your cart, and there's two ways to quickly hop in there and buy the grinder: from the instantly-appearing confirmation link at the top of the page, or the cart icon in the top right. Fast and easy.
Optimization tips for non-product landing pages
Some of the top landing pages in that Google Analytics report may not be product pages at all. In fact, for us here at WooCommerce, some of our top pages are docs and support resources.
Even though these pages might not always be critical parts of the sales process, they're still a potential customer's first exposure to your store — and they're still there because they were looking for something that this page (and your store) has.
To optimize these pages for your newest visitors, consider:
Adding easily accessible information about you and your products somewhere, whether it's in the footer, from a link, or maybe a clever graphic in a sidebar that links to an "about us" page
Making your main navigation highly visible from every non-cart page, even if it's a special page (like your FAQs or blog) — you never know where someone's going to end up or what they might be searching for!
Embedding relevant products on them, if it makes sense — use a WooCommerce shortcode to do this quickly and simply 🙂
When you might need a dedicated landing page
Product pages are usually the first spot a potential customer visits. And with some improvements in line with the ones we've already described, they can do double duty.
But this isn't to say that you'll never need a dedicated landing page. There are times when you should create a new page for visitors instead of sending them to an existing one. They're a little more unusual for online stores (especially smaller ones), but they can be beneficial.
You might need to create a special landing page if you:
Send out a targeted email campaign — you might need a page just for the group of customers you email or the email subject, so that the links they click take them to the exact information they want/what they should be taking action on
Create a coupon or promotion that only applies to specific products — in this case, the landing page would only have those products (and the offer) on it
Partner with another store or website — a landing page can be helpful here since it allows you to set up a custom URL, greet the audience personally, and give them an exclusive offer
These are three of the most common situations where an eCommerce landing page could come in handy, but there are a few more. Take a peek at this HubSpot article to learn about a few others.
As far as building that landing page is concerned, there are a few ways to go about it. You can create a page in WordPress using your current theme and the built-in editor, or you could try some of these ideas from codeinwp.com to remove distractions, alter the page's appearance, and so on.
Optimize your existing landing pages to give visitors the best possible experience
Motivating your visitors to make a purchase or try out your services doesn't mean you have to create a fancy new landing page. By making small improvements to the pages that potential customers are already landing on, you can boost your sales and create a better experience.
Are you ready to optimize your store's unique landing pages? Have any questions for us about how to take on this task? The comments are open and we're always eager to hear from you.