Pop-up overlays have quickly become a common practice among eCommerce businesses. However, there are many people that view them in a negative light.
The "pop ups" that you see on websites today are actually called modal overlays. An overlay opens within the same window, does not interfere with user experience, and does not prevent visitors from entering or exiting sites. If used properly, overlays can delight customers and generate significant revenue for your store — but if not used properly, they can annoy your visitors.
Let's take a look at some effective ways that you can use overlays to motivate more customers to make purchases and further grow your business.
1. Offer a discount to drive new customer purchases
New customers are difficult to convert, so they account for a decent amount of abandoned carts. According to Listrak's cart abandonment index, 78% of shopping carts are abandoned. This gives you an opportunity to entice some of these abandoning visitors to purchase with a valuable offer.
One effective way to drive sales is to offer new website visitors a discount. To ensure that your offer is seen by these specific visitors, use a targeted overlay.
A feeling of exclusivity has tremendous power when it comes to promotions. You might also want to ask for an email to deliver the promo code so, at the very least, you'll be able to subscribe them to additional email marketing campaigns.
For example, Kidecals uses the overlay below to engage website visitors and drive purchases. As you can see, the offer gets maximum exposure, collects new email subscribers, and drives first time purchases with an incentive of 15% off.
2. Close sales with free shipping promotions
Discounted and free shipping is a tool that can be used to convert more sales and also increase order size. A study by Compete states that 93% of online buyers are encouraged to buy more products if free shipping options are available. However, 36% of shoppers will avoid buying unless free shipping is offered.
Simply stated, free shipping promotions can lead to more sales. But free shipping can be tough for businesses, logistically. To increase order sizes, use higher shipping thresholds that feel comfortable to you, like free shipping on orders of $75 or more.
To extend these offers, you can use an overlay. To notify visitors of a shipping promotion while also collecting emails, you can distribute free shipping codes to shoppers who enter their email address.
Hippie Butter uses this vivid exit overlay to offer free shipping for anyone who signs up for email or even follows them on social media.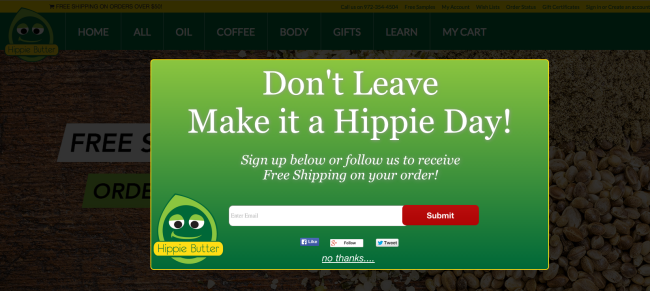 3. Run a contest to rapidly build your email list
One of the most powerful ways to acquire new email subscribers is a contest. Select a high value item or a bundle of items that your ideal customer would be interested in. Then, implement an overlay promotion in which visitors can enter their email address for a chance to win.
Because a contest is attractive (high value merchandise) and presents a low barrier of entry to shoppers, you'll want to maximize its exposure. I'd recommend presenting the offer in a high traffic area on your site. This could be your homepage, or if you have pay-per-click (PPC) campaigns, any special landing pages you have for those.
By presenting the offer in a high traffic location with an overlay, you can make sure the offer gets seen, receives the most entries possible, and also grows your email list for future promotions or campaigns.
Isle Surfboards increased email signups by 660% with a contest promotion, seen below. What was even more amazing was the 3X increase in online orders as a result of this contest!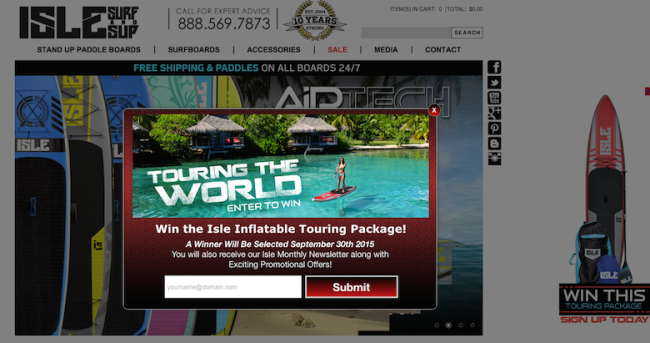 4. Provide access to content in exchange for an email
Many eCommerce businesses are finding content marketing valuable for attracting customers and growing their store. Here's a way to take great content that you've spent hours to create and grow your email marketing list with it.
First, add the content to your site. However, restrict access to it unless a condition is fulfilled via a pop-up. This condition will be entering an email address.
Once the visitor enters their email address, they will be able to download the content in question. While this approach isn't great for all types of content — for example, "email-gating" your blog isn't a good idea — it's acceptable for long-form pieces like guides, lengthy how-tos, or lookbooks that can't be found anywhere else.
Garlic Shaker has done something like this with a free garlic cookbook. This small incentive has acquired 83% of Garlic Shaker's total email subscribers. It's clear that using an overlay promotion vastly outperformed any other email acquisition techniques for them.
5. Combat cart abandonment with exit offers
We briefly talked about exit overlays a bit earlier. Here is why you should be using this tactic.
First, exit offers provide one more chance to convert potential customers into paying ones. Second, you can strategically use exit offers to recover revenue from high cart abandonment rates and bouncing visitors. Lastly, exit offers are typically the highest-converting overlay option.
An effective way to drive sales is with an offer that is displayed only to visitors who attempt to leave your cart and checkout pages. These pages are pivotal points in the purchasing process, and sometimes shoppers just need a discount or free shipping to make their purchase.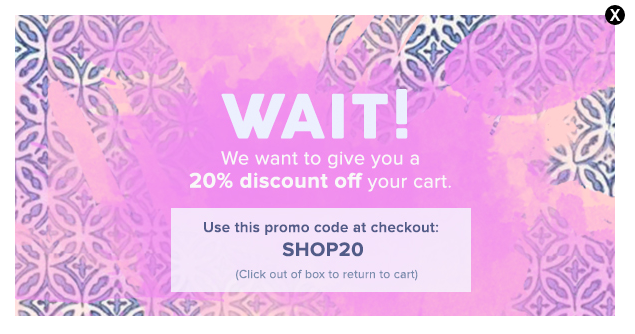 Instead of requiring an action to receive a promo code, just provide it in this popup. Why? 27% of shoppers leave your store just to search for a promo code. Presenting an overlay with a promo code available to use right away can prevent a large portion of abandoned carts from ever happening.
6. Maximize paid traffic with targeted overlays
As a store owner, you might be using a few PPC ad campaigns to drive new traffic to your site. While this tactic is widely used and effective, it's not always efficient. To maximize benefit from your ad campaigns, you could target these new visitors with a promotion based on the traffic source and specific page URLs they come from/to.
One thing to keep in mind with these new visitors is that they are interested in your products… but most likely not ready to buy. Some might purchase on the first visit, but your main goal here is to acquire their email address for marketing, or to give them something they'll find valuable, like content. Contest promotions also convert at a very high rate and would be an ideal choice for this tactic.
Try out a few different promotions in this situation and see which works best for you. By engaging these new visitors with relevant overlay promotions as they arrive on your site, you can convert more of your paid traffic and maximize the ROI of your PPC campaigns.
Key takeaways
Now that you've learned a little bit more about pop-ups for your online store, let's go over the key takeaways.
Email is a highly effective channel. Email marketing conversion rates are over 3X higher than that of social channels. Pop-ups can help you build your list and make the most of this medium. Run a contest, gate content, offer a promo code, or just ask for their address!
Use offers targeted to specific customers or actions. We discussed new customer offers, targeted exit offers, and paid traffic overlays as effective ways to target different types of shoppers. You can also segment offers based on traffic source, visit frequency, or specific URL.
Personalization is key in eCommerce. By presenting relevant promotions or content to shoppers, you can drive more conversions.
On-site promotions are incredibly valuable. A large majority of visitors will leave your website without converting. It's tough to get people to click "buy." On-site promotions offered via overlays provide an effective way to engage more visitors. If you can convert just 1% more of your traffic, that could be hundreds or even thousands of dollars in monthly revenue gained.
Give overlays a try in your own store
By now, you should have a pretty clear understanding on pop-ups and overlays, and how they can be beneficial to a store's long term success. They might be viewed in a negative light, but if used well, they can delight your customers and motivate more of your visitors to make a purchase.
Do you have any questions about the tips provided in this post, or any other suggestions for increasing an eCommerce site's revenue with targeted overlays? Feel free to leave a comment!