Your customers are creating content about you every day. It may be as simple as a photo on Instagram or a review on your website. Or it may be as complex as a blog post detailing how to accomplish a task with your products. These customer creations are called user generated content (or UGC), and they are highly valuable for brands.
You probably know much of this content exists, but what you don't know is how — or why — to use it. The last thing you should do is ignore it. UGC is one intensely powerful form of social proof, and it can make your brand look trustworthy, popular, and much more interesting than companies that don't highlight any user or customer content at all.
Today, we'll be showing you several ways that you can properly identify and showcase your user generated content. Whether you've got a small startup or a booming eCommerce business, these methods will help you engage with your fans and attract new ones, all while boosting confidence in your brand.
Why user generated content is so powerful
A survey by Nielsen revealed that 70% of consumers say they trust online reviews. This source of information is overshadowed only by the trust placed in personal recommendations from friends and family members. Furthermore, the amount of trust placed in these reviews has grown by 15% in only four years.
It's clear that consumers are no longer willing to place their trust in a brand's marketing or advertising without first doing a little research. Your potential customers want to believe that your products are of the highest quality, last the longest, or might even change their minds — but they've learned to be skeptical, and it's for this reason that they're most likely going to consult a trusted source before they make any kind of purchasing decision.
This is what gives user generated content, which includes reviews, so much power: it's easier to trust. Unfiltered reviews, user-submitted photos, and detailed writeups come straight from customers who have nothing to gain by posting them. But potential customers who see this unbiased content are likely to feel more comfortable making a purchasing decision.
Let's take a look at three ways you can properly showcase your user generated content to have the biggest impact on these purchasing decisions.
Curate and display customer photos from Instagram
Instagram is a veritable treasure trove for user generated content. With 300 million active monthly users posting, liking, and commenting on photos, it's no wonder new brands are flocking to the platform.
If your company sells and ships physical products, it's likely that there are photos of them on the platform already, and you just don't know it! Try opening the app on your phone and searching for your brand or product names, with or without hashtags. What do you see? Anything interesting?
Whether you naturally find customer photos or have to create a branded hashtag to encourage more, you can and should use Instagram photos to show how your products look in real life. Product photos on your website are one thing, but Instagrams are another, and will give potential customers a true sense of scale, fit, color, and so on. And some Instagram users take such beautiful photos that you won't be able to help but want to show them off!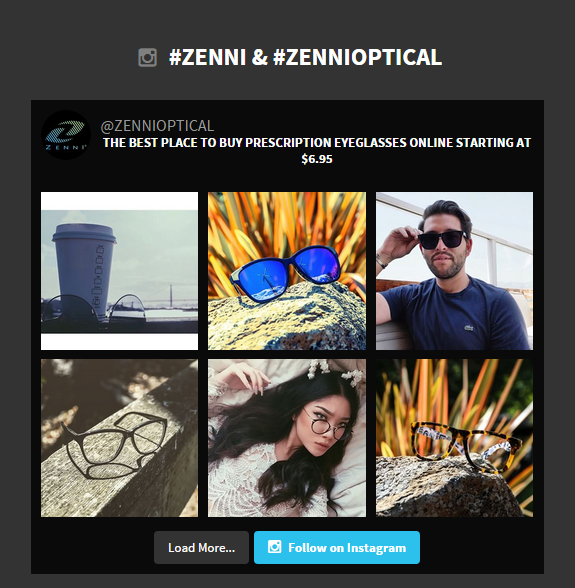 Displaying your customers' Instagram photos can be done in a few ways. Many brands choose to save the photos they like best and repost them. There are a few ways to do this, none of them simple (since you can't save images directly from another account), but the easiest method involves viewing the page source for the image URL or taking a screenshot from the web version of the photo.
Another way to display these curated photos is via an embedded gallery, which we covered briefly in our previous post on Instagram. You can stream images from a specific hashtag, an account, or even pick and choose a few images for special pages.
As an example, here's what Belkin did when it partnered with LEGO for a special line of iPhone and iPad cases. The brand created a hashtag, #LEGOXBELKIN, encouraged Instagram users to tag their photos of the products with it, and displayed a gallery of the resulting photos on their website.
By creating a clickable gallery of photos like these, potential customers could see exactly what the case was capable of before buying. The hashtag also allowed both current and potential customers to find ideas for decorating their own cases, and to comment on or like the creations they liked best. It also gave Belkin a ton of UGC to post on their other channels, like Facebook: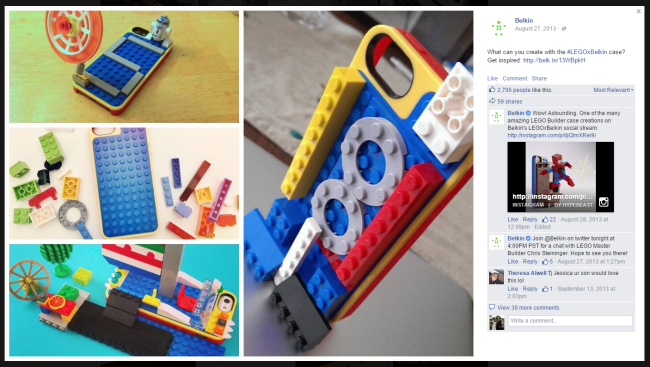 One final note: always ask for permission before using a customer's photo in any way. Streaming photos from a publish hashtag may not require this, but make sure you comment and @mention or directly message the original poster to ask for their go-ahead prior to reposting or featuring one of their photos. Most customers are likely to agree, but it's always best to ask to be certain.
Ask questions to build case studies and success stories
Every now and then, you might get a detailed email from a happy customer, or a comment on one of your social accounts that hints at the potential for an interesting story. Some of your customers have had amazing experiences with your products, but it's a waste to simply thank them for their feedback and move on. Instead, you should tap into these experiences to create case studies or success stories for your website.
Just as shoppers are skeptical of marketing messages and prefer reviews instead, many have become wary of the testimonials used on a landing page or website. In fact, many consumers now believe that a high number of testimonials are made up. However, it's much harder to make up — and much easier for a visitor to trust — a detailed story about someone's experience with your brand.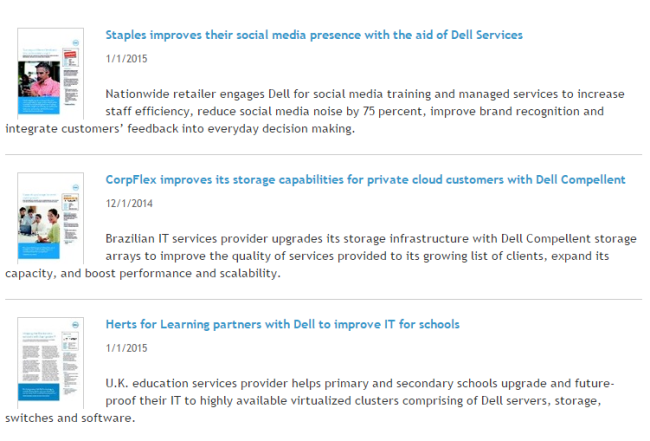 Case studies and success stories are fantastic because your customers can create the majority of the content for you — all you have to do is edit it together and find it a home. Many brands place these kinds of stories on their blog, but you can also create a dedicated landing page from which all your stories can be accessed.
Project management suite Basecamp takes an interesting approach, using a single case study as a way to provide a tour through the app: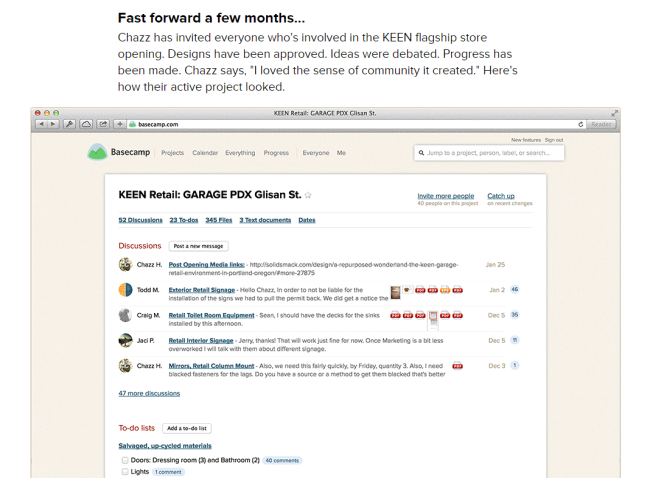 The biggest challenge for you will likely be recognizing the potential for a study or story. Look for customers who take the time to email you detailed feedback, send you multiple photos of your products in action, or engage with you frequently on social media. Ask them probing questions, like "how did you find us?" or "what sets us apart from other brands you've tried?" If they seem willing to talk and share, you can pitch them the idea of building and publishing a full study.
Another perk of case studies, aside from the obvious offering of proof to interested shoppers, is that it gives you evergreen content that can be tapped into multiple times. You can build an email around a customer's story, share photos on your social networks, cite their successes in blog posts, and so on. Also, the featured customer is likely to share their moment in the spotlight with others, which can increase brand awareness!
Customers love to feel noticed by their favorite brands, but they also love knowing that the brands they shop with make promises they can keep. Case studies and customer stories show what customers are capable of with your products, and offer a rich source of evergreen content that both you and your shoppers will love.
Showcase your best reviews
As we've already mentioned, 70% of customers trust online reviews, but testimonials don't necessarily carry the same amount of trust. Why is this?
Shoppers view reviews and testimonials very differently. Reviews are viewed as unbiased pieces of feedback that your company can't "touch" — whether they're positive or negative, they're there to stay. Testimonials, however, are typically collected by your brand for the specific purpose of making you look good. You probably solicited them… heck, you might have even paid for them, for all your website visitors know!
So, rather than placing testimonials on your homepage, landing page, or within your other marketing materials, try highlighting some of your favorite customer reviews instead. If your brand's been around for a while, these reviews are likely readily available, are more believable than solicited testimonials, and can even be styled with a photo and a link to the source of the comments as a form of "proof."
For example, take a look at how The Roost, a portable laptop stand manufacturer, highlights both user and blogger reviews on their homepage, complete with links to the source of the quotes: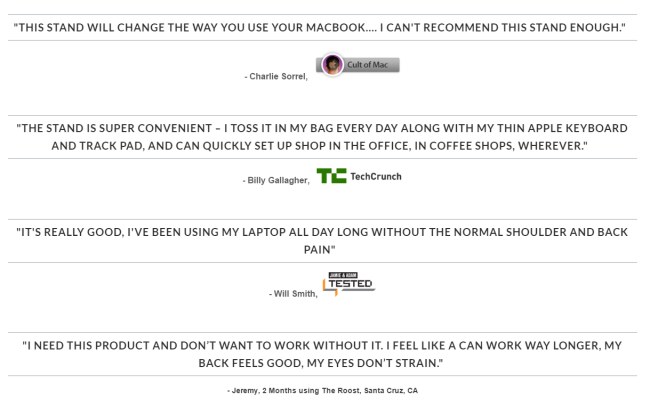 They also use these reviews elsewhere, like on their most recent Kickstarter campaign: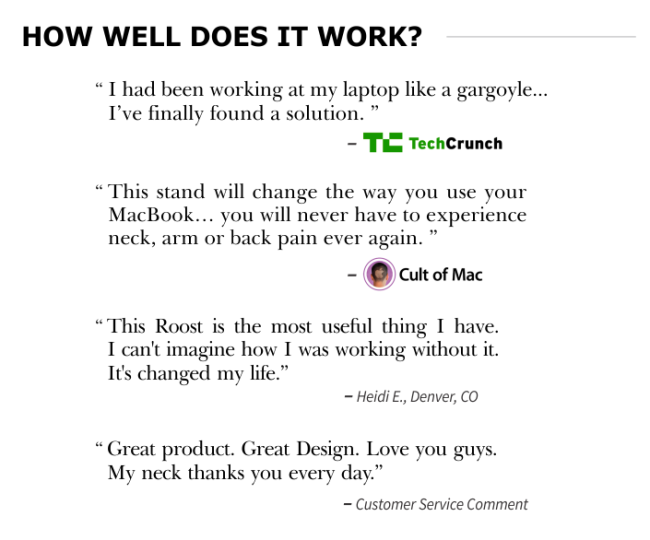 If your products are actively collecting reviews, try to use this form of UGC on your website or within your marketing. Again, just remember to ask for permission before reprinting a customer's quote, especially if you're planning to use it on a new platform (like in printed materials). Alternately, you can add a clause to your review policy that automatically gives you the right to do this, but use caution — too much legal-ese may deter reviews in the first place!
Finding the value in customer content
Many brands think of UGC as blog posts that can be linked to, or the occasional photo post on a Facebook Page. But user generated content goes far beyond this, and with a little encouragement from your end, can make your brand look incredibly trustworthy.
The next time a customer emails you their feedback, posts a photo of your products on Instagram, or writes a detailed review, think about how you can tap into this content. How can you use it elsewhere on your website or marketing channels? Is it likely to increase the trust that potential customers have in your brand, products, or services?
Are you using user generated content anywhere on your website? We'd love to hear what you've done, or what ideas you have for using it, in the comments below!