SYNC YOUR WOOCOMMERCE STORE DATA OVER ZOHO CRM TO TRACK, MANAGE ANALYSE IT WITHOUT ANY HASSLE
CRM Integration for Zoho syncs your WooCommerce data as Products, Contacts, Deals, and Sales Orders over Zoho CRM. The extension also comes with features like Bulk Data Sync and One-click Sync to let you easily sync your WooCommerce data.
Note: New version[1.0.3] launched with exciting features
To watch the complete setup of the CRM Zoho plugin. Visit Part 1 of the demo video.
Why Should You Use Zoho CRM Integration Plugin?
Data management is a tough job for many businesses. Thriving WooCommerce stores are collecting more data than they can manage with simple spreadsheets. CRMs are helpful to visualize, track, and manage your data at a central stack. And among CRMs, ZOHO is the preferred selection of thousands of businesses. Stores need a tool that connects Zoho and WooCommerce—one that's fast, reliable, and easy to use. CRM Integration for Zoho is that tool.
Benefits
1. Hassle-free setup and interface: This WooCommerce Zoho Integration plugin is easy to set up. You don't need to be a tech nerd to install and use it in your WooCommerce store.
2. Quick and easy data sync: Sync all your WooCommerce data to Zoho CRM in no time. You can synchronize your existing and upcoming WooCommerce data to Zoho quickly.
3. Save time you waste solving complex errors: The plugin provides a detailed error log report which helps you identify the cause of errors. It cuts the time you spend finding and correcting errors.
4. Get full control over your data: The plugin allows you to map fields, order statuses, events, and more. You control what data syncs over CRM for an object.
Want to know how CRM Integration For Zoho operates? Visit the live demo to learn how this plugin works.
Features
1. Feeds to sync WooCommerce data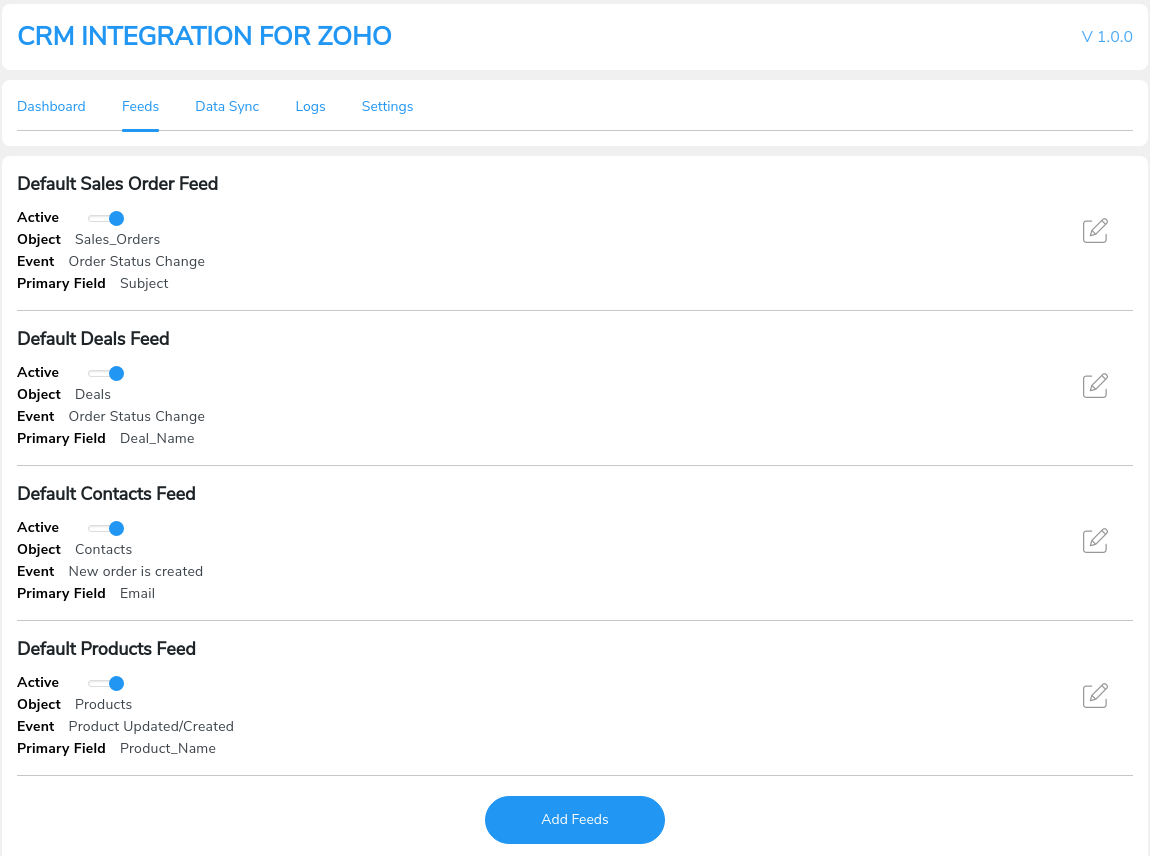 The plugin comes with feeds you can use to sync the data of your WooCommerce objects to Zoho CRM. By default, you get four feeds that sync the data of these objects.
Products

Contacts

Deals

Orders
Note: Apart from the default feeds, you can create custom feeds as well to sync data for other objects like Invoice, Account, etc.
The plugin provides a range of settings you can use to customize your feeds. These are some of the options for customizing feeds:
1.1 Select object: Select the type of Zoho object in which you want to send your data
1.2 Map fields: Map Zoho fields to WooCommerce fields
1.3 Add a new field: Add a new field to your feed
1.4 Map Woo order statuses: Map WooCommerce order status and deal stages with respective Zoho status and stages
1.5 Product/Shipping Details: Lets you add order line item as product and shipping as a line item.
1.6 Primary field: Select a field you want to use as a primary key
1.7 Select event: Select the event that will trigger data synchronization. Create custom feeds to sync any other objects' data.
1.8 Tax Setup: Make products taxable by selecting tax rates. You can map your Zoho tax rates with WooCommerce products here.
2. Historical data sync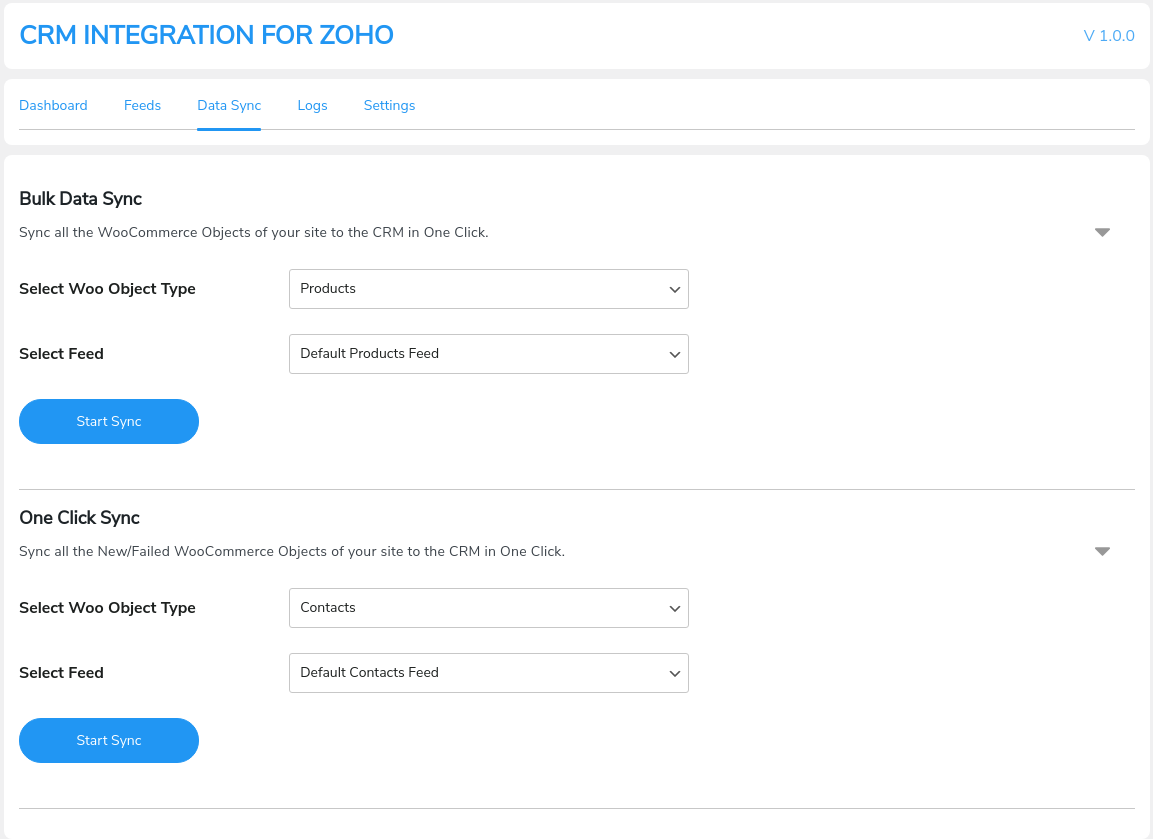 You can sync all your existing (historical) data using WooCommerce Zoho integration. The plugin offers you two different methods to do this:
2.1 One-click sync: Sync newly added data or data that didn't sync in the last process
2.2 Bulk data sync: Sync all data of the WooCommerce object. Select the object and related feed to start sending your existing data over Zoho CRM. 
3. Comprehensive logging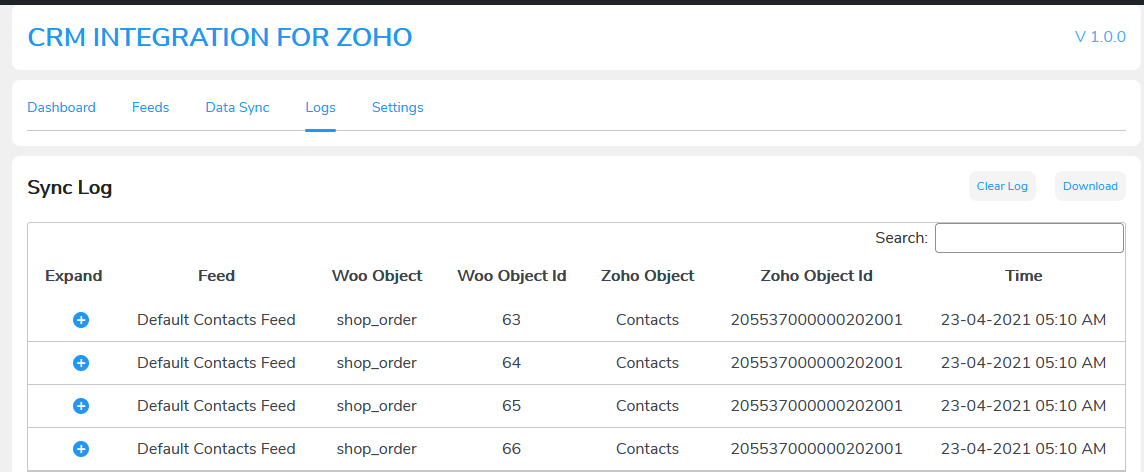 This WooCommerce Zoho integration plugin provides a detailed report of your sync logs. These logs tell you details like what feed and object the error occurred with the Time, Request, and Response. This way you can easily figure out what went wrong and troubleshoot.
4. Instant sync

The instant sync feature, if enabled, synchronizes your WooCommerce data to Zoho CRM instantly. (This depends on the event you select in your feed settings. For example, if you select a "New Order" event, your data will sync over Zoho as soon as a new order is placed.)
If you disable this feature, you'll be required to sync your store's data manually through One-click or Bulk data sync.
5. Enable/disable logging

You can enable/disable sync logging at your convenience using this Zoho integration plugin. Along with that, you can also set the time you want to store logs. The logs will automatically delete after the set number of days.
6. Background Sync
With the background sync feature on, you can sync your existing data in the background over Zoho CRM every 5 mins using the Bulk Sync feature. This feature helps you when you don't want to sync the data in the beginning while setting up the integration.
Support
Visit CRM Integration For Zoho Documentation to learn more about the features and working of the plugin. If you need support or have questions, kindly submit your query.