Important: 
This theme was
retired
in June 2012. Documentation is no longer being updated.
To learn how to install your theme, see: Installing a Theme.
The front page of Abstract has a fixed size image above each of the latest blog posts. This means that you need to add a custom image if you wish to display the image with the post. If no image is added, it won't be displayed or disrupt the theme.
Our themes use a custom image resizing script (thumb.php) that will dynamically resize, cropping and creating an image in the appropriate size needed for the template.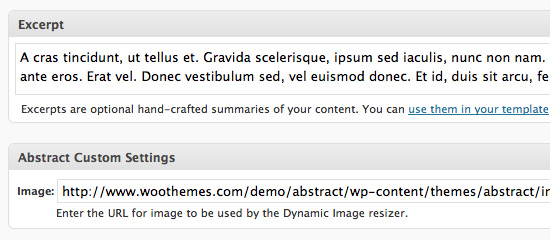 To add images to your posts, view video demonstration. Or view the screenshot above and follow the instructions below.
On your Write > Post tab, complete all standard fields to add a new post.
Click the Add Media icon, and upload an image of your choice.
Once uploaded, copy the complete Link URL field.
Scroll down to the Abstract Custom Settings panel (below Categories) and paste the Link URL into the Image URL field.
Abstract has widgetized areas and custom theme-specific widgets that give you more customization options.
There are three widgetized areas in the Abstract template:
Sidebar — displayed throughout the theme
Footer #1 and #2  — displayed in the left & right columns in the footer
Go to Appearance > Widgets to add widgets to these areas. By default the theme will display nothing, until you add your own widgets.

The theme includes eight custom widgets:
Woo – Featured posts* (gets posts by tag) — Sidebar only
Woo – Feedburner Subscription* — Footer only
Woo – CampaignMonitor Subscription* — Footer only
Woo – Stay Updated* — Footer only
Woo – Contact Details* — Footer only
Woo – Ads 180×150* — Sidebar only
Woo – Tag Cloud — Sidebar only
Woo – Flickr*
* There are options inside the widget that you need to set for it to operate properly
Set Up the Campaign Monitor Widget ↑ Back to top
For the first time in a WooTheme, we included a newsletter subscription widget for  Campaign Monitor. To set it up:
In the Campaign Monitor control panel, click Manage Subscribers and select the subscription list in which you want to add subscription options to your Abstract installation.
On the next page, find and click a Create a Subscribe Form link on the right-hand side. Select E-mail Address and click the Generate the Code button.
A form/box will appear, similar to the screenshot below, where there are two variables: Your Campaign Monitor Form Action and Your Campaign Monitor ID.
For Form Action, enter "http://woothemes.createsend.com/t/y/s/jdlhuk/ For the ID, enter "jdlhuk-jdlhuk"