Important: 
This theme was
retired
in April 2013. Documentation is no longer being updated.
Below is an image explaining what theme option's control what sections of the home page. Please note widgetized zones Sidebar 1 and Sidebar 2 are only available on pages, not posts or archives.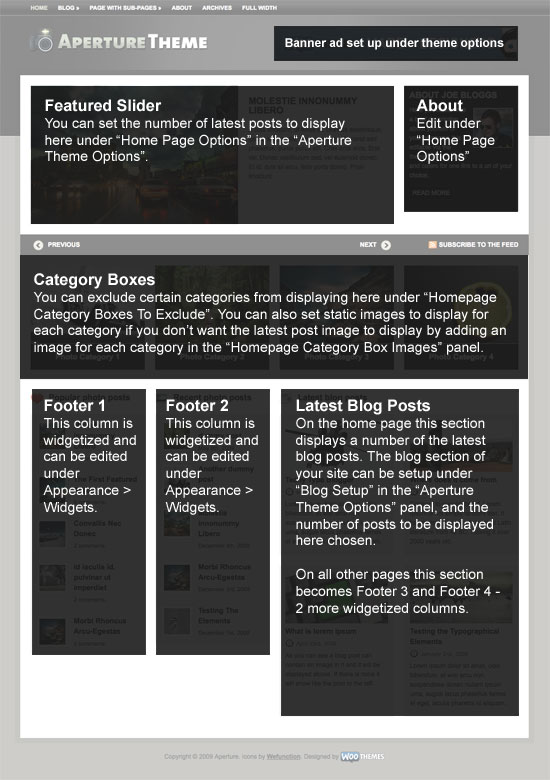 The idea behind Aperture was that it would be used by corporates to showcase their products, whilst also offering a blog that is not being displayed on the front page. Even though you will be able to add blog posts as normal, the blog requires a bit of setup first.
To add a blog, go to your options panel in the Layout section and select a category that will act as your blog.
Many of the different template pages within Aperture, uses an embedded image within a post when displaying the post to the user. This means that you need to add a custom image to a post should you wish to display the image with the post. If you decline to add an image to a post, it will not be displayed and won't disrupt the theme in any way.
Aperture includes a bunch of different widgetized spaces, along with custom, Aperture-specific widgets to allow you more customisation options than ever before. Here's a brief run-down of both the widget areas and custom widgets:
Widgetized Spaces
There are 6 different widgetized spaces throughout the Aperture template:
Sidebar 1 (displayed on inner pages; middle column);
Sidebar 2 (displayed on inner pages; right column); and
Footer 1 – 4 (displayed in the four columns in the footer).
Note: You will need to go to Appearance > Widgets to add any widgets to these spaces. By default the theme will not display anything in these spaces, until you add your own widgets.
The image below helps explain the widgetized footer zones.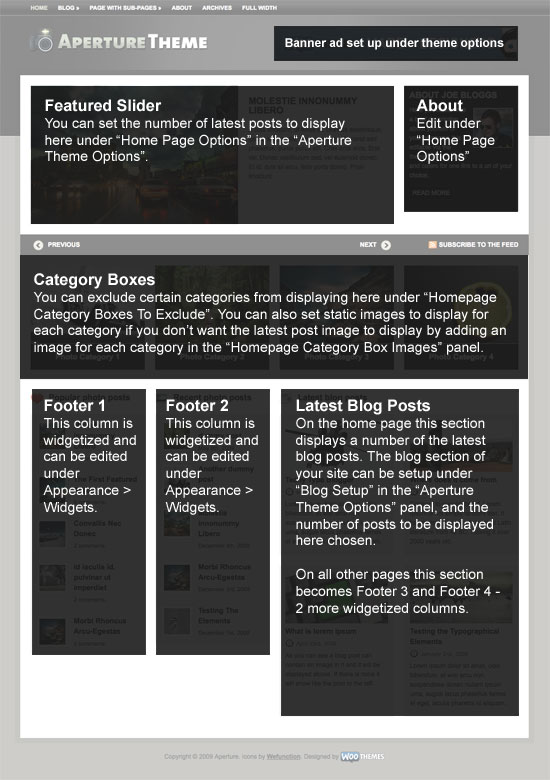 Custom widgets
The theme includes 5 custom widgets that you can add to your widgetized area:
Woo – Popular Posts;
Woo – Recent Posts;
Woo – Recent Blog Posts;
Woo – Search;
Woo – Feedburner Subscription;
Woo – Twitter*; and
Woo – Flickr*.
* denotes that there are options inside the widget that you may need to set for it to operate properly