Important: 
This theme was
retired
in June 2012. Documentation is no longer being updated.
Auld is a revolutionary Tumblr-like WordPress theme that allows you to publish snippets of content — images, videos, audio, articles, quotes or links.
The theme gives you a custom coded Tumblog publishing form accessible from the WordPress dashboard, rather than using the default WordPress post pages.
Your posts are arranged and styled according to type of content.
After installation, go to Settings > Permalinks and click Save Changes, even if no changes have been made. This registers the custom taxonomies used in Auld.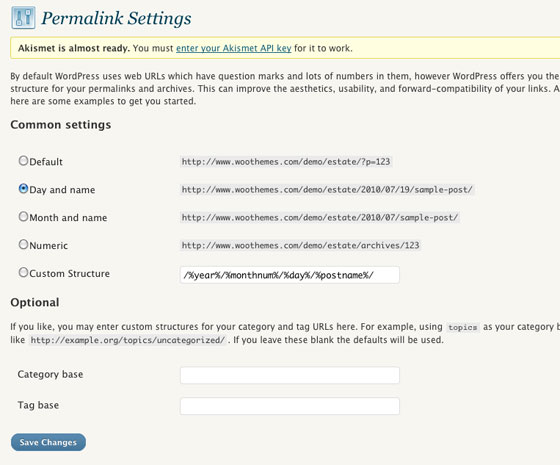 The Auld theme creates a new Tumblogs option in the WordPress admin under Posts. This functionality, thanks to WordPress 3.0, allows you to use a new type of post.
The "Tumblogs" taxonomy is different from categories, as seen in the screenshot. You can assign a post to taxonomies AND categories, so it can be filed specifically in archives.
Once you have set up categories, use the Tumblog dashboard to publish content.

Click the button that matches the type of content you want to publish and fill in the fields. Click Submit to go live.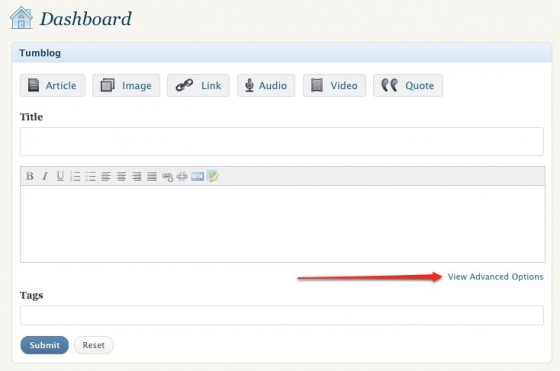 When you click View Advanced Options, an area loads below the editor that allows you to set the Post Status, Post Date/Time, assign the post to multiple categories and to multiple tumblog taxonomies (by default it's assigned to the relevant Tumblog type). This may be used to draft posts and post-date them.
The only option under the Tumblog Setup panel is Use Custom Tumblog RSS Feed. This allows you to replace the default WordPress RSS feed with a custom RSS feed that shows all of your Tumblog posts and associated images, audio and video.
Tick the checkbox to set it up.
Auld has one widgetized sidebar and five custom widgets that you can add.
Woo – Flickr
Woo – Twitter Stream
Woo – Adspace Widget
Woo – Search
Woo – Blog Author Info