Important: 
This theme was
retired
in February 2014. Documentation is no longer being updated.
Beveled is a clean Tumblr-like WordPress theme that allows you to publish snippets of content — images, videos, audio, articles, quotes or links. You can also showcase your portfolio pieces via the Portfolio custom post type.
The screenshot shows the Beveled home page with each of its modules explained.
Beveled comes with a intro message area right at the top of the theme. You can create your own intro heading and text if you want to display a message about you or your site. Go to Beveled > Theme Options, then to the Intro Message section to enable and customize your message.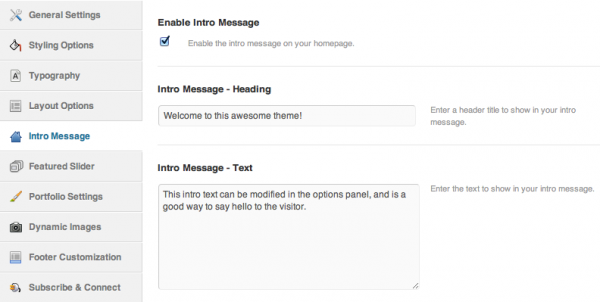 Setting up the Featured Slider ↑ Back to top
Beveled includes a featured slider that allows you to easily show off your portfolio items. Go to your theme options and select Featured Slider. There you can easily enable it and choose from an array of options too. This ranges from linking to the single portfolio item, or having it open in a lightbox, to the speed of the slider and how many entries to show.
Speaking of the portfolio Featured Slider, this theme includes a portfolio page template as well to compliment your homepage. Simply create a new page and title it however you'd like. Then be sure to set the page template as the portfolio page template.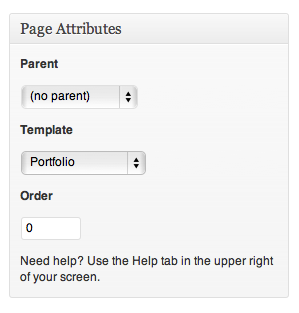 As outlined below, when creating a portfolio post you can organize them into galleries that are then selectable via your portfolio page. For instance, you can organize your posts into logo work, photogopraphy, etc… You can create these galleries when you create a portfolio post, or add a post to an existing one.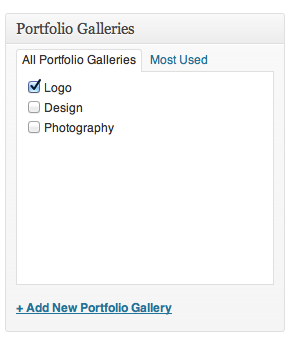 Adding portfolio items to your WordPress backend ↑ Back to top
The portfolio section also uses a custom post type called "Portfolio".
Add a new portfolio item in WordPress (Portfolio -> Add New)
Add a title to the portfolio item
Add some text in the content to describe the portfolio item
Upload the Portfolio image in the Featured Image area in the right sidebar if using the WordPress Thumbnail option.
Add a video embed code in the embed field in the custom settings panel if you want to show a video. You will still need to add an image for your portfolio item which is showed on homepage and portfolio page template.
Select or create a Portfolio Gallery to organize your posts.
Publish the portfolio item and repeat for next portfolio item.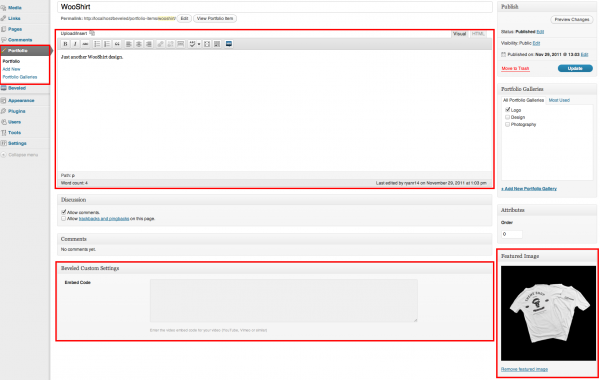 Adding multiple portfolio images ↑ Back to top
Adding multiple images to a portfolio post is very simple. When you're uploading the featured image you want to use outlined in the steps above, simply upload all the images you want to use here. Then pick from there the one you want to be your featured image for that post. That image will be the one shown as the thumbnail in the slider and main portfolio page. Also be sure that the other images are set as an attachment page and not image file, this should be the WordPress default though.
There are six custom widgets you can add to the widgetized sidebar.
Woo – Search
Woo – Twitter Stream
Woo – Adspace Widget
Woo – Flickr
Woo – Tabs
Woo – Blog Author Info
To learn more, see: How to Add Widgets.