Important: 
This theme was
retired
in June 2012. Documentation is no longer being updated.
Background
Template pages within Bloggingstream use an embedded image within a post when displaying the post. This means you need to add a custom image to a post if you wish to display the image with the post. If you fail to add an image, it won't be displayed or disrupt the theme.
Images need to be added to Featured Posts. Our themes use a custom image resizing script (thumb.php) that dynamically resize, cropping and creating an image in the appropriate size needed for the template.
Instructions
To add images to posts, view the video demonstration or follow the instructions:
Go to Post > New, and complete all standard fields when adding a new post.
Click the Add Media icon, and upload an image.
Once uploaded, copy the complete Link URL field.
Scroll down to the Bloggingstream Custom Settings panel (below Categories) and paste the Link URL into the Image URL field.
To add a video to your post, copy the embed code from your favorite video site (i.e., YouTube or Vimeo) and paste into the Bloggingstream Custom Settings field. It automatically resizes* to fit the post.
Tag your video posts with "video" so they show up in the sidebar. If you want the video to show in the single post view, you need to add the embed to the post content.
* Note: If your embed code isn't resizing properly, manually change the height and width values.
Setting up special page templates ↑ Back to top
Go to Page > New in the WordPress admin panel.
Enter the page title and then ignore the page body content.
Go to Template under Attributes in the right sidebar box and select the page template you want to use (see screenshot below).
Publish.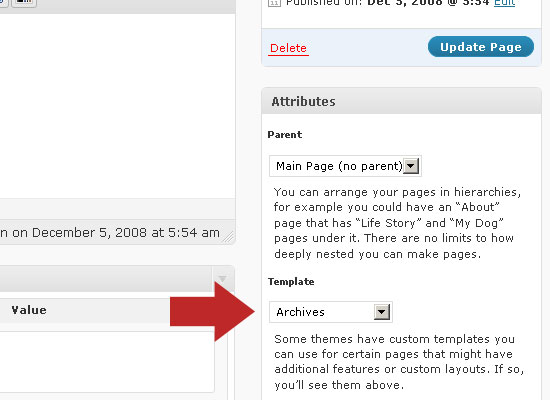 Selecting your page template.
Bloggingstream includes widgetized areas and custom widgets that give you more customization options.
Widgetized Areas
There are two widgetized spaces in the Bloggingstream template:
Homepage — Displayed in the middle column on the homepage only
Sidebar — Displayed site wide
Go to Appearance > Widgets to add widgets. By default the theme displays nothing until you add your own widgets.

Custom widgets
The theme includes eight custom widgets:
Woo – Popular (Home)*
Woo – Recent Comments (Home)*
Woo – Tags (Home)
Woo – Ads 125×125* (setup ads in options panel)
Woo – Flickr*
Woo – Video Player*
Woo – Twitter*
Woo – Stay Updated
* There are options inside the widget that you need to set for it to operate properly
The lifestreaming functionality on the homepage is handled by a third-party plugin you can download here. To activate the functionality, you only need to activate the plugin and set up your feeds according to the plugin's documentation.