Important: 
This theme was
retired
in February 2014. Documentation is no longer being updated.
On the demo of BlogTheme, the main navigation has a description for each menu item. The navigation is populated from pages within WordPress, but you need to view the screenshot and follow the below instructions to add a description: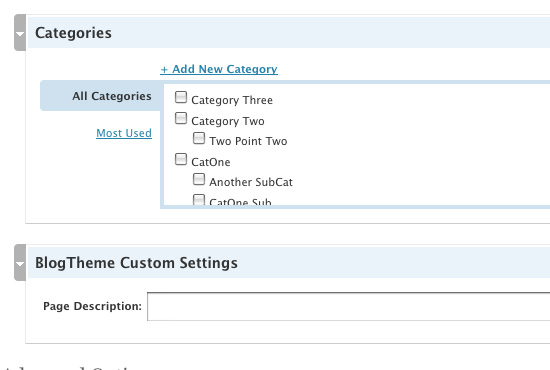 Go to: Page > Add New and complete all standard fields.
Scroll down to Additional Fields section and enter a text description.
Along with BlogTheme, we've added an unique Lifestream widget that you can add anywhere in your widgetized sidebar. The widget is powered by the plugin by David Cramer. So to set up the plugin for Ambience specifically, please follow these instructions.
Download Lifestream by David Cramer.
Follow installation instructions to upload and activate the plugin.
Before adding social media profiles/accounts, download this file and unzip.
Copy this file (lifestream-listinc.php) into your /wp-contents/plugins/lifestream/pages/ folder and overwrite the existing copy. This file customizes the output for BlogTheme.
*Repeat steps 3 & 4 when you update the Lifestream plugin with a newer version.
Now add as many of your social media accounts as you wish.
Go to: Design > Widgets and add the Lifestreaming widget to the sidebar.