Important: 
This theme was
retired
in February 2012. Documentation is no longer being updated.
Important Installation Note ↑ Back to top
Bookclub is a retired child theme for our directory theme Listings. You need to own both and have them both located in your themes folder for Bookclubs to work correctly.
You first need to activate the Listings theme to initialize the theme functionality and content builder (On the "Appearance > Themes" page), then go back to Appearance > Themes and activate Bookclub.
A WordPress child theme is a theme that inherits the functionality of another theme, called the parent theme, and allows you to modify, or add to, the functionality of that parent theme.
More information on child themes at WordPress Codex.
If you purchased the Bookclub theme you are likely familiar with Listings. Listings comes with a powerful content builder to help build your online directory. We highly recommend you view the Listings theme documentation and watch the Listings video overview before using the Bookclub theme.
Below is a screenshot of the Bookclub home page with each of its modules explained.
Once Bookclubs is installed, a new backend options panel called "Book" will display on your site. You can add books and categorize them by taxonomies, such as Genre, Author and Publisher.
In the Custom Settings panel below the WYSIWYG editor, a book cover image has been uploaded.
If you want to display snippets or other images within the book gallery slider section, upload more images to the post. There is no need to select the Add Gallery option, just "Save the changes" and the post images automatically appear in the correct place.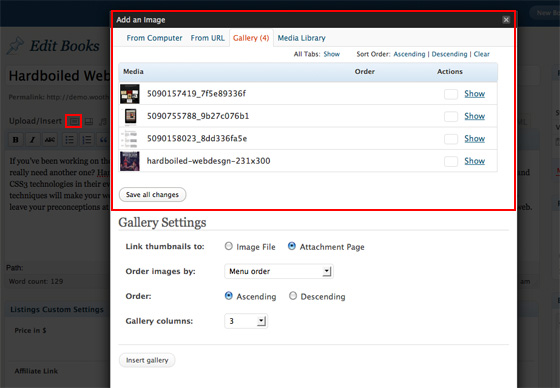 Adding biographies to the author page ↑ Back to top
Thanks to the content builder, one can assign text fields and images to category pages, giving you more control over what is displayed on category archive pages. We use this functionality to add a book author biography text and image to a corresponding archive page.
Go to the "Book – Authors" section, then click on an author you created to see additional fields where you can add their information.
All widgets available in the Bookclub theme are the same as the Listings theme.