To learn how to install your theme please reference our documentation here: Installing a Theme
Checking your theme version ↑ Back to top
You can confirm your theme and WooFramework version by going to: Bueno > Framework
After you install your theme, be sure to activate your theme key by downloading and installing the WooCommerce Helper plugin. This will verify your site when contacting support and will enable 2-click updates for quick theme upgrades down the road.
Updating your theme
It is very important to ensure you have the latest version of your theme at all times. This is the best way to proactively troubleshoot issues on your site.
To customize the theme go to: Bueno > Settings > General Settings.
Here you will find the following options:
Optionally set an intro message.
Pick your color motif.
Optionally upload an image for your logo.
Add a favicon.
Select how you would like your posts to be shown on the homepage.
Be sure to Save all Changes when you are finished.
Setting up the Sidebar Featured Posts ↑ Back to top
The featured posts module, displayed in the sidebar of the Bueno demo, is a widget that can be placed in any of the widgetized regions and is tag based. As long as you specify a tag to pull results from (in the widget options of the Featured Posts widget) it should populate with a list of posts. You can choose to display only the excerpt, or the full content (up until the "read more" break if it is being used). Having a thumbnail generated for each featured post item is explained in the next section.
Below is a screenshot of the widget options of the Featured Posts widget.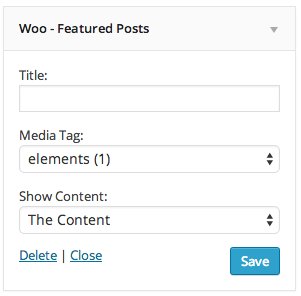 Adding a Thumbnail to a Featured Post ↑ Back to top
Adding thumbnails to display on the featured posts widget in the correct sizing is very easy thanks to the WooThemes image resizer script that generates cropped images to the required sizing for the templates.
All that is required is that you navigate to the "Bueno Custom Settings" below the WYSIWYG in the post/page editor and upload an image or add a video embed code in the corresponding fields. Once you have uploaded your image save your changes to the post and they should appear nicely in the featured posts widget. Remember the image resizer can scale down an image, but if an image is smaller than the designated placeholder for it, it will appear smaller.
Placing an advert on your website ↑ Back to top
The Bueno theme has two dedicated ad sizes available to you for usage in the sidebar. An MPU (300 x 250 pixels) advert and up to 6 Block (125×125 pixels) adverts.
Both these ad spaces are widgetized, so to set up this advertising module to display, don't forget to add the adverts and links in the theme options and then assign the "Woo Ads – 125 x 125" widget to the "Sidebar" or footer widgetized regions. See the image below.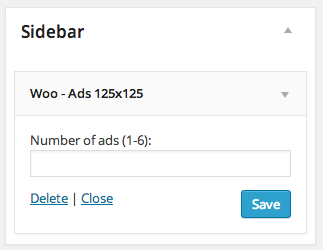 The theme includes 6 custom widgets that you can add to any one of your widgetized areas:
Woo – Flickr
Woo – Ads 125 x 125
Woo – Ads 300 x 250
Woo – Search
Woo – Featured Posts
Woo – Campaign Monitor