Coffee Break is a stackable theme that highlights features.
Note:
This theme was retired in
February 2014
. Documentation is not being updated.
Go to Settings > Permalinks and click the Save Changes button, even if there have been no changes. This registers the custom post types used in the theme.
Also go to Settings > Reading and set front page to display Your latest posts if you have previously had a static page as your front page.
Set up the Featured Slider ↑ Back to top
The home page featured slider pulls the custom "slides" post type. The number of slides depends on how many slides have been published. You can set animation speed, auto start and slide interval under the theme options.
Adding a slide
Go to Slides > Add New.
Enter a title for the slide and body content.
Add a "Slider Image" in the Custom Settings panel if you want to display an image in the slide.
Publish.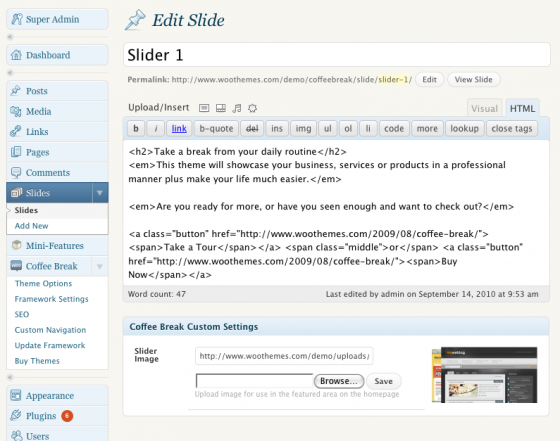 Add buttons to the slider page
To add a button to a page in the featured area, add some code by using the HTML tab. Add a link with the class button and wrap the text in a span.
The main area consists of a left column that can hold mini-features, and a right column that holds the widgetized sidebar. The left main column can also display page content above or below the mini-features area.
The Coffee Break home page mini-features area also uses custom post types and pulls in the custom Mini Features. The number of mini features depends on how many Mini Features you have published.
Enable the mini features area on the home page under the "Homepage" theme options. You may also add two pieces of content from WordPress pages to the home page if you specify the pages of the pages you wish to display in your options.
To add an mini-feature:
Go to Mini Features > Add New.
Enter a title and the body content.
Add a "Mini Features Icon" in the Custom Settings panel if you want to display an icon next to the slide.
Add an excerpt
Publish.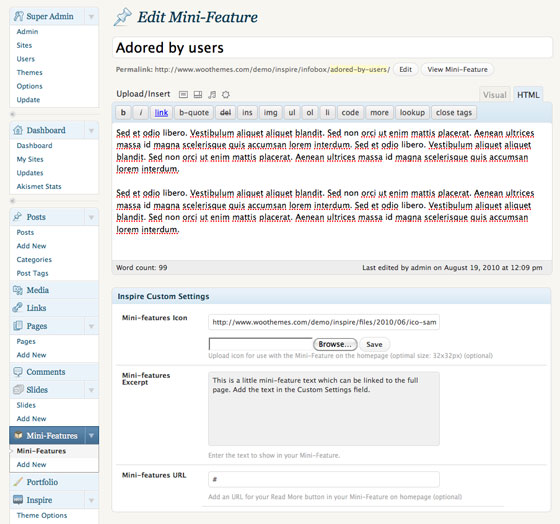 Remember to enable the mini features area in the theme options tab.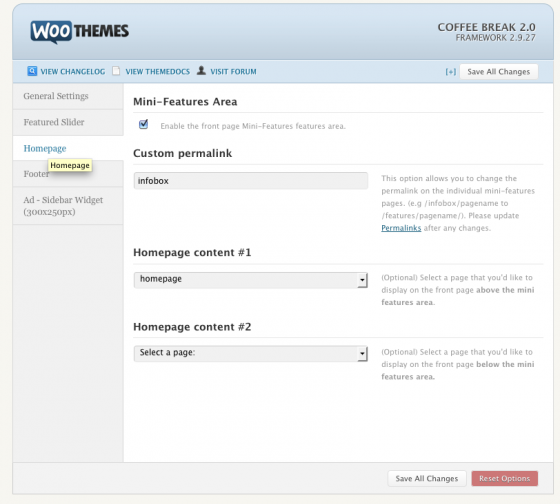 To add a Blog to the main navigation:
Add a new Page in WordPress (Page -> Add New)
Add a title to the page, i.e., Blog
Select the Blog page template in the Attributes panel on the right
Publish.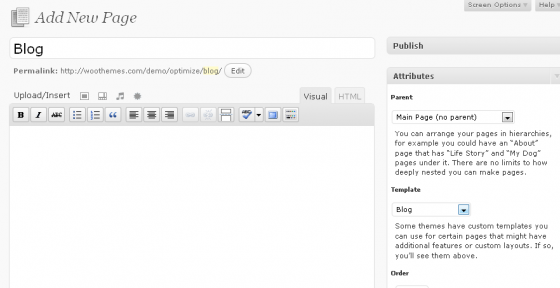 If you are unsure on how to set up a page template, see Page Template.
To set up the footer section for the home page and the rest of the site, add your company/personal information in the appropriate section of the theme option's panel displayed below.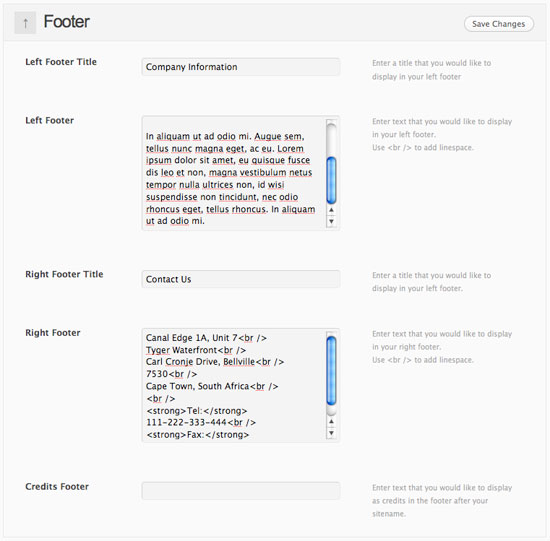 The theme has seven custom widgets you can add to the widgetized sidebar:
Woo – Twitter
Woo – Latest News
Woo – Flickr
Woo – Search
Woo – Campaign Monitor Subscription
Woo – Feedburner Subscription
Woo – Ad 300 x 250