Note: 
This theme was
retired
in April 2013. Documentation is no longer being updated.
Continuum includes a custom homepage with a featured slider and featured posts, custom typography and some extra custom widgets, all to help your news/magazine website get a stylish and functional look.
To learn how to install your theme, see: Installing a Theme
Checking your theme version ↑ Back to top
You can confirm your theme and WooFramework version by going to: Continuum > Framework
After you install the theme, be sure to activate your theme key by downloading and installing the WooCommerce Helper plugin. This verifies your site when contacting support and enables 2-click updates for quick theme upgrades.
Updating your theme
Ensure you have the latest version of your theme at all times. This is the best way to proactively troubleshoot issues on your site.
More info at: WooCommerce Helper Documentation.
The screenshot shows the Continuum home page with each of its modules explained.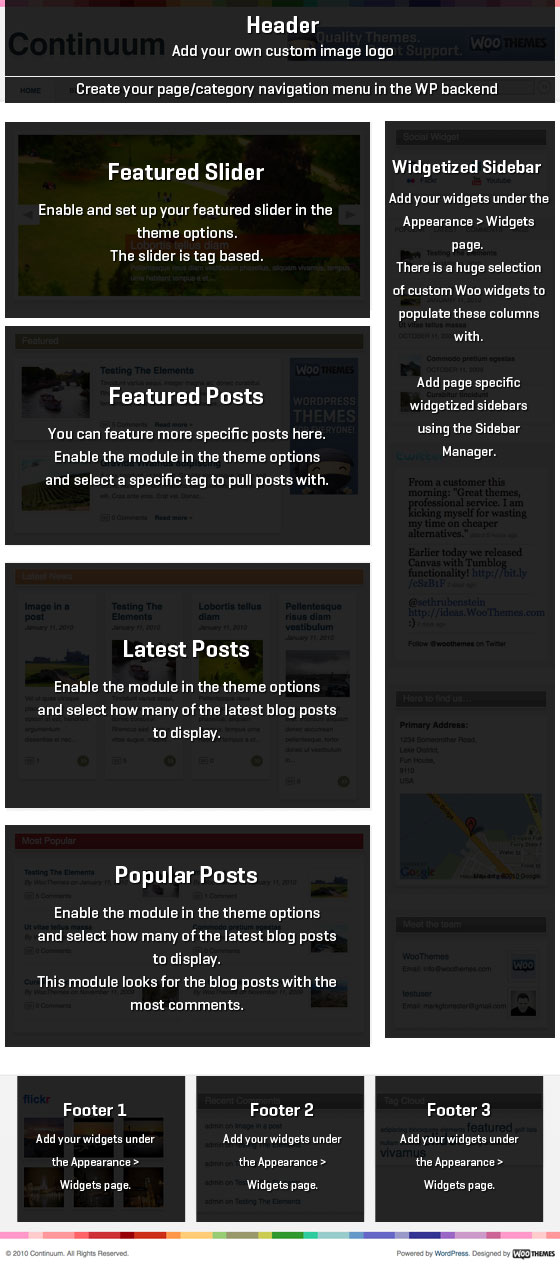 The home page is largely widget based, with 4 regions available for placement of custom woo widgets in the sidebar and footer regions. The featured slider can be easily disabled (more information in the next "How To" section), as can the featured posts, latest posts and popular posts modules in the settings.
To enable or disable what you want to show on the homepage go to:
Continuum > Settings > Homepage Layout
Continuum has a built in featured slider that uses post tags to drive content. To set post tags and adjust slider settings go to:
Continuum > Settings > Homepage Slider
Adding the tag to the post is important, as is specifying the image to use in the "Continuum Custom Settings" panel below the WYSIWYG editor on the Add/Edit post form.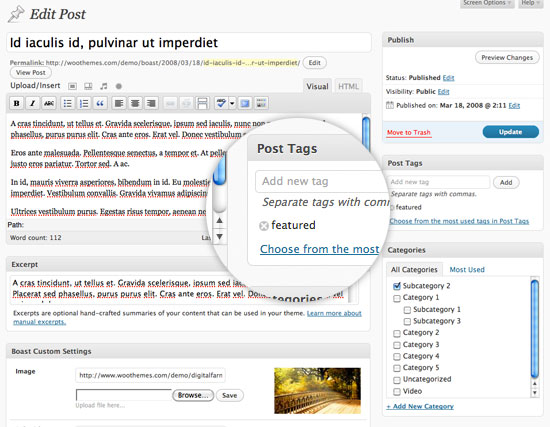 Remember to tag your posts with your featured panel tag defined in the settings.
There are 13 custom widgets you can add to four widgetized areas – 1  in the sidebar and 3 in the footer.
The custom woo widgets are:
Woo – Tabs
Woo – Flickr
Woo – Adspace
Woo – Ads 125 x 125
Woo – Feedburner
Woo – Address
Woo – Authors
Woo – Campaign Monitor
Woo – Embed/Video
Woo – Social
Woo – Blog Author Info
Woo – Twitter Stream
Woo – Search