If you have been using an existing WooTheme such as Canvas, you might be using the Portfolio functionality to display your works and projects. However, with the release of the Projects plugin, you have so much more you can showcase – the problem though was moving that content from the theme to the plugin.
But now you can with the Portfolio to Projects converter!
Install Portfolio to Project Converter ↑ Back to top
First of all you need to install our Portfolio to Projects Converter plugin. This will allow you to convert your portfolio items into projects.
Convert your Portfolio Items ↑ Back to top
In order to convert your Portfolio Items into Projects all you need to do is navigate to the Tools -> Portfolio to Projects screen in the admin area.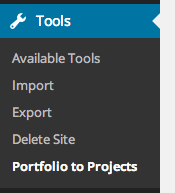 If you have existing Portfolio Items, you should see a screen like below, and all you need to do to convert your items is to simply click the Convert Portfolio Items button.
Once the conversion is complete, the converters' job is done, and you should receive a confirmation like below.
You can now deactivate the converter plugin.