Important: 
This theme was
retired
in February 2014. Documentation is no longer being updated.
The screenshot shows the Diarise home page with each of its modules explained.

The homepage consists of the following components:
Events Calendar
Featured Tabber
Blog Section
Widgetized Footer Region
Setting up the Events Calendar ↑ Back to top
The Events Calendar module on the home page allows you to display event-based posts, or posts you wish to advertise as occurring in the future. This works for churches, schools, sports clubs, event management companies, etc. advertising services, family days, sports matches, exhibitions, etc.
Enable under the Layout" tab.
Go to the "Event Calendar" tab and specify a category you categorized your event posts with, as documented in the next section.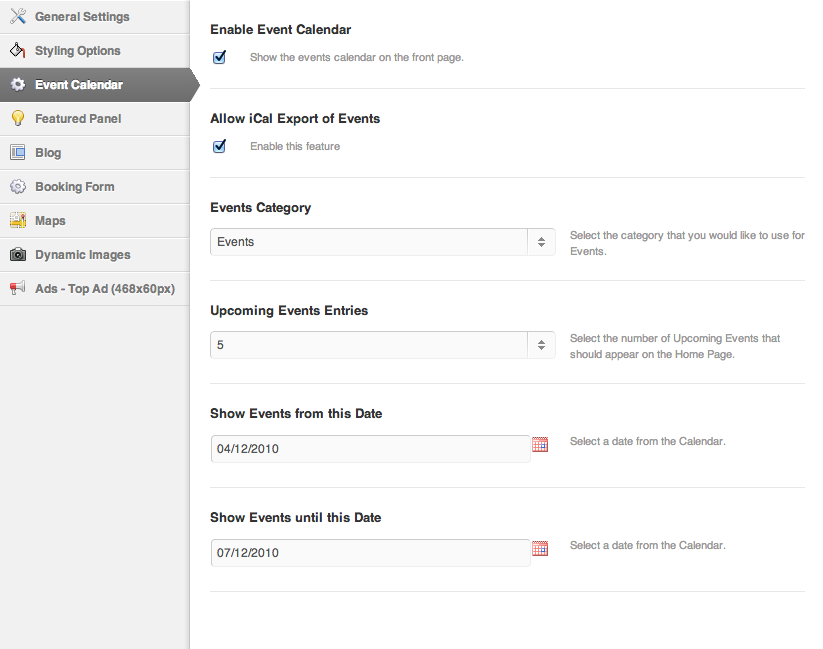 3. Use a date range of events that display in the events calendar module on the home page.
To display posts in the event calendar module, add posts to the category you specified in the event calendar theme options. We recommend creating a category called Events, then adding event posts to this category.
Event posts will display the title and excerpt, along with custom field texts that can be added via the Diarise Custom Settings under the WYSWYG editor on the Add/Edit posts window.
Add the event start and end date. Note that the end date will default to the start date and vice versa, unless otherwise specified.
Add times for the event, if applicable, and the location at which the event will be held. You can also add an image/logo for the event to be displayed on the home page.
Or publish a video to the post by placing the video's embed code in the corresponding field.
Setting up the booking form ↑ Back to top
Diarise comes bundled with a basic booking form page template that can be used for site visitors to express interest in an event by emailing the webmaster their contact details.
The alternative is to set the Use External Booking URL where a booking button can be linked in the event calendar and on the single event posts to an external site to receive bookings.
Go to the Booking Form theme options panel and enter the details.

Ensure to create a new page and assign the booking form template to that page.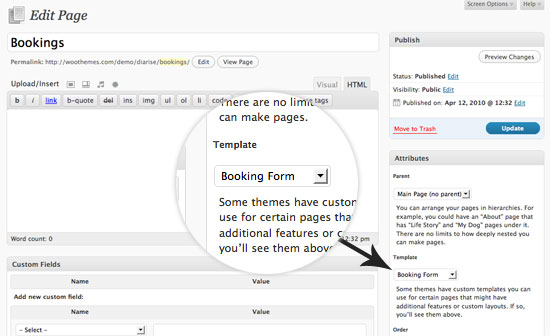 If you experience issues, you might need to re-save your permalink structure.
Setting up the Featured Panel ↑ Back to top
The home page featured panel can be used to display highlights of previous events, noteworthy blog posts or a combination of the two.
It is tag based. Once you specify the tag it must loop through to display posts, add that tag to the posts you want to feature. It will display the title of the post, the excerpt, and the optional image and video.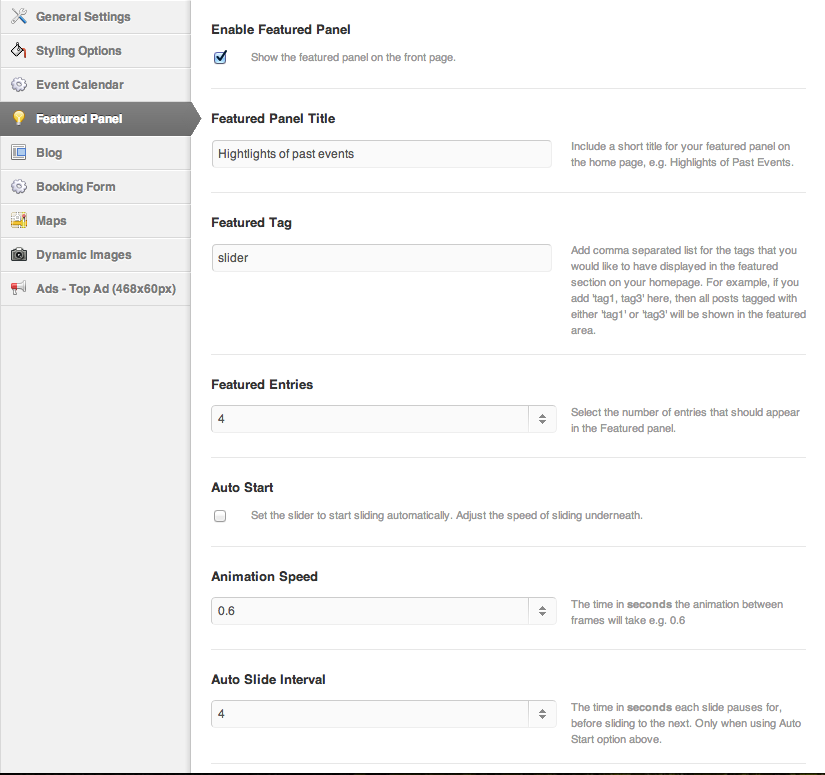 Custom Daily Edition widgets ↑ Back to top
There are nine custom widgets and seven widgetized areas — four in the footer and 3 in the sidebar.
The custom Woo widgets are:
Woo – Categories
Woo – Flickr
Woo – Adspace
Woo – Recent Blog Posts
Woo – Submit your design banner
Woo – Tabs
Woo – Search
Woo – Tag Cloud