Important: 
This theme was
retired
in February 2014. Documentation is no longer being updated.
Adding a featured post and thumbnails ↑ Back to top
To add a featured post to the left side of the homepage, add "featured" as the tag in the post.
To add a thumbnail image that will automatically resize, you need to first CHMOD your cache to 777, as explained in Step #1, then use the Meta-Morphosis Custom Settings field below your post window.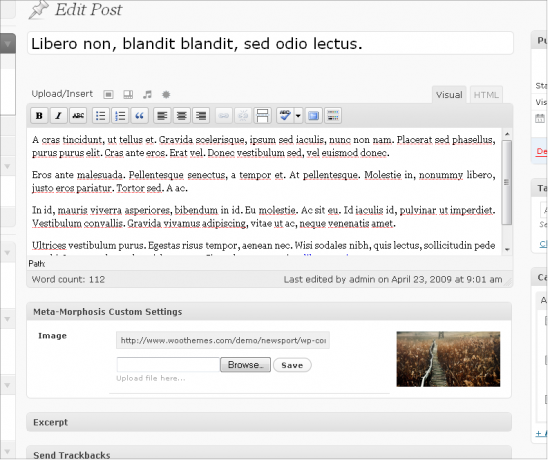 There are nine widgetized areas in the footer slider (named Footer 1-9), divided in three columns per slide. Each column is a widgetized area, so select which area you want to add your widget from the right-hand side dropdown in Appearance > Widgets.
The theme has one custom widget:
Set your Flickr ID by editing the widget under Appearance > Widgets.
To learn more, see: How to Add Widgets