Important: 
This theme was
retired
in February 2014. Documentation is no longer being updated.
You can add photos or video to your post.
Before uploading photos, check that you have the setting Automatic Image Thumbs set under Dynamic Image Resizer in the Object options panel.
Go to Post -> Add New to create a new post.
Click on the Add an Image image button above your post window.
Select images to upload, and Save Changes when finished uploading. Don't click insert into post.
Save Changes or click the "X" to close the upload box. Your images are now added to your post and photo gallery.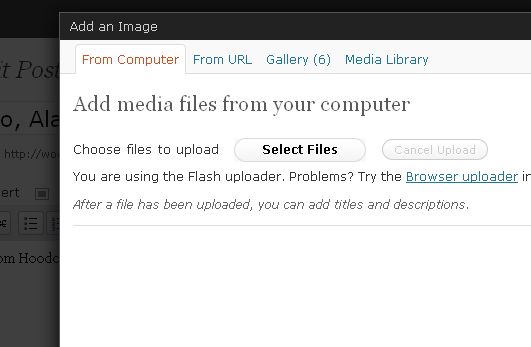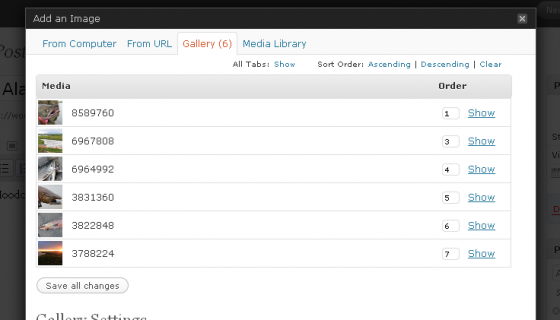 Follow the same procedure as adding a photo. To add a video,  paste the video embed code in the embed field under the post window in Custom Settings.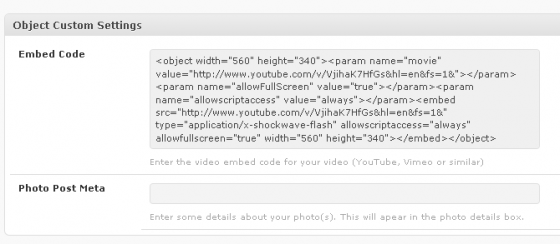 Object has five widgetized areas, plus custom widgets to give you more customization options.
Widgetized Spaces
Footer 1-3
Photo Sidebar (left)
Blog Sidebar (right)
Note: Go to Appearance > Widgets to add widgets. By default, the theme will display nothing, until you add your own widgets.
To learn more, see: How to Add Widgets
Custom widgets
There are five custom widgets:
Woo – About (About widget for use in Footer)
Woo – Recent (Recent posts used in Footer)
Woo – Popular (Popular posts used in Footer)
Woo – Flickr
Woo – Search