Important: 
This theme was
retired
in April 2013. Documentation is no longer being updated.
After installing and activating the theme, go to Settings > Permalinks and click the Save Changes button, even if there are have been no changes. This registers the custom post types used in the theme.
Go to Settings > Reading and set front page to display Your latest posts if you previously had a static page as your front page.
Setting up the Featured Area ↑ Back to top
The home page featured area pulls the custom "slides" post type. The number of slides depends on how many slides you published.
Adding a slide
To add a slide:
Go to Slides > Add New.
Enter a title for the slide and the body content.
Add a "Slider Image" in the Custom Settings panel if you want to display an image in the slide.
Publish.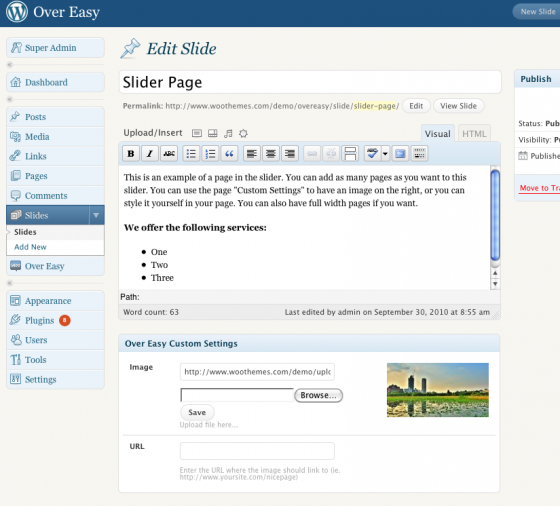 To add a Blog to the main navigation:
Add a new Page in WordPress (Page -> Add New)
Add a title to the page e.g. "Blog"
Select the Blog page template in the Attributes panel on the right
Publish.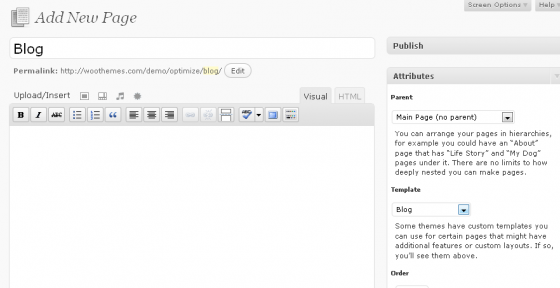 If you are unsure on how to set up a page template, see our video at Page Template.
Widgetized areas
There are 7 different widgetized areas in the Over Easy template.
Homepage (below the featured slider):
Front Footer 1
Front Footer 2
Front Footer 3
Blog Pages (in the footer):
Blog Footer 1
Blog Footer 2
Blog Footer 3
Sidebar (displayed site-wide):
Note: Go to Appearance > Widgets to add widgets.
To learn more, see: How to Add Widgets
Custom widgets
There are five custom widgets:
Read More (for front page)
Testimonials (for front page)
Ads (set up ads in options panel)
Flickr
Subscribe