Important: 
This theme was
retired
in February 2014. Documentation is no longer being updated.
Setting up sidebar video player and adding video posts ↑ Back to top
To add a video post to appear in the sidebar video player, add a new post or edit an existing one, then go to the bottom of the post to Rockstar Custom Settings.
Add an optional picture to your post for thumbnail view (if you chose to use "Post Thumbnails" under "Dynamic Images" of the theme options panel), and the embed code of the video. Resizing is done automatically.
To add the Video Player to the sidebar, go to Appearance > Widgets and then add the "Woo – Latest Video" widget. Add a tag the videos must pull from. In our demo, we used "video" and then entered this tag in the widget.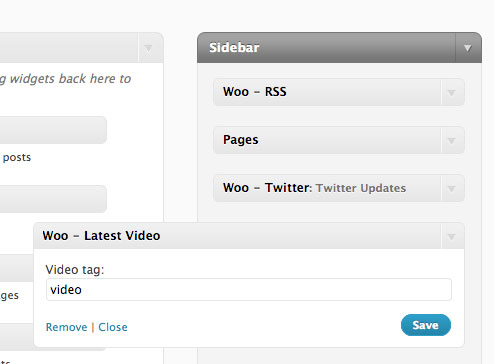 To learn more, see: How to Add Widgets.
Adding adverts to the sidebar is a two-part process.
Open up the theme options panel and go to the Ads – Sidebar Widget (125×125 pixels).
Add the URLs of images you want to display as adverts and add a link that the advert must take you to when clicked. You can also rotate banners so they don't appear in the same location every time.
Go to Appearance > Widgets and add the "Woo – Ads 125 x 125" widget to the sidebar. In the settings, choose how many adverts to display, with a maximum of four.
Adding content to About module ↑ Back to top

The About section in the header is a module that requires you to enter your "About You" description in the theme options panel. Some HTML is allowed in this description, as evident in the example.

There are six custom widgets you can add to the widgetized area:
Woo – Twitter
Woo – RSS
Woo – Latest Video
Woo – Flickr
Woo – Ads 125 x 125
Woo – Search