Important: 
This theme was
retired
in October 2015 and is not for sale. Documentation is no longer being updated.
Sliding is a WooCommerce theme. Although hugely flexible in implementation, we believe is tailor suited for online fashion stores. With a flexible slider designed for portrait shaped imagery your product line is presented professionally, whilst easily accessible.
The homepage also boasts horizontal sliders to fit in lots of products, whilst keeping the homepage relatively short and compact. The shop page however lists all your products in the typical grid format, and that layout could easily be applied to the homepage should you prefer it.
Important:
Please have a thorough read through the
WooCommerce Codex
and familiarise yourself with using the plugin and it's various features. It will stand you in good stead when setting up your theme.
Sliding Theme Demo: demo.woothemes.com/sliding
To learn how to install your theme please reference our documentation here: Installing a Theme
Checking your theme version ↑ Back to top
You can confirm your theme and WooFramework version by going to: Sliding > Framework
After you install your theme, be sure to activate your theme key by downloading and installing the WooCommerce Helper plugin. This will verify your site when contacting support and will enable 2-click updates for quick theme upgrades down the road.
Updating your theme
It is very important to ensure you have the latest version of your theme at all times. This is the best way to proactively troubleshoot issues on your site.
After activating Sliding you will no doubt notice that your homepage looks a little bleak. This section explains how to populate your homepage with content.
The top-most carousel pulls in your featured products.
To mark a product as featured go to: Products > Products and select the Star in the featured column (see image below).
You can alternatively select the Quick Edit option to see the Featured product box.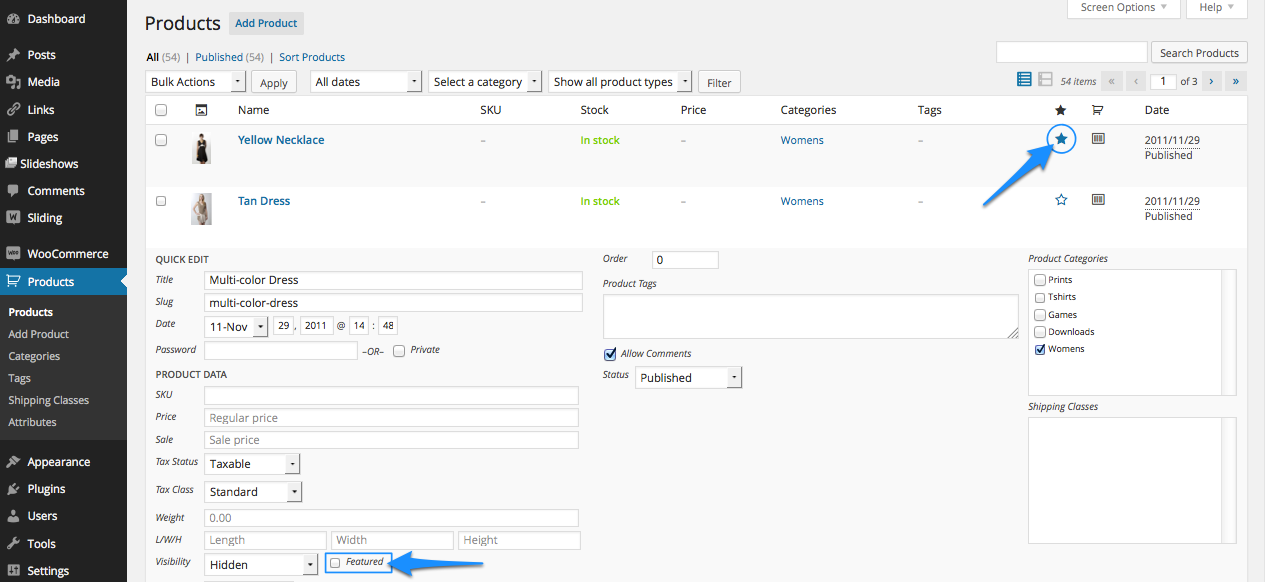 There are a few options for the featured product carousel. Go to: Sliding > Settings > Homepage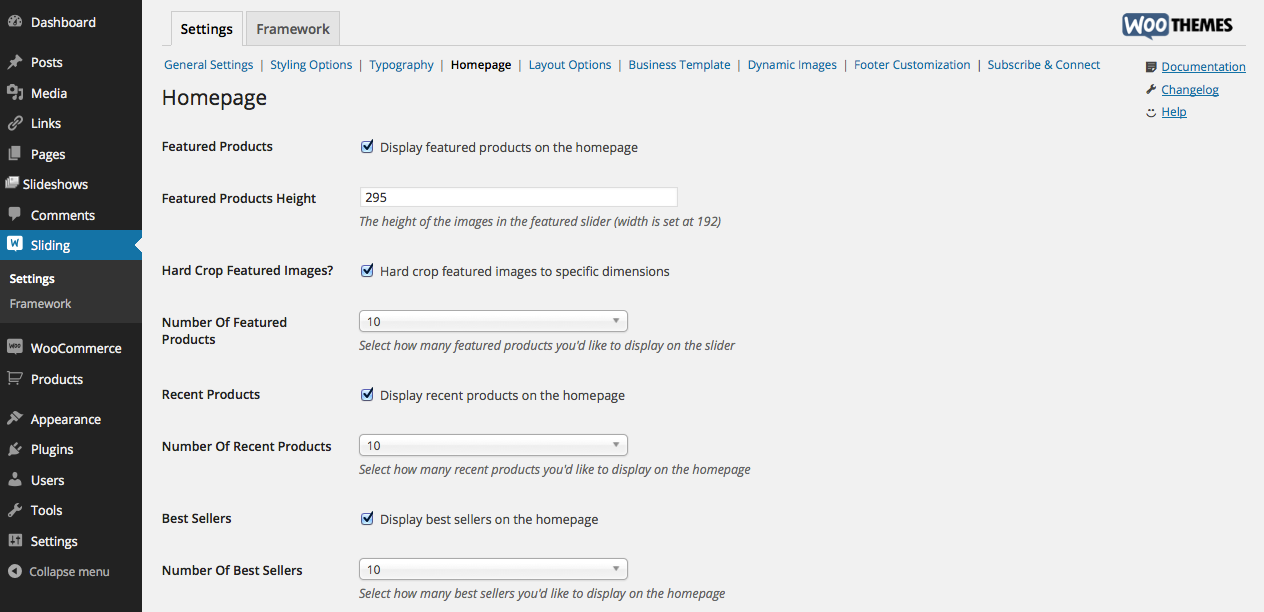 The first option is a checkbox to enable or disable the carousel.
The second option is to specify the height of the product images. The images are set to be 192 pixels wide ensuring a consistent 5-products-per-slide ratio but if you'd like to showcase portrait product imagery here you can specify a different height and the carousel will adapt accordingly. You can also choose whether to hard-crop these images.
Finally you can specify how many products to display in multiples of 5. If you choose 5 there will be no carousel, if you choose 10 there will be 2 carousel slides, if you choose 15 there will be 3 slides and so on. If you choose 10 but there are only 8 featured products, the carousel will adapt accordingly once again.
Recent Products & Best Sellers ↑ Back to top
The recent products and best sellers sections function similarly and require very little configuration. The options for these sections are also in Sliding > Settings > Homepage. As with the featured products carousel you can choose whether to display these sections at all, and how many products to display in each one. Other than this these sections will populate automatically as you add products, and as customers place orders.
The recent products section displays your latest products, with most recent first.
The bestsellers section displays your top-selling products, with most sales first. (If you haven't sold any products yet, this section will be empty, so you may want to keep it disabled until you have made some sales.)
There are two custom shortcodes built into Sliding. These are particularly useful on the homepage but of course can be used throughout your site.

The [sale] shortcode allows you to easily display a sale banner anywhere on your site. This tandems nicely with our sale page template.
To use the [sale] shortcode simply wrap your sale banner content within [sale] tags like so;
[sale]Sale now on, up to 50% off all stock![/sale]

The [sticky] shortcode allows you to easily display notices on your site which are styled to appear as post-it notes. This is perfect if you want to make a short piece of content stand out somewhere on your site. It can be aligned to the right or the left of your content and be given a custom class.
To use the [sticky] shortcode simply wrap your message within [sticky] tags like so;
[sticky]This is a sticky note, awesome![/sticky]
As you would expect, you can attach any class name you like to the sticky shortcode, just incase you want to add any further custom styles to a particular sticky.
The theme includes custom widgets that you can add to any of your widgetized regions. Go to Apperance > Widgets to add these to your theme.
The custom woo widgets included are:
Woo – Get in Touch
Woo – Feedback
Woo – Contact Information
Woo – Archives
Woo – Adspace
Woo – Search
Woo – Tabs
Woo – Twitter Stream
Woo – Flickr
Woo – Blog Author Info
Woo – Embed/Video
Woo – Subscribe/Connect
WooCommerce – All WooCommerce widgets
Sliding comes with a useful Business Page Template to help display additional content on your site, including support for the WooSlider plugin. You must purchase the WooSlider plugin separately in order to use it on the Business Page Template.
Go to: Sliding > Settings > Business Template to select the business page modules you would like to display.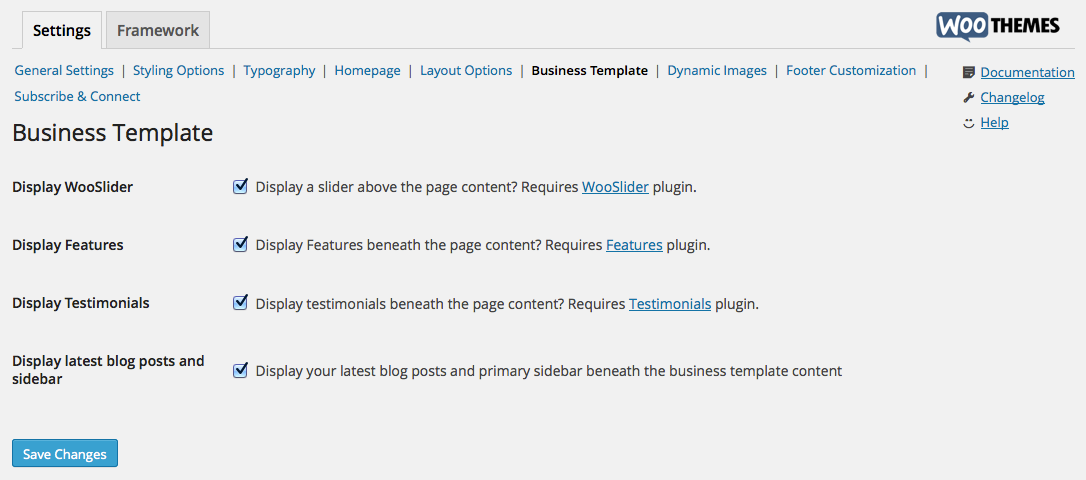 To set the business page template:
Go to: Pages > Add New
Add a title and the page content.
Go to: Page Attributes > Template just below the publish module to select the Business page template.
Publish the page.
Setting the Business Page Template as the Homepage ↑ Back to top
To set the Business Page Template as your Homepage go to: Settings > Reading and select the Static Page – Front Page as your newly created Business Page (instead of the recent posts setting).
To learn more about Page Templates please see our video tutorial here: Page Templates
Including WooSlider in the Business Page Template ↑ Back to top
The Business Page Template slider uses the WooSlider 'Attached Images' slideshow type. To add it to your Business Page Template (after purchasing, downloading, and activating the WooSlider):
Go to: Sliding > Settings > > Layout > Business Template to select Display WooSlider. Here you also have the option to display Features, Testimonials, or your latest blog posts.
Next, go to: Pages > Edit to add images to your newly created business page.
Select Add Media.
Upload as many images as you'd like.
Close (X) the Media Uploader pop-up window.
Finally, save changes by selecting Update.
You must upload images directly to your business page template in order for the Business Page Template WooSlider feature to show.


Pro Tip! in the new WordPress 3.5+ Media Uploader you can select Uploaded to this Page from the dropdown to only view the images uploaded to this page and are used in the featured slider (see below). Drag and drop the images from here to reorder if you'd like.