Important: 
This theme was
retired
in June 2012. Documentation is no longer being updated.
Setting up social profiles ↑ Back to top
To set up the social profiles viewable in the sidebar, add the social profile widget for as many social profiles you want to display.
Go to Appearance > Widgets and drag the Social Profiles widget onto the Social Profiles Box (Sidebar) widgetized zone. Set up the options.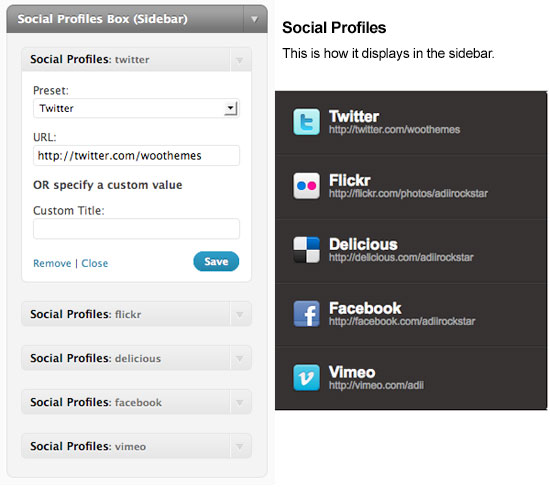 Enabling the three-column footer ↑ Back to top
With Therapy you have the option to enable a 3 column footer region, each of those columns being widgetized. To do this you need to navigate to Layout Options and click on the Add Extended 3-Column Footer.
Then go to Appearance > Widgets and you'll see you have 3 more available widgetized zones,  footer 1, 2 and 3. Simply add the desired widgets to these columns and you'll see the extended footer on your website.
Add a video to the sidebar video player ↑ Back to top
To add a video and make sure it appears in the sidebar video player you need to make sure you dedicate a tag to the video player, and then ensure the posts which contain the videos are tagged with that tag. Below you'll see we used the tag "video" and then tagged some posts with this tag. The latest one appearing in the sidebar of the demo.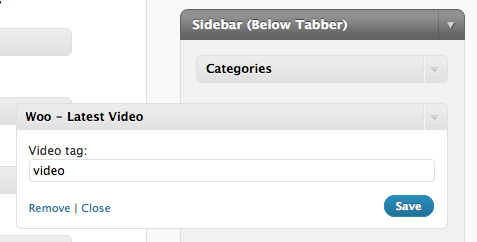 To add a video to a post you simply need to copy the embed code from your favourite video sharing site and placing it in the "Therapy Custom Settings" box below the WYSIWYG editor in your post backend manager. Once  you've done this, and remembered to tag the post correctly, publish your post and you'll see the video appears correctly.
Placing an ad on your website ↑ Back to top
The Therapy theme has two dedicated ad sizes available to you. A Home Page Header Ad (468 x 60 pixels) advert and 4 Block (125×125 pixels) adverts.
The Home Page Header Ad has a dedicated position on the site and is only required to be set up and enabled/disabled in the theme options.
The Block adverts are displayed in a widget, so to set up this advertising module to display don't forget to add the adverts and links in the theme options and then assign the "Woo Ads – 125 x 125" widget to the "Sidebar" widgetized zone either above or below the tabber. See the image below.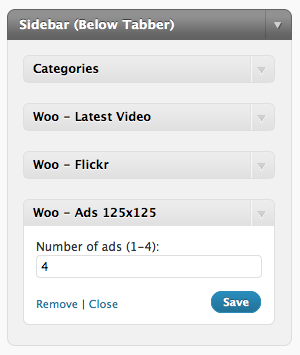 The theme includes 5 custom widgets that you can add to your widgetized zones:
Social Profiles
Woo – Latest Video
Woo – Flickr
Woo Ads – 125 x 125
Woo – Search
[insert name="adding-widgets"]
[insert name="page-templates"]