Using Resources in Bookings allows you to provide specific types of Availability, or handle how Bookings can be made.
Resources can be added to multiple Bookable Products with a global level of availability or individual availability. Even though a Bookable Product can have multiple resources associated with it, only one resource can be assigned per booking.
Examples of usage include:
An assistant who can be booked to organize a wedding or a 50th birthday party, but not both at the same time.
A room that can be rented for a kid's birthday party or for a company event, but not at the same time.
There is a range of Use-Cases in the documentation that illustrate how Resources can be used.
To add a global resource or a resource that can be used site-wide:
Go to Bookings > Resources. A list of current resources and any products they are assigned to is displayed.

Select Add Resource at the top. The Add New Resource screen appears.

Enter a name/reference for the resource. Make sure you name your resources appropriately and do not use the same name twice to make managing your site easier as your site grows.
Input the Available Quantity.
Add Range if the resource has any restrictions on availability. Similar to Availability on a Bookable product. More details at: Custom Availability Range.

Publish to make the resource available.
Once the resource has been added, you can assign the resource to products.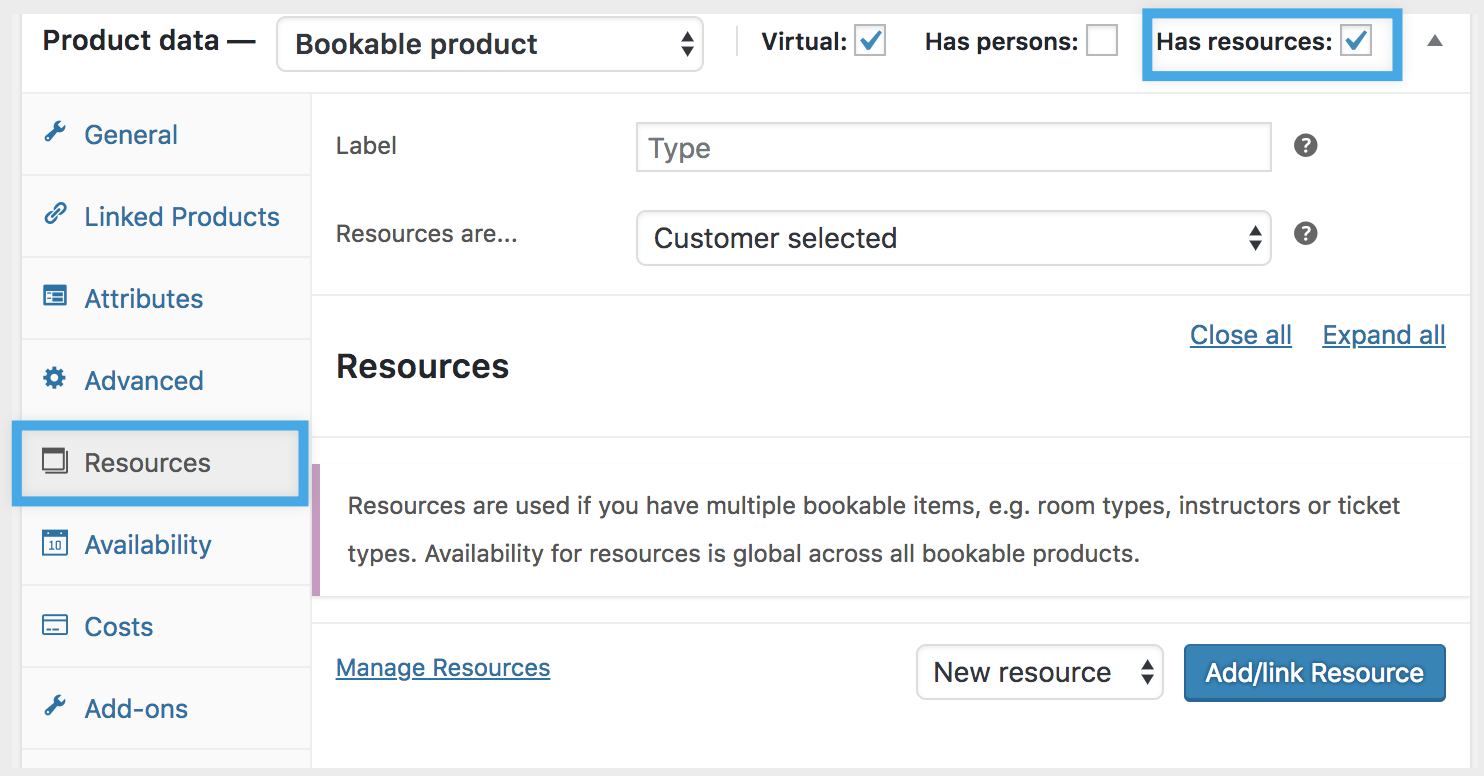 To add a resource to a bookable product:
Go to WooCommerce > Products.
Select the bookable product you would like to Edit.
Scroll down to Product Data and tick the Has Resources box.
Go to the Resources tab.
Enter a Label to be shown to customers – this will show before the Resource name.
Select a Resource from the dropdown in the lower right.

New resource: Select Add/link Resource, then you are prompted for the resource name. Once entered, a new global resource is created in the system.
Existing resource: Select Add/link Resource, then you are prompted to enter a Base/Block cost. The Base cost is applied when the resource is chosen; the Block cost is multiplied by the number of blocks booked.


Update the Bookable Product to save resources.
When two or more bookable products share resources, each product's booking start times are determined by its own settings rather than another product's confirmed bookings.
For example, consider the following products which both share the same First block starts at... time of 2:00 pm:
Product A is 90 mins (60 duration + 30 buffer)
Product B is 60 mins (30 duration + 30 buffer)
If someone books Product B at 2:00pm, Product A will not be bookable at 3:00pm. WooCommerce Bookings will simply see the 2:00-3:00 time as unavailable and look for the next available start time for Product A, which would be 3:30.
The next available time for any given product is based on its own start times as calculated by:
The first available time in the day
The product's bookable duration
Any buffer the product has

How much address related information needs to be filled out for the distance calculation to trigger?
The calculation will trigger given at least a postcode/zipcode and a country. However, the more address details provided, the more accurate the estimation.

Something missing from this documentation? Do you still have questions and need assistance?
Have a question before you buy this extension? Please fill out this pre-sales form – please include the name of this extension in your query.
Already purchased and need some assistance? Get in touch with a Happiness Engineer via the WooCommerce.com Support page and choose this extension name from the "I need help with" dropdown