Prefer video? See this great video by Jamie Marsland over at PootlePress.
The "Slides" slideshow type is the most flexible (and involved) of all slideshow types bundled with WooSlider. Using a custom post type, each "slide" is a blank canvas where you can add virtually any content you like, from text and images to embedded video.
This slideshow type could be used to display promotions of your services, a video from the latest conference you attended, a gallery of thumbnail images, or sales content for your business. It is a rich HTML-driven slideshow that is quick and easy to setup.
If you don't need to customise any of the specific settings, this slideshow type can be used as follows in a shortcode: .
The "Slides Slideshow (WooSlider)" widget has also been made readily available for displaying the same kind of content in a widget.
Number of Slides ( limit="5″ ) – The number of slides to display.
Slide Groups ( slide_page="my-slide-page-slug" ) – Optionally display slides from only specific slide groups.
Use Thumbnails For Pagination ( thumbnails="true" ) – Use thumbnails for pagination instead of the default pagination bar.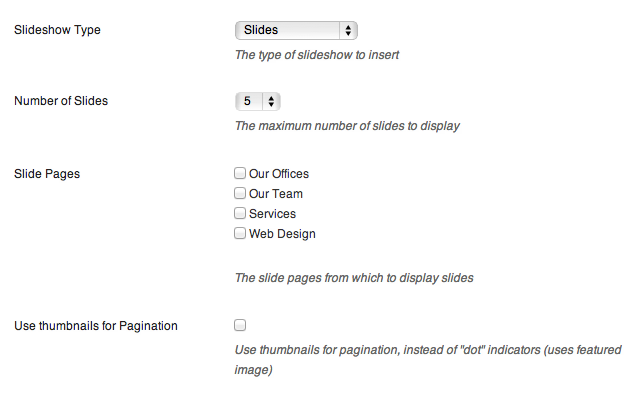 Having trouble inserting a slideshow shortcode? See our guide to inserting your first WooSlider slideshow.
Slides Slideshow (WooSlider) widget ↑ Back to top
This widget includes the majority of options available to the shortcode.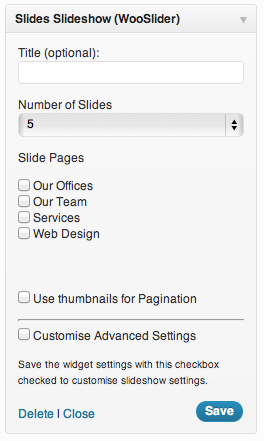 As with all WooSlider slideshow widgets, it's possible to override the default slideshow settings by checking the "Customise Advanced Settings" checkbox, clicking the "Save" button and then customising the settings accordingly.
As mentioned above, slides are controlled via a custom post type called "slide". These are managed under the "Slideshows > All Slides" screen.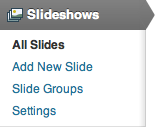 When adding or editing a slide, the only section that will display in the slideshow is the content (WYSIWYG) editor. You can insert any content in here, as you would with a page or blog post.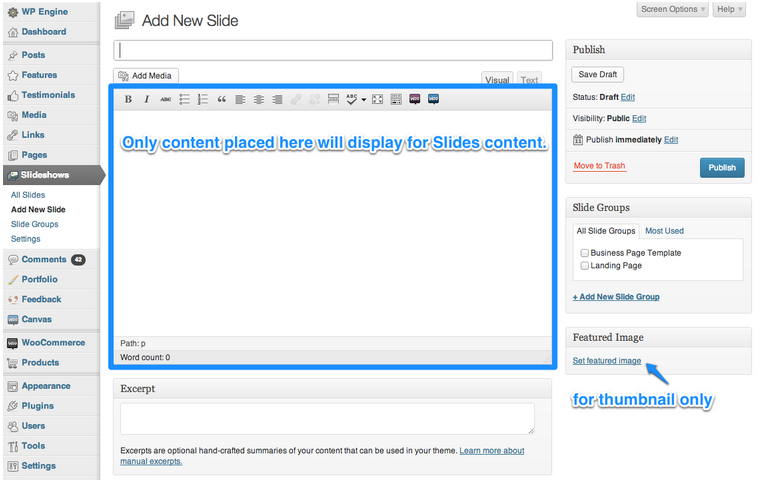 If you would like a 'title' to display in your slide, simply add text within the editor using a heading tag like this: <h2>Here is my slide title</h2>
If you would like an image to display in your slide: Add Media > Insert into Post.
You will only want to use the Featured Image setting if you have chosen to display thumbnails for pagination in your slider settings.
Managed under the Slideshows > Slide Groups section of the WordPress administration area, slide groups are a method of grouping your slides into collections, of sorts. When using the 'Slides' slideshow type, it's possible to filter by slide group, displaying only slides that reside within a specified slide group.
This can be used to control which slides display in which slideshows, creating separate slideshows tailored for different sections of your website.
As you can see when adding or editing a slide, a "Featured Image" box is made available. This image does not display in the slide at all. The "Featured Image" is used only if the "Use thumbnails for Pagination" checkbox is enabled, at which point the featured image becomes the thumbnail in the pagination area.
Your theme, or another plugin, may have the "slide" custom post type already in existence and use. WooSlider doesn't rely on any custom fields for the "slide" post type and can work harmoniously with your existing "slide" custom post type. The "Slide Groups" taxonomy can be used to split slides for use with your theme or with WooSlider.
The 'Slides' slideshow type, while seemingly complex to use, is actually the most flexible of all slideshow types. It's possible to have one slide of text, and the very next slide as an embedded video using WordPress' oEmbed support. If one of the other slideshow types doesn't quite suit your needs, the "Slides" slideshow type is most likely up to the task.