Please note: This product has been retired and is no longer available for download.
WooDojo – ShortLinks helps to integrate your URL shortening service of choice into your WordPress installation, to help with tracking links to your blog posts.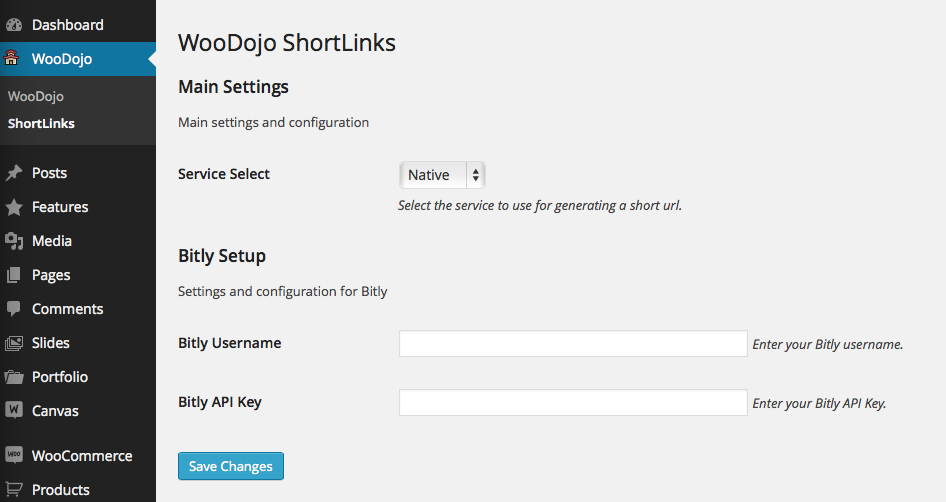 After activating WooDojo – ShortLinks on the main WooDojo screen, a "Settings" link should display next to the "Deactivate" link. Clicking this link will direct you to the "Shortlinks" settings screen. A "ShortLinks" menu item will also be added to the "WooDojo" menu item on the WordPress admin menu (this is not visible until the page is refreshed).
WooDojo – Shortlinks has various settings available for setting up your URL shortening service of choice.
Choose which URL shortening service to use (either the native WordPress Shortlinks functionality, Bitly or TinyURL).
Various settings and controls for integrating your Bitly account.
Bitly Username
Your Bitly username, chosen when signing up for an account with Bitly.
Bitly API Key
Your Bitly API key, provided on your Bitly dashboard when signed in to Bitly.
Once a post has been added or edited after setting up WooDojo – ShortLinks, you should see a "Get Shortlink" button below the post title on the post's "Edit" screen. Clicking this link will display the shortened URL.
Displaying the ShortLink in your theme ↑ Back to top
Whenever The Loop is used in your WordPress theme, you can make use of the following code to display a link to the shortened URL:
<?php the_shortlink(); ?>
(commonly used on the "index.php", "archive.php", "page.php" or "single.php" files)
Shortlinks are only available for pages, posts and custom post types- not for categories, tags or any other WordPress screens. This is in accordance with the native WordPress shortlinks functionality.