To use the WooSlider Instagram plugin, you need to have WooSlider 2.0 installed and activated. You can upgrade your current version of WooSlider, or purchase the WooSlider plugin.
To install WooSlider Instagram:
Download WooSlider Instagram.
Go to the site's /wp-admin Plugins > Add New section.
Go to the Install Plugins section and select the Upload option.
Browse to and locate the ZIP file you downloaded in step 2, and select Install Now.
Finally, go back to the Plugins page, find the WooSlider Instagram plugin and select Activate.
To use the WooSlider Instagram plugin, you need to connect your Instagram account. The Instagram API uses the oAuth 2.0 protocol to authenticate a user.
Navigate to the authentication screen by going to Slideshows > Instagram. In the form, enter your Instagram login credentials.
Your login credentials are passed to the Instagram API through HTTPS (secure connection) andnever stored by the plugin. You only need to do this once.
Once your Instagram account is connected, you can start using Instagram photographs and videos in your WooSlider slideshows.
Inserting an Instagram Slideshow ↑ Back to top
To add an Instagram Slideshow to a post or a page, simply click the Add Media button in the content edit screen. From there, select Slideshows tab on the media screen and then select Instagram Photographs as the slideshow type.
You can use a shortcode to display Instagram photographs, use:

This file contains bidirectional Unicode text that may be interpreted or compiled differently than what appears below. To review, open the file in an editor that reveals hidden Unicode characters.
Learn more about bidirectional Unicode characters

Using the Instagram Slideshow Widget ↑ Back to top
The WooSlider Instagram extension comes bundled with the Instagram Slideshows (WooSlider) widget, which you can use in any widgetized area on your website.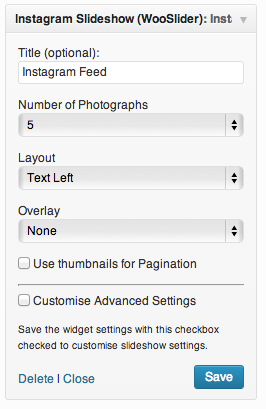 Within the widget you can create a title for the widget, select how many photos should be displayed and you can control the overlay and layout for the widget. To customize the Advanced Settings, check the Customize Advanced Settings checkbox and click Save to save the widget's settings. The Advanced Settings section now displays, where you can customize/override any of the advanced settings specified on the main Settings screen.