As proud members of the WordPress community, we are passionate about WordPress itself and what it can help people achieve. We strongly believe in giving back to our own community as well as the community around us. To that end, we are excited to be involved in a local initiative in Cape Town (home to WooHQ) that is doing exactly that.
We have been involved with the WordPress Cape Town community for some time, and the next event that the community is organising is the aptly named Do Action: WordPress Charity Hackathon (or rather, do_action( 'wordpress-charity-hackathon' ); in reference to a core function of WordPress).
You can read about the event on the event page, but the tl;dr version is that the community is getting together to build brand new websites for 9 different charities in one day. Anyone who lives in Cape Town and is keen to be involved can volunteer on the page – 46 volunteers are needed in total and there are still a number of spots available.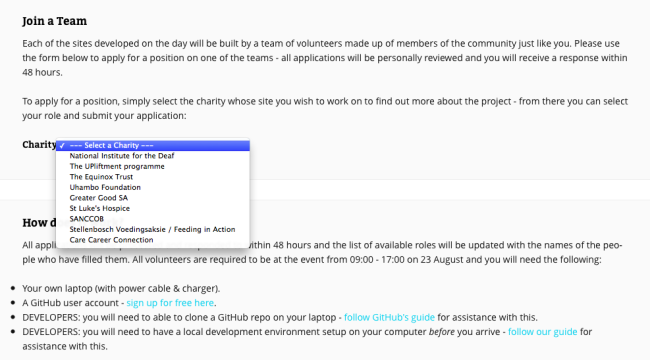 This event was conceived and is being organised by the local community, but we think it's such a solid idea that it would be great if more WordPress communities around the world emulated it in their areas. Every city has plenty of charities that would benefit from this kind of thing and, as a community, building WordPress sites is our bread and butter so it's a match made in heaven really.
To organise an event like this you only need three things:
A venue (any co-working space will do)
A few deserving charities
A few willing volunteers
It's that easy.
This is something that we at WooThemes are passionate about and something I am personally very passionate about. In fact, if anyone would like to replicate this charity hackathon idea in their area then I am making myself personally available to assist with any planning or support that you need. You can get in touch with me on Twitter or via my website and we can chat from there.
It would also be great to know what efforts you are making in your cities to promote social change and growth. Let us know in the comments!