We've reached the end of April, and it should come as no surprise it was another eventful month here at WooThemes! We started our month with some well done maintenance on our own site here. We ourselves needed to update our own WooCommerce setup, among many other updates, to help alleviate some sore spots on the site. The update went smooth and the ship was back up and running in no time! We also published three new case studies this month, and alongside that rolled out three WooCommerce extension drops. If you thought we stopped there, guess again. In the middle of WooCommerce drops we released our latest theme, Resort, sponsored and thoroughly enjoyed WordSesh, retired a few themes, and finally pushed out major updates to Canvas and Sensei! Oh, and one more thing, our FREE Features and Testimonials plugins got some very nice updates as well! With that said, let's turn to our support numbers and decipher them.
Customer Happiness in Numbers
Looking at the numbers:
10,835 new tickets created this month.
28,046 ticket touches. (how many times all tickets were opened, tickets with multiple responses, or re-assigned, etc…)
39.20 hours to First Response (the amount of time the average customer waits for our first response).
19% of all tickets are responded to within 8 hours; and
86% satisfaction rating on all tickets.
Our one disappointing metric here is our First Response times. This has been growing each month, but this month it's grown by 10.1 hours. Our stated goal is to respond to your initial ticket within 12-24 hours if not sooner, and this hasn't changed. We noticed a trend that the majority of these tickets coming in could be solved simply by updating your extensions or theme. Thus we sent out a reply to all WooCommerce tickets saying that be sure to update all software on your site, let us know then if that didn't solve your problem. We also had a heroic effort by our support team near the end of the month. They brought down the WooCommerce and regular Support queues to near zero and replies well under 24 hours in those channels. They answered over 600 tickets on one day, which you can see by that big green spike in answered tickets. Kudos to that effort!
Benchmarking & Context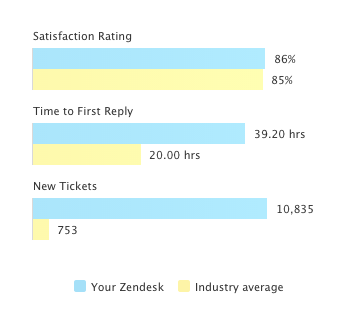 As you can see our ticket numbers haven't gone down by much, but our response times and ratings have taken a hit since they are closely related. We left some of our users unhappy with our response times and they let us know with their satisfaction ratings. We are recovering though and making strides to bring our satisfaction back up!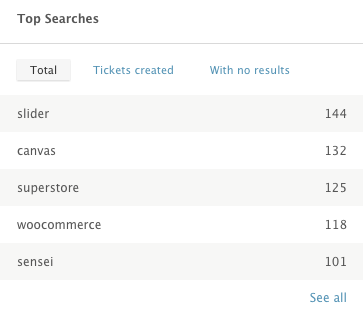 I wanted to share a couple other measurements we watch over, these being our Top Articles and Top Searches. These help tell us what knowledgebase posts our users are visiting the most as well as what they are searching for. These will be a part of helping us prioritize what sort of static resources we can be creating. Just as an example, the top article of updating a theme and even the next top ones on creating a child theme and customizing a theme will be covered in new videos and tutorials that we're working on. Also, updating any WooThemes will be made much easier in the near future as well. *hint hint* 🙂
In context, our support times and thus satisfaction rating were hit hard simply because there is a lot of out of date software out there on our users sites. We take responsibility for this as we can do much better educating everyone on how to keep your site up to date, and then making it very easy to do so. The strides we're making here will mean that we should see less support tickets about out of date plugins or themes causing trouble!
Time For Action
After this month's data a few things are clear for us, and action has already begun on a few items. Most notably, we're already looking to hire more WooCommerce support ninjas. WooCommerce is creeping faster towards 1 million downloads and we're trying to keep up with it's popularity. We're doing this not only with more support ninjas, but we're also looking into offering WooCommerce support packages. Thus allowing us to move quicker in adding more team members, and provide proper support for the core plugin. 😉
This is the first full month we've been offering our 30 day money back guarantee. While this naturally increased refund requests and the potential for bogus refund requests, we've been able to collect valuable data with those requests. We aim to provide better customer service with this policy, and alongside WooIdeas it helps us see features that our users want as well as find pain points in products, their documentation, and beyond. In the end this should ultimately help us make our products even better!
Speaking of our documentation, we launched a new new version of our WooThemes Docs site. We've made the individual documentation easier to drill down into and navigate. The homepage makes it easy to quickly find the documentation you need, and once you are viewing a doc page you can easily send us feedback. Alongside those feedback tools, we've got some neat apps setup in our help desk that let us quickly suggest doc improvements based on issues raised in tickets. We then triage those on a new Trello board we've setup. This helps us organize and put action on the feedback. Should it be a doc addition, or does this need to become a tutorial/knowledgebase post, or even yet should this be a video?
Outside of providing support our team is working hard on adding new static resources and improving existing docs. In turn we hope those tools become a valuable resource where you can use them immediately and not need to open a ticket. It's a win win for everyone. 🙂
To sum up our actionable goals from this month.
Do whatever we can to reel in our support numbers, even if that is hiring more WooTeam members!
Reduce the need to create tickets with more and improved static resources. (Docs, Tutorials, and more!)
Improve everything WooThemes with all the new feedback we're gathering.