Do you ever think it's a good idea to leave your customers in the dark?
With much of what store owners post on social media, advertise online, or send out in emails, it's a «one size fits all» approach. Products are marketed even if customers have already purchased them, which means these owners could effectively be wasting some of their hard-earned marketing dollars.
That's why Facebook dark posts, also known as unpublished Page posts, have become so popular. Instead of showing content to all of your fans, no matter who they are — or what they might have already done — you can create and promote content to groups as big or as small as you please.
Today, we're going to give you a brief tutorial on how to set up a dark post on Facebook for your own brand. Read along to find out more about these ads, and why keeping some fans in the dark can be so beneficial.
Dark posts explained: what they are and who should try them
A Facebook «dark post» is essentially just an unpublished Facebook post you pay to show to a select group of users. Unlike normal posts, which are available for anyone who sees your Page to view, these posts can leave as much of your Page's fans «in the dark» as you want.
Dark posts can be shown to highly targeted groups of just a few people, or they can be created for broader groups of fans. Like other forms of Facebook advertising, you control who sees them, and exactly how much you spend getting them displayed. But the difference is that they are posts — that is, they show up within the News Feed, not on the sidebar.
The biggest perk of dark posts is that you can reach specific groups with them. Why show ads to those who won't care about your products, or might have already purchased from you? With dark posts, you can serve content right in the News Feed that is highly relevant and as finely targeted as you like. You can also A/B test headlines or ad content this way!
If your brand or online store wants to reach a highly targeted group of people, and wants to create a piece of advertising that has a better chance at being viewed than a traditional ad, all with the appeal of Facebook's post format, dark posts are for you. You don't have to spend much to run them, especially since you can make the audience so small.
Additionally, if you've not yet built up a large amount of traffic to your store, and are exploring ways to attract highly targeted shoppers without spending money on PPC, this is a format you might want to try.
Let's take a look at how you can go about creating a dark post for your own store, step by step.
How to create an unpublished post in the Power Editor
To get started, you'll need to visit Facebook's Ads Manager. If you don't already have a Facebook advertising account, check out this post for some tips to get yours set up. (You will also need a Facebook Page for your business to utilize dark posts!)
From Ads Manager, click the link to «Power Editor» at the top of your screen. Once you arrive, click the «Page Posts» option in the top menu.

Click «Create Post» and you will immediately be given the option to create your first Unpublished Page Post. Woohoo!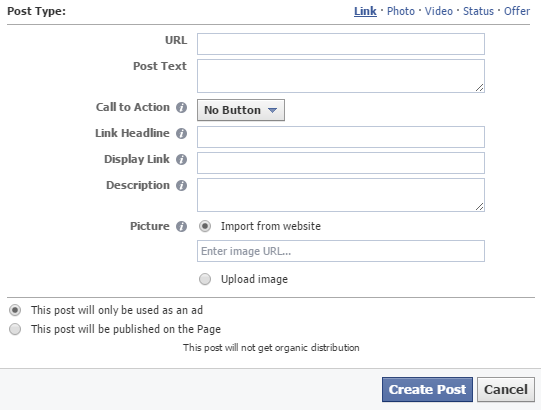 In this new window that appears, you'll be asked to fill out pertinent details about your ad. The most important items are:
URL — Which page or website do you want those clicking on your post to go to?
Post text — The description that appears along with your post.
Call to action — You can choose from a variety of call to action button options like «Shop Now» or «Learn More,» or just leave the button out.
Picture — The image that will accompany your post. You can upload one or import an image from your eCommerce website.
Take note of the bottom setting, which allows you to choose between your new post being used as an ad or published on your Page. If you want to create a dark post, leave it as-is — that is, used as an ad. Otherwise, all of your fans will see it.
Once you have all of the details filled in to your liking, click «Create Post.» Facebook will create your post, and show you a preview within the Power Editor.
Repeat this process for any additional posts you'd like to create for different groups of users, customers, and so on. Once you're finished, you can move on to targeting.
Targeting your post to the right audience
Head back to the Power Editor's main Manage Ads screen for this next step.
Here, you'll need to create a targeted ad set for each of your posts. So if you created five dark posts, you'll need to create five separate ad sets, each with their own targeting rules.
Click the «Create Campaign» button to get started. In the new window that appears, choose to create a new Campaign and Ad Set. You can name these however you want, but be sure they're something you'll remember.
With your campaign and first ad set created, you'll be ready to start making ads — that is, publishing dark posts. Click the pencil item to edit your ad set and you'll see a new window pop open. This is where you can change your budget, targeting, and so on.
One of the biggest things you'll want to edit here is who can see your dark posts. Click «Edit Audience» to make these changes.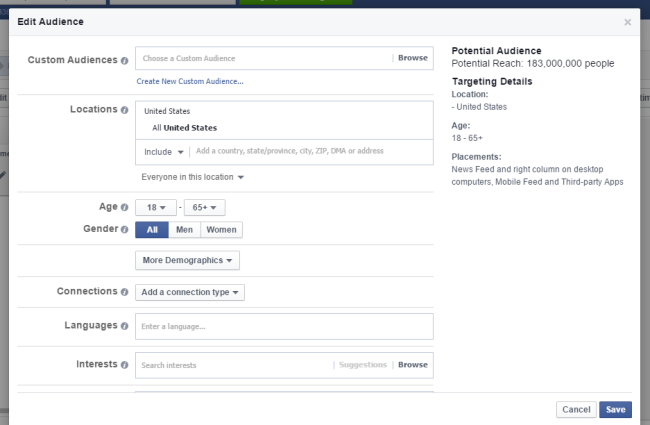 With your audience edited, you can also scroll down to change where your ad will appear. Untick the options that aren't News Feed-related, and consider changing when your ad displays if your site isn't mobile-friendly.
Once you've made all the appropriate changes, click that teensy-weensy text in the top right that says «Create an Ad.» You're almost there!
Deploying your posts
In the new window that pops open, your Campaign and Ad Set will be pre-selected. Just click on through to the next screen.
Now you'll need to pair up your Ad Set with the post you've already created. On the left side of your screen, in the second white box from the top, you should see blue text that says «Use Existing Post.» Click that and there you have it — you can pick any one of your unpublished posts from the drop-down.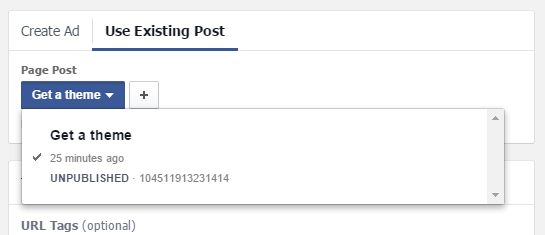 You'll need to repeat this process for any and all dark posts you've created — creating Ad Sets, adjusting their targeting, and matching them with the appropriate posts. Keep an eye on your spend — don't forget to adjust what you're willing to pay for each ad!
Once you're finished, click the green «Upload Changes» button. This will sync all your edits with the Power Editor.
And that's it! Your dark posts are live!
How to review the effectiveness of your posts
You can check out the effectiveness of your dark posts — how many views they received, how many times they were clicked, and so on — by looking at the Ads Manager.
If you want to see how many conversions you gained as a result of these ads, you can find that amount in Google Analytics. Head to Conversions, Ecommerce, and then select the Source/Medium option in the list. If you see Facebook, things are looking good for you!
Go dark with your ads
There you have it — how to create dark posts on Facebook. Now that you know how these ads work, and what the benefits are, you might want to try one or two out for your own online store. If you do, let us know how they work out for you!
Have any questions about unpublished Page posts or Facebook advertising? Let us know in the comments below, we'd be happy to lend you a hand.