Attracting new visitors to your store is a tough task. Motivating those visitors to buy — even tougher.
Store owners who feel as if they've tried every method under the sun to bring in new customers and increase purchases might wonder «what else can I do?» For you we have a new, clever suggestion: personalized products.
Shoppers who have the ability to personalize their products tend to be more engaged, purchase more often, and spend more per visit than those who can't customize their goods in any way. If you feel stuck in a rut, personalization might be the perfect way to get your shop moving again.
Curious about personalization? Let's cover some of the benefits in more detail, then look at four clever ways you can offer customized goods in your own store.
The power — and potential — of personalization
When you think of personalized goods, your first thought may be of old-fashioned monogrammed bath towels, or novelty items like wedding souvenirs customized with the name of the newly married couple. These may not seem all that effective to you — but stick with us for a moment.
A 2013 Bain & Company survey of more than 1,000 online shoppers found that customization is a market with enormous potential. While less than 10% of shoppers had yet to try personalized products, up to 30% were interested in doing so (depending on the type of item).
Additionally, based on the Bain survey, some stunning facts were found about the customers who had been able to purchase personalized goods. Compared to customers who purchased non-personalized products, these shoppers:
visited sites 67% more and spent 15% more time there
made purchases 22% more often
had an average purchase price that was 28% higher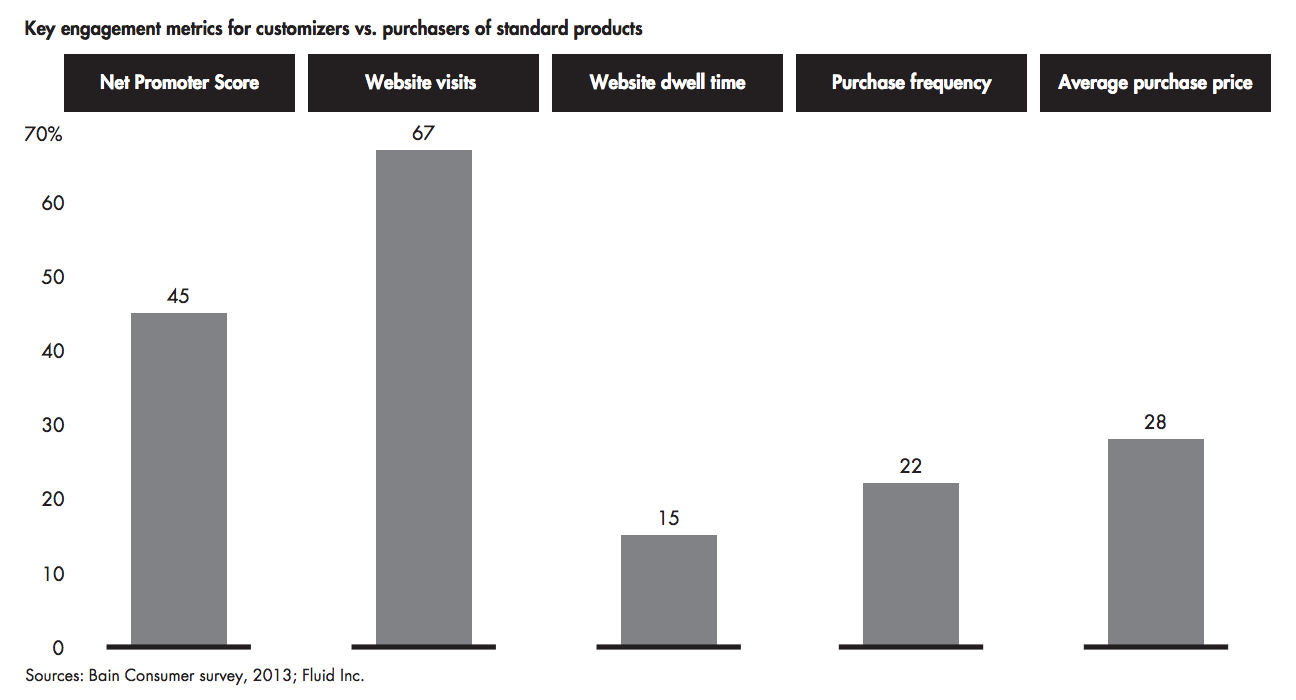 Modern personalization — not necessarily bath towels — is a market with potential. There are enormous benefits, as seen above, and customers are interested in it.
Moreover, customization options can set your store apart. Anyone can sell a T-shirt, but not everyone can sell a T-shirt with the exact phrase that a buyer wants on it.
Let's go over some clever ways that you can offer personalization on the physical goods in your store, from easy to more complex, as well as how you can make that happen.
Personalize the experience with gift wrapping or packaging
One of the simplest — and most affordable — customization options that you can offer to your customers is the option to have one or more products gift wrapped.
This might not seem very custom, but it's all in who you're serving and how you market it. For example, some customers can't be bothered to wrap gifts during the holiday season, or simply don't have the time. Offering to do this for them for a small fee can be a lifesaver.
At other times of the year, simply offering choices of sensible, coordinating gift bags, wrapping paper, or packaging can help motivate customers to purchase from you instead of a competitor. If you can sell and ship the gift and a box to put it in, why go anywhere else?
Though this isn't personalizing the products directly, this is personalizing the experience your customers have with your store. It's a good way to start, especially if you're unsure of how much time you want to commit to customization.
Want to give it a shot? Simply grab some gift wrap, boxes, and find someone with the attention to detail necessary to present a perfect package.
Allow temporary personalization with stickers or decals
Product customization can be a costly thing. It can require manual labor, special parts, or potentially even new hires.
Sometimes your customers don't even want their customizations to last forever. They might want something temporary — something that they can personalize now, but switch up a little later.
Depending on your product offering, you can offer temporary personalization with removable stickers or decals. This option is best suited for companies that manufacture or sell items with hard, flat surfaces like coffee mugs, water bottles, or basic furniture.
How might this work? Well, some customers might want to add a monogram decal to their water bottle now, but take it off later. Or a child might want to put stickers of their favorite characters on their headboard, but swap to a new character in a few months.
This would only require you to stock the stickers required to create the custom effect and ship them with the order — no printing required. Many manufacturers sell these products in bulk, and for a low price, so they're not difficult to add to your store.
You could add a «stickers» field to your product pages as desired, and charge the appropriate amount for each add-on. Customers could pick one or more items to include with their items, or none at all.
Running WooCommerce? The Product Add-Ons extension is the perfect way to make this happen — simply add a new field for your available stickers and you'll be off and running in no time.
Create custom colors (and test the water for stock)
«I'd buy this if you sold it in blue!»
If you sell apparel, accessories, or even stylish electronics, this kind of quote might sound familiar. And if you aren't yet offering custom colors, it's something that might make both you and your customers a bit sad.
Shoppers love the ability to choose the color, pattern, or even material of their purchases. After all, why go with basic black or boring white if you can have something in your favorite color or a bold, trendy shade?
By offering shoppers products in their choice of color, you're increasing the likelihood of them being able to visualize that item in their life. Whether it's being able to include a scarf in their wardrobe, a cup in their kitchen, or a skin on their laptop, you're allowing them to see a place for that product in their world.
Producing your products in a custom shade might sound daunting, but if you're up for it, you can make the process a little easier on your team by doing the following:
Limit the amount of colors you launch with — allow customers to pick from set swatches instead of specifying a truly custom range or asking for a vague color like «teal» or «light pink.»
Add large, clear swatches of the colors or (preferably) a photograph of the product in that color to avoid confusion where possible.
Specify the lead time on production of custom colored goods, and don't be afraid to give yourself extra time.
The bonus of color customization? You might find yourself with a sure thing on your hands. If you stock black and white tote bags but nearly all of your customers are ordering a custom bag in gray, you'll know for certain that you should stock a gray tote.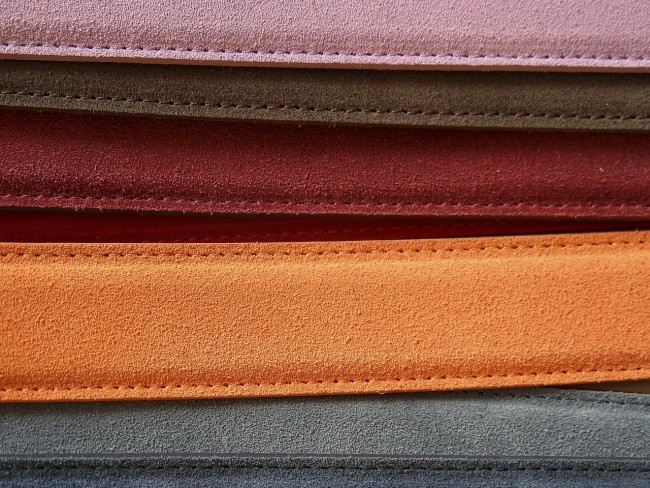 On the flip side of that, if your customers don't seem eager at all to order your custom colors or patterns? Simply phase them out. No harm, no foul, and no stock.
Embroidery, engraving, and screenprinting: stand out with permanent personalization
The kind of personalization you're likely familiar with is the permanent kind — towels with embroidered monograms, paperweights with engraving, or screenprinted t-shirts with custom sayings and local sports teams.
If this is the kind of customization you're considering for your store — for example, if you already run a t-shirt store, or if you have the ability to engrave your goods — go for it! However, since there are full businesses built up around this kind of model, you'll need to be smart about how you proceed.
Standing out with permanent personalization, whether or not your business is based entirely on it, is possible. Consider these tips:
Turn around your orders quickly. Customers are used to waiting a while for personalized items — if you can promise quicker goods and faster delivery, they're more likely to pick you.
Quality is everything. Lots of companies offer to print business names on pens, notepads, and basic, inexpensive desk items. Not many companies offer to print business names on high-quality pens or leather-bound notebooks. Go the extra mile when it makes sense.
Start small. If you already have a successful store, adding a hundred personalized goods on top of that could completely overwhelm you. Try just a few at first, and scale up if it makes sense.
Consult your customers for their thoughts. You'll be surprised by how much feedback you get when you simply ask «do you like these items? What else would you like us to carry?»
Again, if you're interested in giving this a shot, the Product Add-Ons extension mentioned above is the way to go — it's easy to set up for engraving or stitching, like the example here.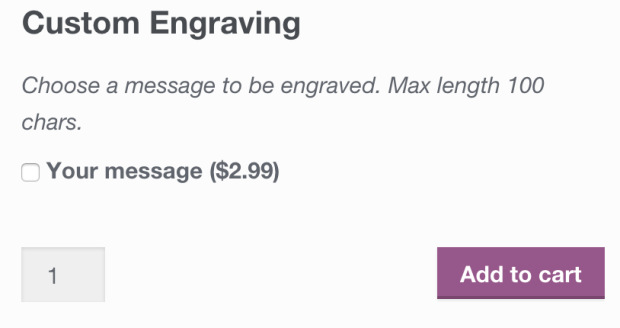 Give personalization a try
Offering personalized products can be tricky. But if you've tried everything else you can think of to attract new customers and increase sales, it's worth a shot.
We've shown you four clever ways that you can customize your goods for your customers, starting with simple gift wrap and packaging and ending with completely personalized items. We encourage you to pick one and give it a try. With a little experimentation, you just might find your next best-seller.
Do any of these methods for personalization appeal to you? Are you thinking of giving one a go? Let us know what you think in the comments below.