Not all eCommerce stores specialize in physical products. Some — perhaps yours? — are about the business of selling digital products, like audio files, books, PDFs, video tutorials, games, or even stock photography.
Stores with digital products might not look different from those with physical ones, but they aren't exactly the same. In fact, they require careful handling, and attention paid to different aspects that may not even need considered otherwise.
If you have or are starting a store with digital or downloadable products, following a few specific guidelines can ensure that your customers are happy with their purchases. It can also help you create a shopping experience that converts more shoppers into paid customers, and even draws more searchers to your store.
Let's take a look at some tips that can help you create a stronger digital store using WooCommerce.
Got an existing WooCommerce store selling digital products and looking to drive more sales? Try
One Page Checkout
.
Be certain to pick the «Downloadable» product type
If you're not selling physical goods, you certainly don't want to set up products that have shipping charges, tax classes, or other complex rules that don't apply. Luckily, the tick of a single box can eliminate all those unnecessary settings.
When creating a new product in WooCommerce, be sure to click the «Downloadable» box on the General tab. This will alter your product type to the downloadable one, eliminating unnecessary options while adding new ones.

Now you can move forward with the next steps (uploading files, setting download limits, and so on). We won't cover those in detail here, but you can have a look at this page in our docs if you need a bit of guidance.
Select the proper schema for your products
One factor that can affect how your digital products appear in search engines — and how well they draw in potentially interested shoppers — is their schema markup.
Schema are structured data markups that are used to signify what a page contains. With the proper schema in place, a preview will appear in search results, giving shoppers a glimpse of crucial information.
For example, here is a product schema in place for an online fish store, which shows ratings, price, and inventory status at a glance:

There are three schema options built into WooCommerce that you can select when setting up a downloadable product:
Standard product,
Application/software, and
Music.
By selecting one of these schema, how your downloadable items appear in search results will be altered automatically.
Adding this markup can help you attract more clicks, which can lead to more sales. It also gives shoppers a good idea of what you're selling before they even land on the page, meaning your clicks are more qualified. So it's a simple step that has benefits for everyone.
Want to add additional schema types to your digital goods (say, for an eBook)? Have a look at this tutorial here, offered just for WooCommerce.
Add a few screenshots, video clips, or samples
When the product you're selling is a physical one, representing it online is easy: just snap some photos and you're set.
But with downloadable goods, you can't take photos that convey what a customer will receive when they click that «purchase» button. So you'll need to convey the value of your products in more explicit ways, usually by sharing samples of some kind.
This might mean:
Uploading short audio or video clips
Adding a few screenshots
Watermarking an image
Giving away the first few pages/files/etc.
Since shoppers can't see, touch, or experience a digital product the way they can a physical one, it's up to you to give them something to look at, listen to, or try out instead.
These samples can also help you fill gaps in otherwise sparse product pages — for example, screenshots can replace product images, audio clips can stand in for dimensions, and so on.
Make your copywriting compelling
Speaking of filling in gaps: even with screenshots or samples you might find that shoppers are still wary of purchasing digital goods. This is because many shoppers rely heavily on product photography, some even going as far to solely base their purchasing decisions on it.
Another way to get over this lack of visual «evidence» and convince visitors that what you're selling is worth buying is with your copywriting. Strong, compelling copywriting can convince unsure shoppers to take action, especially when combined with the samples suggested above.
What makes copywriting compelling? Ideally, your digital product's copy should contain:
A detailed description of what the product is and what it's used for
What the customer receives when they make their purchase (one file? Two? Eight?)
How they will receive their file(s) (instant download, email, or both?)
How the product will benefit them or improve their life — as Buffer says, customers don't buy products, they buy better versions of themselves
A call to action
That next-to-last bit is key. A truly compelling digital product description will explain how a product is necessary, and how it will change the purchaser's life, even in a small way. Do that and you'll be well on your way to overcoming the «but I can't see it!» objection.
Review your download settings and adjust as needed
One phrase we've used quite often here on our blog is «every store is different.» Wise (and true) words, because they speak to the importance of knowing your customers, what they expect, and adjusting your store and marketing to match.
The same, as you might have guessed, applies to stores with digital goods: each one is different. And so, the rules you apply to your digital goods should be different, too.
Think carefully about the products you sell and what seems best for your customers when changing the settings for your downloadable products. For example:
If you sell copies of video games, you'd likely want to set a download limit of one per customer with an expiration date, so that customers aren't able to grab and potentially distribute multiple copies.
If you sell eBooks for business owners, you might leave the download limit a bit higher so that customers can come back and re-download again at a later date.
If you sell stock photography, you might not have an expiration date, but perhaps you'll have a download limit… or vice-versa.
Remember to change your download settings after you add your files. And pay attention to what your customers say after they've purchased from you — if you're consistently getting feedback that one download or a 24 hour expiration date don't work, it's probably time for a change.
Selling both physical and digital goods? One thing to consider
Let's wrap up by thinking a bit about the experience you might be offering shoppers if your store has a mixed selection of physical and digital goods — for example, if you sell and ship printed books, but also offer eBook options for select titles.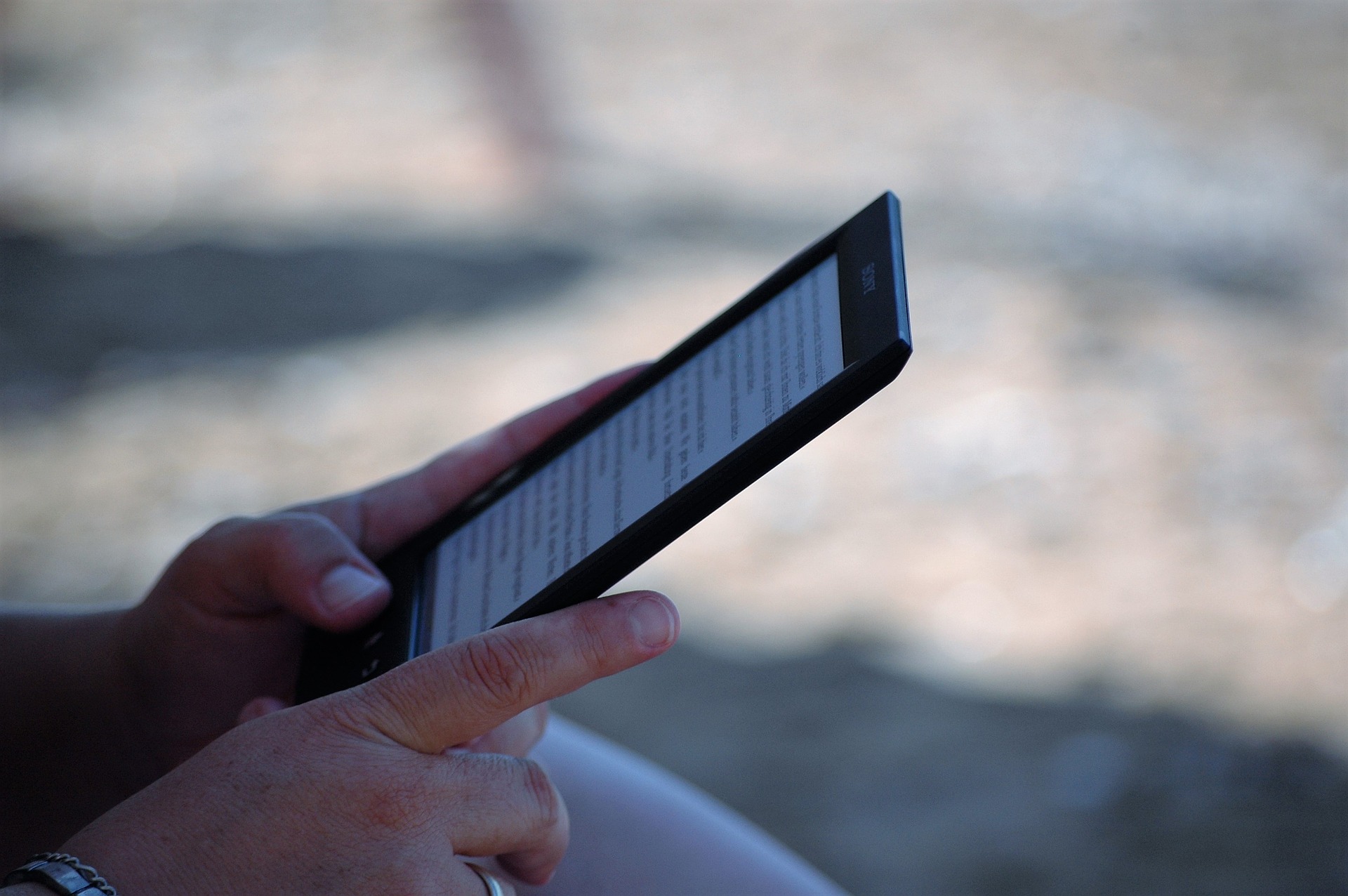 Here's one thing you should be aware of right out of the gate: if you sell physical and digital versions of the same product, there's no need to set up two different SKUs. Instead, you can create a downloadable variation for the digital version, like so: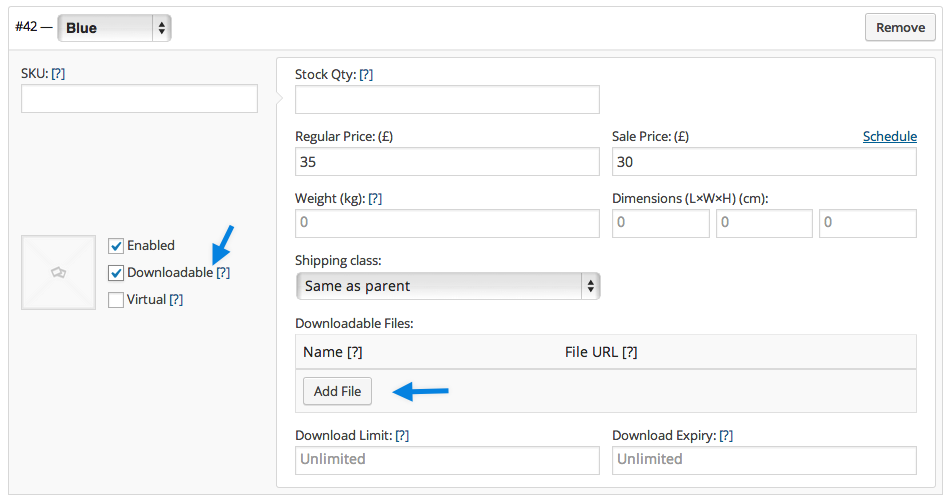 This gives your customers a simple, consistent shopping experience, since they'll only get one result when searching for a specific option or title, and will only have to select the format they prefer as they would any other kind of variation (for color, size, etc.).
As for combining digital and physical goods at checkout, WooCommerce can handle it. Your customers will receive emails about their shipped products, and the digital ones will proceed just as you specify, whether they're offered up instantly or sent via email.
Your digital store can go further with a few optimizations
No matter what you're selling, WooCommerce allows you to do it beautifully — and this includes downloadable products. With a few careful optimizations and best practices followed, the digital goods in your store can be made to sell just as well as any physical item… or perhaps even better.
For more details on setting up downloadable products in WooCommerce, have a look at this page in our docs, complete with a guided video tutorial.
Have any questions about creating an amazing digital store? Or any tips or tricks of your own to offer fellow store owners selling PDFs, stock photos, sound clips, or other downloads? The comments await!