When you hear the word "brand," you might think of logos, package designs, or colors. But it's about so much more than that.
Your brand is everything someone thinks of when they hear your business name.
It's the words you use, the pictures you post on social media, the customer service you deliver, and the emotions and feelings you stir up in your customers. It's the perception that people have about your company.
Every brand has a personality. It might be fun and over the top. It might be modern and forward-thinking. Or it might be compassionate and love giving back to the community. That personality helps you connect with your audience and become their go-to choice for dog food, coffee, jewelry, or whatever you might sell.
That's why it's so important to showcase your brand on your online store so there's no doubt about who you are and what you represent. But how do you do that?
Start with the perfect theme
Your theme plays a large role in your site design. Choose one that's specifically built for your industry, has the right layout for your brand, or gives you the flexibility to create anything that you'd like.
Sodashi, an Australian beauty company, went with a layout that's clean and light, reflecting their commitment to exceptional beauty ingredients and skin health.
Airstream Supply Company, a brand all about adventure, selected a design that showcases their beautiful nature photos.
The WooCommerce Marketplace offers themes for fashion boutiques, pet shops, toy stores, and more. Or, filter the WordPress theme repository by "eCommerce" for even more WooCommerce-ready options. To test out a theme before installing, try out the live demo. This is a great way to get a feel for how it looks in action.
Pay attention to colors
Colors are associated with feelings and establish the mood of your site and brand. For example, red often conveys energy and love, while green is connected to the idea of wealth and nature. It's important to consider what the colors you choose mean to your audience.
Magna-Tiles, who sell magnetic building toys, went with primary and secondary colors for their site. The bright reds, greens, and blues instantly feel fun and playful — perfect for kids!
But Nobletree, a premium coffee roaster, chose sophisticated blues and golds, a great fit for an audience that's looking for artisan, high-end coffee beans.
While these are two different approaches, they're the perfect choice for each store's audience. Whatever colors you choose, use them consistently throughout your branding materials and store. This helps customers know where they are the second they arrive on your site.
Use the right fonts
The right font combination is, most importantly, easy to read, but also conveys style and personality. Think about the fonts you see across the web — how does each one make you feel? A traditional serif font might come across as professional and trustworthy, while a handwritten font may feel fun and quirky.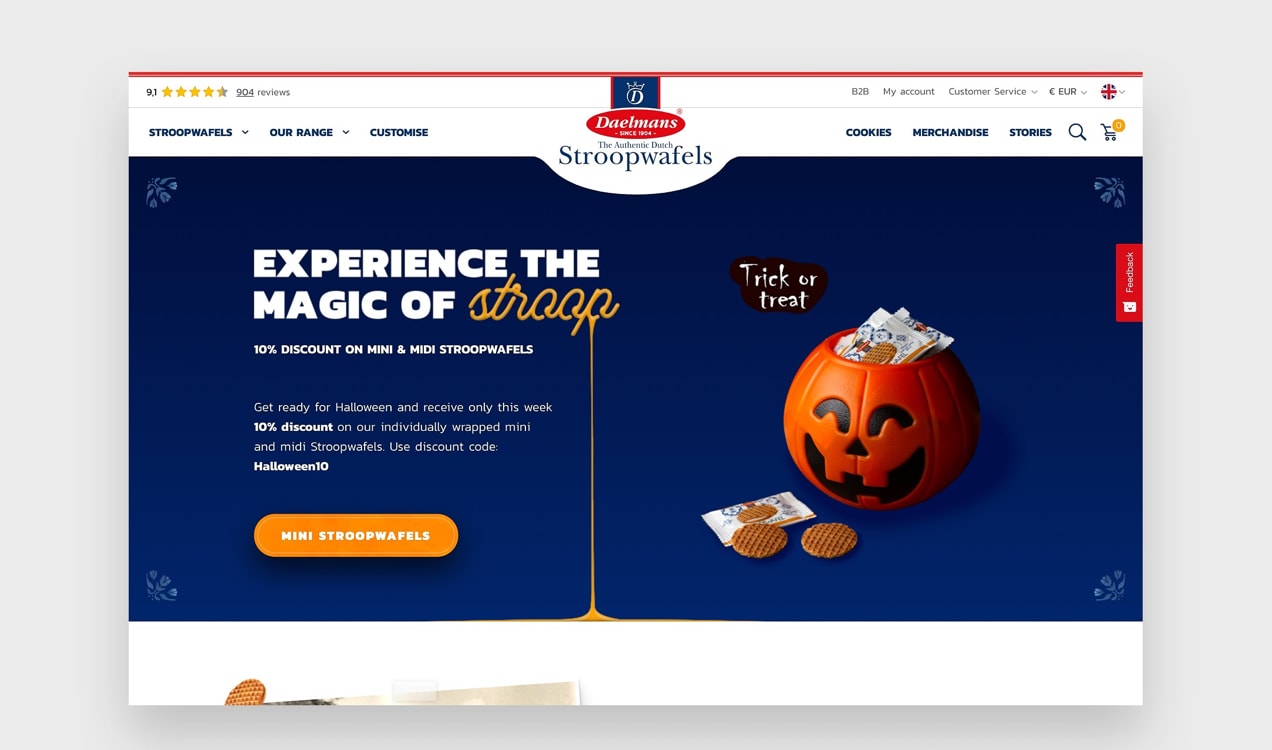 Daelman's uses a flowing script font to imitate the look of caramel dripping from their stroopwafels, an inventive move that makes their site feel custom and unique.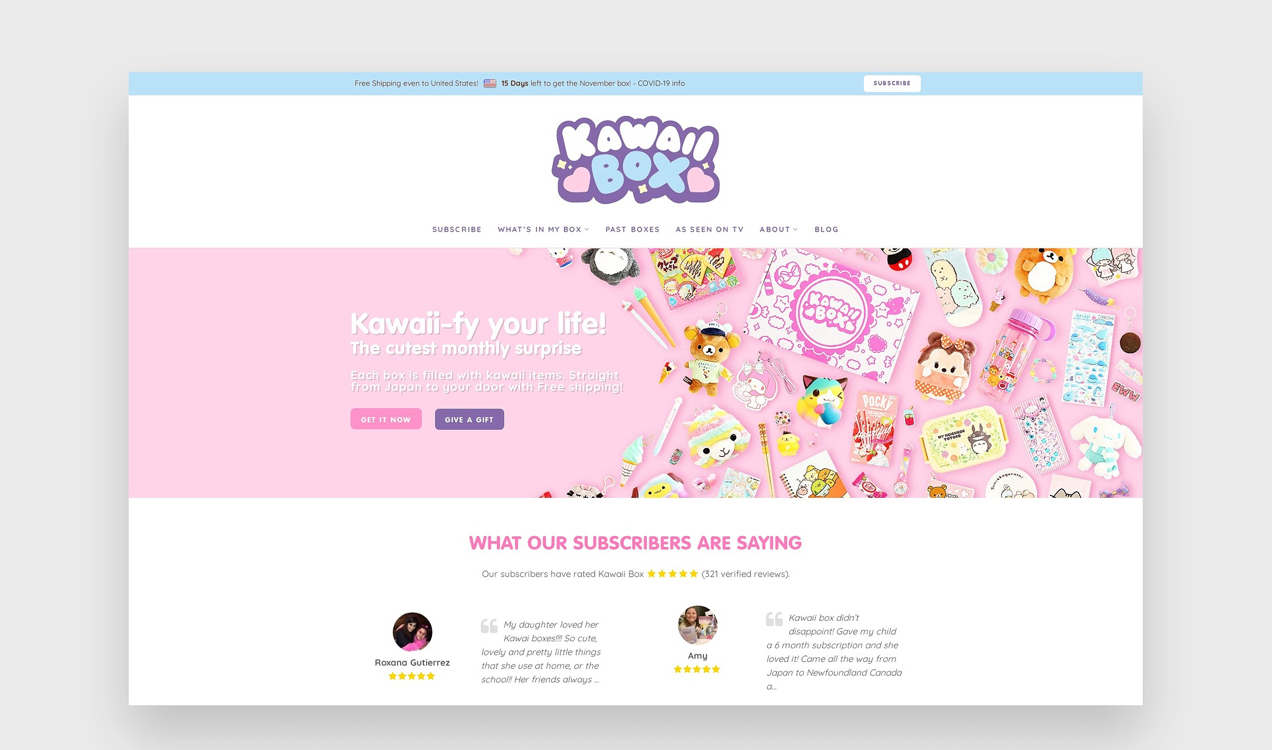 Kawaii Box uses a rounded, bubbly font that feels cute and happy, just like their subscription boxes packed with "super cute things from Japan."
Be creative, but with limits. Always make sure the words on your site are easy for customers to read in every application. For example, a script font might be perfect for headlines, but difficult to consume in large bodies of text.
Write unique content
What you say and how you say it goes in a long way in establishing brand personality. Consider the tone of your writing — what does it say about your business?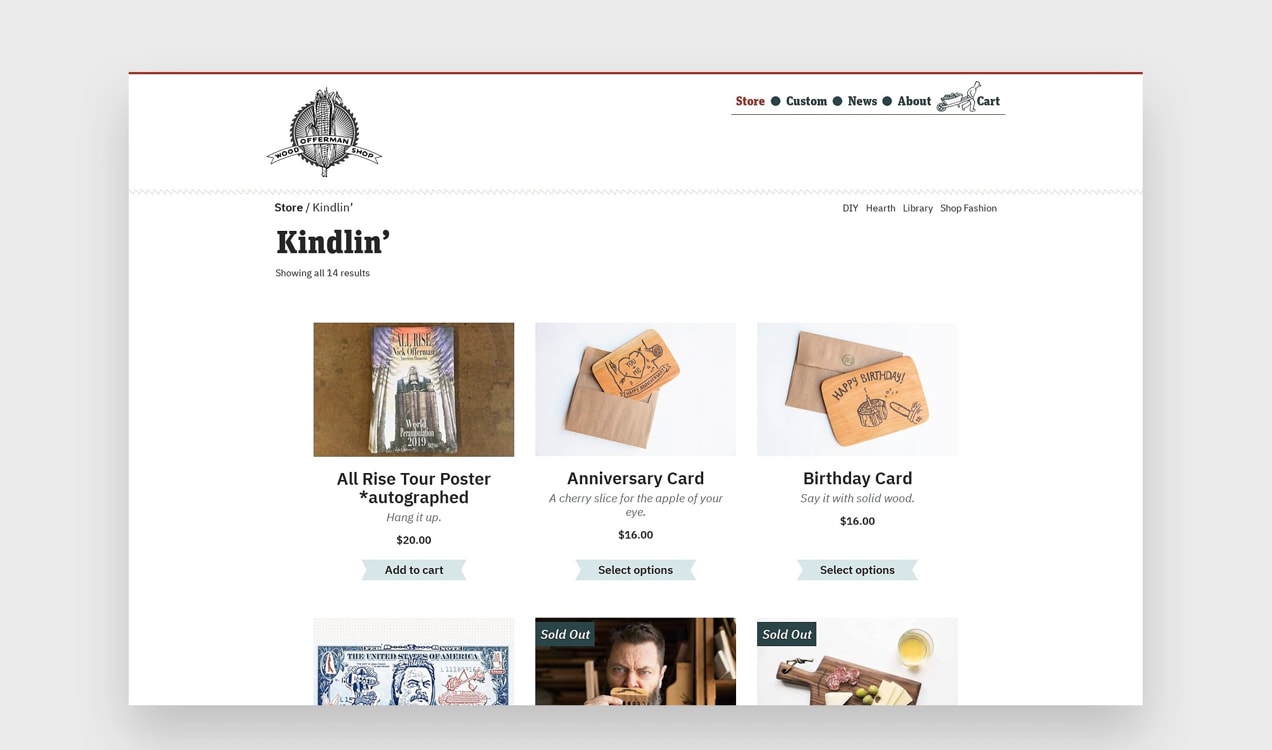 Offerman Woodshop, a collective of woodworkers and makers in Los Angeles, showcases the charismatic personality of their founder, Nick Offerman, throughout their website copy. They added a subtitle line beneath each product listing with a fun item description — their pencils say, "a mistake stick for your moments of weakness" — use words like "herewith" on their blog, and autofill their newsletter form with the email address, "willy.nelson@gmail.com." Those kinds of little touches go a long way in making your shop stand out.
Your website is an opportunity to share your story — make the most of it! Do you give back to charities? Do you use only sustainable materials? Have you been creating jewelry since you were a child? Let people know what you love and why you create, and you'll connect with them on a deeper level.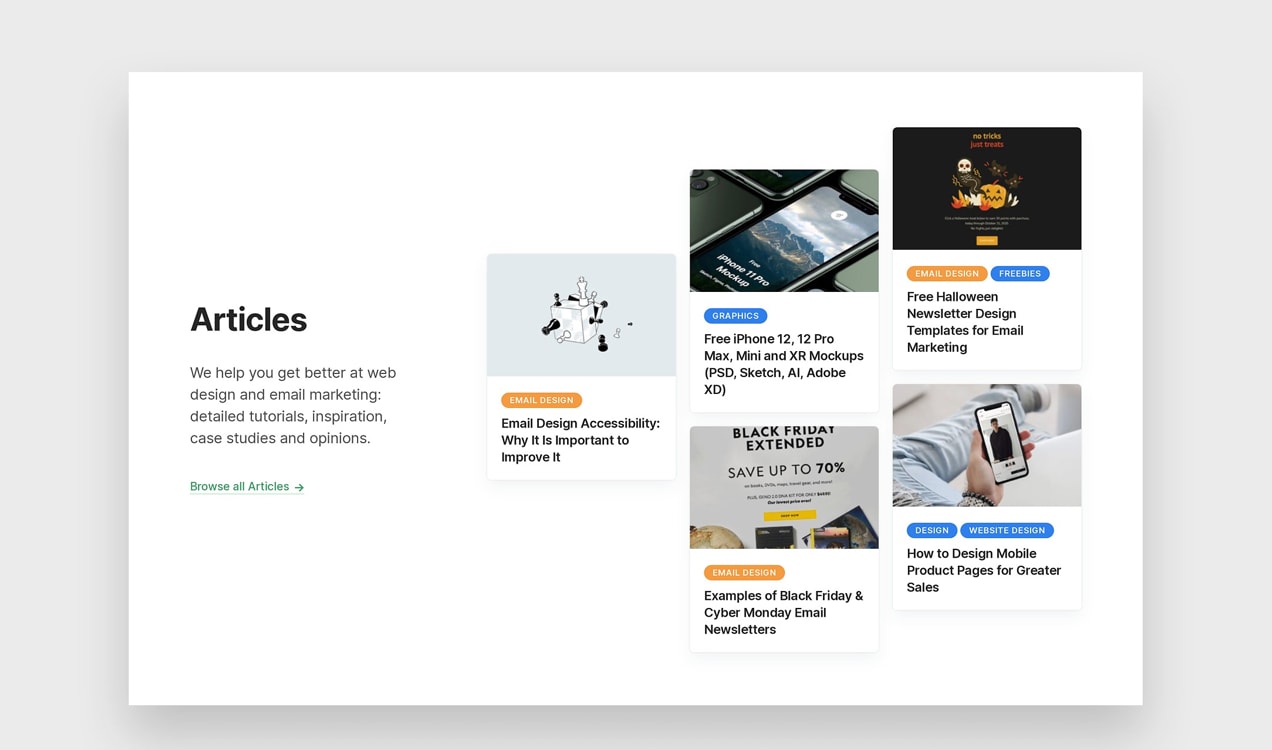 And, if part of your mission is to educate and help customers, do so through your content. Write blog posts that provide value, offer downloadable guides, or create an FAQ page. Designmodo, an online store selling design tools, has an entire library of tutorials, tips, freebies, and examples. Not only does this help shoppers make the most of their tools, it also sets them up as a brand who really cares about their customers.
Choose great photos
High-quality photos make you seem professional and help potential buyers get a clear idea of what your products look like. But they can also convey emotion and style.
What feeling do you get from the photos on Manu Atelier's site? Luxury? Craftsmanship? As a handcrafted luxury goods store, that's exactly what they want you to feel.
Think about how this concept applies to your own shop. Maybe bright, colorful pictures are right for your brand. Or black and white photos. No matter what style represents your brand, consider it with each photo decision, from your product pages to the slider on your homepage.
Showcase your brand's style
Of course, there's more to your site design than fonts, images, and colors. It's how those design elements work together with all the extras — icons, illustrations, textures — that create a unique look.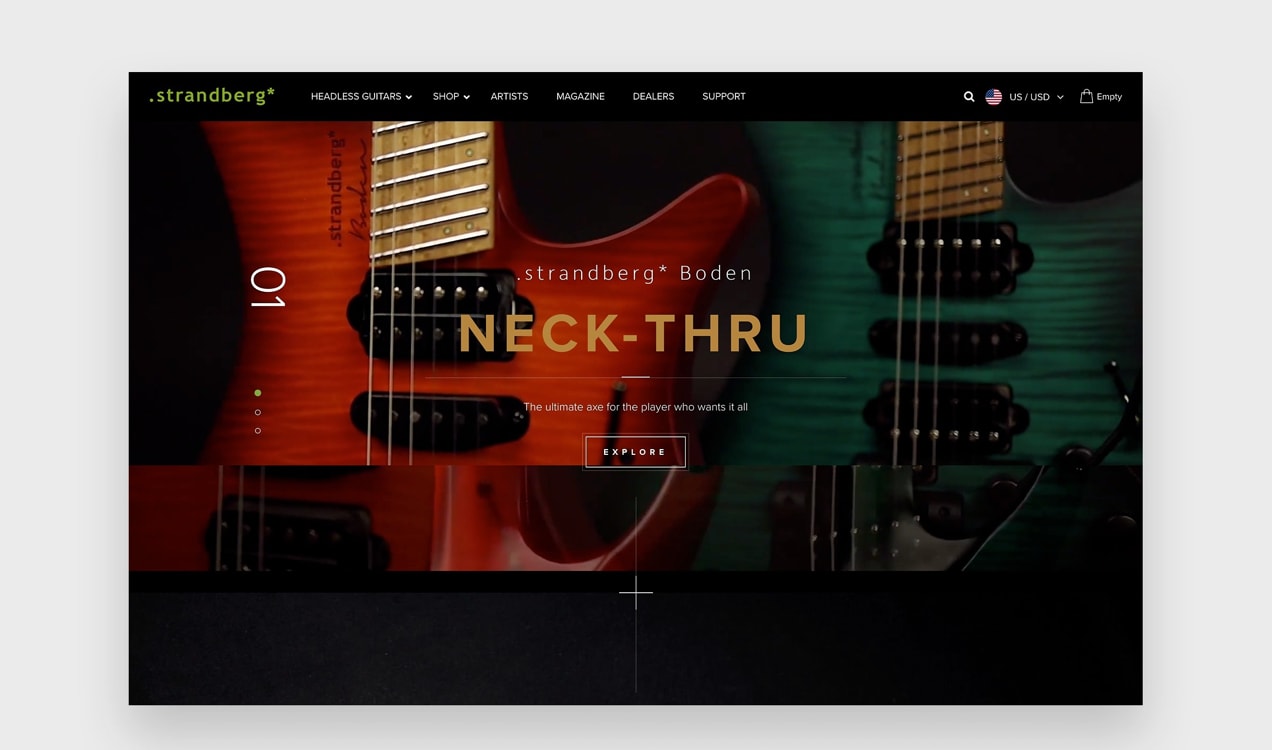 Strandberg Guitars goes for a high-end feel with dark overlays, distinctive button and image hovers, wood textures, and custom diagrams.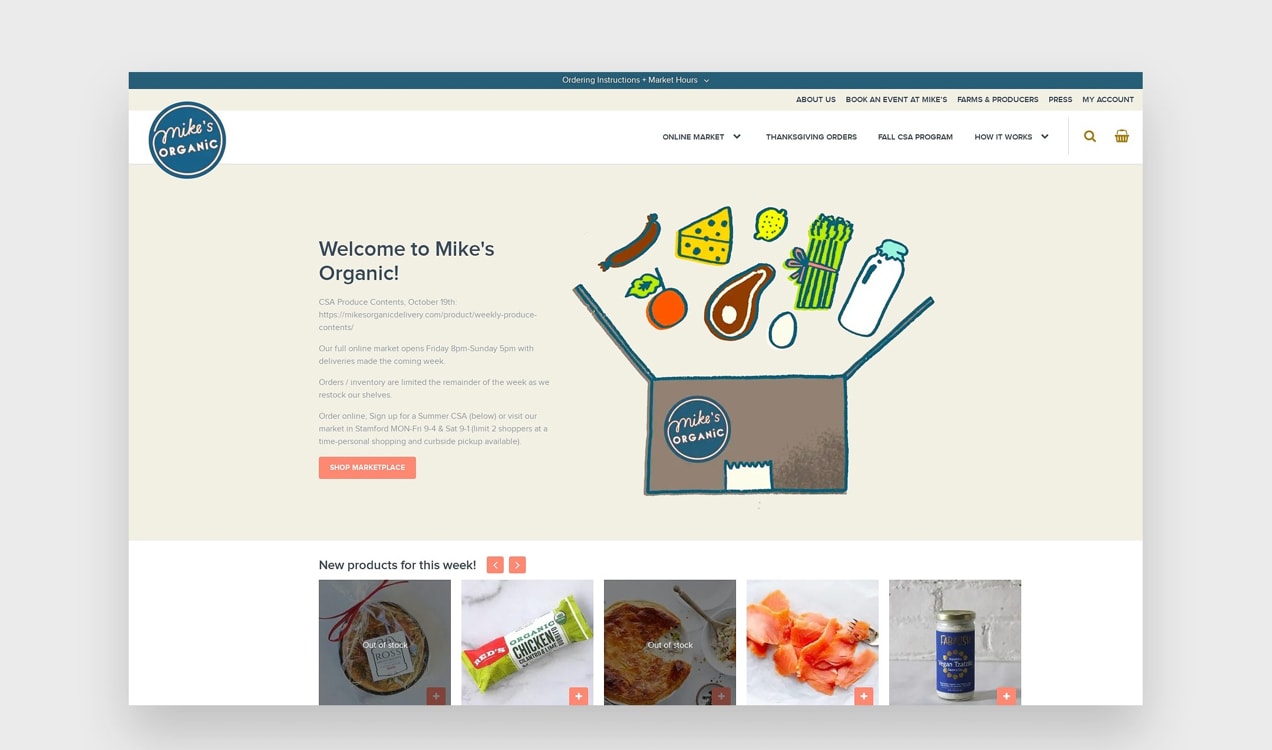 Mike's Organic Delivery's site, though, has a playful, accessible vibe to it with fun illustrations, hand drawn icons, and light, bright colors.
The little things go a long way when it comes to branding and design.
Consider functionality
When it comes down to it, your brand should be all about your audience. Every aspect of it should be created with the people you serve in mind. That's why functionality is also an important part of your brand.
If you work with older people, accessibility is an even bigger consideration. You might want to use larger font sizes and provide multiple methods of contact. If you help busy entrepreneurs, you need to make things simple and speedy, so you might implement a one-page checkout and remove any unnecessary checkout fields. It all depends on what your specific audience needs.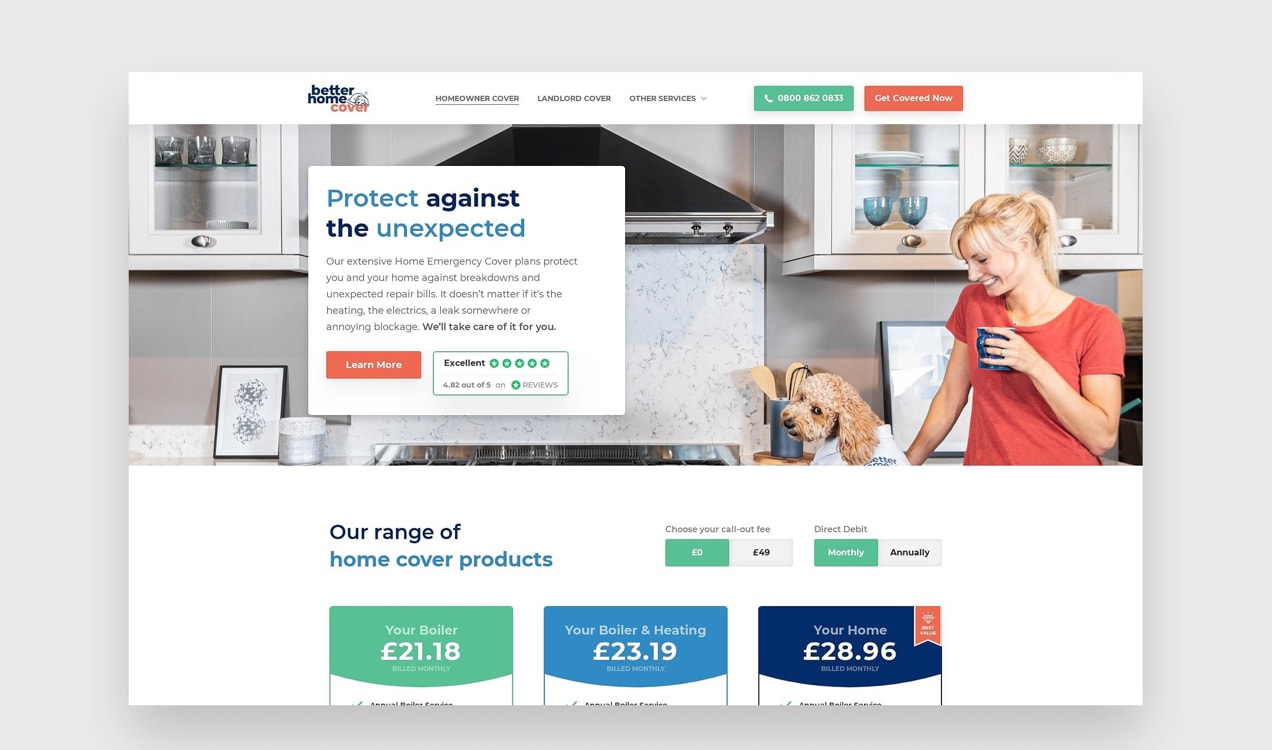 Better Home Cover is all about simple home protection that people don't have to worry about. Their website design and functionality reflects that with a simple layout and clear navigation. Packages and pricing are both very easy to understand and the checkout process is broken down into clear steps. How can you provide functionality that meets the needs of your audience?
Connect to social media
Social media is an excellent way to connect with your audience and showcase your brand through images, content, and interaction. Tying your efforts on social media into your store reinforces what your company is all about.
Veer, the creator of a rugged, all-terrain stroller/wagon crossover, harnesses the power of social media on their website. Their brand is all about adventuring, so they added their Instagram feed to the bottom of their homepage with the title, "Share Your Adventures." What follows is photo after photo of families having fun together using their products. This shows that their brand is more than just an idea; it's a movement.
Not sure how to incorporate your social media feed? WooCommerce offers a variety of extensions that will get the job done.
Create videos or animations
Videos grab attention, engage potential customers, and are an opportunity to show who you and your company really are. Share footage of customer reviews, tours of your workshop or business, team member introductions, charity events you're involved in, and your products in action.
You can use Product Video for WooCommerce to add videos to product pages or Jetpack's video hosting feature to embed them on any other page without the need for third-party tools.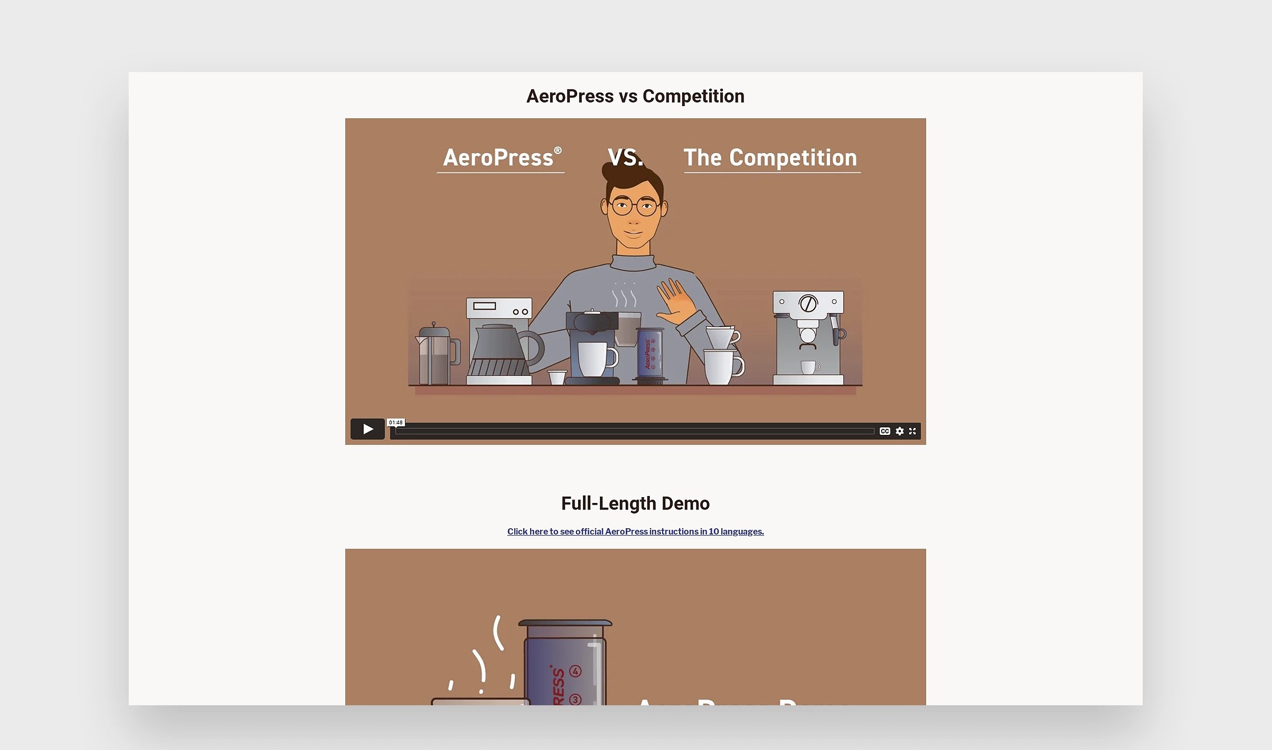 Animations can also show a lot of personality. AeroPress makes them front and center on their home page, demonstrating just how easy it is to use their coffee press. They pair that illustration style with videos from real people throughout their site, showing everything from product demonstrations to fun tips.
Consider your brand in every decision
Your brand is uniquely you — it's about your company and your audience. Embrace it! Don't be afraid to show off your personality, what you're passionate about, and what you stand for.
The most important thing is to be consistent. When someone's on your site, they should know what you're about right away, no matter what page they're visiting. Stick to the same colors, fonts, and styles, and you'll be remembered.
How do you showcase your brand on your store? Let us know in the comments!