Heard about WooConf? We're excited to be hosting the second ever conference dedicated to all things WooCommerce this April in Austin, TX.
WooConf 2014 in San Francisco drew over 300 passionate store owners and developers together. On the back of its success and the feedback from those who joined us, we are creating a platform for our community to gather again for two full days of talks, networking, and workshops.
WooConf presents a unique opportunity for WooCommerce users to connect, this time in Austin at the exquisite Austin City Limits Live at The Moody Theater.
Read on to find out why WooConf is the place to be this April, and what this conference can offer you no matter what you've done (or are planning to do) with WooCommerce.
A carefully curated selection of expert speakers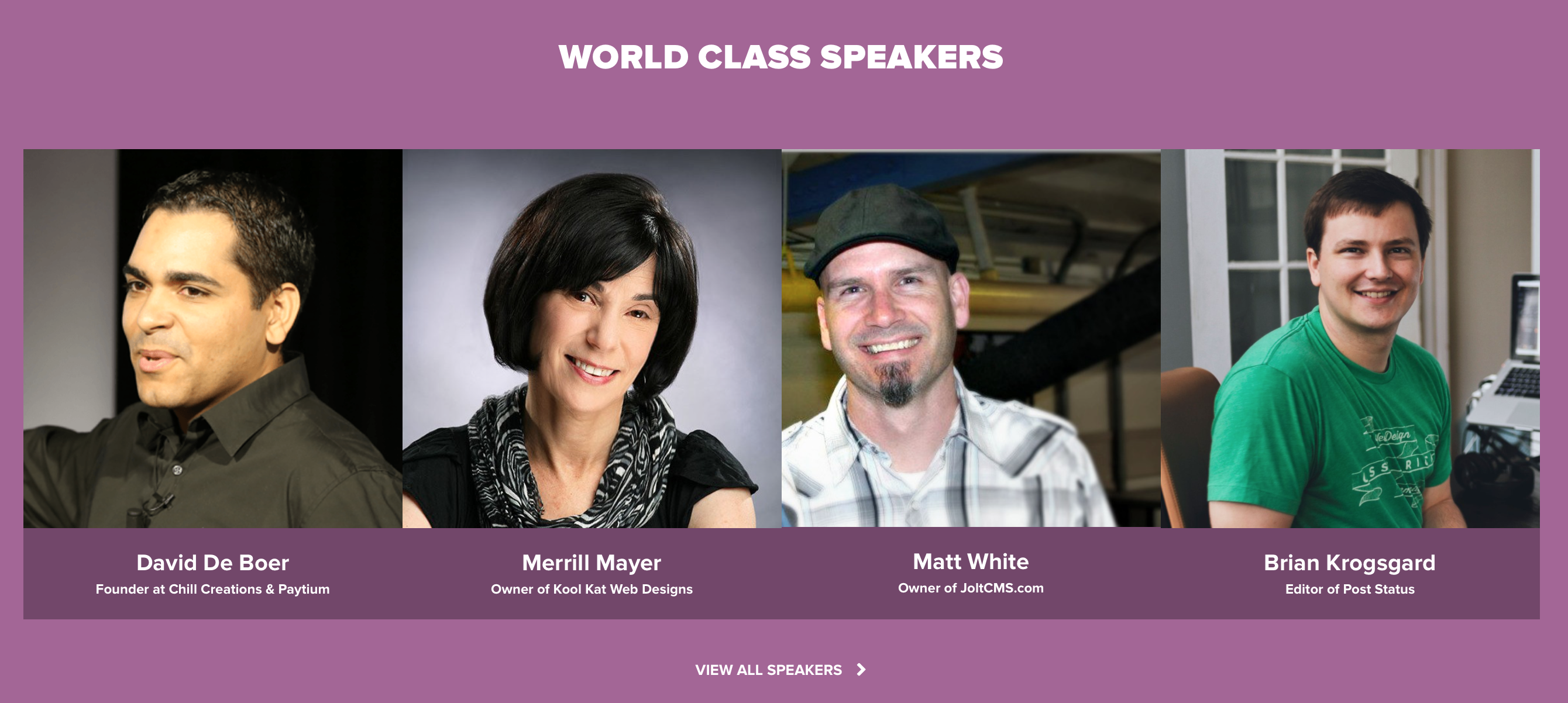 In September of last year, we put out the call for experts with WooCommerce stories and expertise to apply to speak at WooConf. We had a wonderful response from an impressive and diverse group of experienced speakers.
Our finalized lineup includes Matt Mullenweg, Chris Lema, Miracle Wanzo, Beka Rice, Brian Krogsgard, Seth Rand, Peep Laja, and many other household names from the world of WordPress, eCommerce, and beyond.
Talks will cover a range of topics across the broad themes of grow, learn, and sell, including:
A detailed look at WooCommerce memberships and subscriptions
Aspects of eCommerce marketing, including SEO
Boosting conversions with video and advertising on social media
Tax, payments, shipping, and security
Improving customer interactions and creating killer content
Scaling and debugging WooCommerce
And there's much more in store for you.
The agenda: two full days of inspiration for developers and store owners
Austin City Limits Live at The Moody Theater is nestled right next to the W Austin Hotel (where we have negotiated a discount for attendees), and this will be the setting for you to take your eCommerce knowledge to the next level.
With separate tracks for shop owners and developers, WooCommerce enthusiasts from across the nonprofit sector to Fortune 500 companies, plus designers and passionate entrepreneurs, will find themselves in good company to learn, share, and grow.
The full agenda is live, so be sure to check it out and pick out some potential favorite talks.
Optional: Friday workshops for hands-on learning
We have a limited number of spaces left for two Friday workshops which are filling up fast:
Developer workshops:
Daniel Espinoza: RESTful WooCommerce
Zac Gordon: WooCommerce Theme Development

Store owner workshops:
Nicole Kohler: Creating Effective Content (Without Hiring a Marketer)
Kevin Bates: Profitable eCommerce Advertising Made Simple

More details about these workshops can be found here. RSVP at checkout when purchasing your WooConf ticket and hurry to avoid missing out.
Visit our help desk, chat with WooExperts, and seek out roaming Ninjas abound
Sometimes, what you really need is to sit down with a human and talk through the questions and challenges faced with a specific store or project.
At this year's WooConf, we will have a fully staffed Ninja help desk, sponsored by Prospress and SkyVerge, who will also be available throughout the conference. This is an invaluable opportunity to get one-one-one assistance from the experts in the know.
We'll also have a help desk staffed by some of our very own WooExperts, who are ready to help you with any pressing website questions, or chat about how they can help with your next big project.
In addition, there will be plenty of Woo Ninjas roaming throughout the conference, available to field any questions or ideas you might have.
Networking and time to focus on all things WooCommerce
Life is not just going to offer you a dedicated 48 hour gap to step back and think about business strategy, marketing, sales, UX, or any of the other many vital ingredients for successful eCommerce.
But attending WooConf is a chance to set aside valuable time to immerse yourself in the people and content that take your WooCommerce projects onwards and upwards.
From networking lunches to talks to help desks, WooConf is an incredible opportunity to focus on making your business even greater, with help from a growing community of experts and fellow business owners or developers.
Get your ticket to WooConf now
Convinced you should be joining us? Book your ticket before the end of the month for $599. If you don't make it before February ends, you'll have one last chance to book at $699 per person (unless we sell out).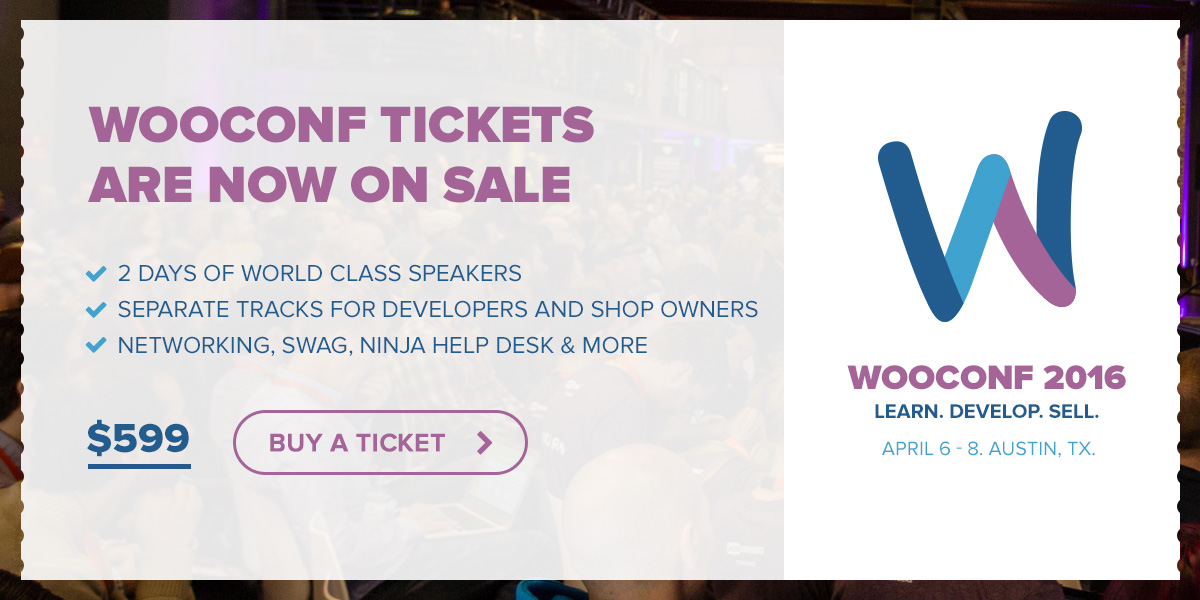 Thanks to our WooConf sponsors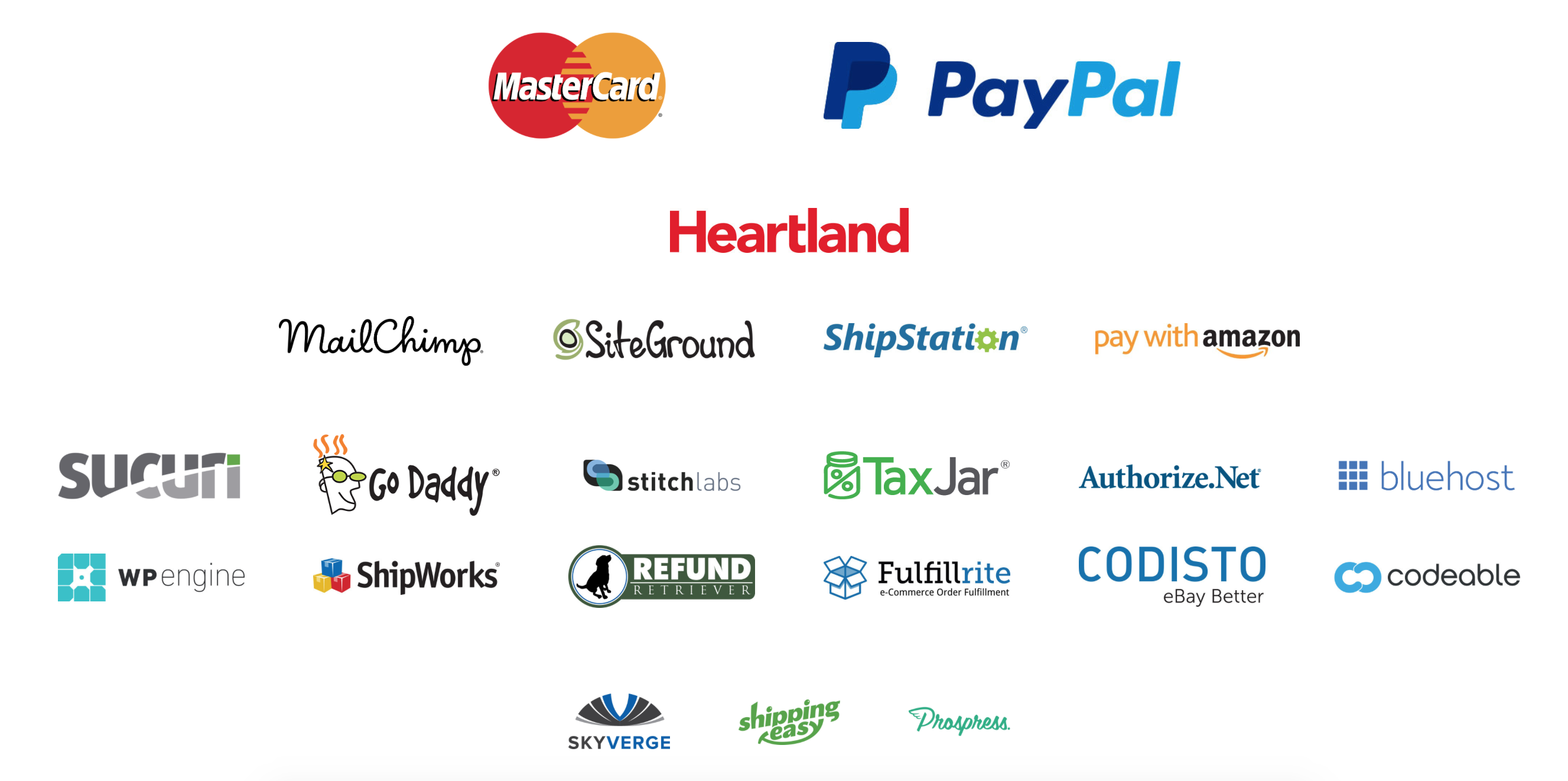 Without sponsors it is impossible to pull off and pull together premium events of this quality and scale, and we are hugely grateful to all of the sponsors who have come aboard to support WooConf.
We'd like to particularly thank our black belt sponsors: SimplyCommerce by MasterCard, PayPal, and Heartland; as well as our brown belt sponsors: MailChimp, SiteGround, ShipStation, and Amazon Payments. Cheers!
Got a question? Reach out to us on info@wooconf.com or ping @WooConf on Twitter.