Our second WooConf took place earlier this April, and what an event it was. We had an incredible lineup of speakers, fantastic lunches and happy hours, and all the networking we could handle.
We've already shared some of our learnings from WooConf itself, but we wanted to dive a bit deeper and tell about part of the journey we took to get from "we should do that again" to "oh heck, we're actually doing it!" And that part of the journey is the ticketing experience.
When we sold tickets for WooConf 2016, it was with a solution we'd developed ourselves: the new Box Office extension for WooCommerce. With Box Office, attendees don't have to go offsite to sign up for your event. You can sell tickets, customize email communications, and check in attendees on-site, all from the familiar WooCommerce interface.
Using Box Office and running our own major event gave us an incredible learning opportunity. It allowed us to understand the extension inside and out, find out what triggered attendees to buy tickets, and glean knowledge that we could use for future WooConfs.
Read on to find out what we learned — and what knowledge we can share with you — about running a successful event website.
The importance of gathering attendee information on your own website
One of the biggest pieces of feedback we got before developing Box Office was that all of the event and ticketing options available for WordPress or WooCommerce required an integration with another platform. This meant sending potential attendees to a different website to buy their ticket, enter registration information, or fill out their profile.
This reliance on third party tools went against the ethos of WordPress and WooCommerce — it wasn't an ideal experience for our customers, and it certainly wouldn't be an ideal experience for us. So when our team began planning the second WooConf — and Box Office, in turn — we had one major goal: to avoid sending customers off-site to purchase tickets for an event.
Luckily, Box Office was made to do just this, so we were set. With the beta version of the extension in place, we got to work setting up ticketing pages. Initially, customers could only purchase tickets for admission to the event in Austin, Texas; livestream tickets would be sold at a later date.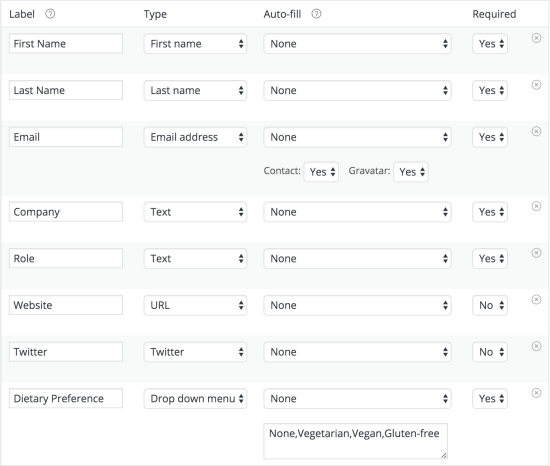 We set up a ticket product for physical attendees, called WooConf 2016 Tickets, and added multiple forms that would display at the time of purchase (which you can see above).
Attendees were asked for typical details, like their names and contact information, but we also took this one step further and asked for things like website URLs, Twitter handles, and dietary preferences. This allowed us to customize attendee badges automatically during the printing process, as well as get a better grasp on the kinds of food we needed to offer or make available.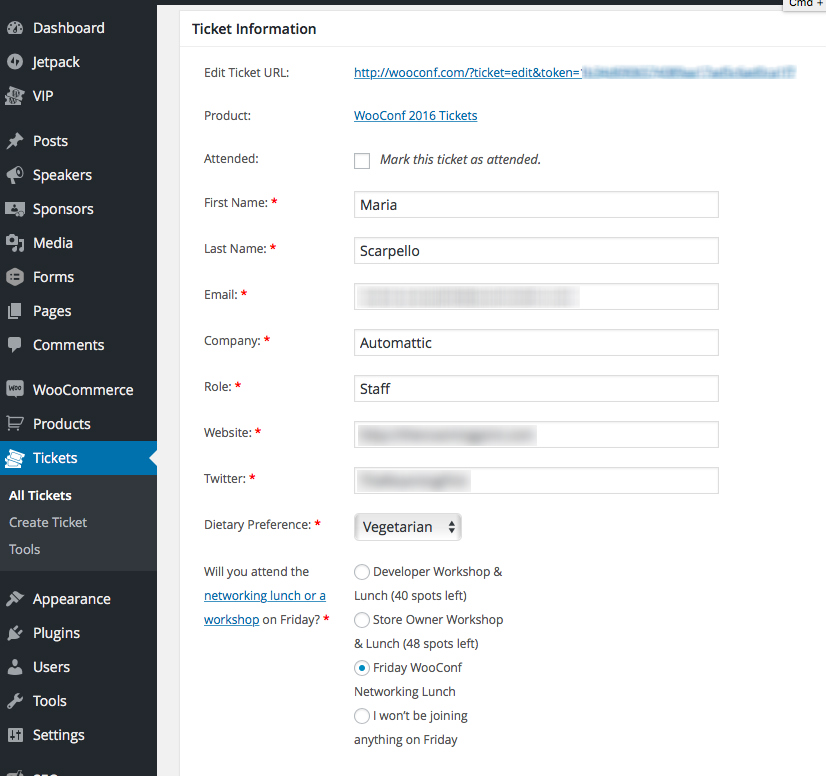 One of the perks that came in incredibly handy, both before and after the event, was the ability to look up, review, and alter individual tickets. Because we had all of this information on hand, on our own site, we were able to:
Mark attendees as being present on-site
Change ticket information — for example, if a sponsor needed to reassign one of their employee's tickets to a different employee, we could simply change the name and/or role
Change RSVPs for our Friday networking lunch and workshops
Confirm details for attendees, sponsors, or staff on the fly
This combination of a seamless sale process and quick lookup option led to a smooth handling of tickets both before and during the event. We had very few hiccups in the process, and checking in attendees on-site was quick and easy — much easier than it would have been if we'd been juggling two (ore more!) different systems.
Use pricing increases and coupons to encourage ticket sales
"What should I charge to get into my event?" It's a common question, and a tough one at that. We struggled with it, too!
If there's just one thing we learned, it's this: offer a more attractive price to the attendees who purchase early. But don't rule out giving those last-minute attendees an option to save, either!
For WooConf 2016, just as we did with our first WooConf, we offered "early bird" pricing — essentially, a discount that was available only to those who purchased in the first few days of ticket sales.
From there on, we increased this number by $100 every few weeks, right up until just before the conference, where we had a "last-minute" price. This price also remained in effect for anyone who was interested in buying a ticket on-site.
The idea behind this was to encourage attendees to book sooner rather than later. And for the most part, it worked.

Having said that, not everyone can always book right away. So we made some coupons available to soften the blow of these increased prices. We gave our sponsors and speakers some unique codes that they were encouraged to share. They could be distributed on social media, in email, and so on.
When these coupons were shared, it drove up interest in WooConf even further, resulting in higher ticket sales. It also helped our speakers and sponsors get the word out about their presence at WooConf, so their fans would know that they could see them there.
The lesson here: consider your pricing carefully. Even if your event is low-cost, there are plenty of ways you can encourage more attendees to opt-in, like coupons, discounts, or promotions through other participants.
Have optional events or days? Let ticketholders opt-in — or out
Many modern conferences have multiple tracks, optional workshops, or even full-day sessions that take place offsite. But conference websites don't always fully reflect this, which leads to:
Confusion on the organizers' side, when they don't know how many people will show up for each optional event or track, and
Confusion on the attendees' side, when they aren't sure where or how to RSVP for a track that might have limited space — or how to change that RSVP if something comes up
When we were planning WooConf, we knew that the bulk of the event would last for two days, and that the third day's activities would be optional. We wanted to find a way to easily allow attendees to RSVP for one of the Friday activities, as well as easily change their RSVP if something came up and they weren't able to make it (for example, if they had to catch an earlier flight).
We achieved this by adding an option to our ticket form that required attendees to select if they would be joining our developer workshop, store owner workshop, or networking lunch. They could also pick "I won't be joining anything" if two days of WooConf were enough for them.
We used custom code to track the number of spots available for the workshops, since space was limited.
We also allowed attendees to change their attendance settings from the ticket confirmation email that was sent right after purchase.
This put the power to opt in or out back into the hands of our attendees. It also completely eliminated confusion for everyone, because we knew how many people to expect at each workshop, plus the networking lunch.
In fact, thanks to Box Office so dilligently collecting attendee information, we were able to check people in at the workshops just as we did at the first two days of WooConf. That helped us figure out who among the RSVP'd attendees had arrived, and who we were still waiting on.
Offer tickets for physical attendees — and virtual ones
If you have a big following and are holding a live event, FOMO is going to be a very real thing for some of your fans. This goes double for those of you who regularly unveil new products or have some really great speakers.
We wanted to accommodate those who couldn't make it to Texas but still wanted to soak up all that knowledge and WooConf goodness from afar. So, in March, after our regular ticket sales had ended, we made live stream tickets available.
To do this, we made a new ticket product for live stream tickets. The ticket fields here were much more limited (since we didn't need to ask for details to print on badges or dietary preferences), which helped speed up the checkout process immensely.
Then, on the day WooConf began, we were able to use the extension's built-in email option to send these ticket holders a link to the live streaming page.
Box Office allowed us to limit access to the stream only to those who had the correct type of ticket purchased — that is, those who had bought a live stream ticket. If you didn't have a ticket and attempted to watch the stream, you'd see this:

This allowed everyone who wanted to take part in WooConf to do so, whether they could make it to Austin or not. And the live stream mostly ran without a hitch, which was a huge relief for us!
We were really happy with the feedback we got on the live stream. In fact, we sold more live stream tickets after WooConf got underway than we did beforehand. Guess all those #WooConf tweets alerted everyone what they were missing out on, huh?
It's definitely worth setting up live stream tickets for events where not all of your fans can logistically attend, but will be missing out if they don't catch the action. You can always make the tickets free, too — this is even the expected setting with online-only events like webinars.
Selling tickets to events online? Give Box Office a try
Whether you're in the business of selling tickets to events for your nonprofit or are thinking of holding invite-only webinars to spread your knowledge to potential customers, the Box Office extension can make the process of collecting attendee information smooth as silk.
We had a blast using it for WooConf 2016, and are beyond excited, after testing it out in a real event application, to finally release it to you. We hope you have just as much fun trying it out as we did!
If you have any questions or comments about how we used Box Office for WooConf 2016 or what we learned running the event, give us a shout below — we'd love to hear from you.