The HubSpot for WooCommerce extension is the easiest way to integrate your WooCommerce store with HubSpot. HubSpot offers a full stack of software for marketing, sales, and customer service, with a completely free CRM at its core. 
Use the HubSpot for WooCommerce extension to:
Features
1. Sync WooCommerce data to HubSpot
Sync your historical and new WooCommerce store data with HubSpot to better manage your customers and their orders. Track customers in HubSpot's free CRM, segment contacts based upon their actions, automate marketing follow-ups to drive more sales and measure your store's growth with advanced business analytics.
2. Comprehensive customer profiles
Sync all the data from your WooCommerce prospects and customers to HubSpot CRM. HubSpot's contact management records show you a tidy timeline of each contact's activities, orders, and transactional information. You will have instant access to each contact's abandoned cart details, orders, website activity, email interactions, and more. 
3. Powerful list segmentation
Build segmented lists in HubSpot for customers, leads, abandoned carts, and more, and communicate with each audience differently — and effectively. Market to your customers based on the products they purchased, what they looked at on your website, the value of their orders, and other important data.    
4. Track and recover abandoned carts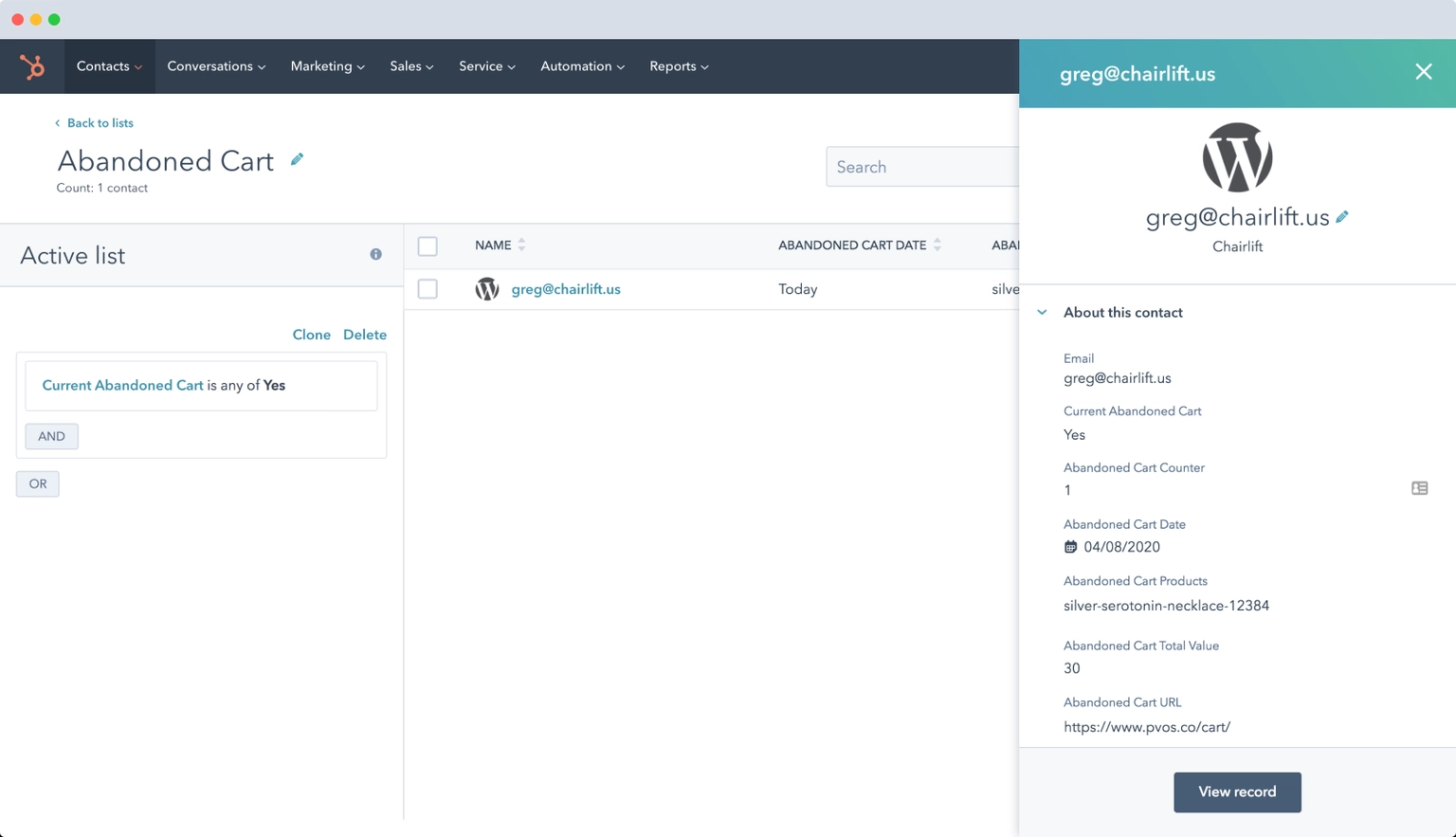 Drive more sales by pulling a list of contacts who added products to their cart, but did not finish checking out. See which products they abandoned and then send follow-up emails to remind them to check out. 
5. Email marketing and marketing automation
Build beautiful, responsive emails and personalize them based on your customers' previous WooCommerce purchases with HubSpot's drag and drop email builder. Choose one of HubSpot's 20+ pre-designed templates — all you have to do is add your content and send. All emails are automatically logged in HubSpot CRM and include tracking for opens and clicks so you can measure engagement.
Use built-in analytics to understand which sales and marketing efforts are most successful and which need improvement. See how your store is performing so you can optimize your customer experience and drive more sales.  
7. Ad creation and management made easy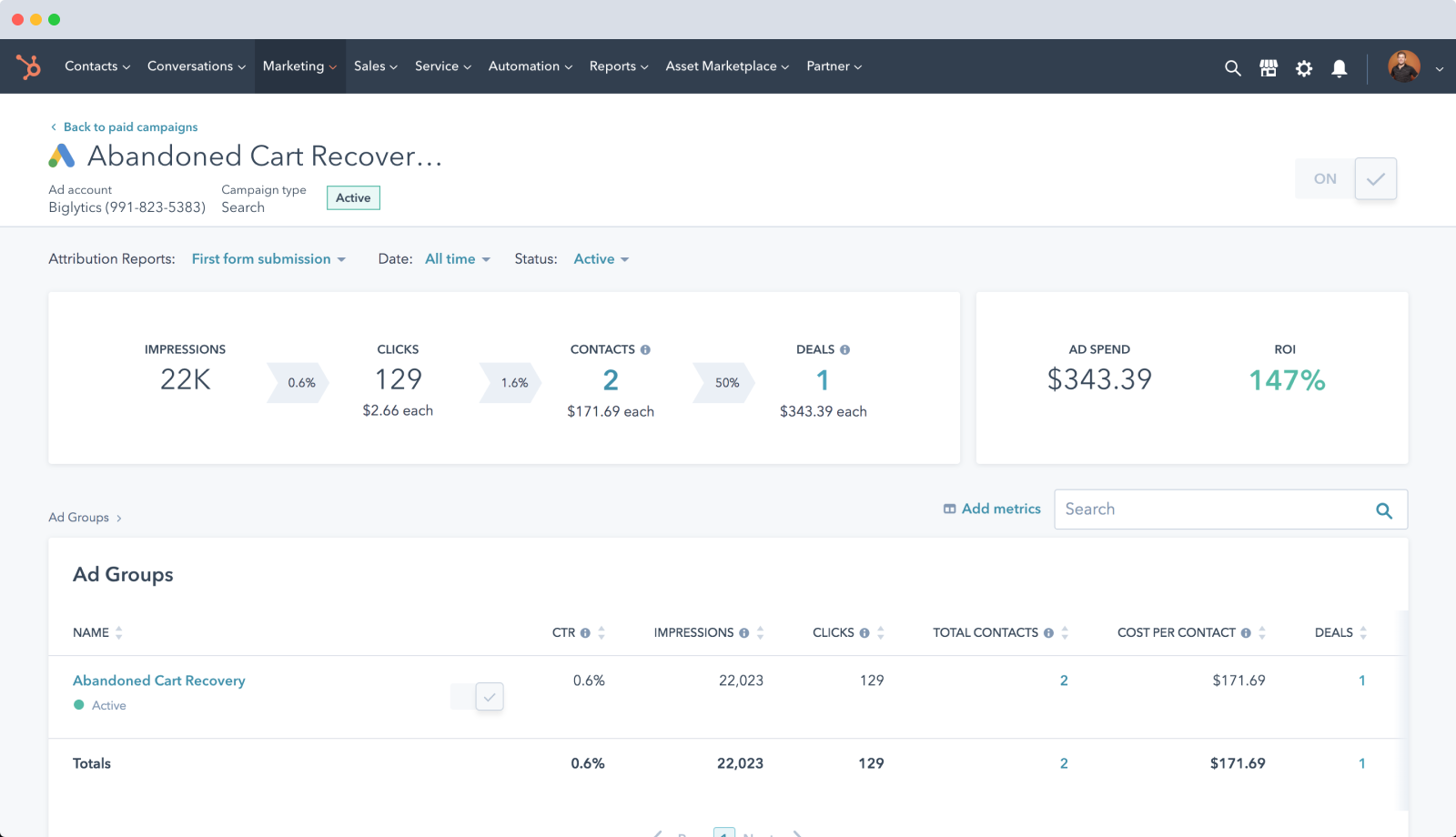 Build Facebook, Instagram, LinkedIn, and Google advertising campaigns with precision. Track the ROI of each campaign and stop struggling to justify your paid ad spend.
Feature syncs the buying history of a deal in your HubSpot account and stores the currency in which the contact has bought the products. You need to enable the feature in WooCommerce, and add currencies to your HubSpot portal. Once you have done it will create a property called Currency in deal properties. 
Multilanguage sync features help in storing the language in which your contact has accessed your WooCommerce website. The plugin will create a contact property called Preferred Language in your HubSpot to store the language.
Note: This feature is compatible with the WPML plugin therefore, ensure that the plugin has been installed and configured in your WordPress environment.
FAQs
Q. What does the extension do?
The HubSpot for WooCommerce extension syncs your WooCommerce data with HubSpot, so you can engage your online store's visitors with targeted email marketing, automation, and ads. With the combined power of WooCommerce and HubSpot, this plugin gives you all the tools you need to grow your WooCommerce online store and delight your contacts and customers.
Q. What is required to use this extension?
In order to use the HubSpot for WooCommerce extension, you will need to have WooCommerce installed and activated on your website with an active SSL certification and a free or paid HubSpot account.
Q. What is HubSpot?
HubSpot is an all-in-one growth platform that provides free CRM, marketing, sales, and customer service products used by 100,000+ websites in 100+ countries to grow their businesses. 
Q. Who should use the HubSpot for WooCommerce extension?
This extension is perfect for WooCommerce store owners who want to be able to track their customers, view and recover abandoned carts, send emails to their leads & customers, create ads on social channels, and build eCommerce reports to track business growth. 
Q. Are coding skills needed to use the HubSpot for WooCommerce extension?
Not at all! The HubSpot for WooCommerce extension is easy to download and starts working with your WordPress site right away. 
Q. Is there any way to make the synchronization faster for those who have 1000+ contacts?
If you have over 1000+ contacts, synchronization may take a while.
Q. Who is MakeWebBetter? 
MakeWebBetter is a premier HubSpot partner, an expert in WooCommerce, and creator of this free extension! They build, maintain, and optimize WooCommerce stores to help businesses grow better.