WooCommerce Memberships
¡Oferta!
| Desarrollado por
SkyVerge
Information & Requirements
Works well with several existing plugins, including WooCommerce Subscriptions and WooCommerce Name Your Price
View documentation for more info
Una solución de membresía que se integra perfectamente con tu contenido y tus productos.
WooCommerce Memberships no es otro plugin más para restringir el contenido de tu sitio web, sino una solución de membresía fácil de usar para el sitio web que agrupa el contenido, la tienda y las membresías.
«Probablemente es uno de los plugins más claros y ordenados en cuanto a la configuración. Está superbien organizado y es fácil de gestionar.
Te va a encantar», Chris Lema
Memberships permite crear un sistema completo de membresías que se asocia a tu tienda a la perfección.
Puedes restringir el contenido o «filtrarlo» gradualmente para programar su acceso por parte de los miembros. Vende acceso a las membresías, inclúyelas con la compra de productos o asígnalas manualmente, e integra ventajas para miembros en tu tienda.
Vende o asigna membresías
Las membresías no son un tipo de producto específico de Woocommerce;Memberships are not a specific type of WooCommerce product; en lugar de eso, los planes de membresía se crean con independencia de los productos. De este modo, puedes determinar cómo se concede acceso con la máxima flexibilidad. Puedes asignar 0 o más productos (de casi todos los tipos) a un plan de membresía para admitir varios tipos de membresías:
Vende una membresía como producto independiente: crea un producto para la membresía y asocia el plan al producto para venderlo.
Concede acceso a una membresía como parte de la compra de un producto: p. ej., un comprador de comida a domicilio recibe acceso gratuito a la sección de recetas.
Concede acceso a la misma membresía desde varios productos (p. ej., una compra anual o una suscripción mensual).
Asigna membresías manualmente para una zona de miembros con acceso mediante invitación.
Concede acceso al contenido estratégicamente
Memberships te permite programar el acceso al contenido reservado a los miembros, al que dedicas mucho esfuerzo. Puedes filtrar dicho contenido, lo que significa que puedes programar el período de acceso a este por parte de los miembros. Por ejemplo, puedes exigir que para acceder a determinadas entradas o páginas los clientes hayan cumplido una semana de membresía.
Con esta opción puedes tener más control sobre la manera en que los miembros utilizan el sitio y presentar el contenido a tu ritmo.
Si utilizas esta función con Subscriptions, también puedes decidir qué contenido se incluirá en un período de prueba gratuita con reglas de filtrado de contenido.
Convierte tu tienda en un club de compras
Memberships permite ofrecer determinados productos exclusivamente a los miembros, o bien crear productos solo para ellos y, de este modo, convertir tu tienda en un club de compra.
Puedes restringir la vista de productos de modo que estén ocultos para los demás usuarios de tu tienda que no sean miembros. También puedes restringir las compras, lo que significa que los productos serán públicos, pero solo los miembros podrán comprarlos.
También puedes filtrar el acceso a los productos de manera que los miembros no puedan acceder a ellos inmediatamente.
Ofrece mejores opciones de envío a los miembros
Los miembros deberían ser los clientes más fieles, así que, si les ofreces ventajas, los animarás a comprar con frecuencia y volverán a la tienda a por más productos. Memberships amplía las opciones de configuración de envío para que puedas ofrecer el envío gratuito a los miembros y exigir que los usuarios que no lo son cumplan otros criterios (como disponer de un cupón o hacer un pedido mínimo).
Ofrece descuentos especiales a los miembros
Puesto que quieres ofrecer ciertas ventajas a los miembros, puedes proporcionar descuentos para miembros sobre todos o algunos de los productos, o bien sobre determinadas categorías.
Muestra las ventajas para los miembros automáticamente
La gestión de membresías debe ser sencilla tanto para ti como para los miembros. Los miembros pueden encontrar toda la información que necesiten sobre su membresía en el área de miembros. Los miembros pueden acceder al área para ver las membresías desde la página «Mi cuenta», con la opción «Ver».
Puedes activar todas las secciones del área de miembros (o algunas de ellas) para mostrarles una lista de contenido (entradas y páginas), productos, descuentos y/o notas de membresía públicas a los que pueden acceder. Si un miembro tiene acceso al contenido en el futuro, también podrá ver la fecha de acceso.
Importa o exporta miembros
En WooCommerce dispones de muchas herramientas para gestionar a los miembros, pero también puedes conectarte a otros servicios, como importar una lista de miembros en una herramienta de correo electrónico. Memberships permite exportar miembros a un archivo CSV para que puedas obtener datos de membresía de WooCommerce e incorporarlos a otras herramientas.
También puedes importar miembros mediante un archivo CSV para añadir nuevas membresías, crear usuarios o actualizar en bloque miembros actuales combinando el archivo con datos existentes.
Simplifica la comunicación con los miembros
Al dirigir un sitio de membresías, hay que dedicar mucho tiempo al servicio de atención al cliente y a la gestión de miembros. Por eso, hemos intentado facilitarte las cosas al máximo con Memberships. Hemos añadido «Notas de membresía» para que puedas hacer un seguimiento de la información sobre las membresías de un cliente, añadir tus propias notas como referencia y comunicarte fácilmente con un miembro en particular con notas por correo electrónico.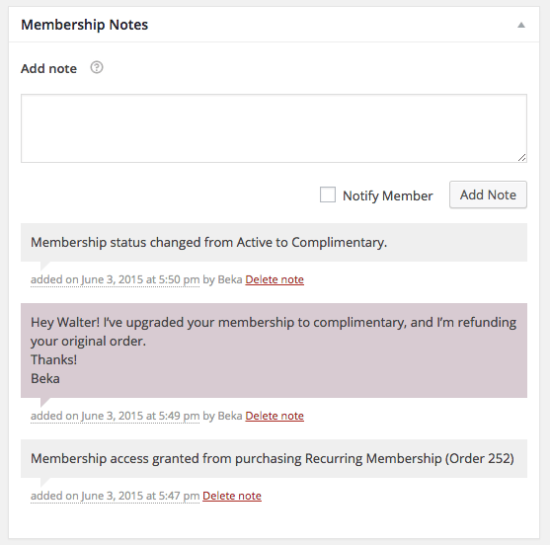 También puedes usar correos electrónicos de recordatorio de caducidad y renovación para comunicar a los miembros cuándo terminan sus membresías y pedirles que las renueven o actualicen.
Memberships + Subscriptions
Memberships es una solución de membresías independiente y plenamente operativa que además funciona muy bien con la solución de pagos recurrentes más avanzada de eCommerce: WooCommerce Subscriptions.
Cuando ambos plugins están activados, Memberships puede aprovechar algunas funciones de Subscriptions para proporcionar más flexibilidad en la facturación de membresías (encontrarás más información en nuestra documentación):
Memberships puede usar la facturación recurrente (p. ej., pagos mensuales) para la membresía en lugar de un plazo establecido (como un año).
Memberships puede usar Subscriptions como plan de pago, además de controlar el período de acceso para admitir pagos a plazos.
Se pueden usar pruebas gratuitas para la membresía mediante una suscripción.
La restricción y el filtrado de contenido pueden incluir o excluir períodos de prueba gratuita para que controles qué contenido estará disponible en esas pruebas.
Los miembros pueden pausar sus propias membresías interrumpiendo una suscripción.
Con tan solo cambiar de suscripción, los miembros pueden aplicar mejoras o reducciones en su membresía.
Las mejoras y las reducciones pueden aprovechar el prorrateo de Subscriptions para garantizar que los costes de membresía sean precisos.
Aunque no quieras usar la facturación recurrente, puedes aprovechar las demás funciones de Subscriptions y establecer el período de suscripción en un ciclo de facturación para sacar partido de las mejoras, las reducciones o los períodos de prueba.
Venta de membresías a empresas o grupos
¿Necesitas vender membresías a equipos, empresas o grupos? Prueba la extensión Teams para WooCommerce Memberships (se compra por separado). Este complemento mejora WooCommerce Memberships al permitir vender el acceso a un grupo de usuarios en lugar de una persona.
Cómo comenzar
¿Estás listo para crear membresías para tus clientes? Ponte en marcha con estos pasos:
Compra la extensión :).
Descarga e instala Memberships en tu tienda de WooCommerce.
Crea planes de membresía y miembros.
Consulta nuestra amplia documentación para obtener ayuda de configuración avanzada.
Así de simple. ¡Relájate y disfruta de un sitio de membresías perfectamente integrado!
¿Necesitas más razones para comprarlo? Al comprar extensiones desarrolladas por SkyVerge, te aseguras de que adquieres la máxima calidad para tu tienda de WooCommerce. Compra nuestros productos con la tranquilidad que te dará saber que el rendimiento de tu tienda es tan importante para nosotros como lo es para ti.
---
¿Quieres hacer un seguimiento de los miembros tras la compra o contactar con visitantes que han abandonado el carro de compra antes de adquirir una membresía? Prueba Jilt: Jilt, que también ha sido desarrollada po SkyVerge, facilita el envío de correos electrónicos de recuperación de carro de compra abandonado o boletines informativos, entre muchas más cosas.