Alone we can do so little; together we can do so much.
Helen Keller
At this time of year, many of us make our new year's resolution lists, many of which are forgotten about, a few days into the new year. One resolution made by many of us, which we often struggle to keep, is to do something online- be it blogging, selling products or marketing ourselves more.
A great way to make sure a resolution sticks is to involve others and aim to achieve a common goal. Having a group working towards similar outcomes, helps each member of the group to encourage the rest, as well as to stay motivated, creating your own hub, of sorts.
Today's WordPress theme release is very fitting to this cause. A theme aimed at encouraging collaboration. Whether selling online, or just blogging as a group, our latest theme is for you.
Ladies and gentlemen, meet Hub.
Showcase your collective efforts
Hub creates a unique environment for showcasing what a collective of internet users can achieve. Be it blogging or selling your own creations online, Hub is up to the task.

Designed, and developed, by our very own Tiago Noronha (our first ever WooThemes Ninja!), Hub is ready to be shaped and crafted as desired with a few small tweaks in a child theme.
With the store functionality powered by WooCommerce, the entire WooCommerce extensions library is also at your disposal to take your online store to the next level.
Designed to aid content discovery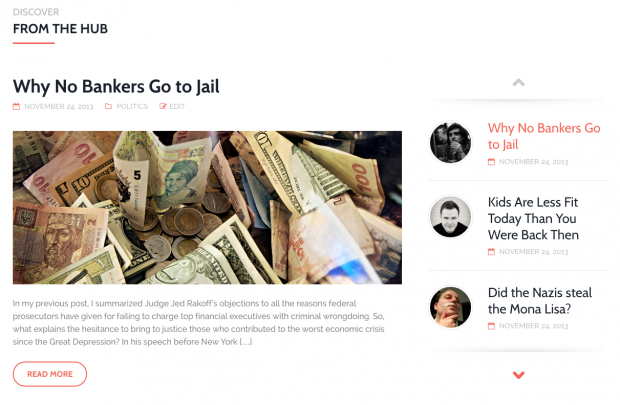 Hub has been designed to maximize discovery of your content. A few great sections are included in the homepage to assist with this, notably the « Discover » section. This showcases recent posts across all of your bloggers, with a neat way of quickly loading the desired posts without needing to refresh the screen. This enables your readers to stay focussed on the content area, while browsing more of your content.

In addition to the « Discover » section, Hub displays your most active blog posts at the top of your homepage. If an important discussion is being had in the comments of a blog post, you can be sure Hub will help to guide your new visitors to these important discussions, where they can contribute their views on the topic.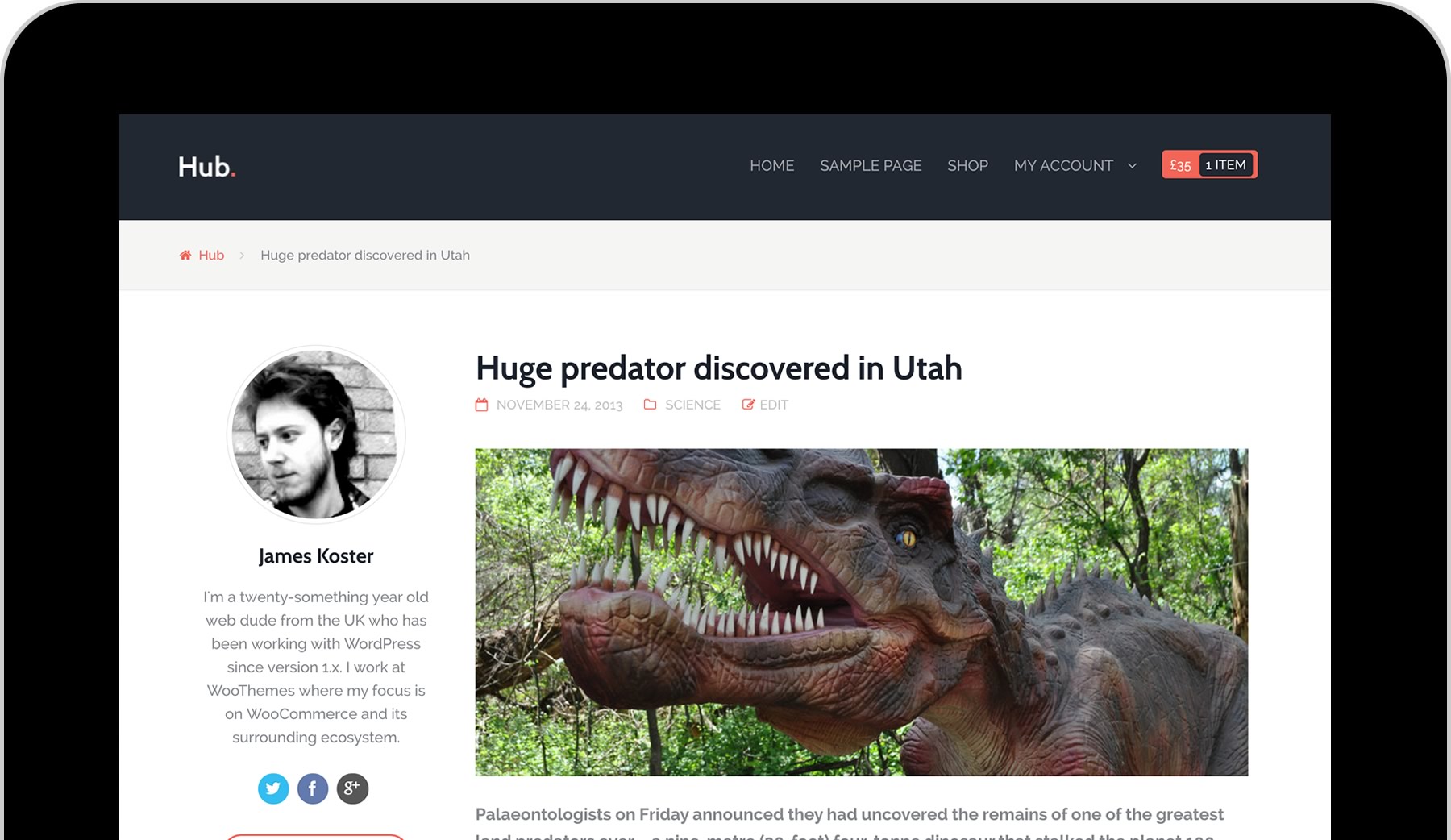 A theme to suit your desired needs
While Hub is aimed at collaboration, you could also transform the theme into a standard business website, or a simple blog to keep track of your own new year's resolutions, or selling holiday gifts online. With styling support for our Features and Testimonials plugins, as well as a « Business » page template, your own design is just a few small tweaks away in the theme's settings.
Hub also includes built-in styling for our new Our Team plugin, for showcasing your team members, what their roles are and how they are involved in your hub of inspired collaborators.
As long as you have inspiration and a few friends to share it with, Hub is the theme for you.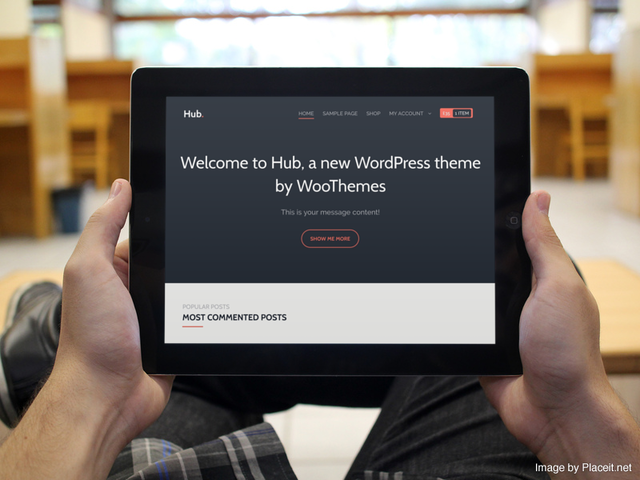 To illustrate this, we've set up a demo website to showcase Hub and to show off just how easy it is to get up and running with next to no effort.
Sell online, with your friends- a possible use case
You love arts and crafts. You come home every day from your desk job and all you want to do is sit down at your crafts table and create wonderful, customised, presents for your family and friends for the holiday season.
Your neighbor across the street feels the same way about painting with water colours. Her living room is littered with small water colour block mounts; small expressions of her passion.
The holiday season is upon you, so you decide to collaborate and sell your wares at the local craft market. What about all those who wish to browse and purchase online?
Using Hub, alongside WooCommerce and WooCommerce Product Vendors, you could sell online together, distribute your commissions appropriately and collaborate on a blog to tell your stories and elaborate on your inspiration & passion.
We look forward to seeing what you all create, in the new year, using Hub, WooCommerce and any number of our wonderful WooCommerce extensions and exciting free plugins.
Discount Coupon
Grab this theme with 13% off, until 26th December 2013. Just use HUB13 as your coupon code on checkout.