Customers form an impression of your brand almost immediately. From the first few seconds they spend on your storefront, they can discern what kind of tone your copywriting has, the kinds of products you carry, and whether or not they are part of your target audience.
You've likely spent a very long time creating and refining your store's branding and messaging until it's pitch-perfect. So it almost seems a waste to throw it all away when you get to the email receipt:
If your order confirmation and shipment messages look like this, some customers might think you don't care about their experience once you have their money.
Email receipts have enormous earning potential for your eCommerce website. With just a little customization, you can use these emails to increase your sales, create deeper connections with your customers, and offer helpful links along the course of their journey.
Read on to learn about a few ways you should customize your WooCommerce email receipts, and to see a few tools that will help you get the job done right.
Strengthen your brand with copy and visual elements that match up to your your store
A customer's journey doesn't end when they click the « purchase » button on the final checkout screen. In fact, in their mind, it's only just begun! They may still feel a little unsure about who you are, and whether or not you'll deliver on the promises you've made to them.
To add some strength to the perception new customers have of your brand, the design of your receipts should visually match the style of your website. You should be using the same fonts, colors, and visual elements, like your logo or any other common icons and graphics.
This not only cements your branding in the mind of customers, but also makes it much easier to identify at a glance what a specific email receipt is for. This is especially important for those who shop online frequently.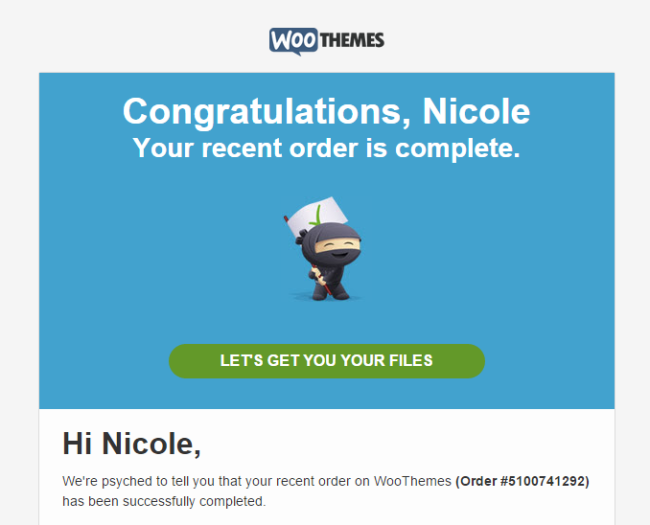 You should also ensure that any copywriting that appears on your confirmation emails matches up to your store's copywriting. If you typically use a light, cheerful tone, this should be used in your messaging, too. An out-of-the-box receipt can feel cold and impersonal, so it's worth spending a few minutes adjusting the text.
Use personalized upsells to encourage future purchases
Most order confirmation emails are very simple. « Thanks for buying this thing from us. We'll be sending it to you soon! » This kind of messaging isn't just boring — it's also highly impersonal.
One study on email personalization found that 84% of consumers who receive emails from brands find it helpful when products are recommended based on their shopping habits or purchasing history. This sounds like a no-brainer, doesn't it?
By adding targeted product upsells in your email receipts, you're showing customers that you care about what they've purchased, and have complimentary products they might not have noticed. Hear that? It's the sound of more money in your pocket.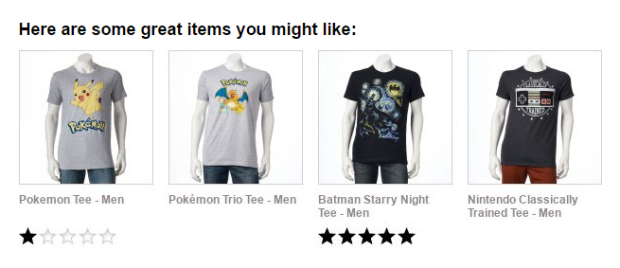 Throw in « share this » links to encourage customers to show off and spread the word
Think about how you feel after you've purchased something new. You might feel happy, excited, or proud. Do you ever have the urge to show off just a little, or share the details of your next project?
By adding social media links to your receipts, you can tap into these very same feelings. Your customers may already be willing to spread the word about their purchase, but don't want to go through that long process of retracing their footsteps to find the right product page. Make it easier for them by adding « share this » links right in your emails.
These links will benefit you in two ways:
Your customers will be able to easily show off their purchases to their friends and family on social media, and
These little shares can help grow your store immensely!
Add relevant links and contact information to answer questions and solve problems
Your customers may have questions after they've made their purchase. Lucky for them, there are a great many things you can do with your email receipts to answer their questions and solve potential problems before they happen.
For example, one of the most common questions that an eCommerce store receives is « how long will it take until my order ships? » Customer service also often receives questions like « when will my credit card be billed? » You could put a mini FAQ right in your receipt to answer your most common questions.
If you don't want to take up that much space, you could simply link to your FAQ or customer support page where all of these questions are addressed.

Returns are another common hassle. Customers may make a purchase before realizing they've completely forgotten to review your return and exchange policy, or they may receive their order and realize they need to send an item back to you. Put links to those details in the receipt so they're easy to find and read about.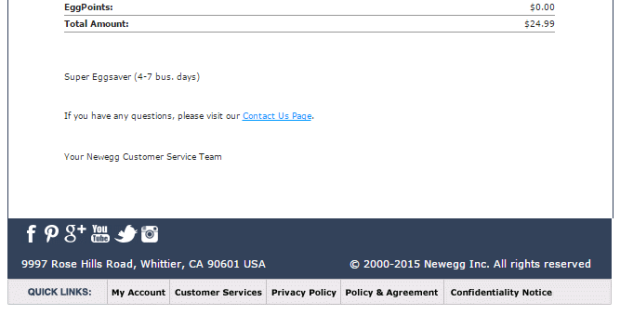 Finally, it's a good idea to include your contact information somewhere on the email, just in case a customer has a question or concern that everything else you've included on your receipt or website doesn't address. This may be as simple as placing your email address, phone number, and hours of operation in the footer.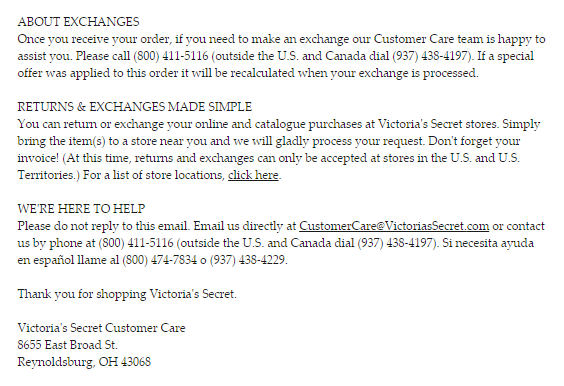 You may feel as if you're repeating yourself by including these items on your email receipts, but these links and pieces of information will keep customers from spending their valuable time clicking through your website looking for what they need.
This may also take some of the strain off of your customer support team, since they won't have to answer the same questions over and over again, or spend their time hunting for answers to common customer inquiries.
Use a special offer to bring customers back again
Your receipts, by default, probably include a message like « thank you for your purchase. » But a special offer — even a small one — can show customers that you are truly thankful for their business.
It's up to you to define what the offer is, based on what makes the most sense for your store. You'll also have to decide if you want to promote the offer on your store with special messaging (something like « order now to get a special code for 15% off your next purchase »), or simply include it as a special surprise.
If you'd rather not give customers a discount or coupon just for making a purchase, consider rewarding them in other ways. For example, you could set up a referral system that gives customers a discount each time they refer friends. Or you could consider setting up a rewards program and linking to that instead.
How to customize your email receipts in WooCommerce
Customizing your email receipts might sound a little daunting. But WooCommerce has a few options that can simplify the process.
For starters, check out our Email Customizer extension — it will help you change the visual aspects of your emails so that they match your branding and color preferences. No HTML or coding knowledge is required to use the extension, and it will get your receipts up to par in no time flat.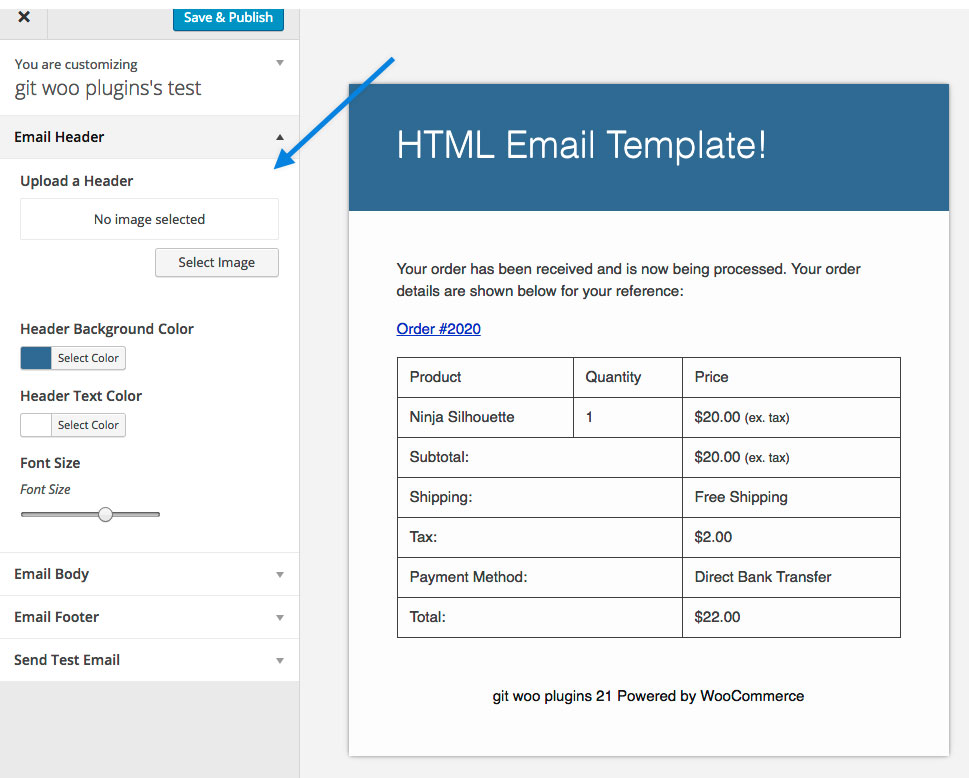 There are also a few external services that will allow you to easily design and send highly customized receipts without wading knee-deep into code. Conversio is one of them, and this platform specializes in allowing you to create beautiful, actionable email receipts.
Additionally, MailChimp's Mandrill service allows you to import and customize the MailChimp templates you've already created — a great match if you're already using our MailChimp extension to manage your email marketing.
If you want to take your customization a little further, a great tutorial on making a additional changes to your WooCommerce email templates by hand can be found here. Give it a go and see what you come up with!
Put it all together for a truly custom receipt
As we've explained, email receipts aren't the final step in the transaction with a customer. If anything, they signify the beginning of your relationship with them.
It's for this reason that your receipts should be an extension of your brand, with contents that will help you deepen these new bonds and increase your sales.
Have you added anything special to your email receipts? Have any tips of your own to share? If you've got a minute, leave a comment and let us know what you think.