When you think about eCommerce copywriting, you might think about the drab product descriptions you sometimes see online, a few sentences of filler copy meant to hold keywords or take up space. We know your store has better sense than that, but you may still be struggling to figure out what role copywriting plays in your marketing (if it should play one at all).
The copywriting on your eCommerce storefront can, and certainly should, serve a larger purpose than filling in blank space or improving your SEO. Even the smallest pieces of copy in your store can convert visitors into paying customers — it's just a matter of knowing what people want to read.
Here are three simple ways you can use your store's copywriting to connect with more customers, boosting conversions in the process.
Tell a story with your copywriting
eCommerce copywriting doesn't have to be limited to explaining how your products work or look. One of the best ways to convince shoppers to take action is to tell them a story, or even to give them an experience they can take away with them long after their purchase has taken place.
When Alex Turnbull tested the utilization of storytelling on Groove's "Journey to 100k" blog, he found that the same content performed better when it was preceded by a story: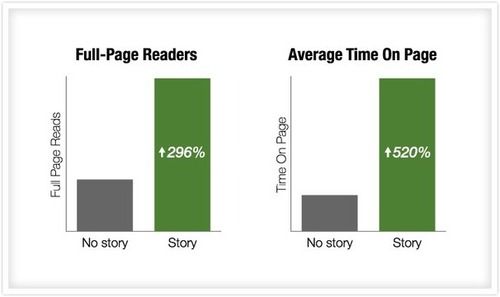 The story not only motivated more visitors to scroll down the page, but also kept them on the website for longer.
Did this happen because Turnbull's story was so insanely compelling that Groove's readers couldn't tear their eyes away? Maybe — but it could also be because research studies have shown that stories can trigger neurological reactions in our brains. These reactions can make us feel more connected, empathetic, or trusting.
Here's a great example. The handmade stuffed animals offered by Caitlin Wicker, like this bunny, are all unique. The copywriting explains exactly how they're made, which can make shoppers feel excited about receiving a truly special item:
Bunnies are lovingly handmade in the US from recycled sweaters and vintage-inspired cotton accent fabric. The sweaters come from thrift stores, and are all hand-picked and pre-washed.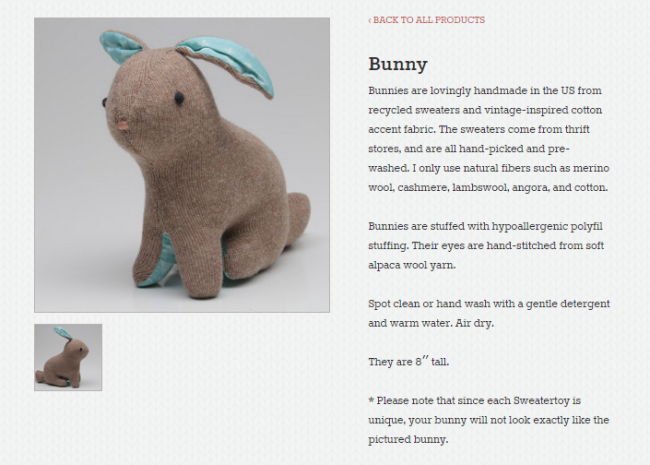 Panasonic asks customers shopping for cameras to imagine what they can accomplish by purchasing one of its rugged outdoor, waterproof models:
The LUMIX FT5 is the ultimate tough camera, so no matter where you find yourself diving with sea life, hanging from a mountain, or exploring the winding alleys of a foreign market… you will take the best shot possible without worrying about your camera.
As an added touch, the camera even has the word « Adventure » in its name!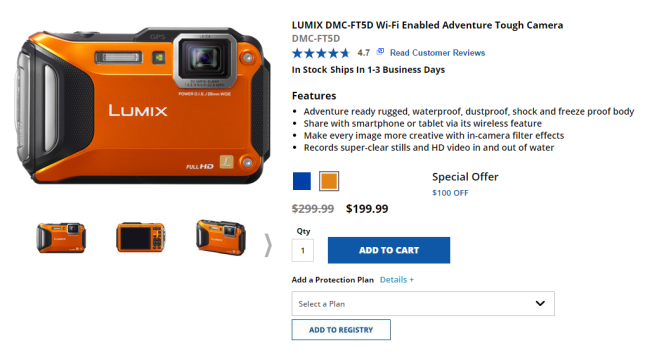 How can you use the power of storytelling in your store? Think about your products and the potential stories behind them. What little details or behind-the-scenes information can you share to make your shoppers feel connected?
Here are few ideas:
Share the details: where your products were made, who made them, or how
Ask shoppers to imagine what's possible with the help of your products, like the delicious cookies they'll make with your baking sheets or the compliments they'll earn when wearing one of your shirts
Invite them into your mind: explain what inspired you to create a product, or (if you're not the manufacturer) why you felt it fit into your store
Don't be afraid to get creative: tell a funny story or invent a character, like our Hiro!
Create a sense of urgency that motivates shoppers
You've probably seen plenty of advertisements that say "buy now!" or "limited time offer!" These statements are surprisingly motivating, and your copywriting can benefit from the addition of the sense of urgency these remarks bring.
As Neil Patel explains, creating a strong sense of urgency on your website can result in your visitors taking desirable actions:
Many of the problems that affect conversions are issues of cognitive friction – people think too hard, wait too long, or simply don't respond to our calls-to-action. Raising the urgency level cuts through a lot of this delay to create a significant improvement to conversion rates.
In a post on the MarketingExperiments blog, Paul Cheney explained how adding a simple "limit 1,000 subscribers" raised clickthroughs on a call to action link by 15%:
In this test, all we added was three words [« limit 1,000 attendees »] near the call-to-action to intensify the urgency of the click. And we told the truth. All we had to do was mention it in the copy.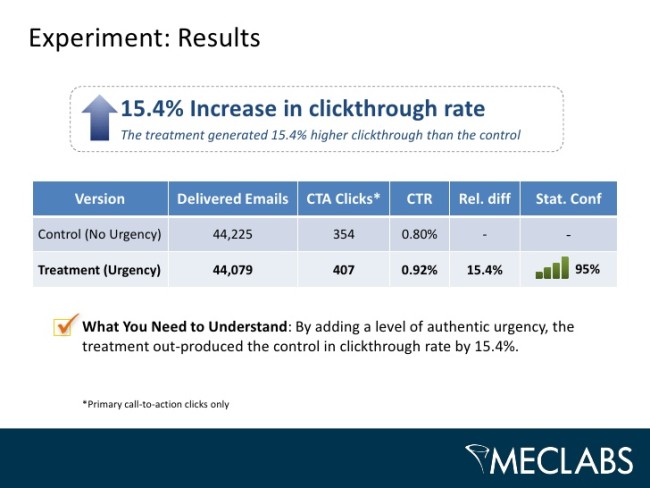 How else can you drive conversions with urgency? Nelly Duff motivates purchases when one of its art prints — most of which are already printed in limited quantities — drops to low stock, displaying a highlighted « last few remaining » message on the product page.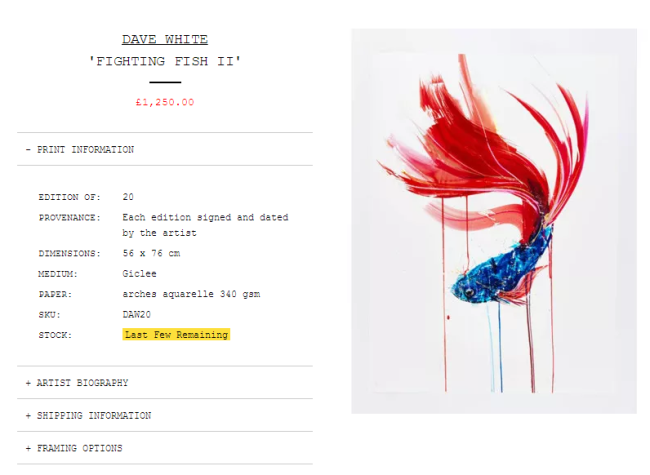 You can also think beyond the product page with this. Remember how compelling your limited time only sales, discounts, special offers, and coupon codes are! Include dates, or phrases like « for a short time only » or « only until Saturday » on your sitewide messages, banners, or pop-ups.
Finally, Amazon has a particularly unique implementation of this with its Gold Box deals, where it shows a « % claimed » and a time limit. This urges shoppers to buy before they lose their chance to get a big discount: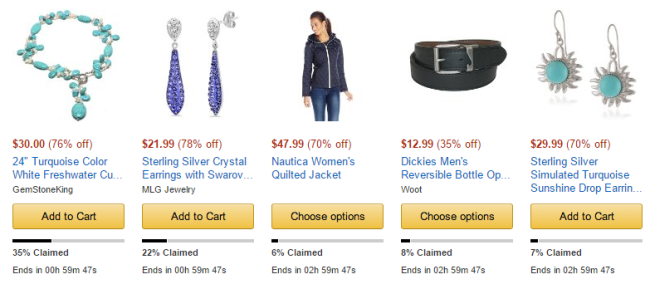 Keen to implement a sense of urgency? Here are a few more ideas:
If you're running WooCommerce, ensure you're utilizing the built-in inventory and low stock alerts (read about switching between exact numbers and custom phrases like « last few remaining » or « buy now before we run out! » on this tutorial page)
Label discontinued or limited run products so shoppers are aware they only have one chance to buy them
Increase the urgency of your language as sales near their completion — "today's your last chance to save 20%!" is harder to ignore than « save 20% today »
A/B test calls to action to find what customers prefer
Much of the copywriting on your store contains a call to action. Calls to action (or CTAs) are everywhere. "Add to cart" is a CTA just as much as « enter your billing information » or « click here, » but they all call for different actions at different stages of the buying process.
Your calls to action play an enormous part in whether or not someone decides to buy from your store. But determining what constitutes an effective CTA isn't always easy, especially because every eCommerce store is different. That's why it's crucial to test each CTA's effectiveness.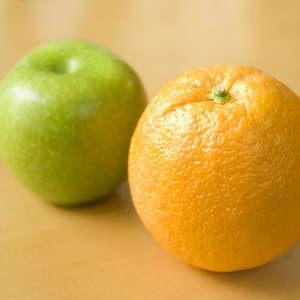 Using conversion rate optimization testing (or CRO), you can experiment with some new CTAs to see how they affect the actions your customers take. CRO involves using A/B or split testing to simultaneously run two versions of an element on your website. If the group that sees one version clicks it much more than the group that sees the other, you can know with certainty that the higher-clicked element is the best choice.
In testing, you may find that CTAs like "buy now" are less effective than "try it for yourself." You may discover that adding a focus on benefits boosts clicks. Or you might find that you need to answer questions to keep your visitors interested.
For example, the Keurig Choice website drives clicks to pricing page with the call to action of « find out how »:
This is effective because the call to action is a direct response to the visitor's immediate question — « I can really get a Keurig for a few dollars a month? » If you know what questions are likely to ask upon visiting your website for the first time, you can test using CTAs like this one.
If you're thinking about trying a few tests for yourself, take a look at our recommendations for WordPress split testing plugins that will integrate right into your store. Yoast also has some excellent posts on the topic of conversion rate optimization that you can read before you start.
Don't hesitate to experiment with your calls to action — no matter where they occur in your store — to see what motivates your customers. You may be surprised by the results of your A/B tests!
Make your copywriting work harder for your store
Take a step back and look at the content on your store. Every piece of copy, no matter how long or short, should be guiding your customers into the shopping cart. If it's not, it's time to try a few new approaches to make it work harder for you.
With these three tips, you can power up your eCommerce copywriting by finding what makes your customers takes action. Whether it's a captivating story about the history of your products, a message warning them that your stock is running low, or a special way of asking them to buy a product, your store is sure to benefit from having just a little more attention placed on your content.
Do you have any copywriting tricks or tips of your own to share? We'd love to hear them!
Image credit: Mateusz Łapsa-Malawski, TheBusyBrain