When someone clicks the "purchase" button on your site, you've made it across the finish line, right? Almost. Now you need a seamless shipping process to keep the sale and win customers for life.
Use this guide to determine a strategy that delights customers all the way through the sales funnel, from the time they add your product to their cart to its arrival on their doorstep.
Shipping carriers, methods, and fulfillment
First, let's tackle the most common shipping terms: carriers, methods, and fulfillment solutions.
A shipping carrier is the company that physically delivers your products to customers, like USPS, FedEx, and UPS.
Shipping methods are the rates and options that customers choose from at checkout: $5.00 three-day shipping, or $15.00 next-day delivery. These methods are usually determined by the carriers you work with and impact the cost and speed of delivery.
Shipping fulfillment is the entire delivery process: it starts with determining costs, printing labels and choosing packaging, and continues with providing tracking and status updates, completing delivery, and everything in between.
Want more information? Our shipping and fulfillment guide has everything you need to know about carriers, methods, and fulfillment.
Dates, weights, and rates
Before you choose shipping and fulfillment options, think through a few key variables:
Dates. Where your customers live, how long delivery may take, and whether you want to offer express shipping.
Weights. The size and weight of each product, which impacts your overall shipping costs.
Rates. Decide how much you want to charge for shipping. Carriers will have their own rates, but you can choose to charge less, the same, or more.
Now that you have a broad understanding of the shipping methods you can offer, it's time to think about your shipping strategy. The goal is to choose a combination of carrier, method, and pricing that meets the needs of your customers without eating into your profits. Let's take a look at a few options:
Live rates calculate shipping fees based on size, weight, and distance, which are synced in real time with your carrier (FedEx, UPS, USPS, etc.) based on what they charge. Live rates are a popular choice because they offer a nice combination of choice and transparency. Customers can see the range of shipping options, based on speed, from least to most expensive.
Table rates use a set of rules that you create to calculate shipping based on factors like product prices, sizes, order totals, and destinations. This provides the highest level of customization. You might charge $5.00 for anything that weighs less than eight pounds, $10.00 for anything that weighs eight pounds or more, and offer free shipping only to the state of New York. With the WooCommerce Table Rate Shipping extension, you can create custom rules seamlessly.
Flat rates simplify your shipping strategy by taking the guesswork out of calculating rates. Charge the same amount regardless of the weight or size of the order. This is a great option if your inventory is consistent in size and weight, or if most of your customers order similar quantities. With default WooCommerce settings, you can charge a flat rate per item, a percentage-based cost, or a minimum fee.
Free shipping makes customers happy — but reduces your margins. You could include the cost of shipping in your product's price, but customers might be turned off by the higher dollar amount. Or keep your pricing low and shipping free, in the hope increased sales will make it financially worthwhile.
Combined shipping options give you the best of both worlds. If a one-size-fits-all approach to shipping doesn't align with your business needs, you can always mix and match. One approach is to offer free shipping for orders that meet a minimum total to encourage customers to add more products to their carts.
Read our full guide on shipping strategies and learn to make them work for your business.
Implement your shipping strategy
Once you've done your research, weighed your options, and made a decision, you're ready to put your shipping strategy into place.
1. Back up your store
If your store is live, start by taking a full backup. If any unanticipated issues arise, this ensures you don't lose valuable data and order information. We recommend Jetpack Backup for this.
After your backup is complete, update WordPress, WooCommerce, your theme, and all plugins to ensure full compatibility with any new shipping and fulfillment extensions.
2. Configure WooCommerce settings
If you offer free shipping, local pickup, or flat rate shipping, you don't need any extra plugins or extensions — everything is built into WooCommerce.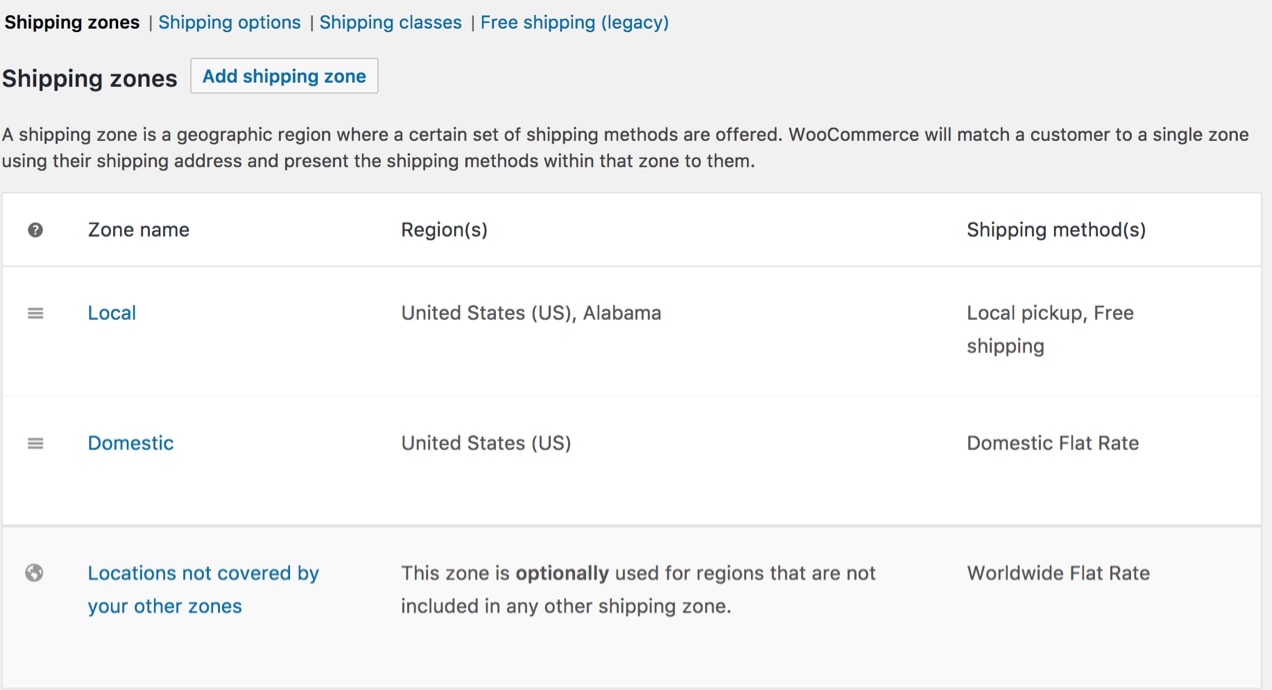 Navigate to WooCommerce → Settings → Shipping in your dashboard. There, you can create shipping zones to define rates based on customer locations, and shipping classes to define rates based on groups of similar products.
3. Install and activate shipping extensions
To implement table rates, live rates, or to use a combination, you'll need an extension. You can also use extensions to add features like shipping labels, tracking numbers, and warehouse syncing.
Start by purchasing or downloading an extension from the WooCommerce Marketplace. Not sure which one you need? Use our post about shipping strategies to make the right decision for your store. Here are a few great options:
For more details, visit our post on how to implement a shipping strategy.
Ship — and profit!
You're ready to start shipping! Remember to adapt as you go and make changes as you learn about your customers, and you'll soon find the options that are good for customer relations and your bottom line.
WooCommerce provides all the tools you need to ship products affordably, efficiently, and safely so your happy customers stay happy and your store runs smoothly. Need more information? Check out our shipping documentation.