Charlotte Mason revolutionized education 100 years ago and is still having an impact today, especially in homeschooling. A British educator from the late 1800s, she left an impressive legacy in the form of extensively documented materials for home education.
I think Charlotte Mason would have loved simplycharlottemason.com, the passion project of two homeschooling families and an online hub for homeschooling books, lesson plans, discussion forums, and more.
In a nutshell, the openness and flexibility of WooCommerce enabled two homeschooling families to build a thriving online bookstore and subscription business that impacts both their local community and thousands of families worldwide. Their vision is far greater than selling books and the bottom line.
I spoke with Doug, one of the site's founders and the person who built and maintains the site. Read on for the full story, including the list of extensions and plugins that power their store.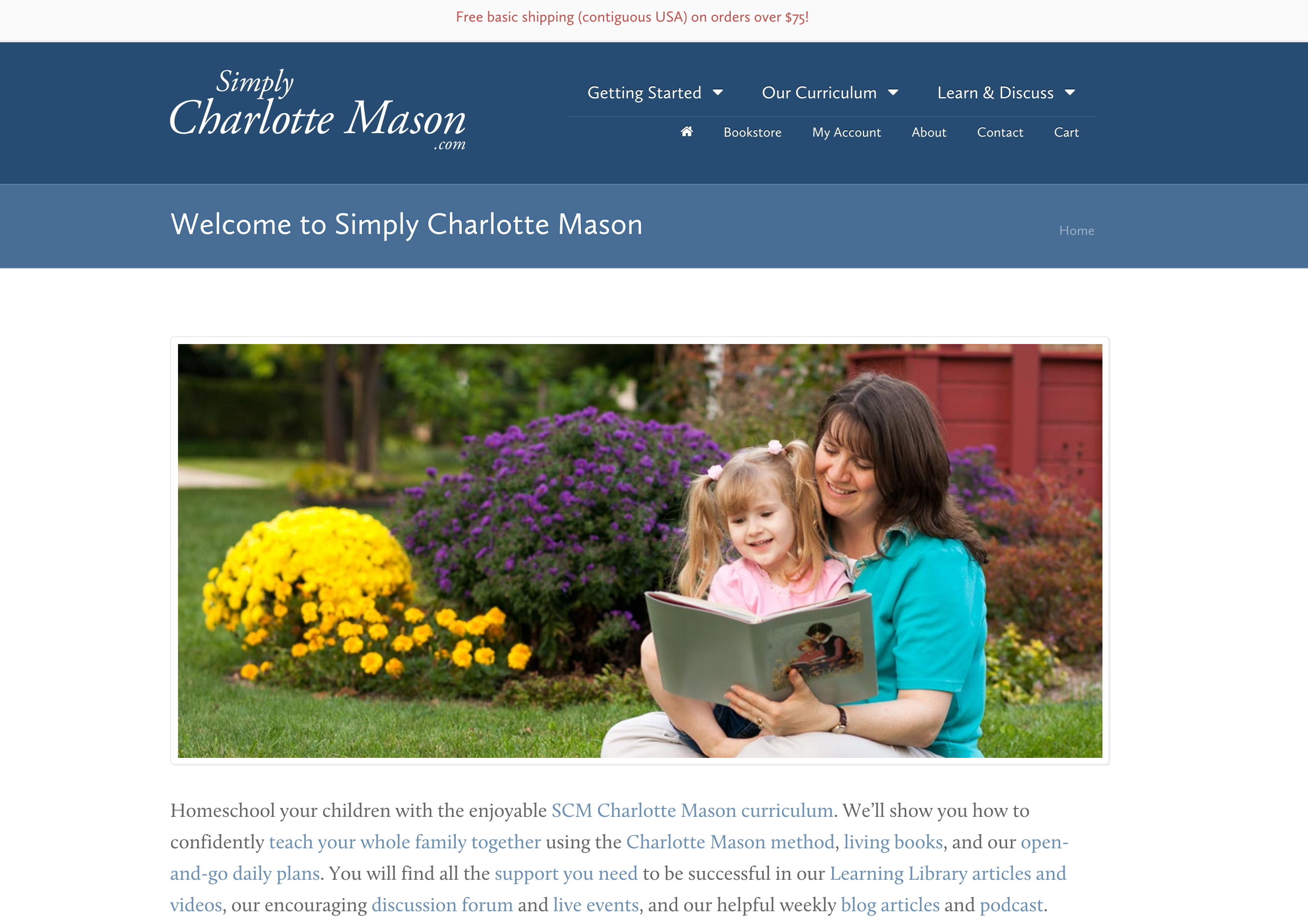 How it all began: repeatedly asked questions & research

Doug Smith, his wife Karen, and their good friends John and Sonya Shafer had been homeschooling when friends began asking questions about how they were doing it. Joining forces, they started a blog to make it easy to share their learnings. At the time, the Smiths lived in Illinois and the Shafers lived in Georgia, so Simply Charlotte Mason actually started as a virtual company (like Automattic).
Before long, they noticed that that homeschooling parents from around the world were reading and following their blog. They decided to package their resources into a book, and then another:
« We like to call it a hobby out of control as it turned into what we do full-time! »
In light of the blog's success, their next step was to build a fuller website to house their growing library of resources. They named the site after Charlotte Mason, whose approach and materials — updated for a modern educational context — informed much of their own curriculum and methods.
From the site's earliest days, they engaged in user research, talking to the homeschooling community about their needs. This included a survey from which they started building a mailing list.
On being bootstrapped, operations and growing a team
"We have used the resource constraints we have had over the years to force us into creativity and coming up with interesting solutions."
Simply Charlotte Mason (SCM) has now been running for twelve years, and the team behind the operations is a mix of family hires (including the founders' own children!), employees, and contractors.
The friends had a lucky blend of skillsets — including IT, early education, publishing, and writing — took their varied experiences, and dived in. Doug noted that they were all good at knowing how to research and teach themselves new skills, something critical for most business owners and an important piece of the homeschooling philosophy: be a self-learner.
The SCM team is currently at five full-time and four part-time staff, plus nine or so curriculum contractors that create materials for them. They also work with other contractors and have partners in other businesses — including from their local community. Sonya Shafer is the main face of the organization and does most of the company's speaking and writing, while Doug remains the lead on technology and the website.
Early on, they established a relationship with the local shipping store, Pakmail, which came on board as a fulfilment partner. What started as a few shelves for about ten products is now a whole room with floor-to-ceiling cubbies filled with SCM products.
SCM also added a custom "Shipper" role to WooCommerce so the Pakmail team can log on and fullfil orders directly. (Interested? Read more about WooCommerce Roles & Capabilities.)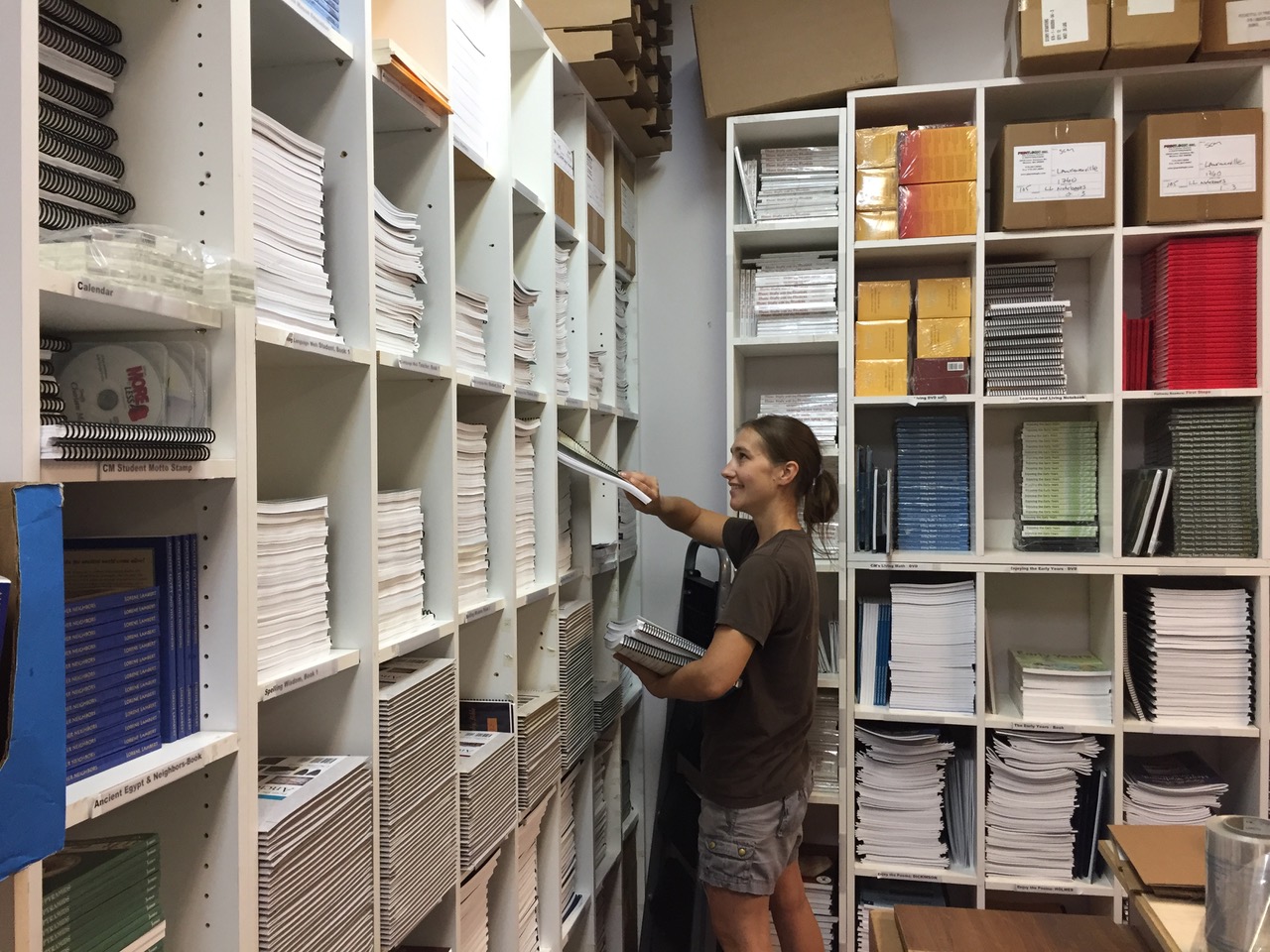 They also have a close working relationship with the local printer, who is happy to do small print runs and produces most of their resources. The printer delivers the materials directly to the Pakmail store for storage or shipping.
SCM orders generate a significant portion of the revenue of these two businesses, and Doug is understandably proud that they've been able to support other small businesses in the Atlanta suburbs. Kudos!
Today the SCM store has around 200+ SKUs and offers more than just books — products include parent training videos, live conferences, audio recordings of workshops, and more. Almost everything they produce is available digitally as ebooks, but the majority of their orders are for the physical versions. They experience significant seasonal spikes and see hundreds of orders (products shipped or downloaded) per week at peak times.
Peak season for homeschooling is when parents are planning for the new school year, which makes August the business's busiest month. The team attends conventions across the US, and travels to do in-person workshops and sales during spring each year.
Spotlight on WordPress and WooCommerce
I loved hearing more about Doug's journey with WordPress and WooCommerce. There is a wonderful philosophy of self-education that underpins the business that's a perfect fit for WordPress and WooCommerce: the WordPress ecosystem is founded on self-learning, too.
Doug has always been the IT guy and admits that he originally chose WordPress back in 2006 because he loved the typeface! WordPress 1.2. "just looked better than other things on the web."
The need for eCommerce capability on WordPress arose when the team wanted to sell more products and physical books.
Doug purchased a solution for fulfilling orders. It worked fine for selling five or ten products that were mostly ebooks, but as SCM's library grew to 50+ items and included physical products, he hit the limit of the script's capability. He started searching online, hoping to find something that integrated with WordPress — and just as he needed to make a decision, WooCommerce was released and popped onto his radar:
"One of the things I loved about WooCommerce is that it didn't have everything under the sun built into it. I liked that it was the basics and you could add onto it. I've always liked that philosophy of software, the idea that I don't want something that's bloated and has everything I'm not going to use. I'd rather have something that is stripped down and efficient and I can add the pieces that I want. It's a lot of what brought me into it."
He was an early adopter of WooCommerce, installing it just months after it was released in 2011! He remains an active part of the wider WordPress and WooCommerce communities and attended all three WooConfs — in 2014, 2016, and just last week in Seattle.
His passion for open source is infectious and got me excited about what sets WooCommerce apart all over again.
WordPress plugins
Here is a list of the WordPress plugins active on the site:
VaultPress: Gives SCM peace of mind with real-time backupsw and security scanning.
share help each other with homeschooling ideas and solutions.
Gravity forms: Used for all sorts of forms on the site, especially the contact form that adapts to collect the information needed to solve problems without a lot of back and forth.
WooCommerce Search for WooCommerce: Speeds up product searches and returns better search results.
PowerPress podcasting: Adds podcasting feeds and embeds to the site.

CF Expiring Content Shortcode

:

Adds sale notices in product descriptions and posts that disappear after a certain date.

Yoast SEO and Yoast WooCommerce SEO: Adds SEO features with specifics for products.
WP Rocket: Improves page load times with image caching that plays well with WooCommerce.
WP Sent Mail: Logs emails for troubleshooting and resending.
wpMandrill: Takes a load off the server by routing order and customer notification emails through their service.
I was curious about Doug's experience with hosting — over time as their needs have changed, they have changed hosts. At this point they are with Liquid Web on a dedicated server, but are always on the lookout for different options.
WooCommerce extensions
We're always eager to know which of the extensions from the WooCommerce.com marketplace store builders are using. Doug gave us a run-down of which Woo extensions SCM currently uses:
Amazon S3 Storage, in particular, solved a lot of problems for SCM — before switching to this service for ebook delivery, they had a number of errors and customers contacting them regularly about damaged files. They realized this was due to timeouts, especially on slow connections. Adding this extension drastically reduced errors and the resulting strain on support. Now, their files are delivered with no problems.
WooCommerce Gravity Forms Products Add-ons has been useful on their WooCommerce product pages for event registrations. They used the extension to create forms that collect extra registration information. For example, they might let someone choose if they are attending one or both days, capture their name and city for a name tag, choose if attending with a spouse, etc.
Integrating with eCommerce and business services
Simplecharlottemason.com integrates with various cloud services — which help them leverage being a small team — including Help Scout, MailChimp, Xero, DEAR Inventory, and Square. For the curious, below is some more detail on how each of these services has served them:
Fun fact: Doug reckons simplycharlottemason.com might be the first homeschool curriculum vendor to take Bitcoin (and then Apple Pay), thank to the WooCommerce Stripe plugin. Woo! Read more about Apple Pay for WooCommerce.
« Since WooCommerce's flexibility allows users to early connect to other services ands add custom integrations and plugins, we've been able to leverage that and do much more than our small team could do otherwise. WordPress and WooCommerce pull all the Lego blocks together. »
Curriculum builder using the REST API and WooCommerce Subscriptions
The thing that makes WooCommerce unique is it's flexibility, openness, and extensibility — so we sure love it when folks make the most of this to build creative, custom tools.
The SCM team built a scheduling and planning app for simplycharlottemason.com using the Ruby on Rails programming language. This curriculum builder tool, the CM Organizer, helps people organize, schedule, and record how they will use various books and resources — essentially building out a lesson plan they can stick to.
Then, WooCommerce Subscriptions and the REST API hook the curriculum builder tool into the main store, enabling SCM to sell subscriptions to it. Neat!
In conclusion: this is far more than a bookstore
My lasting impressions from chatting with Doug is that SCM is not just a bookstore, and its mission is about a lot more than the bottom line.
Their vision is to pass down knowledge, build local community, and build family. They pour energy and resources into building trust and interacting with the community. With determination and hard work over the past 12 years, these two families have found a sustainable way to pass on what they know to others.
Simply Charlotte Mason is a community, way of life, and way of thinking. And I am proud as punch that it runs on WooCommerce.
If you have any questions for Doug, I'm sure he'd be happy to answer them in the comments.
3 Tips for building an eCommerce business on WordPress
Get connected. Doug shared how much he has learned from the WordPress and WooCommerce communities and from Woo documentation.
Build what you enjoy. Much of what he builds is based on his own experience of shopping online and what he likes. If he finds something frustrating, he will be sure to avoid the same mistakes in his own store.
Leverage content across media. As a small team, they all wear many hats and have found that re-purposing content across media is a smart way to ease the burden of constant content production. They are always looking for ways to re-use pieces and turn them into different formats for people to consume where the prefer. Recently they've found podcasts to be very popular in the homeschool community.